Episode 3 Tim's Signature Bake: Rohlicky and Cranberry-Orange Danish Puffs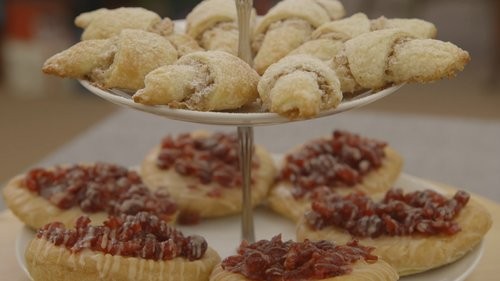 Episode 3 Signature Bake: Tim's Rohlíčky & Cranberry-Orange Danish Puffs
Rohlíčky & Cranberry-Orange Danish Puffs
INGREDIENTS:
Pastry:
• 120g All-Purpose Flour (1c)
• 112g Unsalted Butter (1 stick)
• 1 egg yolk (Large) save White
• 1/4c Full Fat Sour Cream
• 1/2 tsp. Vanilla Extract
• Confectioners Sugar for rolling + dusting
Filling:
• Egg White from above
• 150g Superfine Sugar (3/4c)
• 1c. Finely Ground Pecans
• 1/4 tsp. Vanilla Extract
METHOD:
Rohlíčky Dough:
1. Cut butter into sifted flour using a pastry cutter.
2. Once combined, Add yoke, sour cream and vanilla, mix until combined. (Mixture will be sticky)
3. Divide into 2, and wrap in plastic wrap, and chill in refrigerator. (Usually for a couple hours)
Filling:
1. Finely grind pecans In a Food Processor
2. Whisk egg white until foamy.
3. Mix in sugar until combined.
4. Add nuts and vanilla extract.
5. Mix to combine.
6. Set aside


Assembly and Baking:
1. Pre-heat oven to 375° Fahrenheit (190° Celsius)
2. Line half sheet pan with Silpat.
3. Using powdered sugar, sprinkle rolling surface and roll one of the dough segments into a 8" circle.
4. Spread some of the nut mixture onto the dough with a small offset decorator spatula.
5. Using a pastry wheel or pizza cutter. (Lightly dust roll in confectioners sugar) cut the dough into 8 triangles.
6. Starting from the outside roll each triangle up, and then place on baking sheet in a crescent shape.
7. Bake for 15-20 minutes or until lightly brown.
8. Allow pastry to cool for a couple minutes on tray than transfer to cooling rack.
9. Dust with powdered sugar prior to serving.


Cranberry-Orange Danish Puff
INGREDIENTS:
Pastry:
• 112g Unsalted Butter (1/2c 1 Stick)
• 125g All-purpose Flour (1c)
• 1 1/2 tbsp. Water
• 1 tsp. Fiori Di Sicilia extract


Danish Puff:
• 112g Unsalted Butter (1/2c 1 Stick)
• 1c Water
• Dash of Kosher Salt
• 1/2 tsp. Almond Extract
• 1 tsp. Fiori Di Sicilia Extract
• Zest of one medium size orange
• 125g All-Purpose Flour (1c)
• 3 Large eggs


Cranberry Topping:
• 2c. Dried Cranberries Chopped
• 1 medium Orange
• 3 1/2 tbsp., Granulated sugar
• 1/4c water


Glaze:
• 1 tbsp. Vanilla extract
• 180g Confectioners Sugar ( 1 1/2c)
• 4-6 tsp. water
METHOD:
Pastry:
1. Using a pastry cutter, but the butter into the flour and salt.
2. Once well combined, add the water and mix until well combine and forms a ball.
3. On a lightly floured silicon sheet. Roll out the pastry to about 6mm, 1/8" in thickness.
Cut with oval cutter and transfer silicon sheet to baking sheet.


Puff:
1. In a medium saucepan combine butter, water and salt to a simmer.
2. Once simmering add almond extract, stir to combine.
3. Reduce heat to low and add flour, continuously stirring with a wooden spoon until
well combined and mixture forms a ball.
4. Remove from heat.
5. Using the wooden spoon mix in one egg at a time until all are combined.
6. Once all are combined continue mixing until mixture become glossy.
7. Transfer mixture to pastry bag fitted with a tip.
8. Pipe mixture carefully about ." think onto the unbaked pasty bottoms, all the way to
the edges.


Topping:
1. In a small saucepan, combine cranberries chopped, juice of the orange, water, orange
zest, and sugar over medium heat.
2. Simmer, until the fruit absorb most of the liquid.
3. Remove from heat, strain the excess juice away and set aside to cool.


Glaze:
1. Combine confectioner's sugar, 1-2 tsp. of water and vanilla extract.
2. Mix until smooth.
3. Transfer to disposable decorator bag.


Assembly:
1. Preheat Oven to 350° Fahrenheit (176° Celsius)
2. Make pastry and puff and assemble.
3. Transfer sheet to preheated oven, Bake for ~50mins. Until just golden brown.
4. Make Cranberry topping per instructions
5. Make Glaze per instructions.
6. Allow pastry to cool slightly. Spread small amount of glaze to hold topping on, then
top with the cooled cranberry mixture.
7. Use a liberal amount of glaze crisscrossing in both directions.
8. Allow glaze to set then serve.