Episode 3 Tim's Showstopper Bake: Peppermint Reindeer Choux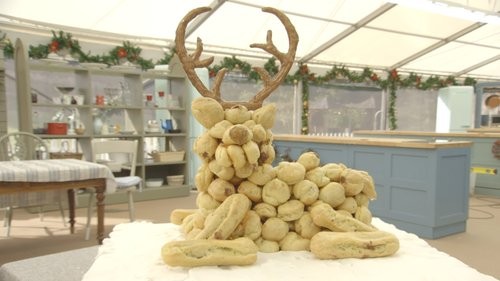 Episode 3 Showstopper Bake: Tim's Peppermint Reindeer Choux
Peppermint Reindeer Choux
INGREDIENTS:
Pate a Choux:
• 896g Unsalted Butter (2 Sticks/ Batch)
• 720g All-Purpose Flour (2c Batch)
• 1.5 Tsp. Kosher Salt (1/2 tsp. batch)
• 6c. Water (2c/Batch)
• 24 Large Eggs (8 eggs/Batch)
Chocolate Peppermint Pastry Cream:
• 735g Whole Milk (3c)
• 200g Superfine Sugar (1c) (caster sugar)
• 1 1/4 Tsp. Peppermint Extract
• Pinch of Kosher Salt
• 6 eggs (Large)
• 6 Tbsp. Corn starch
• 1c Heavy Whipping Cream
• 15 oz. Chocolate Chunks (70% Bittersweet)
Glaze:
• 1/4c Whole Milk
• 1 Tbsp. Clear Vanilla Extract
• 600-680g Confectioners Sugar (5-6c)
Caramel: (might need up to 3 batches depending on seizing)
• 2/3c Water
• 400g Granulated Sugar (2c)
• 2 tbsp. Light Corn Syrup.
Decorations:
• 1.5 lb. Fondant– White
• Bronze Isomalt (7oz.)
• 450g Granulated Sugar (1lb.)
• 1c. Water
• 4oz. Glucose (1c)
• 2 tbsp. Cream of Tartar
• Powdered Sugar
• Freeze Spray for chocolate and sugar work
METHOD:
Pate a Choux:
1. Preheat oven to 400° Fahrenheit (204° Celsius)
2. Combine Water, Butter and Salt in a pot over medium Heat.
3. Melt butter and continue cooking until mixture comes to a boil.
4. Immediately add all of the four and stir with a wooden spoon, still over the heat, until dough comes together and forms one ball.
5. Immediately remove from heat and transfer to bowl of a stand mixer fitted with a paddle attachment.
6. Place mixer on low and allow the mixture to cool, just less than 120 ° Fahrenheit with a laser thermometer.
7. Beat in one egg at a time, each until combined.
8. Scrape down bowl using a rubber spatula, and mix again until dough is glossy and smooth.
9. Transfer mixture to pastry bag fitted with tip and pipe desired puffs and shapes. (Puffs for body assembly and éclair style long choux for legs, antlers, tail etc.
10. Bake for 25-30 minutes.
11. Remove from oven, transfer to cooling rack and allow to cool before filling.
Pastry cream:
1. Combine Milk and . the sugar in a medium saucepan over medium, until mixture simmers.
2. Add peppermint extract.
3. In a small bowl mix together egg yolks, the other . of the sugar and corn-starch.
4. Slowly add the hot mixture into the yolk mixture slowly, mixing and tempering.
5. Once tempered, transfer back to pan and heat, continue to stir continuously until thick.
6. Transfer to stand mixer fitted with a whisk attachment.
7. Add Chocolate.
8. Mix on medium speed until the cream becomes fluffy and has cooled a bit 4-5 minutes.
9. Transfer to bowl, cover top with plastic wrap and place in fridge to cool.
10. Before filling choux, in a mixer fitter with a whisk attachment, beat heavy cream until soft peak.
11. Slowly add in pastry cream until combine.
12. Transfer to pastry bag fitted with filling tip.
Glaze:
1. Mix together powdered sugar, vanilla and water.
2. Combine until smooth.
Caramel:
1. In a Medium Saucepan, combine water, sugar and corn syrup.
2. Bring to a boil over high heat.
3. Once it comes to a boil, cover and boil until all sugar is dissolved.
4. Uncover and continue boiling until the mixture turns a light amber color.
5. Remove from heat, and use mixture to affix the puffs.
Antler Decorations:
1. Place Antler mold and pole mold on sheet.
2. Melt isomalt and pour into mold.
3. Place form wire and set aside to cure.
Assembly:
1. Pipe cream puff filling into puffs, set aside.
2. Make Caramel
3. Secure lift to board with sugar
4. Dip puffs into Carmel and secure together forming the body neck and head
5. Assemble head front separately
6. Secure head to body
7. Place antlers
8. Allow to set.
9. Cover base in fondant
10. Decorate with spun sugar on base if time allows.