Episode 4 Lauren's Signature Bake: Bourbon-Raisin Caramel Apple Pie With Salted Caramel Sauce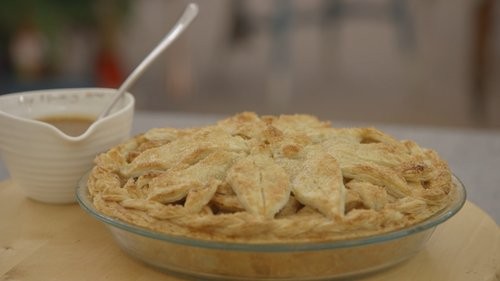 104_SIG_LAUREN_02|||1920|1080|0
Episode 4 Signature Bake: Lauren's Bourbon-Raisin Caramel Apple Pie With Salted Caramel Sauce

INGREDIENTS:
For the raisins:
• 3/4 cup raisins
• 1/2 cup bourbon
For the crust:
• 2 1/2 cups all-purpose flour
• 1 tablespoon granulated sugar
• 1 teaspoon kosher salt
• 1 cup (2 sticks) cold unsalted butter, diced and chilled
• 1/2 cup cold water
• A few ice cubes
• 1 teaspoon lemon juice

For the apple filling:
• 6-8 tart cooking apples (Granny Smith and some others – a variety), peeled and sliced
• 3 tablespoons all-purpose flour
• 1/3 cup light brown sugar
• 1 teaspoon pre-ground cinnamon
• 1/2 teaspoon freshly grated nutmeg
• 1/4 teaspoon ground allspice
• 1 tablespoon bourbon
• Pinch kosher salt
• Juice from 1/2 lemon

For the salted caramel sauce:
• 1 cup granulated sugar
• 1/4 cup water
• 6 tablespoons unsalted butter, sliced
• 1/2 cup heavy cream
• 1/2 teaspoon vanilla extract
• 1-2 tablespoons bourbon
• 1 1/2 teaspoons fine sea salt

Egg wash and sugar for top:
• 1 large egg
• 1 tablespoon turbinado sugar
• 1/2 teaspoon ground cinnamon

Topping to serve alongside pie:
• Reserved caramel sauce (from recipe above)

METHOD:
1. Soak raisins in bourbon. Microwave for 1 minute and let sit until ready to use.
2. Make pastry by adding flour, sugar, and salt to a large bowl. Cut in diced cold butter by hand with a pastry blender, leaving larger pieces and pea sized pieces. Place ice and lemon juice in cold water. Pour gradually into flour mixture until dough starts to come together but is still shaggy. Dump out onto counter. Knead very briefly until dough just comes together. Divide into two discs, wrap, and chill in freezer
3. While dough is chilling, peel and slice apples. Toss well with all remaining apple filling ingredients. Drain raisins and add to apples, mixing well. Chill.
4. In the meantime, bring sugar and water to a boil until golden Amber in color, shaking pan occasionally but not stirring. Turn off heat, adding butter, whisking until smooth. Add cream, vanilla, bourbon, and salt. Whisk well. Chill until cool.
5. Preheat oven to 425 degrees F Place rack in bottom third of oven.
6. Roll out one disc of pastry. Fit into the bottom of a standard pie tin with a removable bottom. Trim edges to fit. Return to freezer. Save trimmed edges. Re roll and cut small leaves with small paring knife for the edge of the pie crust. Need about 30-40 leaves.
7. Roll out other disc of dough. Using a pastry wheel, cut long thin strips for the lattice. Save any trim and make additional leaves or a pastry apple for the center of pie. Remove pie tin from freezer, fill with apple mixture. Pour about half of caramel mixture on top. Weave lattice on top of pie. Add leaves to edge of crust all the way around, adhering with a bit of water if needed. Mix egg yolk and cream, brushing on pastry lightly with a small pastry brush. Sprinkle evenly with sugar.
8. Bake for 45-48 minutes. Cover with foil when top starts browning. bake until golden all around and filling bubbles.
9. Let cool.
10. Whip cream to stiff peaks, adding a bit of the reserved caramel sauce for serving alongside pie if desired.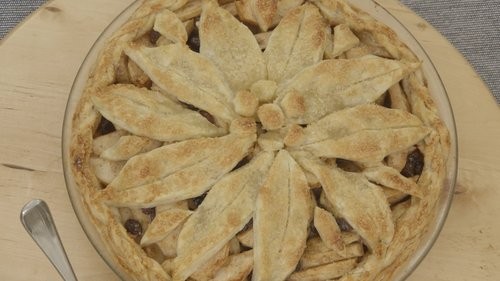 104_SIG_LAUREN_01|||1920|1080|0