Episode 4 Nicole's Signature Bake: Mama Doe's Sweet Potato Pie With Pecan Praline Sauce And Marshmallow Creme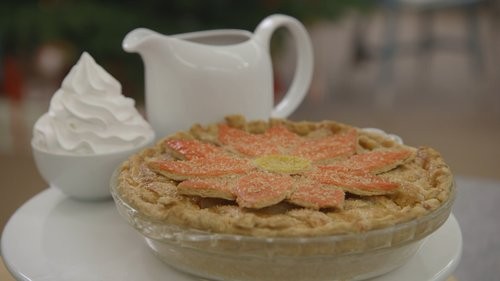 104_SIG_NICOLE_02|||1920|1080|0
Episode 4 Signature Bake: Nicole's Mama Doe's Sweet Potato Pie With Pecan Praline Sauce And Marshmallow Creme

INGREDIENTS:

For the dough:
• 2 1/2 cups all-purpose flour
• 1tsp fine sea salt
• 1tsp granulated sugar
• 1tsp cinnamon – pre-ground
• 2 sticks of unsalted butter (cold and cubed)
• 4 -8 TBSP ice cold water
• 1 TBSP apple cider vinegar
For the filling:
• 1 lbs sweet potatoes (small potatoes please) (2 cups mashed)
• 1 stick of unsalted butter melted (113g)
• 2/3 cup of light brown sugar
• 1/2 cup sweetened condensed milk
• 1 tsp vanilla bean paste
• 1/2 tsp ground nutmeg
• 1/2 tsp ground cinnamon
• juice of 1/2 a lemon
• 2 large eggs

For whipped marshmallow creme:
• 3 large egg whites
• 1/2 tsp cream of tartar
• 2 tbsp granulated sugar
• 3/4 cup light corn syrup
• 2/3 cup granulated sugar
• 1 tsp vanilla bean paste

For Pecan Praline Sauce:
• 4 tbsp salted butter
• 1/2 cup light brown sugar
• 1/4 tsp fine sea salt
• 1/2 cup heavy cream
• 1tsp light corn syrup
• 1 tsp vanilla bean paste
• 1/2 cup chopped pecans

For Decorating:
• Turbinado sugar for sprinkling
• Red gel food coloring
• Yellow gel food coloring
• 2 large eggs (for egg wash)

METHOD:
For the dough:
1. Mix cinnamon, salt, flour in food processor, pulse to mix. Add in cold butter, pulse, add vinegar, then add in 1 TBSP of water at a time and pulse until mealy. Put dough on parchment and divide into two disk. Flatten and wrap with plastic wrap. Put in fridge for 30 min.
For filling:
2. Wash and dry sweet potatoes. Poke holes in the potatoes with a fork. Put on a foil lined sheet and bake at 450 for 30 min turn and bake an additional 20 min.
3. Peel and mash using potato masher and measure out 2 cups of mashed sweet potato.
4. In stand mixer add warm sweet potatoes and mix until cool. With paddle, mix filling
ingredients and mix until blended.
For whipped marshmallow fluff:
5. In a pot combine 1/3 cup water, corn syrup and 2/3 cup sugar. Cook on med heat until 248F (15 min)
6. When the mixture in the pot gets to 230f - Beat egg whites and cram of tarter until frothy.
Add 2 tbsp of sugar and beat until soft peaks form.
7. Once syrup is 248, turn the egg white mixture to med speed and slowly stream in the syrup to the beaten eggs. They beat on high for 5 min. Add vanilla bean paste and mix another min. Put in a piping bag and pipe dollops on pie and brown with a torch.
For Pecan Praline Sauce:
8. Toast nuts in butter. Add sugar, heavy cream, corn syrup and salt to mix and cook until the sugar dissolves. Heat an additional 4-5 min.

Assembly:
9. Take the dough out of the fridge and roll out to about 13 inches. Roll over pin and put in
bottom of 9 inch glass pie plate. Cut excess off, fill with filling and place in fridge. Take
our second disk and cut even strips in the dough. Make a lattice pattern on top of the
dough and pop back in fridge for 10 min. Use an egg wash to paint the lattice crust on
top. Sprinkle the top with turbinado sugar.
10. Bake at 350 (175 C) for 55-60 min. After about 45 min put a foil guard on the outer crust of the pie to prevent over browning.
11. With left over dough roll out and use a template to cut ten petals and a circle. Then paint the petals with egg wash that has been dyed red and the circle with egg wash dyed yellow. Assemble to look like a poinsettia. Bake at 350 for 17-20 min until golden brown. Place on top of pie.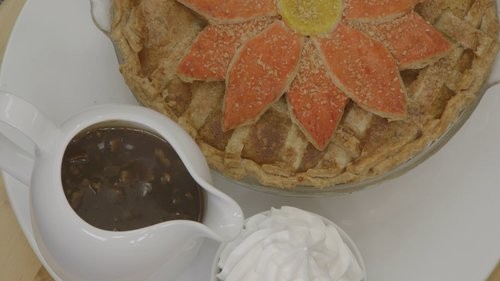 104_SIG_NICOLE_01|||1920|1080|0