Episode 4 Tim's Showstopper Bake: Holiday Lights Cake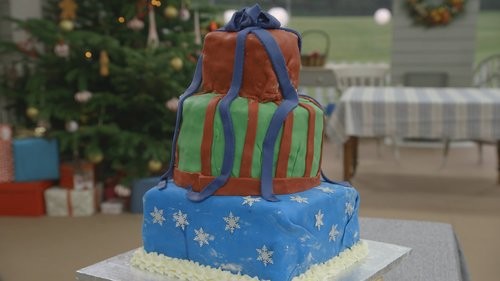 Episode 4 Showstopper: Holiday Lights Cake
INGREDIENTS:
Vanilla Sponge- (1 Green, 2 White, . Red, . Yellow . Blue)
• 2000g (330g/Batch) cake flour
• 12 tsp. (2 tsp./Batch) baking powder
• 6 tsp. (1 tsp./Batch) table salt
• 672g (112g/batch) butter unsalted softened (5 stick)
• 2100g (350g/Batch) Superfine Sugar (caster sugar)
• 300g (50g/Batch) Grape seed Oil
• 6 tbsp. (1 tbsp./Batch) Vanilla Extract
• 24 egg whites (4-egg white/Batch) (large)
• 6 (1 whole egg/Batch) (Large)
• 9 c (1 1/2 c/ Batch) Whole Milk
• Blue, Yellow, Red, Green food coloring
• Flavored Emulsions–
o Peppermint
o Cinnamon Spice
o Rum

Buttercream (2 Batches)
• 448 (4 sticks) Unsalted butter (Softened)
• 2c. Crisco Vegetable Shortening (Sticks)
• 2 tsp. Almond Extract
• 4 tsp. Clear Vanilla Extract
• 2000g Confectioners sugar (8c)
• 8 Tbsp. Heavy Cream

Light Hard Candies
• Candy Flavor Oilso
Peppermint
o Cinnamon
o Rum
• Food Coloring liquid: red, yellow, blue
• 600g (3c) Granulated Sugar
• 3/4c Corn Syrup
Decorations
• 1 x 5lb boxes White Fondant
• 2 x Blue Vanilla Fondant 24oz.
• 1 x Red Vanilla Fondant 24 oz.
• 1 x Green Vanilla Fondant 24 oz.
• Gum Paste
• Food Coloring Paste (Red, Green, Blue, Lt. Blue)
• Vodka or clear extract
• Gold Pearl dust
• Edible Adhesive
METHOD:
Sponge:
1. Preheat over to 350° Fahrenheit (178° Celsius)
2. Sift together Cake Flour, Baking powder and salt together. set aside.
3. In the bowl of a stand mixer fitted with a paddle attachment, cream together, Butter, sugar and oil, until fluffy and pale in color.
4. Scrape down bowl, remove paddle attachment and replace with whisk attachment.
5. Mix in vanilla extracts and food coloring, if needed and entire batch will be same color)
6. Mix in egg whites and whole egg. Mix until incorporated.
7. Add Milk and then flour in three batches, alternating between the two.
8. Transfer Pan lined with silpat.
9. Bake for 32-34 minutes, or until just golden brown around the edge and spongy in the middle.
10. Allow to cool in pan for about 5 minutes.
11. Transfer onto parchment on cooling rack, Set aside

Buttercream:
1. In the bowl of a stand mixer fitted with a paddle attachment, cream together butter and Crisco.
2. Add vanilla and almond extracts.
3. Mix until well-incorporated and light in color.
4. Remove paddle and replace with whisk.
5. Add powdered sugar, once combined, mix on high speed until fluffy.

Candy Lights:
1. Spray mold with non-stick spray
2. Combine 1/2c Sugar, 1/4c corn syrup in a pyrex measuring cup, cover with plastic wrap.
3. Microwave on high for 3 minutes
4. Stir
5. Microwave on high for an additional 3 mins.
6. Immediately mix in color and flavoring
7. Pour into prepared candy mold.
8. Let set, unmold into powdered sugar.
9. Set aside, repeat for additional candies.

Assembly:
1. Make fondant bows, set aside to dry. Once cakes have cooled, Cut Desired shapes and stack.
2. Cut (10) light bulbs from the three colored sheet cakes (red, yellow, blue)
3. Using knife, cookie cutter and ruler, sculpt, carve and assemble the base cake using white cake and the lightbulb cutouts. Assemble with buttercream, then ice outside with buttercream, allow to set in fridge before placing fondant and decorating.
4. Cut interlocking circles for center tier from red and green cakes.
5. Cut squares for top tier from green cake.
6. Ice entire cake with buttercream, place in fridge to cool.
7. Assemble checkerboard middle cake with alternating green and red using buttercream.
8. Ice cake, place in fridge to chill.
9. Cut a 2 in circle out of the center of each of the two middle layers of the top box tier.
10. Assemble the bottom and two middle layers using buttercream.
11. Place the Light bulb candies in the cavity until just filled.
12. Place top layer on cake.
13. Ice with buttercream, chill.
14. Place lower cake on base, decorate with fondant,
15. Insert support wooden dowels.
16. Decorate middle and top tiers with fondant as listed above. (Including support dowels)
17. Once decorated stack cake.
18. Place ribbons and bows on packages.
19. Decorate as needed.
20. Steam entire cake to bring out shine.