Episode 4 Tim's Signature Bake: Apple Cranberry Pie With Maple Custard Sauce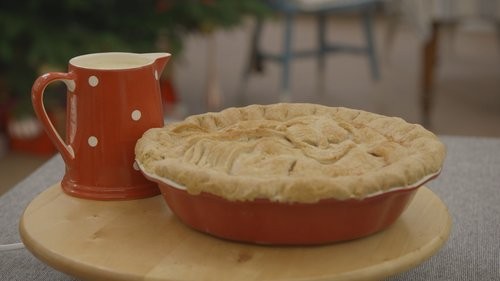 Episode 4 Signature Bake: Tim's Apple Cranberry Pie With Maple Custard Sauce

INGREDIENTS:

Pastry:
• 600g All purpose flour (5c)
• 2 tsp. Baking Powder
• 1 tsp. Kosher Salt
• 2c. Crisco (Sticks, unflavored)
• 1/2c Water
• 2 tsp. White vinegar
• 2 large eggs
• 1 tbsp. Fresh Nutmeg
• 1 tbsp. Ground Cinnamon
• 1 tbsp. fresh ginger

Filling:
• 4-6 Tart Apples (Granny Smith 2.5-3 lbs.)
• 1 1/4c Frozen, thawed Cranberries
• 100g Granulated Sugar (1/2c)
• 100g Maple Sugar
• 1/4c Corn Starch
• 3/4 tsp. Ground Cinnamon
• 1/4 tsp. fresh Nutmeg (ground up)
• 1/4 tsp. Ground Cloves
• 1/2 tsp. Lemon Juice (unwaxed fresh Lemon) + some zest
• 1/4 2tsp. Kosher Salt
• 1 tsp. fresh ginger
Maple Custard Sauce:
• 2c Heavy Cream
• 1/2 Vanilla Bean
• 1 1/4 tsp. Maple Flavoring
• 4 large Egg Yolks
• 75g Superfine Sugar (6 tbsp)
Other:
• 1/4c Whole Milk
• Large Egg
• 2 Tbsp. Unsalted Butter
• 50g Granulated Sugar (1/4c)
METHOD:

Pastry:
1. Flour, Baking Soda, Salt and Crisco in a mixing bowl
2. Using a pastry cutter, cut flour and Crisco until a nice crumb develops.
3. Separately mix together Water, Vinegar and eggs.
4. Combine wet mixture into crumb using a wooden spoon.
5. Divide dough into thirds, wrap in plastic wrap and set aside in refrigerator to rest while you make filling.

Filling:
1. Peel, Core and slice apples into < 1/4 slices.
2. Place sugars, Corn starch, lemon juice, salt and spices in a large mixing bowl.
3. Add apple slices and cranberries
4. Stir to combine and set aside.

Custard:
1. Bring 1c Heavy Cream, 1/2 Vanilla bean seed and pod, 1/2 the sugar and bring to a simmer over medium heat.
2. Combine yokes, maple flavoring and 1/4 sugar in a small bowl.
3. Add yoke mixture to the cream mixture, stir and heat until it thick.
4. Whip 1c Heavy cream to whip cream.
5. Fold Whipping cream into the custard until smooth.

Assembly:
6. Preheat over to 400 F
7. Roll out a 1/3 of the dough to about and 1/8 of an inch I thickness, place in bottom of pie plate.
8. Add filling.
9. Place 2 tbsp. Unsalted butter in small dabs on filling.
10. Roll another 1/3 of the dough to form the top.
11. Drape, seal, crimp and trim edges.
12. Using the egg in a small bowl ad a bit of water and whisk with a fork, creating and egg wash.
13. Using the final 1/3 of dough, roll very thin, about 1/16" and use to create angel for the top of the pie, adhering dough pieces with egg wash.
14. Cut vents in pie around angel.
15. Brush with milk and sprinkle with sugar.
16. Using foil cover the crust edges.
17. Bake for 50-52 minutes until golden brown, on middle rack.
18. Remove from over and cool.