Daphne Oz's Favorite Feel-Good Recipes
The Chew co-host Daphne Oz visited The View on Friday October 21st, 2016. She shared recipes from her new book "The Happy Cook," which is available now. Check out some of the recipes from her new book below.
Blueberry Tea Cake
Makes one 9-inch square cake
I have fantasies about living in London one day, but the closest I'll come for now is having tea time with my daughter on the regular. She'll pour me fake tea from her plastic tea set all day long, and she goes bananas when I set up the real thing (warm milk and sugar for Philo; creamy Earl Grey for Mommy) and let her help me make a batch of this light, moist vanilla cake, dotted with blueberries that explode in your mouth and topped with a crisp brown-sugar streusel.
I've used this batter to make muffins, a loaf, and a single layer cake, and I love that it's a delectable dessert or afternoon delight that requires no fancy frosting or special technique to make perfectly every time. And when your whole house is perfumed with caramelizing sugar and fruit, you may be well on your way to a weekly tradition. It's not the healthiest, nor the least healthy, cake out there. It's just right for everyday celebrations, which is what this book is all about.
2 sticks (8 ounces) plus 1 tablespoon unsalted butter, at room temperature
21/2 cups all-purpose flour
2/3 cup packed light brown sugar
Kosher salt
1/2 teaspoon baking powder
1/4 teaspoon baking soda
3/4 cup sour cream
2 tablespoons fresh lemon juice
3/4 cup granulated sugar
3 large eggs
2 teaspoons pure vanilla extract
2 cups fresh or frozen blueberries
Preheat the oven to 350°F. Grease a 9-inch square cake pan with 1/2 tablespoon of the butter, lay down two sheets of parchment paper perpendicular to each other, leaving overhang to use as tabs to lift the cake out when it is cooked, and grease again with another 1/2 tablespoon butter.
To make the streusel, in a medium bowl, whisk together 11/4 cups of the flour, 1/3 cup of the brown sugar, and a pinch of salt. Melt 6 tablespoons of the butter in the microwave. Drizzle in the melted butter and use a fork to stir the mixture together until large streusel-like crumbs form. Set the streusel aside.
To make the batter, in a large bowl, whisk together the remaining 11/4 cups of the flour, the baking powder, baking soda, and 1 teaspoon salt. Set aside.
In a small bowl, stir together the sour cream and lemon juice. Set aside.
In a stand mixer fitted with the paddle attachment, combine the granulated sugar and the remaining 1/3 cup brown sugar and 10 tablespoons butter and cream on low speed until the mixture is combined. Increase the speed to medium-high and cream until the butter is airy, about 2 minutes. Reduce the speed to medium and add the eggs one at a time, beating well and scraping the sides and bottom of the bowl as needed between each addition. Add the vanilla and beat to combine.
Reduce the speed to medium-low and add half the reserved flour mixture, then the sour cream mixture, then the rest of the flour mixture, mixing until combined and scraping down the bowl as needed. Remove the bowl from the stand and fold in the blueberries.
Scrape the mixture into the prepared baking dish. Top evenly with the streusel and bake for 1 hour to 1 hour 15 minutes, until a cake tester inserted into the center of the cake comes out with just a crumb or two attached. The top will be a rich golden brown under the streusel, and the cake will give springy resistance to pressure.
Use the parchment paper to remove the cake from the pan, then discard and cool the cake completely on a wire rack. Cut into squares and serve, or cover with a dome or plastic wrap for up to 3 days (though there's no chance it lasts that long in your kitchen).
TIP: This batter works very nicely in a muffin tin, a loaf pan, or practically any baking dish. The cook time will vary depending on whether you use a dark coated pan, cast iron, or glass dish, so just keep an eye out for the golden brown top and springy texture to make sure you don't overcook.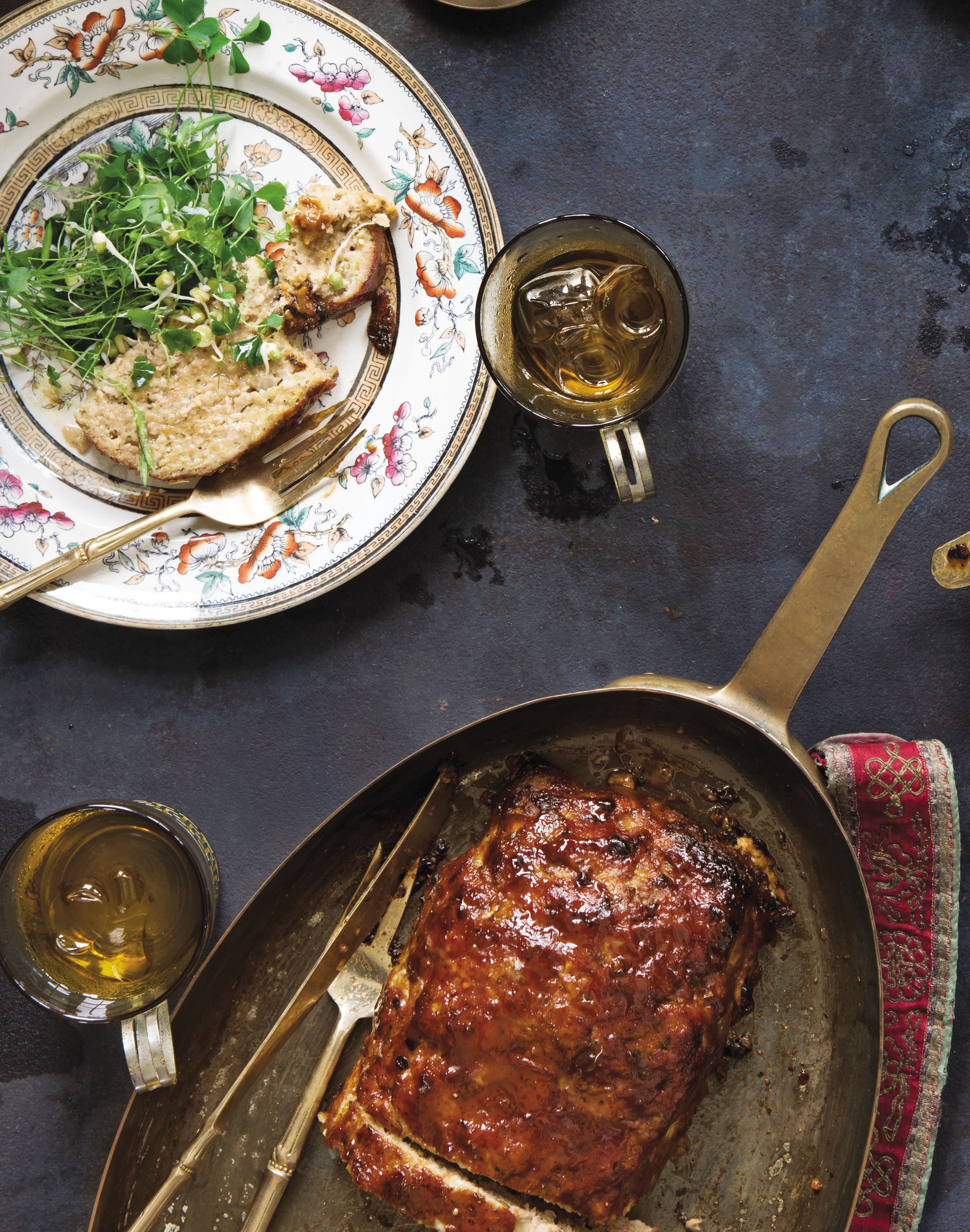 Hoisin-Glazed Pork and Turkey Meat Loaf
Makes 8 Servings
Meatloaf needs no introduction, but this one gets kicked up a notch with the Asian flair of fresh ginger, scallions, and a hoisin sauce glaze. It's familiar but exotic at the same time, and so simple to make. Leftovers also make a sick and twisted sandwich the next day—I like mine open-faced: Layer a piece of whole-grain bread with a slick of mayo and spicy Chinese mustard if you have it (if not, Dijon works fine) and a thick slice of meatloaf. Pop it in the oven at 350°F to heat through. Top with a mix of fresh mint, basil, and parsley or cilantro, thinly sliced jalapeño, shredded carrots, and a healthy squeeze of lime. Oh, baby.
Cooking spray
11/4 cups whole wheat panko breadcrumbs
1/2 cup whole milk
3 large eggs
1/2 cup minced fresh parsley leaves or cilantro
1/4 cup minced fresh basil leaves
4 scallions, minced
6 garlic cloves, finely minced
1/2 medium white onion, grated on a box grater
1 tablespoon finely grated fresh ginger
2 teaspoons toasted sesame oil
2 teaspoons kosher salt
Freshly cracked black pepper
1 pound ground pork
1 pound ground turkey
1/3 cup hoisin sauce
2 tablespoons ketchup
Preheat the oven to 350°F. Line a broiler pan rack or wire rack with foil and set it on top of a rimmed baking sheet. Lightly coat the foil with cooking spray, then use a sharp knife to make a few slits in the foil (this will allow the fat from the meatloaf to drip down onto the baking sheet).
In a large bowl, whisk together the panko, milk, eggs, parsley, basil, scallions, garlic, onion, ginger, sesame oil, salt, and pepper to taste. Add the ground pork and turkey and stir or use your hands to gently combine, being careful not to overwork the meat.
Shape the meat mixture into a 12-inch long loaf and place it on the foil-lined rack. Flatten the top slightly and square off the ends. In a small bowl, whisk together the hoisin sauce and ketchup. Pour about half the sauce over the meatloaf and use a brush or spoon to generously coat the sides and top.
Bake for 1 hour to 1 hour 10 minutes, until the internal temperature reads 160°F on an instant-read thermometer, brushing with glaze every 20 minutes or so. Let the meatloaf cool for 10 to 15 minutes, then transfer to a platter, slice, and serve.
TIP: You can make a double batch of meatloaf mixture and place one half of the mixture in a disposable loaf pan to freeze. To bake, thaw overnight in the refrigerator, remove from the loaf pan onto a lined baking sheet, and glaze and bake as instructed.
VARIATION: For an extra decadent loaf, melt 1 tablespoon unsalted butter in a large skillet over medium-high heat. Add the panko and toast until golden brown, stirring often, 2 to 3 minutes. Continue with the rest of the recipe.
Spinach Salad with Crispy Chickpeas and Apples
Makes 4 Servings
I warn you now, make only as many of these as you're comfortable eating, because they'll all be gone. I'm about to introduce you to the addictive snack that is crispy, roasted (kind of fried) chickpeas. Take that mighty, protein-packed staple of salad bars everywhere, toss it with some chile powder and a tiny hit of sugar, and roast it to a glowing, crisp little nub that crunches delicately in your mouth and makes this spinach salad, flecked with crunchy-sweet apples and tangy vinaigrette, feel deliciously sinful and healthy all at once. Perfect.
One 15.5-ounce can chickpeas, drained, rinsed, and dried on a kitchen towel
5 tablespoons extra-virgin olive oil
1 teaspoon chipotle chile powder
1/2 teaspoon smoked paprika
11/2 teaspoons sugar
1 teaspoon kosher salt
Freshly cracked black pepper
3 tablespoons apple cider vinegar
1 small shallot, minced
1 teaspoon grainy mustard
1 red or green apple, peeled, cored, and diced (about the same size as the chickpeas)
4 cups baby spinach, washed and dried
1/4 cup chopped walnuts, toasted (see Toasting Nuts, page 14)
Preheat the oven to 400°F.
In a medium bowl, toss together the chickpeas, 2 tablespoons of the olive oil, the chipotle powder, smoked paprika, 1 teaspoon of the sugar, 1/2 teaspoon of the salt, and pepper to taste. Transfer the chickpeas to a rimmed baking sheet and toast in the oven, shaking the pan occasionally, until they are crisp and golden brown, 25 to 30 minutes. Transfer the chickpeas to a large plate to cool.
In a large bowl, whisk together the vinegar, shallot, mustard, and remaining 1/2 teaspoon each sugar and salt, then slowly drizzle in the remaining 3 tablespoons oil. Add the apple and spinach and toss to combine. Sprinkle the chickpeas and walnuts over the top and serve.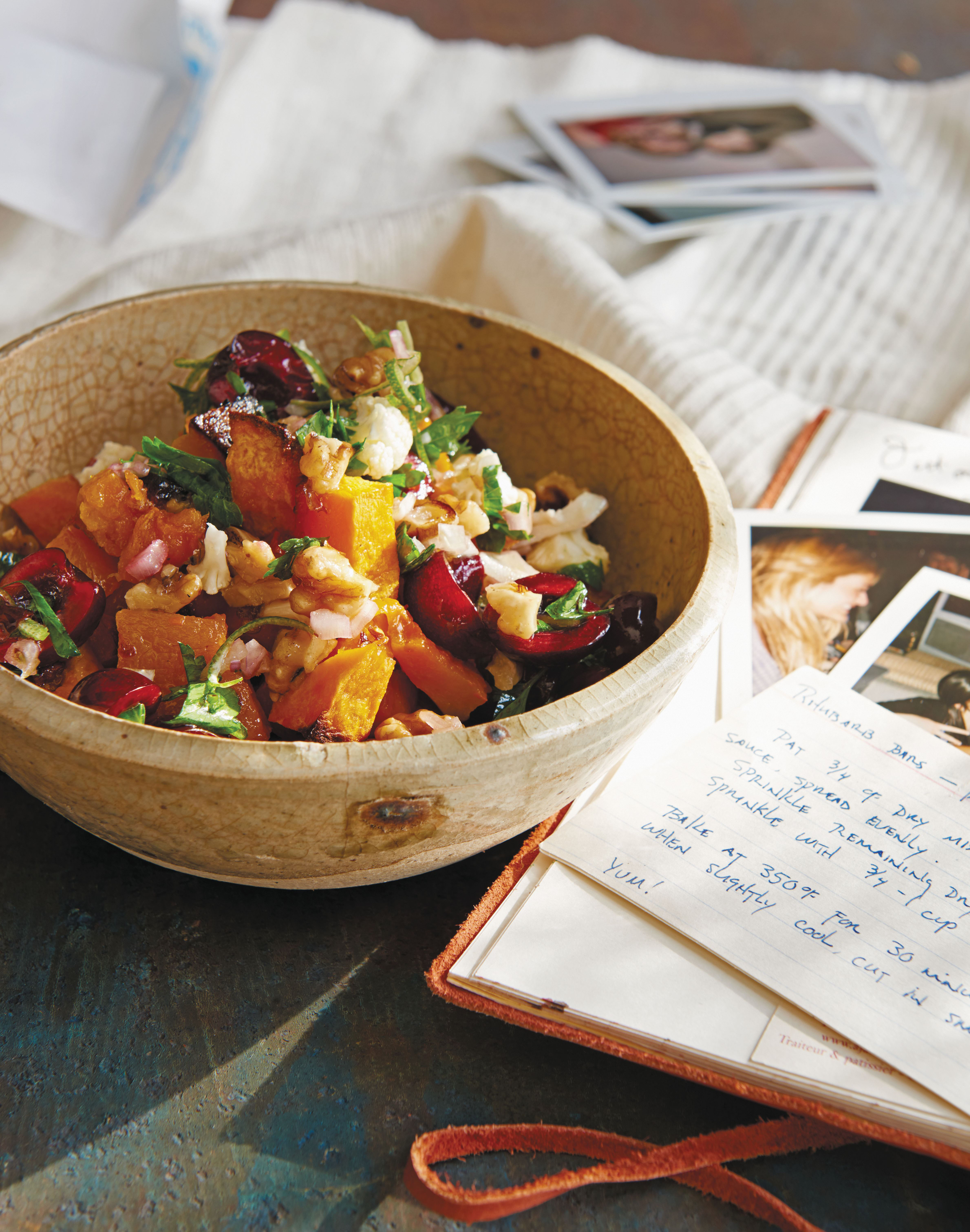 Sweet Potatoes with Fresh Cherries and Pecans
Makes 4 Servings
I go insane for this delectable combo of sweet potato and pecans made bright with fresh cherries, crisp crumbled cauliflower, parsley, and lime. This is my kind of rich, abundant healthy eating: a glorious pile of colors and flavors that leaves my body full and fueled and my mouth extremely happy.
1/3 cup pecan pieces, roughly chopped
2 sweet potatoes, quartered lengthwise, or 11/4 pounds winter squash, sliced into
1/2-inch- thick pieces (kabocha, delicata, and pumpkin work well)
3 tablespoons extra-virgin olive oil
11/2 teaspoons kosher salt
1/4 teaspoon crushed chile flakes
1 cup finely chopped cauliflower florets
1/4 cup finely chopped fresh flat-leaf parsley (leaves and stems)
1/2 small shallot, minced
Zest and juice of 1/2 lime
1/2 cup fresh Bing cherries (though Rainier are gorgeous when they're in season!), halved and pitted, or 1/4 cup dried cherries
1/2 cup crumbled goat cheese (optional)
Flaky sea salt
Preheat the oven to 375°F.
Place the pecans on a rimmed baking sheet and toast until fragrant and golden brown, 7 to 8 minutes. Transfer to a plate and set aside.
Place the sweet potatoes or squash on the baking sheet and drizzle with 1 tablespoon of the oil. Sprinkle with 1 teaspoon of the kosher salt and the chile flakes and roast for 30 to 35 minutes, until browned and tender, turning the potatoes or squash midway through cooking. Transfer them to a platter.
Place the pecans in a medium bowl. Stir in the cauliflower, parsley, shallot, lime zest, lime juice, and the remaining 2 tablespoons oil and 1/2 teaspoon kosher salt.
Serve the pecan mix over the sweet potatoes and sprinkle with the cherries, goat cheese (if using), and flaky sea salt.
From THE HAPPY COOK by Daphne Oz. Copyright © 2016 by Daphne Oz. Reprinted by permission of William Morrow, an imprint of HarperCollins Publishers.