Inside Sara Haines's Sensible & Stylish Nursery on "The View"
We threw one epic baby shower for our friend Sara Haines from Good Morning America! While she was partying it up at "The View" studio, design and entertaining expert Francesco Bilotto was secretly at Sara and her husband Max's Brooklyn, NY apartment getting the nursery ready for their baby boy. Here are a tricks Francesco had up his sleeve for their space:
White Walls Are OK
You don't always have to paint a room, especially when you have a bold color as an accent. Sara and Max already had some awesome artwork on hand with cheerful orange tones that added a pop of color the room needed.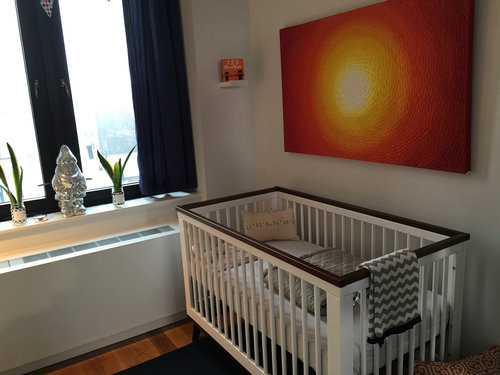 Mix Up The Flooring
Since the room had hardwood floors they needed to be warmed up a bit, we used a mix of a low-pile carpet tile in a navy blue in combination with a lighter, plush area rug layered on top. This pairing of rugs automatically transformed the room and created a comfortable and cozy vibe.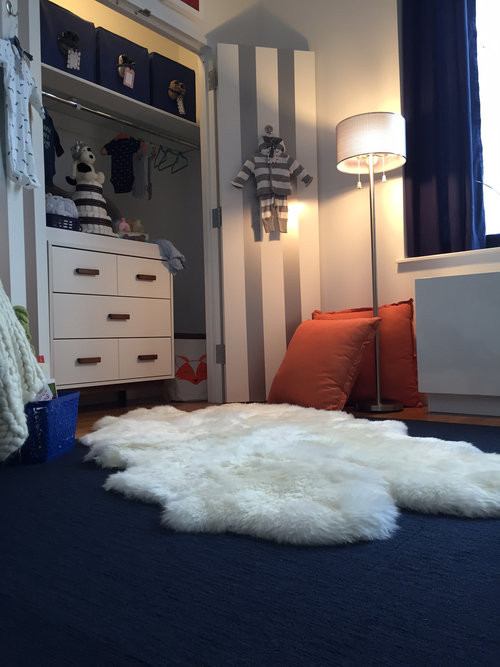 Every Inch Counts
By taking a closet and making it apart of the room, we added depth and interest but still allowed for function. Sara and Max's closet was transformed into a 'changing room' of sorts using the shelf above for bins to store diapers, baby clothes and shoes. Leaving the doors propped open gave an another opportunity to add interest to the room, plus a place to hang more art and clothing. The changing table/dresser itself was slid into the closet creating a space saving alternative for the room and freeing up more floor space. We also added a decorative silver stripe on the interior of the closet doors to make it look more decorative and intentional.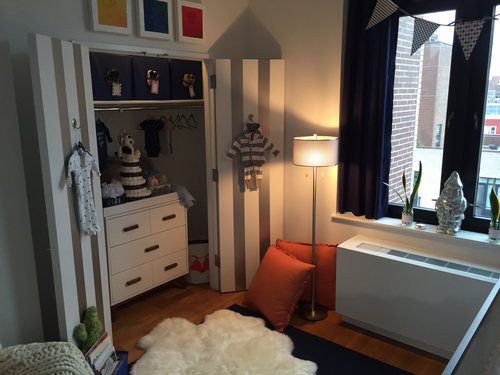 In Reach For You, Out For Them
If shelves are a part of your design plan, think about installing floating ones. Once your kiddo starts to crawl, those heavy bookcases become ladders and could be dangerous. Keep as much high-up as you can!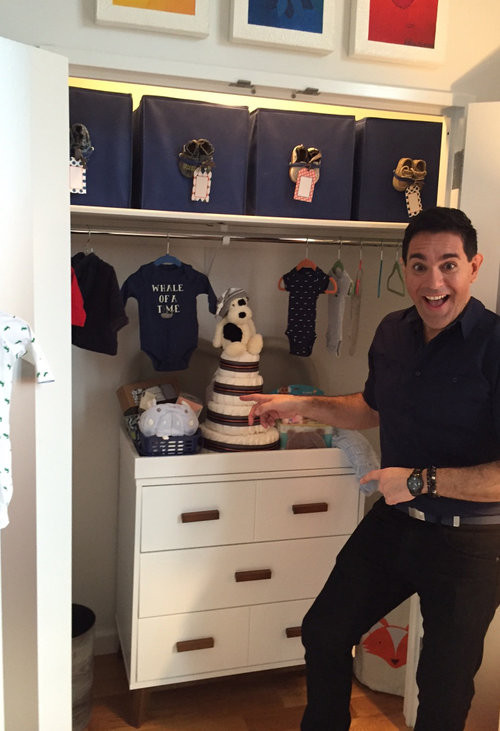 Follow Francesco on Twitter @thefrancescofix and Instagram @fbbnyc for more design inspiration!