Sophia Loren on "The View" : Talks Career, Cary Grant and New One Woman Show
Legendary actress Sophia Loren spoke to "The View" co-hosts Whoopi Goldberg and Joy Behar on the Friday March 18th, 2016 show. Sophia told the co-hosts about her career and new one woman show, "An Evening with Sophia Loren." She is known as one of the most beautiful women on the face of the earth but early in her career she had to overcome criticism of her looks. One of her first films was "Houseboat" with Cary Grant. Cary was rumored to have been in love with Sophia, who was married at the time.
During her interview, Sophia Loren explains why she did not go to the Academy Awards when she was nominated for the film "Two Women." She was afraid that if she won, the weight of being the first Italian actress to win for a film in Italian would have caused her to faint. She did win the Oscar for Best Actress and received a call from; you guessed it, Cary Grant.
Sophia is coming to the stage for the first time in "An Evening with Sophia Loren." Sophia has never done theater before and decided to do her new one woman show so she can talk to her fans. She finds it encouraging to be confronted with people who have follwed her career. She also talks about the infamous photo of herself and Jayne Mansfield.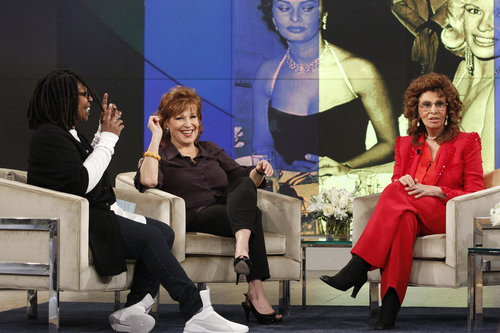 Be sure to check out Sophia Loren's new stage show. Upcoming performance dates and ticket information can be found below.
Fri Mar 18 – Foxwoods Resort Casino – Mashantucket, CT – 8:00pm
Tickets: https://www.foxwoods.com/sophia-loren/
Sun Mar 20 – AT&T Performing Arts Center, Dallas, TX – 7:30pm
Tickets: http://www.attpac.org/on-sale/2016/an-evening-with-sophia-loren/

Tue Mar 22 – Palladium - Center for the Performing Arts, Carmel, IN – 7:30pm
Tickets:http://www.thecenterfortheperformingarts.org/tickets/production.aspx?PID=4768

Thu Mar 24 – Copernicus Center, Chicago, IL – 7:30pm
Tickets: http://copernicuscenter.org/an-evening-with-sophia-loren/

Sat Mar 26 – Venetian Theatre at the Resort, Las Vegas, NV – 8:00pm
Tickets: http://www.venetian.com/entertainment/shows/sophia-loren.html

Mon Mar 28 – Kravis Center for the Performing Arts, West Palm Beach, FL – 8:00pm
Tickets: http://www.kravis.org/index.cfm?fuseaction=performances.detail&maxweb=2016SLOREN

Thu Mar 31 – Van Wezel Performing Arts Center, Sarasota, FL – 8:00pm
Tickets: http://www.vanwezel.org/boxoffice/event.cfm?eveID=1612#.VqhCpfFY09I

Fri Apr 1 – Ruth Eckerd Hall, Clearwater, FL - 8:00pm
Tickets: http://www.rutheckerdhall.com/tickets/sophia-loren/17834/