43rd Annual Daytime Emmy Awards: Mark Teschner Wins 8th Daytime Emmy Award for Casting!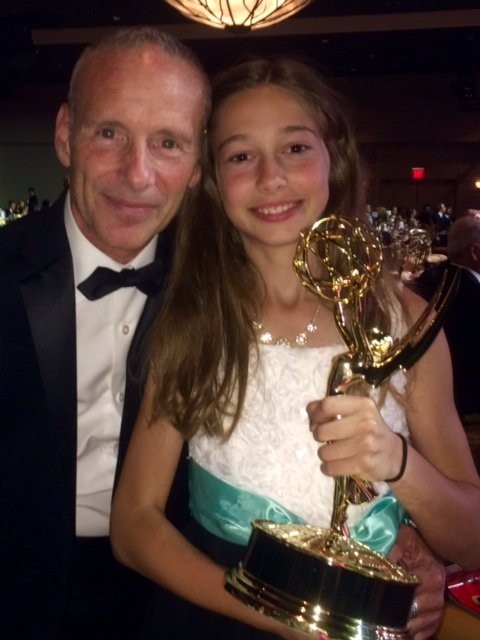 Casting Legend Mark Teschner with Daughter Amelia
The 43rd Annual Daytime Emmy Awards have been very exciting for General Hospital casting Legend Mark Teschner who picked up his 8th Daytime Emmy Award! Check out what the humble and extremely talented Mark Teschner had to say about the exciting experience!
Congratulations of your 8th Emmy! How does it feel?
It feels amazing! I never take it for granted and I am always so grateful when my name is called. What made it extra special this year was I brought my 11-year-old daughter Amelia to her first ever Emmy awards. So I felt a lot more pressure than I had in the past because I wanted her to experience the sensation of my name being called.
What do you look for when casting the next soap star?
I look for that magical combination of first and foremost talent than charisma, presence, sex appeal. In other words I'm looking for the total package. It's not enough to be just a pretty face, there has to be depth, complexity and soulfulness. Is this actor someone the audience is going to want to watch day in and day out and become emotionally invested in, that's what I'm looking for.
What is your favorite part of the job?
My favorite part of the job is when the perfect person walks in and I feel when I got level like I have found it! And then to be able to see that person start working on the show and then take off, that's what it's all about!
What advice would you give to someone looking to break into casting?
For anyone looking to break into casting I would say love the casting profession and honor it. It's an incredible profession, it's creative and incredibly satisfying. But it's challenging and for anyone looking for a career that you have to be passionate about it, you have to love actors you have to love discovering talent, and you have to have the ability to recognize talent on all levels.
Any final words?
Just that I love casting for General Hospital. It's challenging, fun, rewarding and every day brings a new challenge. I've been with the show over 26 years and it never grows old and I'm never not excited about coming to work.
General Hospital is one of the leading shows in the 2016 Daytime Emmy Awards race with 24 nominations!
Outstanding Drama Series
Outstanding Lead Actress in a Drama Series: Finola Hughes (Anna Devane), Maura West (Ava Jermoe) and Laura Wright (Carly Corinthos)
Outstanding Lead Actor in a Drama Series: Maurice Benard (Sonny Corinthos), Tyler Christopher (Nikolas Cassadine) and Anthony Geary (Luke Spencer)
Outstanding Supporting Actress in a Drama Series: Finola Hughes (Anna Devane) and Lisa Locicero (Olivia Falconeri)
Outstanding Supporting Actor in a Drama Series: Sean Blakemore (Shawn Bulter) and Dominic Zamprogna (Dante Falconeri)
Outstanding Younger Actress in a Drama Series: Hayley Erin (Kiki Jerome) and Brooklyn Rae Silzer (Emma Drake)
Outstanding Younger Actor in a Drama Series: Nicolas Bechtel (Spencer Cassadine), Bryan Craig (Morgan Corinthos) and Tequan Richmond (TJ Ashford)
Outstanding Promotional Announcement- Topical (GH is Live)
Outstanding Drama Series Writing Team: Shelly Altman, Ron Carlivati, Jean Passanante, Head Writers
Outstanding Drama Series Directing Team: Larry Carpenter, William Ludel, Scott McKinsey, Penny Pengra, Frank Valentini, Phideaux Xavier
Outstanding Casting for a Drama Series: Mark Teschner - WINNER!
Outstanding Art Direction/Set Decoration/Scenic Design For a Drama Series: Chip Dox, Andrew Evashchen, Jennifer Elliott
Outstanding Lighting Direction for a Drama Series: Robert Bessoir, Donna Larson, Vincent Steib
Outstanding Technical Team for a Drama Series: Chuck Abate, Kevin Carr
Outstanding Music Direction and Composition for a Drama Series: Paul Glass, Dave MacLeod, Music Directors
Kurt Biederwolf, Steven Hopkins, Matt McGuire, Bobby Summerfield, Composers
Outstanding Original Song - Drama: "Dreams"
Chris Arena, Composer Lyricist, Pauline R. Hall, Lyricist
Outstanding Costume Design: Shawn Reeves - WINNER!
Outstanding Makeup for a Drama Series: Donna Messina, Head Makeup Artist
Check out last year's GH Emmy 2015 Winners HERE!
Keep checking back for more updates!
Catch up on what you may have missed on General Hospital with our WEEKLY RECAPS!
Watch a SNEAK PEEK: Who is Following Jason & Sam?
Sam meets Jason in the park, where they realize that someone is watching them.
General Hospital, which celebrated its golden anniversary on April 1, 2013, continues its tradition of passion, intrigue and adventure that takes place in the fictional town of Port Charles in upstate New York. The glamour and excitement of those who have come to find their destinies in this familiar seaport town intertwine with the lives, loves and fortunes of beloved, well-known faces. As always, love, danger and mind blowing plot twists continue to abound on General Hospital with contemporary storylines and unforgettable characters. Watch full episodes of General Hospital WEEKDAYS on ABC.