Valentine's Day Gift Guide
Don't know what to get your significant other for Valentine's Day? You can't go wrong with roses, chocolate, wine, jewelry or flowers, but -- thanks to Shark Tank's many entrepreneurs -- you can also get more creative with V. Day.

PUCKER UP

Kisstixx: Their Strawberry & Chocolate lip balm is just $5.99. Available at Walgreen's, Bed Bath & Beyond, K-Mart and more. More info: www.kisstixx.com

Simple Sugars: Perfect for Valentine's day, their Rose Body Scrub gives you smooth, silky skin. And yes, they have gift cards. More info: www.simplesugarsscrub.com

Watch Simple Sugars' success story!
POP THE QUESTION, CAPTURE THE MOMENT

Paparazzi Proposals: If you're planning on proposing on Valentine's Day, make sure you capture the big moment when you get down on one knee. Not only does this company get pictures and video of the proposal, they'll help you plan the perfect place to do it. More info: www.paparazzi-proposals.com

GET HITCHED, QUICK
Wedding Wagon: Want to get hitched in a hurry? This all-inclusive mobile marriage unit will come to you! Sharks Kevin and Barbara didn't even make it to the honeymoon, but they had fun pretending to tie the knot when the company made their pitch. More info: www.weddingwagon.com
Watch Kevin and Barbara's wedding!

FINE FLOWERS

Bouq's Flowers: Forget the dingy warehouses with wilted roses: These flowers are grown in volcanic soil in South America and are not cut and shipped until you place your order. You can also schedule subscriptions (weekly or monthly) or set up reminders for anniversaries and birthdays. And the prices are competitive: A Cupid bouquet of red and white roses is $50. More info: www.thebouqs.com
CHOOSE CHOCOLATE
The Painted Pretzel: A great gift for anyone with a sweet tooth: Chocolate-covered pretzels! Try Pretzel Turtles, Pretzel Bark or "Petitzels." More info: www.thepaintedpretzel.com
BLIND 'EM WITH BLING

Litter: This line of sexy body jewelry offers unique items you can wear on your shoulders, calves and back. More info: www.littersf.com

Red Dress Boutique: Check out their selection of affordable and fun jewelry, like their pearl "You Could Be the One" necklace, of their "What the Heart Wants" necklace." Want to give someone a nudge? Add whatever catches your fancy to a Wishlist on the site. More info: www.reddressboutique.com
Aldo Orta: Jewelry with classic symbols for men or women, including the "power ring," Fleur de Lis pendant, Alexander the Great belt buckle, and Griffin cufflinks. Their clients include Calvin Klein and Jay-Z. More info: www.aojewelry.com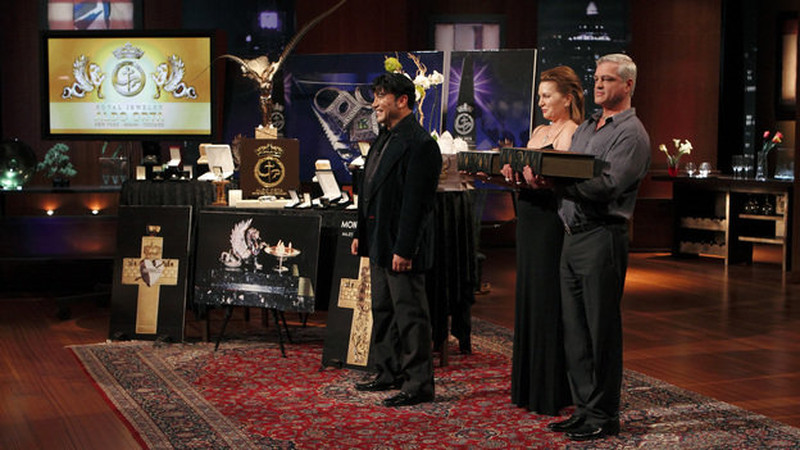 WINNING WINE
Zipz Wine: Not sure you want to commit to a whole bottle of wine? Zipz is premium, single-serve, wine-on-the-go (which netted the biggest deal in Shark Tank history). And if you're not sure what your Valentine prefers, why not let them choose between Merlot and Cabernet with a Variety Red Pack? More info: www.zipzwine.com

Watch Shark Tank FRIDAYS 9|8c on ABC.
Jimmy Kimmel and Guillermo Pitch Horse Pants on Shark Tank|Jimmy is always on the lookout for the next big business opportunity.|Jimmy is always on the lookout for the next big business opportunity, so recently he teamed up with Guillermo and they made a pitch together. They had a really great idea, so they took it to the place where great concepts become reality. #SharkTank #HorsePants