2021's Top 24 Is Finalized In Night 2 of "American Idol" Showstoppers
The final stage of "American Idol" Hollywood Week, the Showstoppers, kicked off Sunday night and started assembling 2021's Top 24. With so many contestants and so many big performances, it was too much show to be contained in one episode! So let's once again join judges Luke Bryan, Katy Perry and (the socially distant) Lionel Richie, host Ryan Seacrest, and mentor Bobby Bones as the remaining contestants learn their fates. As previously, Luke and Katy will be giving the contestants the news in person while Lionel appears in the video call room that has been renamed "Lionel's Den."
Sunday's episode left off with 15-year-old Casey Bishop and 19-year-old Alanis Bishop both meeting with Katy and Luke to find out their fates. Usually this means one of them will make the cut and one of them will get cut. Luke tells Alanis she's going through…and so is Casey! Tricksy! Casey gets to run and hug her mother and Alanis gets to make a very excited call in the video room to hers.
Willie Spence is next up. His is very nervous, which Luke takes not of but tries to reassure him that they're family/friends now. Luke adds that after the Duets round, he told the producers that he can't wait to see Willie walk out in a black suit and do his thing – which is exactly what happened for his Showstopper! Picking "I Was Here" by Beyonce, this was a bit of a personal statement as Willie has had a particularly rough year health-wise. The performance had Lionel clapping emphatically from a distance and got a standing ovation from Luke and Katy in person. Back in final judgment, Luke says they feel like his life is going to change in amazing ways, with Katy adding it's up to him to stay focused and stay connected. Willie has made the Top 24.
There's three contestants and three reveals as Emisunshine puts her all into "Piece Of My Heart" by Janis Joplin, Lizzy O'Very has a more chill but no less committed take on "Sign of the Times" by Harry Styles, and Camille Lamb seeks to really entertain with her choice of "Feel Like Makin' Love" by Bad Company. They were all given compliments and constructive criticism and, unfortunately, they also all were told that this marks the end of their Idol journey by Katy and Luke.
Mary Jo Young is hoping for better news, particularly after struggling during the Duets and forgetting the lyrics. She views this performance of "Us" by James Bay as her chance at redemption. Luke says she's progressed far from singing in front of her mom to get here, but notes she still doesn't command the stage. But they believe in her abilities and Mary Jo will have time to perfect her stagecraft in the Top 24.
Hunter Metts is next to sit in the big decision chair and tells Katy and Luke that this is the biggest moment of his life, tearfully adding that he really wants it. His parents were both in the music industry and he's seen what it means to struggle in this business. While the judges felt like he could be in the Top 10, he thinks his parents are on that level, but they didn't "make it" and that's doing a number on his head. Bobby has a talk with him to try and shake him out of that mindset, but did it work? Hunter picked "July" by Noah Cyrus as his Showstopper and, back in the big chair, he says he feels like the song was a risk and hoped it paid off (but shows some lingering doubt, recognizing how talented everyone is at this point). Luke says he needs to remember no one sounds like him and that it's their job to push him. And he will get pushed some more as Hunter is in the Top 24 and gets to call his very excited sister (who quit her job so he could audition) and mom with the good news.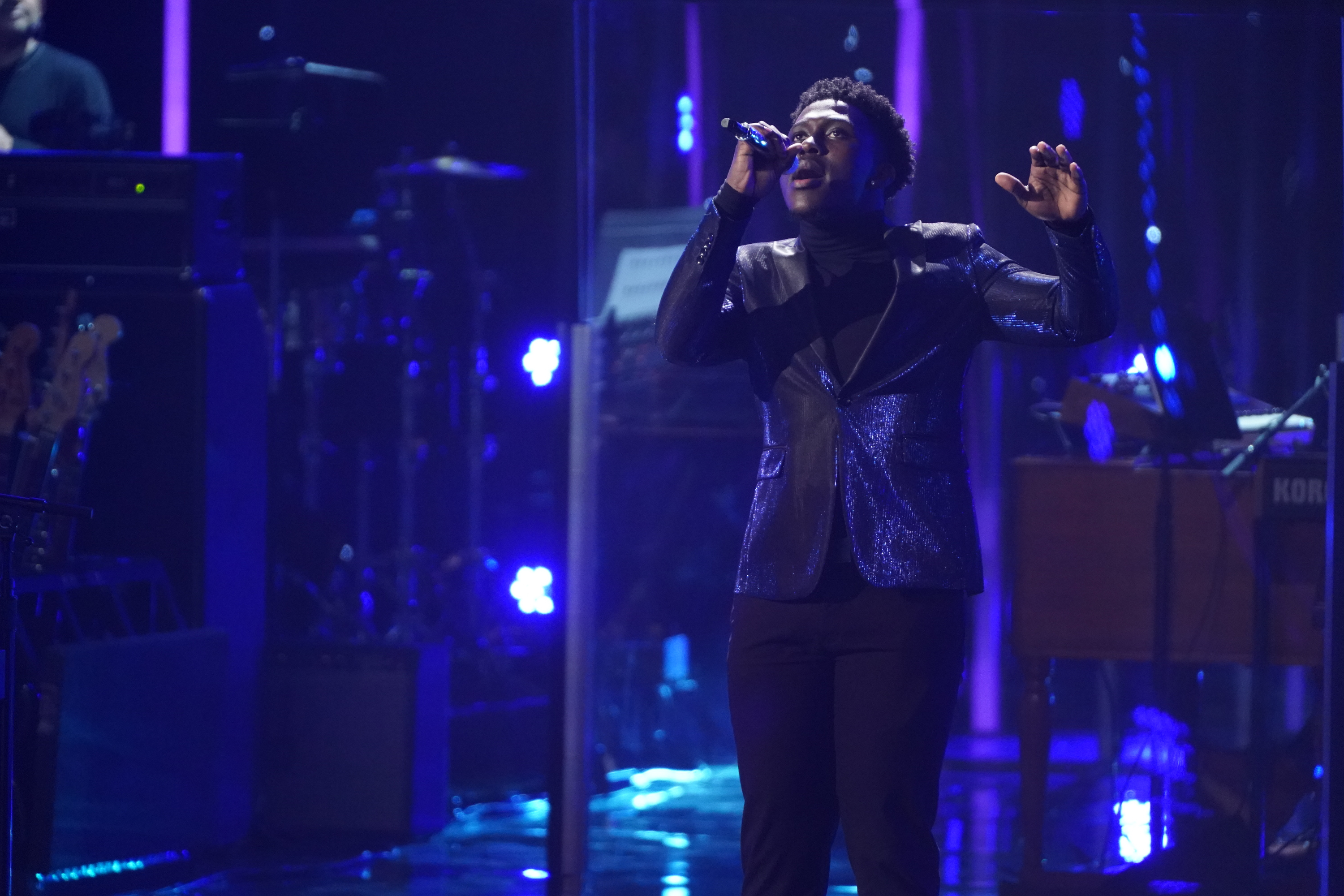 Deshawn Goncalves performs "Somewhere Over The Rainbow"
Next up is Althea Grace, who Katy says is one of those mothers that can lift a car. Duets was a rough round for her as a medical emergency happened with her young daughter the night of rehearsals, but she persevered through the emotional roller coaster and channeled that into her performance. With Lennon recovered, she's more at ease and able to channel her touring musician energy into her Showstopper of "We Can Work It Out" by The Beatles. Immediately after, Katy tells Luke she enjoyed her fighting spirit. Back to the "now," Katy tells Althea that she doesn't think that was the right song choice but that she has found a new level, like becoming a mom has evolved her. The downside is It's the end of the Idol road this year for Althea but the upside is she gets to go snuggle her kid.
Ronda Felton and Funke, who were partners for the Duets, are the next two up to find out their fates. "Orange Colored Sky" by Natalie Cole was Funke song of choice for the Showstopper and, while Katy notes that she's improved through Hollywood Week, Luke thinks she regressed a bit in this performance. Katy says she believes in her but this is the end of the Idol journey for her. Meanwhile, when Ronda is asked by Luke what she's learned about herself, says that she's learned that if she keeps pushing, she can get where she wants to be. She likes the person she's becoming and seems comfortable on stage as she sings "All In Love Is Fair" by Stevie Wonder. Unfortunately, Ronda has also not made it to the Top but Luke says that they'd love to have her around again.
Grace Kinstler tells Katy and Luke that she second-guessed her song choice in the Showstopper when she sits in the big chair. She wanted a more mellow song to show range but got nervous hearing so many big song choices from other contestants. The song, "Father" by Demi Lovato, also served as a dedication to her own dad who passed away. When the song kicked into a higher gear, Lionel exclaimed, "Boom," and added some fists pumps. Grace, back in the judgment room, says she really felt the performance and thinks that's when the best performances happen. Katy agrees but cautions that song choice is really key. Which is something Grace will get to work on in the Top 24!
Deshawn Goncales starts off his performance accompanying himself on the piano for "Somewhere Over The Rainbow" by Judy Garland, but he gets up and works the stage after the band kicks in. His emotional performance is intercut with his personal story, adding another level of poignancy to it. There's symmetry of Lionel appear on a giant screen in Lionel's Den to address Deshawn like the Great and Powerful Oz is not lost on me. First, Lionel remarks on Deshawn's emotional journey to this point and the difficulties in life he's overcome. And, with a bright shining smile on his face, he tells Deshawn he has made the Top 24.
Colin Jamison was in a boy band called "kik-it" when he was a teen for 5 years. Once it ended, he looked to invest in himself through music and ended up in a wedding band, which actually helped during Hollywood Week in terms of quickly learning songs. He considers his Showstopper choice a risk – "Sugar, We're Goin' Down" by Fall Out Boy. He starts out by playing the piano, giving the illusion of it being aa slower version before the band kicks in at normal speed. In the decision room, Katy says he surprised them the whole performance and loved when he pulled his hair out of its bun and really let loose. She acknowledges the risk of the choice and notes that he'd been playing it safe this whole time. Revealing that the judges fought over what to do with him, Katy says he won out and has made it into the Top 24.
The two youngest contestants, 15-year-olds Laila Mock and Ava August, are taking completely opposite approaches to their Showstoppers. Laila, who has never sung with a full band, is going big with "If I Ain't Got You" by Alicia Keys while Ava has opted to do an original song called "Ghost of You" sans band, accompanying herself on guitar. Both are a bit nervous about the results as they take their turns sitting in front of Luke and Katy. Katy tells Ava that she recognizes that Ave wanted to show herself off as an artist. While the song wasn't all the way there yet, it was good enough for her to make it into the Top 24. Meanwhile, Katy says she believe Laila has the right stuff but it's not the right timing – she did not make the cut and Katy tells her to keep chipping away.
17-year-old Nia Renee swings for the fences with her choice of "A Change Is Gonna Come" by Sam Cooke. Afterwards she says she left it all on the stage and still felt the adrenaline high of it. She steps into Lionel's Den and he tells her to really think about how far her natural gift has taken her up to now. While she has put up an amazing fight, the judges feel she still has some work to do and she has not made the cut.
When it's Liahona's time to find out her fate, Katy starts out by mentioning the struggles she went through after her brother was cut in the first round of Hollywood Week. After barely making it through the Duets, Liahona is determined to put on a high-energy show, hence her choice of "Me Too" by Meghan Trainor that ends in a split! Katy explains to Liahona that she was mostly upset because she could see the false, self-defeating thoughts holding her back. Luke tells her that they believe she has a lot to contribute and gives her the good news, with Katy telling her to find the "eye of the tiger" when she comes back to the Top 24.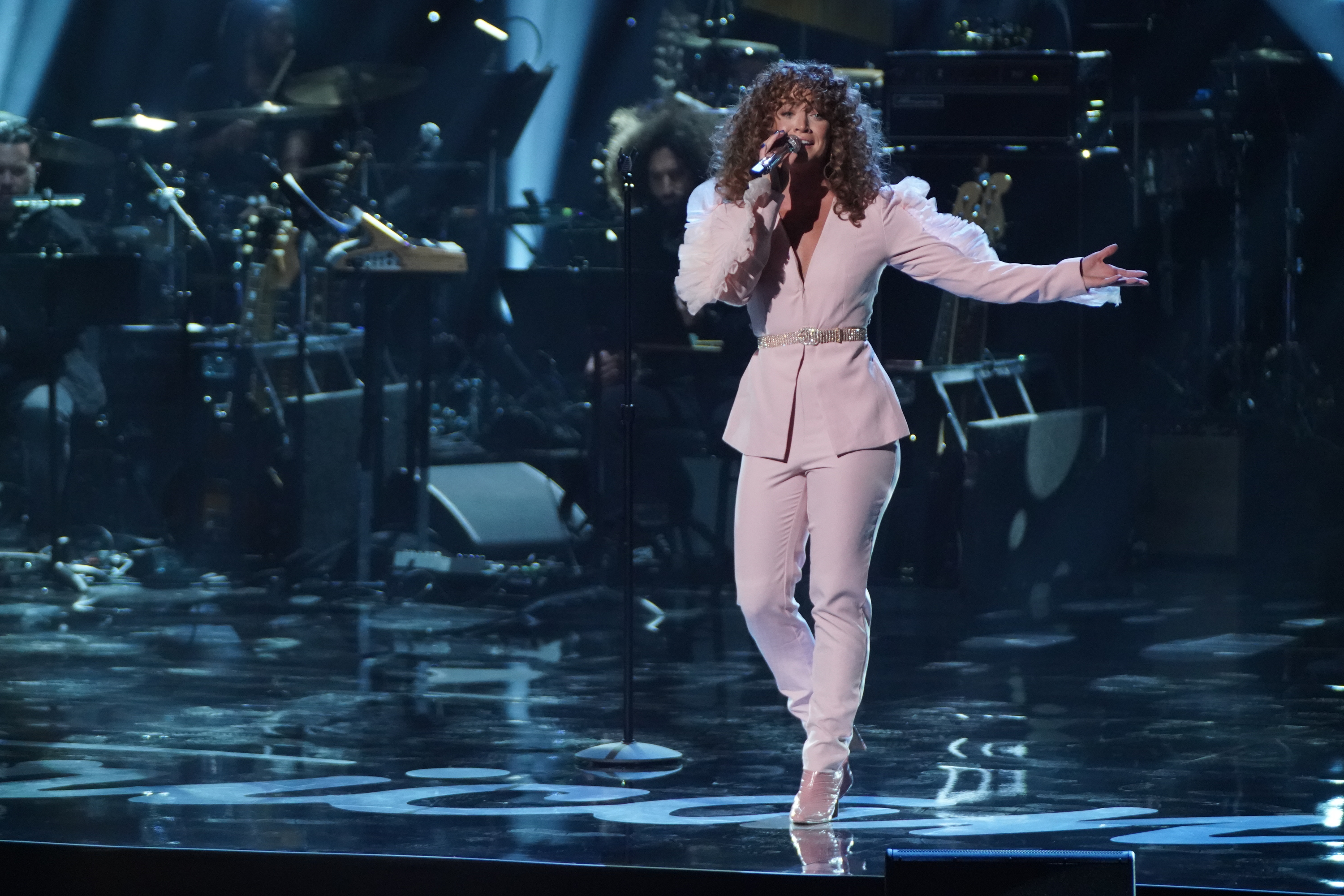 Madison Watkins performs "It's A Man's, Man's, Man's World"
We've got a trio of performances that really swing for the fences, as they say. Madison Watkins and Alana are both looking to fully embody the meaning of the term "Showstopper." Madison picked "It's A Man's, Man's, Man's World" by James Brown. Walking into Lionel's Den, he asks how she thinks she did – she feels like she did the best she could this week. Lionel says the judges agree and she has made it through to the Top. Alana starts her performance of "Bust your Windows" by Jazmine Sullivan with a dedication to everyone who's ever wanted to break some glass. There isn't much preamble shown on the show – Alana is in as well! Anilee List, who picked the Rufus & Chaka Khan classic "Ain't Nobody" for her Showstopper, also benefited from the big song choice which makes three punched tickets into the Top 24.
There are only two contestants left in the waiting room now – Cecil Ray and Drake McCain. If you've done the math like they have, and unlike the fake out with Alanis and Casey at the beginning of the episode, that mean's one of them is in and one is out. Drake was on Idol in 2019 and got cut at this point as well. He was encouraged to try again by his mom and he's determined to show his growth from the 17-year-old who got cut the last time and make it to the Top 24. He's being pit against Cecil who is here to win for his family, especially his baby daughter.
Drake's big gamble was picking Luke's song "Country Girl (Shake It For Me)" for his Showstopper. He poured a lot of energy and personality into it and felt good about the performance, getting Luke out of his seat and shaking it as well. He got a standing ovation and Luke was grateful for the endorphins the performance got moving. Cecil sang "Beyond" by Leon Bridges, a much more mellow vibe than Drake's high energy outing.
Luke says it's special to see Drake's growth from where he was previously. Cecil says the experience gave him a lot more self-confidence when Luke asks what he's learned. Unfortunately for Drake, history has repeated itself and Luke tells him he hasn't made it. Katy says to let this be a fuel for his fire. Luke follows by telling Cecil they see interesting things in him and that they're giving him a shot - he is the final member of 2021's Top 24.
Now that the Top 24 has been set, it's time to warm up those voting fingers! Watch "American Idol" this Sunday and Monday at 8|7c to watch the contestants take the stage for once-in-a-lifetime Celebrity Duets!
Follow "American Idol" (#americanidol) on Instagram, Twitter and Facebook.