American Idol 2022 Episode 18 Recap: The Top 5!
The stakes were higher than ever last night as the "American Idol" Top 5 competed for a place in the Top 3 and the Grand Finale. In this penultimate stage of the competition, each hopeful was tasked with performing two songs for Judges Katy Perry, Lionel Richie, and Luke Bryan, and were guest mentored by multi-Grammy Award-winning artist Carrie Underwood. Fortunately there were no issues with Covid-19 this week, so all performers were present to sing in front of the live audience. As explained by host Ryan Seacrest, the contestants were given the task of singing firstly a song released or covered by Carrie, and secondly a song that they would deem worthy of using as their encore. So, what did the Top 5 sing? Who is still in the running for the 2022 crown? Read on to find out!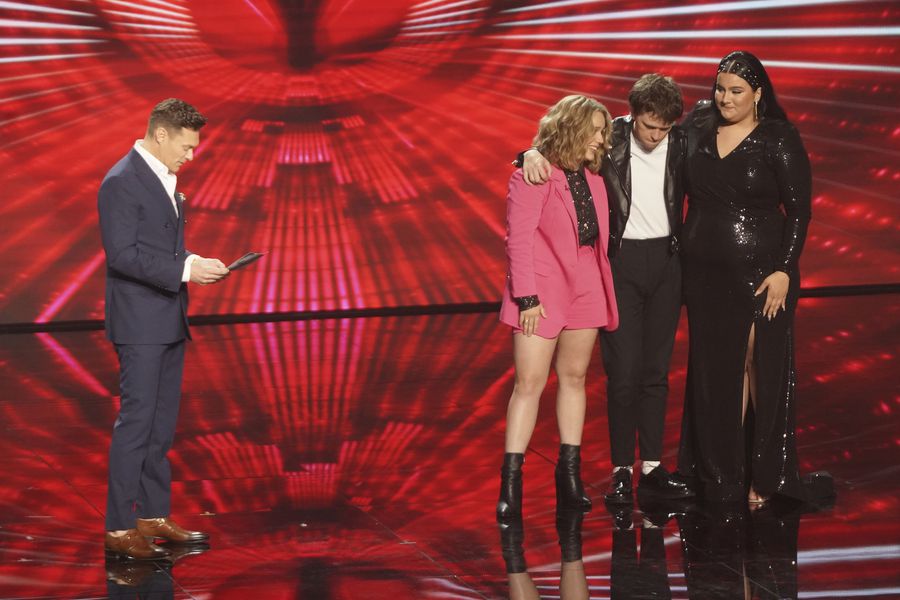 Leah, Fritz and Nicolina are told the pubic vote by Ryan Seacrest
In the first round of performances, we saw Carrie's mentoring sessions with the Top 5 before their performances:
• HunterGirl got things rolling with Carrie Underwood original "Undo It"
• Leah performed "I'll Stand by You", originally by Pretenders
• Fritz sang "I Wanna Remember," by NEEDTOBREATHE feat. Carrie Underwood
• Noah left his guitar behind as he performed Carrie Underwood's "So Small"
• Nicolina closed the first round of performances with "Blown Away," also by Carrie Underwood
Prior to the next round of performances, FINNEAS made a guest appearance with a live rendition of his brand-new single, "Naked." We then got the second round of Top 5 performances:
• Leah sang "Separate Ways (Worlds Apart)" by '80s rock luminaries, Journey
• HunterGirl chose "Girl Crush" by Little Big Town as her show-closer
• Fritz took on "Youngblood" by 5 Seconds of Summer for his encore
• Nicolina performed "All I Ask" by Adele
• Noah brought his guitar back out as he closed the show with "Working Man" by Larry Fleet
In the aftermath of these incredible performances, the results of the public vote were announced and we said goodbye to Fritz and Nicolina.
Next week brings the night we've all been waiting for: the Grand Finale! Will Huntergirl, Leah or Noah be crowned the winner of this year's "American Idol?" Tune in SUNDAY at 8/7c on ABC to find out!
Follow "American Idol" (#americanidol) on Instagram, Twitter and Facebook.