"American Idol" Begins Building 2021's Top 24
After weeks of performances and two rounds of Hollywood week, we've reached most crucial stage of "American Idol" Hollywood Week -- the Showstoppers! With this last performance, the contestants are looking to make a big enough statement to get into the Top 24. Luke Bryan and Katy Perry will be in person with Lionel Richie teleconferencing in due to potential Covid exposure – safety first! Lionel does note that if anyone can give him goosebumps in his house, then it must be really special live. Ryan Seacrest is, as always, on hand to help guide the contestants through the Final Decision portion and Bobby Bones offers advice and mentorship as they prep for their last performances.
Alyssa Wray is up first and sings "I'm Here" from Broadway hit "The Color Purple," which she says matches her personal journey of self-acceptance. Lionel was very into it from home but Katy thinks it was "too much" in terms of vocal gymnastics and that she may have psyched herself out. Immediately after she finishes, Alyssa reveals to the camera that she was trying not to cry during her performance. When it's time for her to sit in front of Luke and Katy to find out her fate, they share their concerns about her ability to control her big voice but say the talent is definitely there. And that talent has earned her a spot in the Top 24!
Next up is Jason Warrior who, after some past mistakes and encouraging advice from Lionel during his audition, is really dedicated to making sure this time is his time. He channels all of this into "Believer" by Imagine Dragons and gets Lionel riled up from a distance with his performance. Luke is out of his chair before the last note ends, joined by Katy for a standing ovation once it does. To find out his fate, Jason walks into "Lionel's Den" – the room with a massive video wall, a smaller version of the room seen in the audition rounds where contestants would share news with their friends and family. Lionel says the judges noticed that Jason gives them his all every performance, but he can overdo it sometimes. After a bit of misleading, the news turns out to be positive – Jason has made the cut and he is moved to tears.
Alex Miller, the 17-year-old with a Country twang and a knack for conversation, had gotten the note from Luke to take more chances and be more modern. He chose to do what he considered an updated version of "Silver Wings" by Merle Haggard for his Showstopper. After Luke says it's hard not to watch him but agrees with Katy that it wasn't Alex's best. In final judgement, Luke asks Alex if he wants to be his own artist and what that artist looks like. Alex wants to perform his own material to big audiences. Luke replies that he thinks he's a bit trapped in replicating older artists and that Alex needs to really hone and define who Alex is. It's a no but Alex takes it in stride and realizes that he definitely needs to grow into himself. While he may have gone home, he later gets a video call from Luke who kept his promise and arranged for Alex to perform at the Grand Ole Opry!
After Katy said she got lost in a daydream but maybe not in a good way during her audition, that lit a big fire under Andrea Valles. She drew a picture of herself on Idol as a kid and is striving to fulfill that dream. She chose "Blinding Lights" by The Weeknd and Katy thought it was the wrong song, but that she is still good. In Lionel's Den, Andrea is told that what she did wasn't a "drop dead kill" performance – stacked up against all the other amazing contestants, did she do enough to make the cut? The answer…is yes! She has made the Top 24.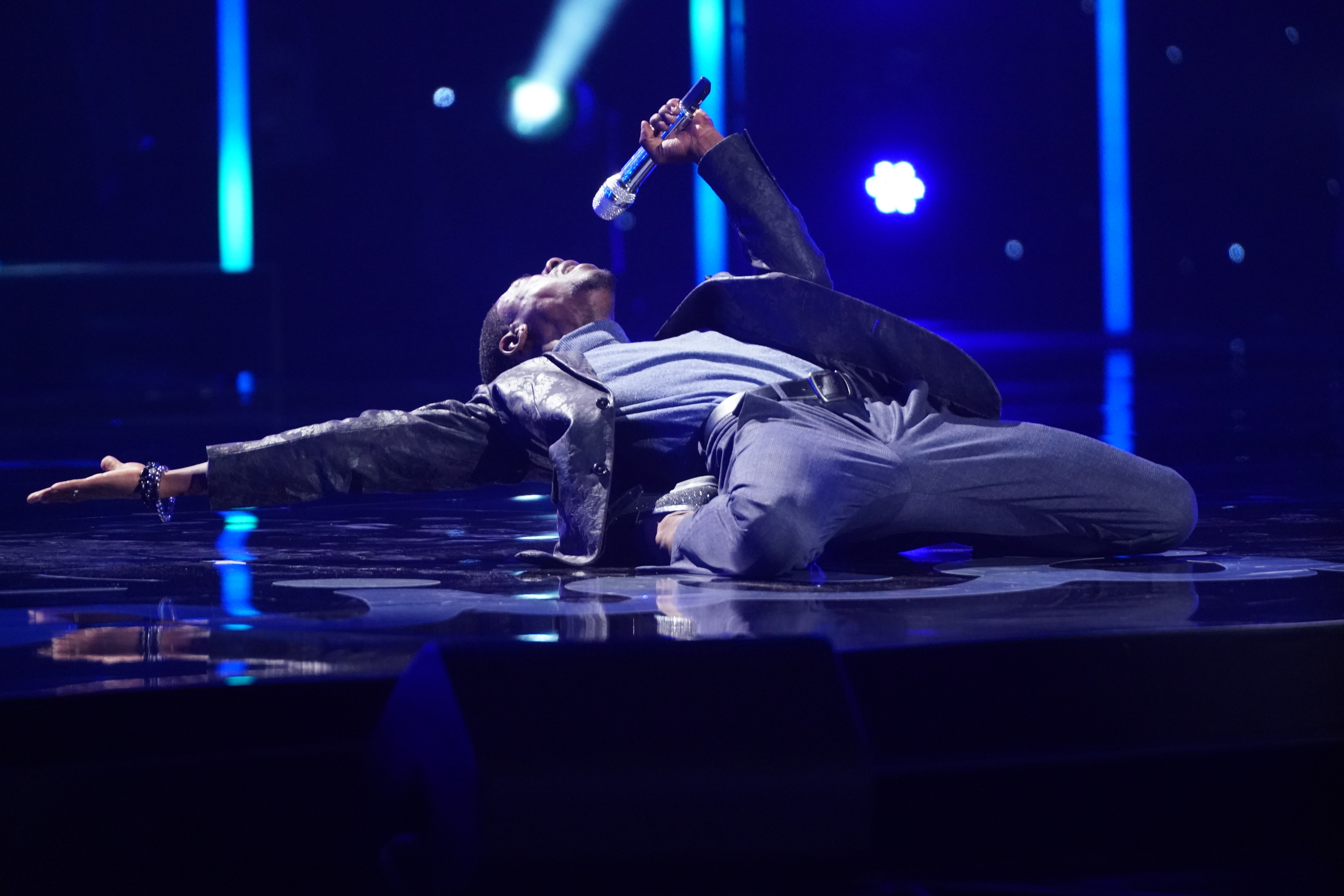 Jason Warrior gives it his all
This Idol journey comes at a time for Chayce Beckham where he is on the mend from making some poor life choices. After hitting a self-professed rock bottom this year, he's looking to make his family proud and be a better person. He channels all this into his Showstopper performance of "You Should Probably Leave" by Chris Stapleton. Katy and Luke wonder if his voice is a little blown because there wasn't a lot of range in his performance. While walking to hear his fate, Chayce says the only thing he would've changed is picking a more upbeat song and notes that at this point in the competition, the smallest mistake could send you home. Katy tells Chayce that he seems like a very genuine guy and they appreciate that about him. However, she expresses disappointment in him not "playing the ace" for his Showstopper, which wasn't his best performance. His mom signed him up for Idol and it turns out she has great instincts because he's in the Top 24.
Caleb Kennedy, the 16-year-old who barely made it through the Duets and felt a lot of sadness when his partner was cut, changed his song the day of the Showstoppers in order to sing an original called "When You Leave Tonight." Since it worked in his audition. he's hoping it will work here and foregoes being backed by a band to just sing with his own guitar. Luke says they felt like it was a good song but his audition song was better. Seeing as he's only 16, there will be some good songs he writes and some great songs, and he'll get better at discerning between the two. Bracing for disappointment, Caleb actually gets great news – he made the cut.
Nineteen-year-old Wyatt Pike and his signature hat chose "Blame It By Me" by George Ezra. He put a lot of energy into the song and got a standing ovation by Katy and Luke. But, after taking their seats again, Katy says he's going to need a little luck to get through. In the big chair facing Katy and Luke, she tells him that he's grown in front of their eyes. Luke says he's a little left of center and wonders if that's what America wants. Fortunately, America will have their say as Wyatt is in the Top 24.
Wyatt's Duets round partner Cassandra Coleman says that was the best performance she's done in the competition so far, crediting Wyatt with helping keep her grounded through it. She's hoping to keep that grounded feeling going for herself for her Showstopper. She's having some trouble shaking her nerves, so Bobby offers her some reassurance and the advice to think about something that makes her feel free when Cassandra goes up there. Opting to go shoeless, she performs "Running With The Wolves" by Aurora. Luke notes to Katy that if Cassandra could get totally free, she could really take people on a journey. In final judgement, Katy and Luke both say they see she's progressing and freer but they want to see consistency. Cassandra agrees with them and preps to be sent home…but she'll be moving to the live shows! She asks for some advice and Luke says to not be afraid to make mistakes.
Amanda Mena chose "All By Myself" by Celine Dion in an effort to show the judges what she considers to be the full package. Anthony Guzman, the Viking enthusiast, performed a Latin-flavored version of "This Love" by Maroon 5. These two contestants have been matched in this segment because they both have struggled showing who they are through Hollywood Week. Unfortunately neither have made it into the Top 24. Lionel tells them both that the judges believe in their talents but they both need to establish their identities more.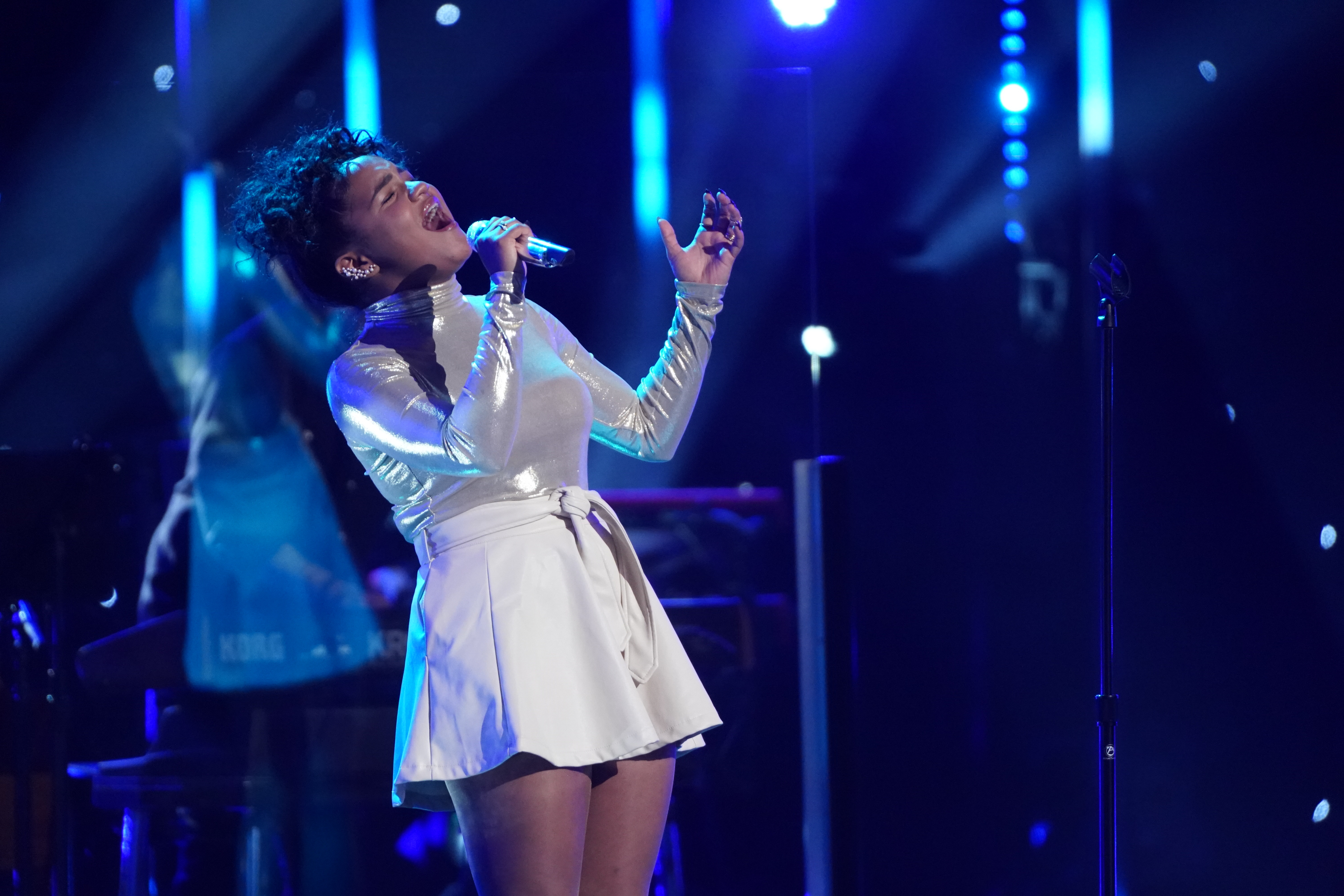 Amanda Mena takes the stage
Beane admits that in his initial audition he was more concerned about what the judges wanted to hear. The Genre round was better but he wasn't proud of his Duets performance. For his Showstopper, he's looking to connect with his song that everyone in the room can connect too. He chose "What's Going On" by Marvin Gaye and earned a yell of, "Come on, Beane," from someone in the audience. In the Lionel Den, he says he felt like he sung the song from his soul and his heart and feels great about the performance. Lionel replies that it's going to be a beautiful day in the neighborhood as Beane has made the Top 24.
Hannah Everhart, who always gets told she looks like Katy, is aiming to "be the show" with her performance of "Wrecking Ball" by Miley Cyrus. Afterwards, Luke and Katy think she's "almost there." In judgement, Katy says that she was once 17 and knows what that's like, noting that she didn't do the work then. She hopes Hannah does the work…and brings her back some gas station ribs when she comes back for the Top 24.
Pilot Graham DeFranco discovered his dad had stomach cancer the day of his audition, making it both the best and worst day, so his goal is to be able to call and tell him that he made it through. Once on stage, he dedicates his Showstopper of "Beautiful War" by Kings of Leon to his father. Luke wasn't crazy about the song choice and Katy notes it needed an extra push somewhere. He gets a laugh out of them when he sits in The Chair and Luke and Katy ask how he's doing. Luke says Graham has a great personality, which is an important thing for a star to have but believing in your own talent is the other half. Fortunately, they believe in him so Graham is able to give his dad the great Top 24 news.
Before Murphy goes on stage for his performance, Bobby gives him the note to try and make eye contact with someone in the audience. Well, there's a problem with that because his eyesight is deteriorating, and he will likely lose all his vision in his 30s. He wants to be able to still connect with an audience regardless. To that end, he's chosen and original song called "Am I Still Mine?" which he describes as being about self-love. He sits in front of the judges to find out his fate on his birthday and he says feeling at home on the stage and touching people's hearts during his performance was his wish. Katy says it's been great seeing him grow before their eyes and Murphy notes that he feels his voice has never felt stronger. Katy tells him that they think he's really grown and spread his wings and they don't want to clip them. They want him to continue to fly but he will not be soaring to the next round.
Two of the youngest contestants, Casey Bishop and Alanis Sophia, are getting their news together. Alanis, who went through Hollywood Week without her mom, chose "Uninvited" by namesake Alanis Morrissette as a tribute to them both. Casey, who barely got through the Duets round, is "letting loose" with "She Talks To Angels" by The Black Crows. Both singers have their pluses and their minuses…but we won't find out their fates until the next episode. Cliffhanger!
Will Casey or Alanis make it into the Top 24? Who else will join them and who will get sent home? Find out as Hollywood Week's Showstoppers come to a close MONDAY 8|7c on ABC!
Follow "American Idol" (#americanidol) on Instagram, Twitter and Facebook.