Bachelor in Paradise 2019, Week 1 Season Premiere Recap: Blake Has a Kristina Problem
Welcome back to the beach, Bachelor Nation! It's been too long. Ready to slowly settle in and take your time getting warmed up for Bachelor in Paradise 2019? Well, too bad, because the season premiere hit the gas right off the bat and never let up. Your favorite bachelors and bachelorettes are getting their second chance at love, and some of them manage to not even blow it during the first week. Watch Bachelor in Paradise Week 1, Part 1 right here on ABC.com or in the ABC app, or read on for highlights!
Welcome to Paradise
You can already peruse the entire Bachelor in Paradise cast, so we won't trouble you with all the introductions (and we'll be adding new arrivals as they show up), but as always, there's a lot of overlap between the folks that each of them are excited to meet, which means drama is all but guaranteed as people fight for time and attention amongst the more popular attendees. One bachelorette who's no stranger to drama, Demi, will be on the beach, but first, she sits down for a chat with her familiar friend Bachelorette Hannah Brown:
So Demi is currently dating a woman, which is indeed a twist. As everyone trickles in, it becomes clear that many of the ladies are interested in Blake. One person who's not interested, however, is Caelynn, who says that she and Blake dated for a while after Colton's season of The Bachelor. She's short on details, but says that Blake played her, and adds:
But Caelynn's lack of interest is good news for Hannah G., who feels like she's really vibing with Blake, so much so that when Blake ends up with Paradise's first 1-on-1 date card, she (and everyone else on the beach) is pretty sure that Blake's going to invite her.
Then Blake asks Tayshia—expectations subverted. Hannah is bummed, but Dylan sure isn't: He says the only reason he came was the chance to meet Hannah, so now he's going to take this time to get to know her better.
The Saga of Blake and His Many Women Begins
So while Blake is off having a romantic dinner with Tayshia then sipping wine with her in a hot tub, Caelynn is back on the beach, and she's decided she needs to pull the curtain back on her experience with Blake. She hasn't told anyone about their relationship yet, and it seems that might be at Blake's request. But Caelynn feels like she has to tell someone, so she opts for a neutral party: Wells, the bartender. And when she lets loose she really lets loose:
Wells tells her that she needs to tell people so all that information is out there. Will she?
Meanwhile, Annaliese is starting to tell people about Clay's situation. It turns out Clay recently broke up with Annaliese's friend Angela (who was on last season of Paradise), and she doesn't think Clay's ready for a relationship yet. Will that hurt Clay's chances to find love?
A New Arrival Who ALSO Dated Blake
Caelynn mentioned Kristina S. in her story, and guess what? Kristina comes walking down the stairs into Paradise later that next day. So now there are a whole bunch of ladies on the beach who have been swirling around Blake's past and present. According to Blake, he and Kristina are totally cool: "I was happy to see her, I was. I was happy to see her coming down the stairs."
Um. Well. Hmm. Here's what happened there: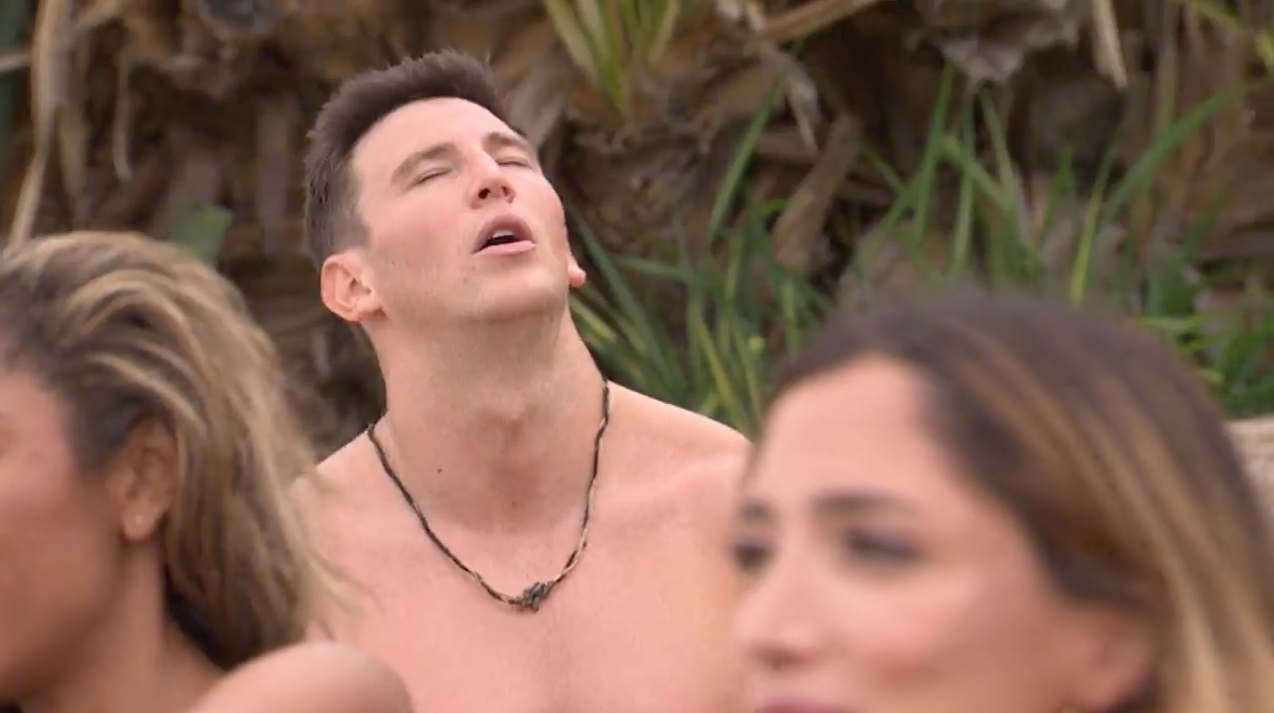 That doesn't particularly look like the face of someone who's excited to see you, but maybe things work differently in Paradise. Despite Blake's confusing reaction to Kristina's arrival, it does seem like they actually are on good terms, because Kristina has arrived with a date card, and she invites Blake! So that's a plot twist in Blake's favor.
BUT THERE'S A SPICY DOUBLE-CROSS! Kristina may not have the best intentions on this date:
After Kristina says "I'm going to make Blake my bitch" it's mic drop, episode over, that's that, everyone go home. Don't know about you guys, but TONIGHT 8|7c can't come soon enough.
Tune in MONDAYS & TUESDAYS 8|7c to see more Bachelor in Paradise.