Bachelor in Paradise 2019, Week 4, Part 1 Recap: John Paul Jones Pursued by Tahzjuan and Haley
Bachelor In Paradise has seen some crazy antics and wild personalities come through the palapa in its five-plus seasons thus far, but tonight's episode might be the wildest yet. John Paul Jones, an eccentric personality in his own right, catches the eye of both new arrivals: Haley Ferguson, rarely seen without her identical twin Emily, and Tahzjuan Hawkins, who is more a tour-de-force than a bachelorette. What transpires is an episode full of some of the most wonderfully absurd things we have ever seen in our lives. Watch Bachelor In Paradise Week 4, Part 1 right here on ABC.com or in the ABC app, and read on for the highlights!
Setting the Stage
JPJ is way into Tayshia—he's made that clear by reciting Shakespeare for her and kissing her every chance he gets. So it has to be a little bit disappointing for him when Tayshia tells him he should go on dates with other women if he wants, especially in light of that same statement throwing Chris and Katie's relationship into limbo last week. (Tayshia, it seems, is into newly single Derek—more on that later.) But JPJ is definitely a go-with-the-flow kind of guy, so while a bit bummed, he's up for whatever. Which is good, because things are about to get nuts.
Tahzjuan Is Here, and She Is Not Happy About the Heat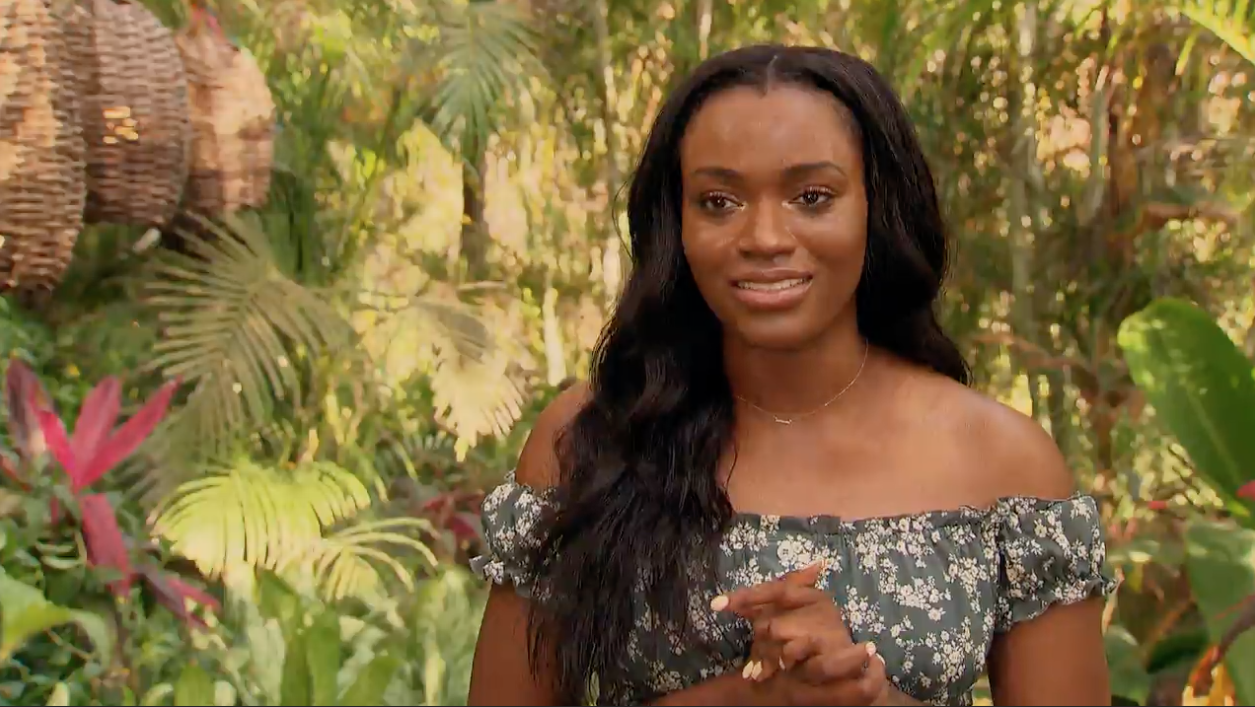 Tahzjuan, already wishing this show was called Bachelor in Dry, Temperate Climates
It took "four plane rides, lost luggage, and a whole bunch of other [bleep]" for Tahzjuan to get here, so she's not wasting time or paying lip service to any existing relationships in Paradise: "I don't care about anyone but myself." She immediately pulls JPJ aside for a chat—which goes pretty well—and she doesn't even waste time talking to anyone else before asking JPJ on the date. He says yes, but with a few reservations because he feels like Tayshia is basically making him go in order to be sure their connection is real. But he's excited to go on his first "Tahzjuan-on-1" date, which—and he doesn't know this yet—is the beginning of a wild journey. Tahzjuan is pumped; she really likes JPJ.
One thing she does not like: the heat. She's instantly and incessantly cursing the heat, downing Gatorade like they just pulled her out of Death Valley. She borrows a personal fan from a producer and is damn near brought to tears when she doesn't have it. Will her hatred for the heat be sated by JPJ?
More or less, yeah. They're both laughing hysterically right off the bat. But that's also before Mr. Paul Jones dares to eat the date food:
Some thoughts:
- Why can you not eat the date food? And why is this apparently a well-known thing amongst Bachelor Nation? Is no one being fed in Paradise? Are they all hostages down there? JOHN PAUL JONES BLINK TWICE IF YOU'RE A CAPTIVE
- JPJ really ought to see a doctor about the constant choking and vomiting
- "If he vomits on me...we're taking a shower together" is some pretty impressive lemons-into-lemonade stuff by Tahz
Anyway, good news! No full-on vomiting. JPJ gets it together and he and Tahzjuan dance for a bit (JPJ has some moves), go swimming, and end up kissing.
We Interrupt Paradise to Bring You This Kissing-Related Anecdote
Back at the beach, no less than three women peg Colton Underwood as their worst-ever kiss. Tayshia says that he got better as the season progressed though, and she takes credit for her tutelage.
We now continue with your regularly scheduled insanity.
Dean's Mustache Won't be Tamed and Nor Will the Man Attached to It
Caelynn has been enjoying her time with Dean, but she knows his rep—he's not a "relationship guy," and he's currently living out of his van to achieve max freedom. Even Dean's pals have concerns: Wells says Dean has been his friend for a long time, and he's never seen anyone who's been able to wrangle Dean into the coupled life. Caelynn isn't sure if she should fully open up to him, but she sure seems like she wants to. So she pulls Dean aside to see what he's thinking about all this:
Probably not what she was hoping to hear.
"We're Both Seagulls Flying In Harmony, and Haley Came In and [Bleeped] It All Up"
That header, friends, is a memorable line of poetry by Paradise's poet laureate Tahzjuan Hawkins in response to Haley arriving and asking out John Paul Jones. The topic is fertile ground for Hawkins's work, as evidenced by the many poems she has released on the subject. For instance, on the subtopic of Haley and her twin, Bachelor in Paradise alumna Emily Ferguson, Hawkins recites:
You can't have Haley without Emily
Emily without Haley
That's like having french fries with no ketchup
And you can't just like
Eat ketchup
John Paul Jones isn't built for ketchup
He's built for like
Rocky road ice cream
With a cherry on top
And fudge
That's me
Like many influential works, this poem simply reflects the reality before us, a mirror held up to the face of Paradise, if you will. You can't just, like, eat ketchup, indeed.
Okay, for real though...poor Tahzjuan had to deal with her new crush getting immediately yanked away for the day, thereby preventing her from furthering that connection, AND the heat and dehydration really took its toll on her, requiring some medical intervention:
We need 20 CCs of guacamole, stat!
As Tahz recovered, she waited to see JPJ again, but unfortunately for basically everyone involved, when she did, she awkwardly asked them all the details of their date, then kinda-sorta threatened to spit in Haley's drink:
Will JPJ's rose go to a seagull or a pigeon? Or maybe even a non-avian mammal? Let's find out...
Rose Ceremony Time
A lot of relationships are up in the air at this point. Chris is into Katie, but had a great date with Jen after Katie told him he should go on dates. JPJ is into Tayshia, but now has two other women fighting for him, and Derek and Tayshia are having a moment. Dean might choose his van instead of Caelynn. Blake had a great date with Caitlin, but his friend Kristina gave him a rose last week...will he return the favor? Here's where the roses landed:
Demi --> Kristian
Dylan --> Hannah
Clay --> Nicole
Mike --> Sydney
Dean --> Caelynn
Blake --> Kristina
Derek --> Tayshia
John Paul Jones --> Haley
Chris --> Katie
Katie was visibly relieved when Chris called her name, beaming as she walked up to take the rose:
Three women were sent home: Caitlin, Jen, and Tahzjuan. Here's hoping this seagull finds happiness out there on the ocean breeze.
Then, RIGHT AFTER the roses are handed out, and RIGHT in the middle of Caelynn's birthday (as she reminds him), Dean pulls Caelynn aside for a talk. Caelynn is instantly panicking. The episode ends there, but the sneak peek for tonight's episode sure makes it look like Caelynn was right to freak out:
Watch TONIGHT 8|7c to see how it turns out!
Tune in MONDAYS & TUESDAYS 8|7c to see more Bachelor in Paradise.