14 Most Romantic Castle and Beckett Moments
We've put together 14 of the most romantic, flirty, sexy, tender moments between Castle and Beckett, also known as "Caskett," our favorite mystery writer and his muse. These are just a few of our top heart-thumping memories from our favorite episodes.
#14 Dance Like No One is Watching: In "Home is Where the Heart Stops," season 1 episode 7, Beckett must go way out of her comfort zone to enter Castle's glamorous, paparazzi filled world as his date to a charity ball. They manage to make their way out to the dance floor during the undercover operation. Unfortunately, it's only because that's because it's the only place they won't be overheard.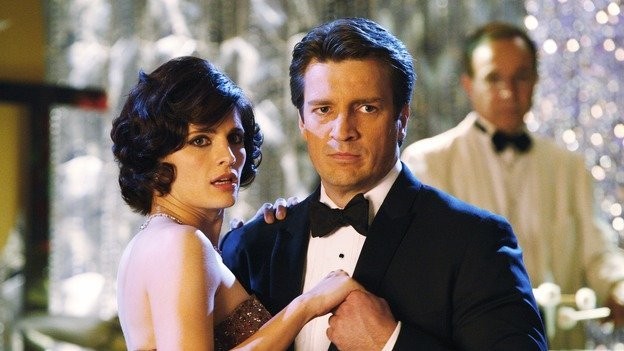 #13 Drop Your Drawers: In "Reality Star Struck," season 5 episode 14, Castle hopes his girlfriend will get him something cool for Valentine's Day like a light saber autographed by George Lucas. Beckett hopes her boyfriend will get her something that's not from a Jedi catalogue. She finally reveals her gift to him at the end of the episode.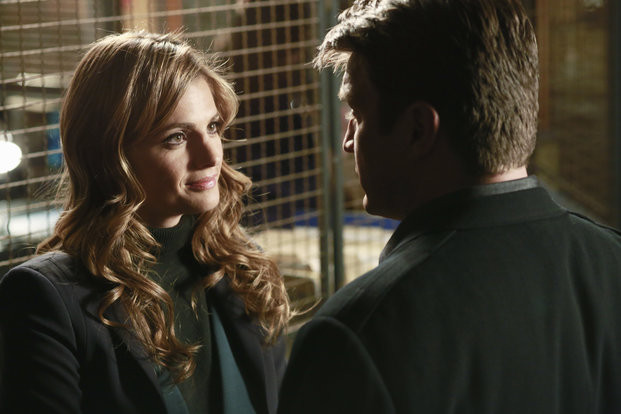 #12 Holding Hands: In "An Embarrassment of Bitches," season 4 episode 13, Castle gives Beckett tips on how to care for a canine murder witness named Royal. He shows her how the cute pooch likes to be rubbed by making circles with his thumb on the back of her hand. It starts out as a perfectly innocent moment, but then something happens. The look the two of them share lets us know this hand-holding exercise stirred some feelings inside. Moments later, Beckett is being showered with kisses…from Royal the dog after Castle has left the building.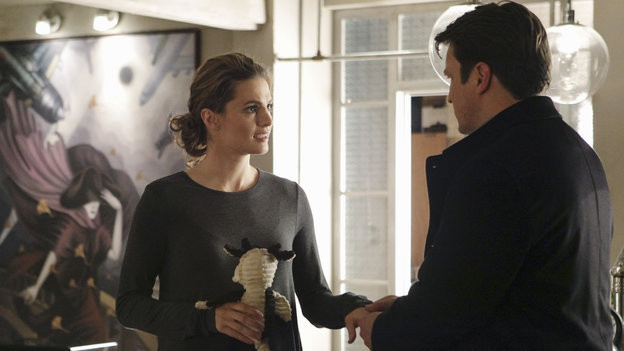 #11 The Kiss: In "Knockdown," season 3 episode 13, Castle and Beckett track down a killer's location and assume the role drunken lovers to distract the lookout. When it appears as though the thug isn't buying their act, Castle plants a long, passionate kiss on Beckett. The sensual smooch is awesome on a variety of levels, one of which is allowing Beckett the opportunity to knockout the thug. Castle says, "That was amazing." We get the feeling he's not referring to Beckett's takedown though.
#10 In Like Flynn: We had to time-travel back to the 1940s to get an extended look at what Castle and Beckett would look like as a couple. They went by the names Joe Flynn and Vera Mulqueen back in the days when a necklace called the Blue Butterfly was at the center of a twisting tale of passion, deception and murder. Castle believes that Joe and Vera's love story is the stuff dreams are made of. At the time, we were thinking if only he could be like Flynn with Beckett already.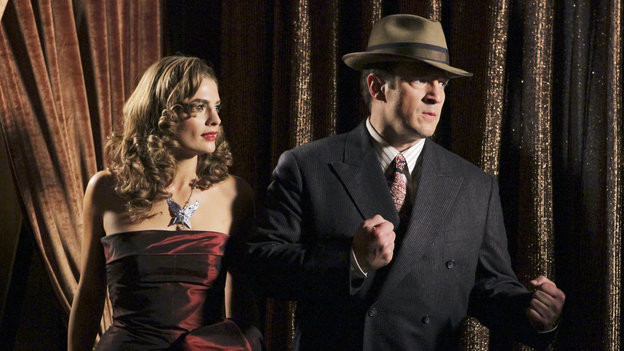 #9 Say Yes to the Dress: In "Dressed to Kill," season 6 episode 14, Beckett is dazzling in a beautiful wedding gown. She stares at herself in a mirror with an uneasy look on her face. This was troubling until Beckett reveals to Castle that she was upset because she always thought her mother would be there to help plan her big day. Check out the dress in the clip below and take comfort in the fact that all is well in Caskettville at the end of the day.
Beckett Models a Wedding Dress|It's perfect on her, but something isn't quite right.|Beckett looks stunning and her upcoming wedding to Castle starts to feel very real and close. Watch this scene from Castle Episode 614: Dressed to Kill.
#8 Working Out the Kinks: In "The Mistress Always Spanks Twice," season 2 episode 16, Beckett notices that the cuffs found at a murder scene are custom-made and may be easy to trace. Castle wants to know how she knows the bondage bracelets are custom-made. The two partners muse about the psychology of domination and submission and the inevitable comparison to their own relationship. Castle thinks Beckett's the punisher and he's punishee. But Beckett has a list of grievances that may prove otherwise. It started the first day they met.
#7 The Heat is On: Castle's agent tells him he's being tapped to re-launch a major franchise, that of a certain British secret agent. At the book launch party for Heat Wave, Beckett discovers that Castle called her "extraordinary" in his dedication. The new book is a hit. Castle's publisher offers him a three-book deal which he takes. He's simply not ready to walk away from Nikki Heat. Kate Beckett either.
#6 Hearts Held Hostage: In "Cops and Robbers," season 4 episode 7, Castle is caught in a bank hostage situation as Beckett dons an EMT uniform to tend to a sick man inside. She tells him that there are people out there who care about him and that she'll get him out of there. Castle knows these words are really meant for him as Beckett squeezes his hand. Later, Castle rattles off all the times he's saved Beckett's life. It seems he's been keeping score. Even after this recent bank robbery adventure, Castle still holds the lead 9-8.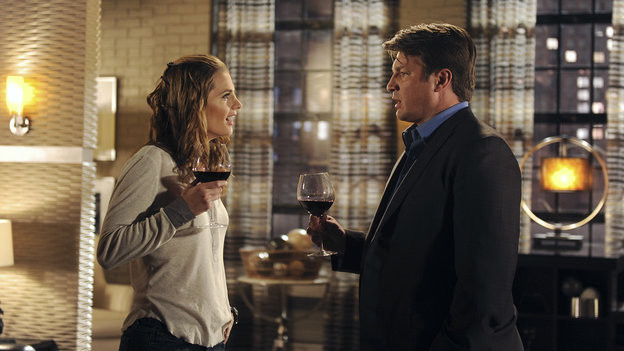 #5 He Knows How She Likes Her Coffee: In "Kick the Ballistics," season 4 episode 4, Castle casually brings up the time his partner in crime-solving was shot. Beckett sticks to her claim that the entire day is a blank. We know that's not true. Now we're starting to believe that perhaps Castle may be thinking that, too. At one point in the episode, Castle hands Beckett her morning coffee. It's a sweet gesture we've seen dozens of times before. It's also always subtly romantic.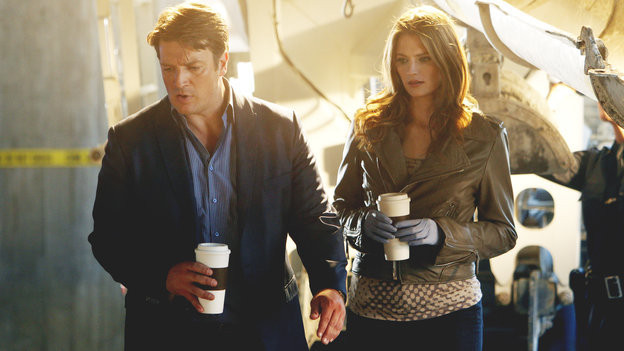 #4 The Proposal: 'Nuff said. Enjoy!
#3 Becoming Caskett: So, it's pretty tough to pick the most romantic moment ever between our favorite mystery man and his muse. That's why it's best to enjoy a trip down memory lane that reminds us of all these two went through before they finally, finally, finally got together.
#2 The (Reluctant) Anniversary: In "The Last Seduction," season 8 episode 7, the couple takes a break from work and self-imposed separation to celebrate their anniversary. Sure, they're a day late, but that doesn't stop them from having a romantic if slightly bittersweet celebration, complete with take-out and a little romance. Through thick and thin, Caskett always seem to make it work.
Castle & Beckett's One-Year Anniversary|Their celebration is bittersweet.|Castle convinces Beckett to take a time out from their separation so they can spend their one-year wedding anniversary together. Beckett is reluctant, but gives in because of how much she's missed him. Because of a case, they end up celebrating a day late, but that doesn't make it any less special. Watch their romantic, but bittersweet, temporary reunion from Season 8, Episode 7, "The Last Seduction," and don't miss Castle MONDAYS 10|9c on ABC.
#1 The Big Day: In "The Time of our Lives," season 7 episode 6, Castle and Beckett say their wedding vows at a beautiful sunset ceremony in the Hamptons with their closest family as witnesses. This, of course, is the same episode in which they envision their lives without each other, but we'll just keep that in the world of fantasy where it belongs. This is the moment where Caskett became official. How could it not top our list?
Castle and Beckett's Wedding Ceremony|Mrs. Castle, may I have this dance?|At long last Castle and Beckett say their wedding vows at a beautiful sunset ceremony in the Hamptons with their closest family as witnesses. Watch the simple and beautiful ceremony and the couple's first dance in this sweet scene from Season 7 Episode 6: The Time of Our Lives.
Keep watching for more romantic moments coming your way on Castle MONDAYS 10|9c on ABC!