May Man of the Month: Julian Jerome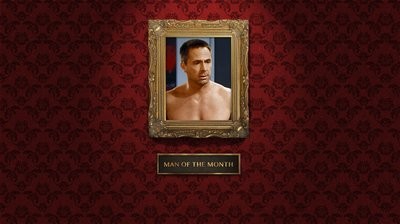 You voted and the results are in! The May Man of the Month is Julian Jerome! We caught up with William deVry and had some questions about his steamy romance with Nancy Lee Grahn (Alexis) and what he does in his down time.
Julian and Alexis are a fan favorite couple. Why do you think people want to see you two together so badly?
I can only guess that the fans are looking for a fairy tale type ending. Sam has never known her dad, now she has one, and Alexis and Julian put a little bow tie on Sam's world. Not to mention I think Nancy is a fan favorite. I think the fans have a real urge to see Alexis happy, and again, there's a history with Julian, a connection from the past. Maybe fans see a little of themselves in their characters. That being long lost loves from high school or college? I think it's exciting.
What has been your favorite storyline for your character?
Getting to know Sam and Lucas has been great. The actors are phenomenal. The reconnection with Alexis has been a warm and fuzzy type feeling. Nancy is off the charts good. But I'll always be attracted to the bad boy type roles and any interaction with Sonny or Duke and Anna is bound to create a little controversy and excitement.
What will Julian miss the most about mob life?
First he has to get out cleanly. The familiarity of a way of life, no matter how bad, is always a very strange thing to leave. The comfort in being "good" isn't always easy for someone like that. It's unknown territory and that can be scary and in some ways, "unsafe." At least in his mind.
When you aren't playing a mob boss, what do you enjoy doing in your down time?
Following my Montreal Canadiens in hockey. Reading when I'm not exhausted from studying. Usually something on history. Or a historic figure.
Any words for your fans?
The General Hospital fans have been extremely giving and receptive to me. It's really been an amazing feeling to walk into such a legendary show and be so welcomed. I can't thank the fans enough for all of their hard work and diligence I say that because all this voting in all these different venues is hard work and it takes time. So thank you!!!
What is your favorite Julian moment?
Vote for June's Man of the Month HERE!