The Official General Hospital Convention Is Happening June 2019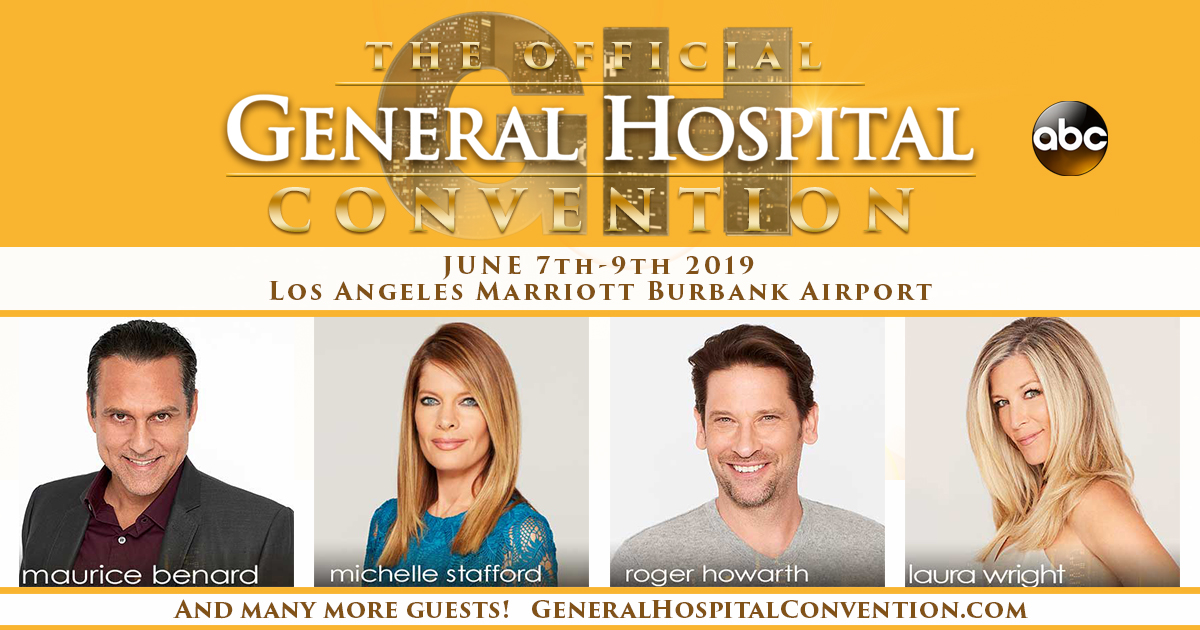 ABC Network's Emmy-award winning General Hospital is the longest-running American soap opera currently in production. The show celebrated its 55th anniversary in 2018 and continues to entertain audiences with its compelling characters and storylines. In fact, the show has never been better!
Hundreds of passionate fans from around the nation will gather for Creation Entertainment's third annual Official General Hospital Convention on June 7-9, 2019 at the Marriott Burbank Airport in Burbank, CA.
Located just a few miles from the General Hospital studio, where the adventures of the residents of Port Charles are filmed, the venue will house all the convention activities and also serve as a convenient and friendly place for fans from around the globe to meet each other and discuss the latest goings on with the series and storylines.
"The amazing world of General Hospital is a five-decade legacy that continues to entertain fans with its groundbreaking storytelling that pushes the boundaries of many of the contemporary issues society faces today," said Creation Entertainment's Co-CEO Adam Malin. "As DEVOTED fans of the show ourselves, we at Creation Entertainment are honored and privileged to work with ABC and the producers of GH to deliver a fan event that passionately celebrates the show we all love and showcases the incredible talent we have all come to know like an extended family!
These General Hospital stars will be on hand to meet fans, sign autographs and do professional photo ops (in alphabetical order): Maurice Benard ("Sonny Corinthos"), Steve Burton ("Jason Morgan"), Leslie Charleson ("Monica Quartermaine"), William deVry ("Julian Jerome"), Michael Easton ("Hamilton Finn"), Genie Francis ("Laura Collins"), Max Gail ("Mike Corbin"), Nancy Lee Grahn ("Alexis Davis"), Briana Henry ("Jordan Ashford"), Roger Howarth ("Franco Baldwin"), Finola Hughes ("Anna Devane"), Wally Kurth ("Ned Quartermaine"), Eden McCoy ("Josslyn Jacks"), James Patrick Stuart ("Valentin Cassadine"), Wes Ramsey ("Peter August"), Michelle Stafford ("Nina Reeves"), Kirsten Storms ("Maxie Jones"), Josh Swickard ("Harrison Chase"), Donnell Turner ("Curtis Ashford"), Maura West ("Ava Jerome") -- and hosted by Laura Wright ("Carly Corinthos")!
Now three days of fun, the weekend will include Q&A panels, meet and greets, games and contests, photo ops and official merchandise. Popular local classic rock band DropZone will serve as our house band on stage during the weekend and also serve as the anchor for Saturday Evening's Concert, featuring some of the GH celebrities. There will also be a high-energy Karaoke Party on Friday night, hosted by Laura Wright, which is a free event!
One of the highlights of the weekend will no doubt be the opportunity for a limited number of attendees to tour the General Hospital sets, the exclusive set tour for the Gold and Silver patrons, led by the show's producing legend, M.K. Weir! Complimentary bus transportation will be provided from the hotel lobby for those participating.
With all the ticket brackets now available, including Gold, Silver, Copper and General Admission Weekend packages, along with Preferred and Single Day seating options, everyone who attends and purchases a ticket will be guaranteed a seat in the main theatre.
Full information on the convention is now at https://www.creationent.com/cal/gh_burbank.html