Agent Carter Fashion: Inside the Premiere
Emmy award-winning Costume Designer Giovanna "Gigi" Ottobre-Melton shares the inside scoop on the wardrobe seen in the epic two-hour premiere of Marvel's Agent Carter.
Peggy has an iconic look, first established in the Captain America: The First Avenger and Marvel One-Shot: Agent Carter. How did that play into your wardrobe design for the series?
We continued the color story from Captain America: The First Avenger. You'll see Peggy in a lot of red, white and blue, as a silent tribute to her lost love, Captain America.
Her trademark look is the red custom ladies Stetson Stratoliner hat, a burst of color in a sea of grey fedoras. Working in man's world she needed to stand out, and she did that using color in her wardrobe.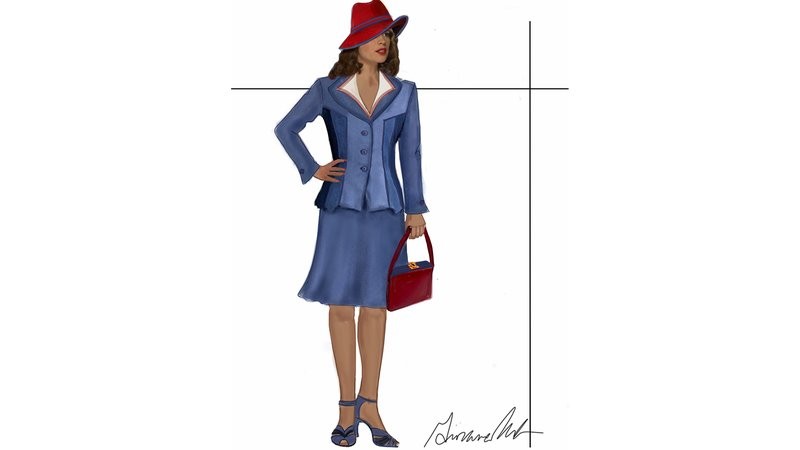 agent_carter_fashion_red_hat_1500|||1500|844|2
How did the politics of the time influence your wardrobe choices for Peggy and the other women?
As Peggy and her roommate Colleen discuss in the pilot, women were being laid off as men returned from the war. Fabric had been rationed during the war, so it was a "mend and make do" mentality.
As the show progresses, we'll see that as an international spy working secret missions for Howard Stark, Peggy has access to goods and merchandise to fit her undercover fashion needs. Her stylish black seamed nylon stockings, for example, were not readily available to the average woman in the marketplace, yet helped establish her fashion-forward look. You'll see the other female characters in the show donning the traditional nude seamed stockings when they were available. If you didn't have access to these fancy seamed stockings, your roommate drew them on for you!
Check out Peggy's chic black-seamed nylons as she chases down the bad guy.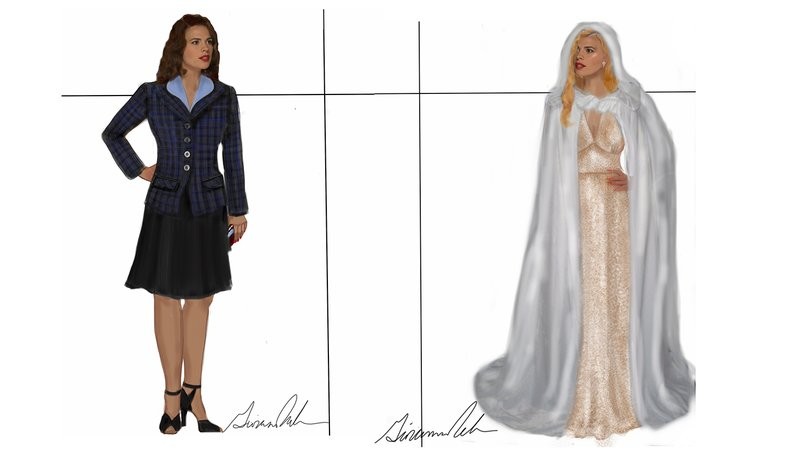 agent_carter_fashion_suit_dress_1500|||1500|843|2
Because of her undercover work, Peggy's looks range from smart business suits for the office to elegant evening gowns for undercover assignments. How did you approach Peggy's more sensual side?
For her daily SSR look there is an overall hourglass style with clean lines and strength in the tailoring and defined shoulder. Throughout the series, custom-made belts were used to compliment her great waist.
For her undercover work, the design of evening dresses from the 1930s and 1940s are mysterious and alluring, yet not overly revealing. The slim cut dresses glide over the body. When a woman walks around in one of these dresses, the fabric moves around her with a graceful fluidity.
In her undercover mission in the first episode, the script called for a Veronica Lake look. We got to make Peggy into the classic femme fatale, with the blonde waves and gold matelassé fabric. Her cape was made with off white silk Panne velvet.
Peggy's Poison Kiss|When Peggy goes undercover, a kiss proves dangerous for Spider Raymond.|When Peggy goes undercover, a kiss proves dangerous for Spider Raymond. From the Marvel's Agent Carter premiere.
Agent Carter channels Veronica Lake as she goes undercover at Spider Raymond's club.
This is a very stylish show with a beautiful vintage aesthetic, but it also includes a lot of action sequences. How did you balance the two?
We were able to use a just a few vintage pieces, like her stunning blue and coral dress in the premiere. It's a true 1940s vintage piece made from rayon crepe.
For her interview at a hotel for "proper" women, Peggy looks the part in a brown wool crepe with hand dyed peach wool crepe trim, custom made for the show.
But for the most part, her outfits are all custom made in multiples because of the all the scripted action. For some of her undercover missions, sometimes wearing pants was necessary for kicking ass and taking names. To accommodate all the stunts in the script, it was necessary to find reproduced vintage footwear. We sourced our shoes from Modcloth, Remix, and Arika Nerguiz.
Peggy makes a run for it in a classic 1940s pant and jacket ensemble.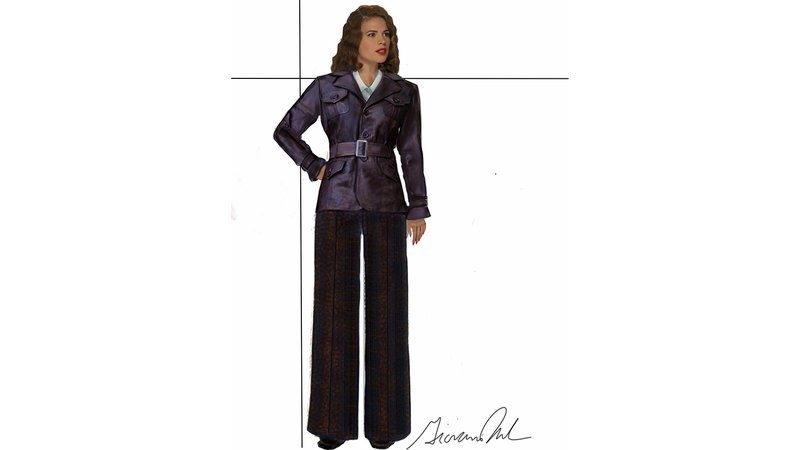 agent_carter_fashion_jacket_1500|||1500|844|2
Talk a little bit about the men's fashion. How did Jarvis's look differ from the men of the SSR?
Jarvis is a tweed suit man. He has a large responsibility handling Howard Stark's affairs, and needs to look polished at all times. He's a well-paid employee who can afford custom-made 3-piece suits, and has a British sensibility, so we put him in a finely tailored bold black and grey Herringbone suit.
The men of the SSR have more typical American suits for the time. Men's pants were pleated and typically cuffed. During the war years, details like cuffed pants and pleats were kept out of design due to fabric rationing. The shirt collars for men were an average of 3 to 3 1.5 inches. Some were longer.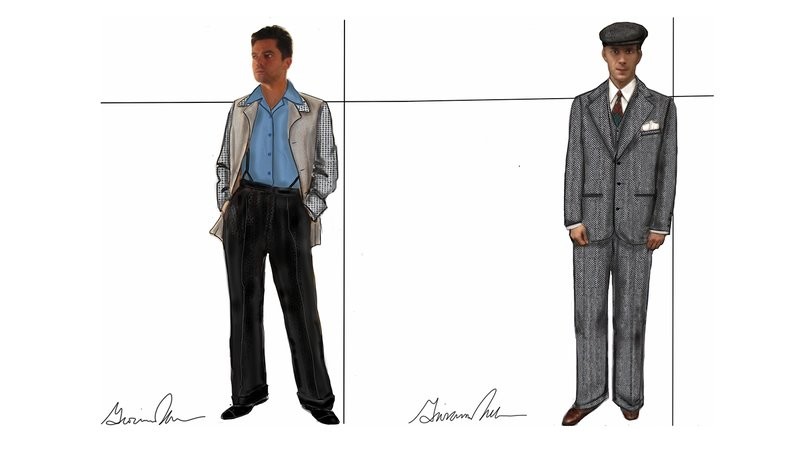 agent_carter_fashion_men_suits_1500|||1500|844|2
Chief Dooley is in the classic 1940s double-breasted looks. Many of his closet pieces are sourced 1940's vintage suits. The other SSR guys each have a look the tells us about their character — Thompson single breasted with suspenders; Sousa wears sweater vests under his sport coat and pleated pants; and Krzeminski is a bit of a slob with his sport jacket, and open collar shirts.
In the first episode, the scripted "Green Suit Man" in the Martinique nightclub wore a suit that was a tricky balance. The goal was to find a green that wasn't over the top, but still made a powerful statement. The suit I designed was inspired by a 1940s green double breasted suit I had located. After much sourcing, I located the perfect teal wool fabric in New York to make all the multiples we would need. For his second suit, I was inspired by the olive green tones of the 1940s Russian military.
MORE:
Field Report: Pilot / Bridge and Tunnel
Catch up on the premiere and tune in Tuesday JAN 13 9|8c for the next episode of Marvel's Agent Carter. Plus, come back each week for Gigi's behind the scenes look at the incredible fashion of Marvel's Agent Carter.