Get a Closer Look at Claire's "Organization Porn"
When Claire Dunphy is online, what exactly would she want to stare at and ogle on her screen? It turns out that the "porn" that Claire is into is the cleanest porn there is, because it's so neatly arranged: "Organization Porn."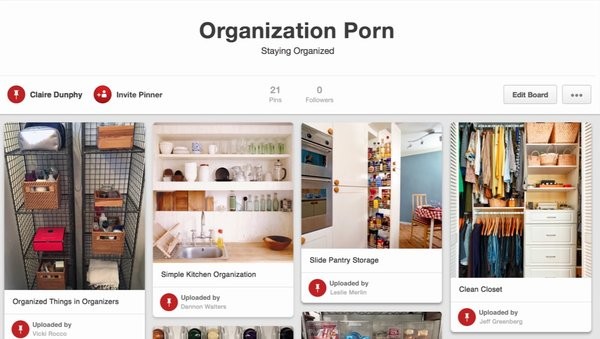 All of the Pinners on Claire's "Organization Board" are actual people who work behind the scenes on Modern Family , including Production Staffers Vicki Rocco, Dannon Walters and Leslie Merlin, and Casting Director Jeff Greenberg. Also of note is the fact that Claire has zero followers.


In Season 6, Episode 16 of Modern Family, "Connection Lost," Claire (Julie Bowen) spends the entire episode on her computer trying to track down Haley (Sarah Hyland) after the two of them get in a fight. When no one can find Haley, Claire uses her computer to track her down (while occasionally multitasking and seeking comfort in her organization porn). Here's how the fight between mother and daughter all got started:

Watch Modern Family ABC WEDNESDAYS 9|8c.