An Entire "Modern Family" Episode Plays Out Via Claire's Laptop
In a unique, first-of-its-kind Modern Family, the entire episode is played out on Claire (Julie Bowen)'s computer screen. In "Lost Connection," which airs WEDNESDAY, FEBRUARY 25, Claire is stuck at the airport and FaceTimes with the entire family to track down Haley (Sarah Hyland), who stormed off after a fight. Naturally, Claire turns to online snooping, which inevitably leads to some disturbing revelations and soon everyone is sucked into the online drama.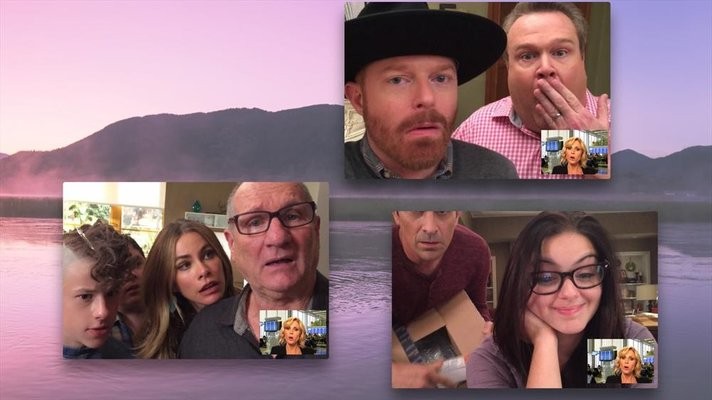 Better Bonding Through Technology
The Dunphys have always been web-savvy (and overly dramatic). Remember when Phil (Ty Burrell) had a meltdown because he didn't get an iPad for his birthday? Luckily, Luke (Nolan Gould) came to the rescue by lying to a friend that his dad was dying. Phil later returned the favor by helping Luke get a date online. Except wait... that didn't go so well, did it? (Well, not as bad as the time Luke found porn on Phil's laptop.)


The Nearly Perfect Computer Crime
And then there was the time Jay (Ed O'Neill) and Gloria (Sofia Vergara) tricked Manny (Rico Rodriguez) into believing they were in Mexico, just so they could spend a quiet Thanksgiving alone. That was a feat they couldn't have pulled off without their laptop's webcam. Of course, they were eventually found out, but that wasn't the computer's fault, was it?
Smartphone > Smart Sister
This clan might be a little too attached to their gadgets. Take Haley, whose concern for her sister, Alex (Ariel Winter), after a near-miss in the car led to a new bond -- until Alex realized that Haley's distressed post-accident cry of, "I nearly lost you," was about her precious phone, not her brainy sis.
Haley's Mic Drop Moment
Then again, Haley's Internet addiction is actually paying off: When her parents pressured her to come up with a plan for her future, she showed them the fashion blog she's been writing, pointing out that she's more together now then they were at her age. Touché, Haley.
Watch Modern Family WEDNESDAYS 9|8c