'Dick Clark's New Year's Rockin' Eve With Ryan Seacrest 2023′ Returns to Puerto Rico!
ABC and dick clark productions announced that "Dick Clark's New Year's Rockin' Eve with Ryan Seacrest 2023" will return to Puerto Rico as the first countdown on the show to welcome the New Year with Puerto Rican actress and singer Roselyn Sanchez as co-host. Multiplatinum-selling Puerto Rican singer and rapper Farruko will also be in attendance to give a spectacular performance. Last year, the Island was the inaugural destination for the show's first-ever Spanish language countdown.
The new year's celebration in Puerto Rico will again take place on the grounds of the Puerto Rico Convention Center at DISTRITO T-Mobile, the Caribbean's premier entertainment and nightlife complex, boasting one of the largest digital display systems in the world. Puerto Rico's countdown will be the first and occur at 11:00 p.m. EST/12:00 a.m. AST.
"We are very excited to again host Dick Clark's New Year's Rockin' Eve on our Island to lead the countdown in welcoming 2023. Puerto Rico's participation in this high-caliber event celebration will allow us to continue projecting to the world everything we have to offer as we head into our peak tourism season," said Pedro Pierluisi, Governor of Puerto Rico. "We will again be front and center on national television to promote Puerto Rico's beauty, culture and attractions and continue driving our booming tourism industry and economic development."
"I am beyond excited and honored to return to my homeland Puerto Rico to be a part of such an incredible and beloved event," said co-host Roselyn Sanchez. "We will have an enchanting night and are so very pleased to share our beautiful Island and welcome 2023 with a bang!"
"What a blessing to be a part of the New Year's Rockin' Eve tradition from my home island of Puerto Rico that represents and means so much! We are going to give you guys an unforgettable night! You can't miss it. See you on the 31st!" Farruko said.
Sanchez joins the show's previously announced star-studded lineup, including 18-time host Ryan Seacrest and co-hosts Liza Koshy, Jessie James Decker, Ciara, Billy Porter, and D-Nice. Farruko will ring in the New Year as the headliner in Puerto Rico, taking the stage to perform a medley of hits. Farruko joins the lineup of previously announced performers, including Aly & AJ, Armani White, Bailey Zimmerman, Ben Platt, Betty Who, Billy Porter, Ciara, Dove Cameron, Finneas, Fitz & The Tantrums, Halle Bailey, Lauren Spencer Smith, Maddie & Tae, Nicky Youre, Shaggy, TXT, and Wiz Khalifa. Additional performers will be announced in the lead-up to show night. 'Dick Clark's New Year's Rockin' Eve with Ryan Seacrest' will air SATURDAY, DEC. 31, live on ABC, beginning at 8:00 p.m. EST/9:00 p.m. AST
As previously announced:
Eighteen-time host and executive producer Ryan Seacrest will once again head to Times Square to lead the festivities.
Actress and producer Liza Koshy will return as co-host alongside Seacrest.
Country artist Jessie James Decker will also join the duo in Times Square as the Powerball co-host for her fourth consecutive year.
Disneyland will become this year's inaugural host destination and home to an additional "Rockin' Eve" celebration with veteran hostess and award-winning multiplatinum-selling artist Ciara overseeing festivities at the Happiest Place on Earth. The Disneyland segments are pre-taped prior to the New Year's holiday. Expect performances in Disneyland Resort by Aly & AJ, Bailey Zimmerman, Ben Platt, Ciara, Fitz & The Tantrums, Halle Bailey, Lauren Spencer Smith, Maddie & Tae, Shaggy and TXT.
Returning for his fourth year, Billy Porter will be back in New Orleans for the Central Time Zone countdown and will give a spectacular performance of his own.
After serving as the official LA Party DJ at last year's show, iconic DJ, producer/rapper and philanthropist D-Nice will return as this year's LA co-host. Performers at the LA Party include Armani White, Betty Who, Dove Cameron, Finneas, Nicky Youre and Wiz Khalifa.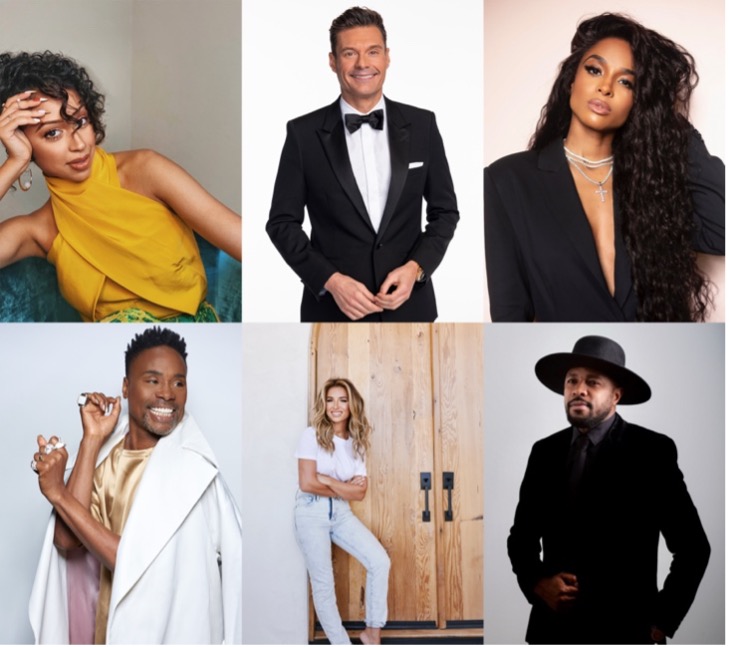 "Dick Clark's New Year's Rockin' Eve 2022," the 50th-anniversary show of ABC's annual New Year's Eve special and the No. 1 entertainment telecast of 2021 grew to a 4-year high in Total Viewers (19.6 million), hitting 24.2 million Total Viewers and a 7.3 Adult 18-49 rating in the midnight quarter-hour.
For the latest Dick Clark's New Year's Rockin' Eve news, exclusive content and more, follow NYRE on social (Facebook| Twitter | Instagram | TikTok), on ABC sites (Facebook | Twitter | Instagram | TikTok), online at NewYearsRockinEve.com and join the conversation by using the official hashtag for the show, #RockinEve.
About dick clark productions: dick clark productions is the world's largest producer and proprietor of televised live event entertainment programming with the "Academy of Country Music Awards," "American Music Awards," "Billboard Music Awards," "Golden Globe Awards," "Dick Clark's New Year's Rockin' Eve with Ryan Seacrest," "So You Think You Can Dance," and the "Streamy Awards." dick clark productions owns one of the world's most extensive and unique entertainment archive libraries with more than 60 years of award-winning shows, historic programs, specials, performances and legendary programming. For more information please visit www.dickclark.com.
About ABC Entertainment: ABC Entertainment's compelling programming includes "Grey's Anatomy," the longest-running medical drama in primetime television; ratings juggernaut "The Bachelor" franchise; riveting dramas "Big Sky," "The Good Doctor," "A Million Little Things," "The Rookie" and "Station 19"; trailblazing comedies "Abbott Elementary," "The Conners," "The Goldbergs," "Home Economics" and "The Wonder Years"; popular game shows, including "The $100,000 Pyramid," "Celebrity Family Feud," "The Chase," "Press Your Luck" and "To Tell the Truth"; star-making sensation "American Idol"; "Judge Steve Harvey," the network's strongest unscripted series debut in a year; reality phenomenon "Shark Tank"; family favorites "America's Funniest Home Videos" and "Holey Moley"; "General Hospital," which heads into its milestone 60th season on the network; and late-night talk show "Jimmy Kimmel Live!"; as well as the critically acclaimed, Emmy® Award-winning "Live in Front of a Studio Audience" specials. The network also boasts some of television's most prestigious awards shows, including "The Oscars®," "The CMA Awards" and the "American Music Awards." ABC programming can also be viewed on Hulu.
About Roselyn Sanchez: Roselyn Sanchez currently stars on FANTASY ISLAND, as Elena Roarke, an updated version of the iconic character Mr. Roarke from the original 1977 Fantasy Island. The show airs weekly on FOX. She also starred as Gigi Mendoza opposite Demian Bichir in the ABC television drama "Grand Hotel," executive produced by Eva Longoria. The series was the highest-rated summertime drama series to debut in 4 years on the network. Roselyn first wowed audiences in New Line's 2001 blockbuster hit RUSH HOUR 2 starring opposite Chris Tucker and Jackie Chan, playing the character Isabella Molina, an undercover Secret Service Agent. She received an ALMA Award nomination for Best Supporting Actress for her performance. After conquering the big screen, Roselyn set her sights on another dream of hers. In 2003, she released her debut album entitled "Borinqueńa." She was nominated for a Latin Grammy for Best Music Video for the single "Amor Amor," which she also performed at the 2004 Latin Grammy ceremony. Roselyn was a co-host at the 2014 Billboard Latin Music Awards as well as a presenter at the 2014 Latin Grammy's. Sanchez is also an entrepreneur. She is a business partner and spokesperson for the PETA organization participating in their highly successful "I'd Rather Go Naked Then Wear Fur" campaign. The ad was released in both Spanish and English markets. In addition, Roselyn is the first Hispanic ambassador for Operation Smile.
About Farruko: Due to his great exceptional versatility and performance expertise, the multiplatinum artist and two-time Latin GRAMMY® winner, Farruko has managed to conquer massive audiences around the world and has become one of the most innovative exponents of the reggaeton genre. With 8 successful studio albums and multiple collaborations with international artists of different genres, his success has impacted the Latino community in such a way that his career has been recognized by HBO in a documentary focused on his career entitled, "Farruko: En Letra de Otro". In 2020, Farruko received two ASCAP awards for his songs "Calma" alongside Pedro Capo as well as his hit "Si Se Da". In 2021, Farruko shared his latest global anthem "Pepas" which landed him the #1 spot on Billboard's Hot Dance/Electronic Songs, Dance/Electronic Digital Song Sales, Dance/Electronic Streaming Songs, and Latin Digital Song Sales charts, and peaked at #3 on Spotify's Global Top 50 chart, with over 1.5 BILLION total streams and surpassed an average of over two million streams per day since its release. All of the success he has experienced with "Pepas" goes hand in hand with the success of his album "La 167" and tour "LA 167 TOUR". Including a 2023 GRAMMY nomination in the "Best Musica Urbana Album" category. Farruko has been characterized by his incredible musical versatility, which has led him to conquer massive audiences worldwide. With each of his projects, the artist continues to positively impact the world and leave his mark in Latin music history.