Performers for 'Dick Clark's New Year's Rockin' Eve With Ryan Seacrest 2023′ Announced: See the Lineup
ABC and dick clark productions
ABC and dick clark productions announced the star-studded lineup of performers for Disneyland, Los Angeles and New Orleans that viewers can expect to see during "Dick Clark's New Year's Rockin' Eve with Ryan Seacrest 2023." Performers Include Aly & AJ, Armani White, Bailey Zimmerman, Ben Platt, Betty Who, Billy Porter, Ciara, Dove Cameron, Finneas, Fitz and The Tantrums, Halle Bailey, Lauren Spencer Smith, Maddie & Tae, Nicky Youre, Shaggy, TXT, and Wiz Khalifa. See the lineup below. 'Dick Clark's New Year's Rockin' Eve with Ryan Seacrest 2023' Airs Live Saturday, Dec. 31, Beginning at 8/7c on ABC.
Performers at Disneyland Resort (pre-taped) include the following:
GRAMMY® award-winning singer and songwriter and Disneyland co-host Ciara will take the stage to perform a medley of "Better Thangs" and "Jump."
American indie pop band Fitz and The Tantrums will perform their hit single "Sway" off of their latest album, "Let Yourself Free," as well as their multiplatinum smash "HandClap."
Multiplatinum country music duo Maddie & Tae will get viewers moving with uplifting track "Bathroom Floor" and strike a chord with a touching performance of "Every Night Every Morning."
Reggae/dancehall icon Shaggy will sing his classic hits "Boombastic" and "Angel," for which fellow Jamaican artist Olaf Blackwood will join.
Tony® Award, GRAMMY and Emmy® winner Ben Platt will perform his 2021 song "Imagine" and be joined by beloved indie sister duo Aly & AJ for a rendition of power ballad "Go Your Own Way."
Five-time GRAMMY-nominated singer, songwriter and the star of Disney's live-action film "The Little Mermaid" Halle Bailey will sing her sentimental hit "Cool People" and a spirited cover of Janet Jackson's "Together Again."
South Korean boy band TOMORROW X TOGETHER, known as TXT, will present the power of K-Pop with "Good Boy Gone Bad" and "0X1=LOVESONG (I Know I Love You)" featuring Seori.
Platinum-selling breakout artist Bailey Zimmerman will sing his No. 1 debut single, "Fall In Love," and fan-favorite track "Rock And A Hard Place."
Vancouver Island singer-songwriter Lauren Spencer Smith will showcase her powerful vocals with "Fingers Crossed" and "Flowers."
Performers at the L.A. Party include the following:
Multiplatinum-selling, GRAMMY- and Golden Globe®-nominated recording artist Wiz Khalifa will celebrate the New Year on the L.A. stage with performances of his 2022 highlight single "Memory Lane" and fan-favorite song "Black & Yellow."
Academy and multi-GRAMMY award-winning singer-songwriter FINNEAS will perform his tender hit "Let's Fall in Love for the Night" and "Only a Lifetime" off his debut album, "Optimist."
Billboard's August 2022 R&B/Hip Hop Rookie of the Month and Def Jam recording artist Armani White will perform his viral sensation hit record "Billie Eilish" and upcoming single "Goated."
Australian singer-songwriter Betty Who will perform her feel good track "Blow Out My Candle," the lead single off her most recent release, "BIG!," via BMG, and an entrancing rendition of Kate Bush's 1985 song-turned-2022 viral sensation, "Running Up That Hill."
Singer-songwriter, actress and AMAs New Artist of the Year winner Dove Cameron will cap off her year of accomplishments with performances of "Boyfriend" and "Bad Idea."
Pop singer-songwriter Nicky Youre will rock the stage with his smash hit single "Sunroof" and newly released "Eyes On You."
Emmy, GRAMMY and Tony Award winner and co-host Billy Porter will perform a medley of his hits in New Orleans, where he will be co-hosting "New Year's Rockin' Eve" Festivities.
As previously announced:
Eighteen-time host and executive producer Ryan Seacrest will once again head to Times Square to lead the festivities.
Disneyland will become this year's inaugural host destination and home to an additional "Rockin' Eve" celebration with veteran hostess and award-winning multiplatinum-selling artist Ciara overseeing festivities at the Happiest Place on Earth. The Disneyland segments are pre-taped prior to the New Year's holiday.
Actress and producer Liza Koshy will return as co-host alongside Seacrest.
Country artist Jessie James Decker will also join the duo in Times Square as the Powerball co-host for her fourth consecutive year.
Returning for his fourth year, Billy Porter will be back in New Orleans for the Central Time Zone countdown.
After serving as the official L.A. Party DJ at last year's show, iconic DJ, producer/rapper and philanthropist D-Nice will return as this year's L.A. co-host.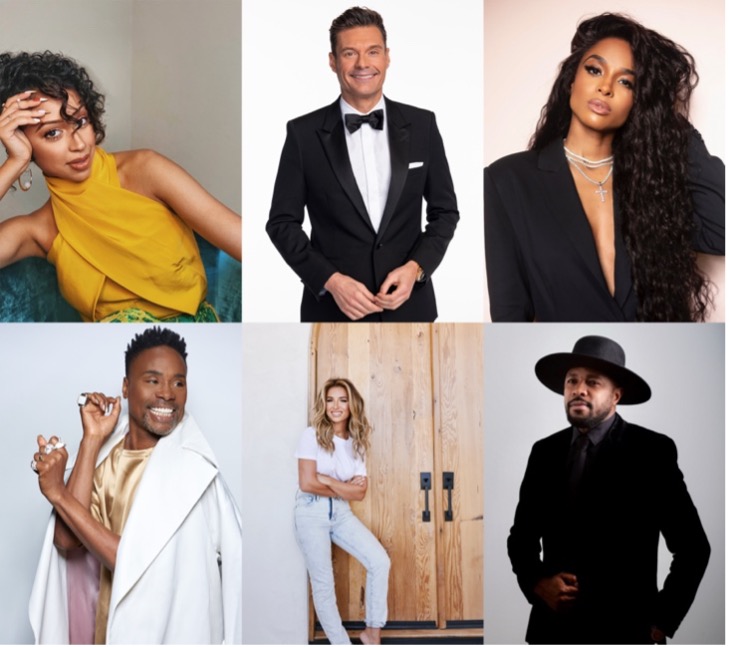 "Dick Clark's New Year's Rockin' Eve 2022," the 50th-anniversary show of ABC's annual New Year's Eve special and the No. 1 entertainment telecast of 2021 grew to a 4-year high in Total Viewers (19.6 million), hitting 24.2 million Total Viewers and a 7.3 Adult 18-49 rating in the midnight quarter-hour.
For the latest Dick Clark's New Year's Rockin' Eve news, exclusive content and more, follow NYRE on social (Facebook| Twitter | Instagram | TikTok), on ABC sites (Facebook | Twitter | Instagram | TikTok), online at NewYearsRockinEve.com and join the conversation by using the official hashtag for the show, #RockinEve.
About dick clark productions: dick clark productions is the world's largest producer and proprietor of televised live event entertainment programming with the "Academy of Country Music Awards," "American Music Awards," "Billboard Music Awards," "Golden Globe Awards," "Dick Clark's New Year's Rockin' Eve with Ryan Seacrest," "So You Think You Can Dance," and the "Streamy Awards." dick clark productions owns one of the world's most extensive and unique entertainment archive libraries with more than 60 years of award-winning shows, historic programs, specials, performances and legendary programming. For more information please visit www.dickclark.com.
About ABC Entertainment: ABC Entertainment's compelling programming includes "Grey's Anatomy," the longest-running medical drama in primetime television; ratings juggernaut "The Bachelor" franchise; riveting dramas "Big Sky," "The Good Doctor," "A Million Little Things," "The Rookie" and "Station 19"; trailblazing comedies "Abbott Elementary," "The Conners," "The Goldbergs," "Home Economics" and "The Wonder Years"; popular game shows, including "The $100,000 Pyramid," "Celebrity Family Feud," "The Chase," "Press Your Luck" and "To Tell the Truth"; star-making sensation "American Idol"; "Judge Steve Harvey," the network's strongest unscripted series debut in a year; reality phenomenon "Shark Tank"; family favorites "America's Funniest Home Videos" and "Holey Moley"; "General Hospital," which heads into its milestone 60th season on the network; and late-night talk show "Jimmy Kimmel Live!"; as well as the critically acclaimed, Emmy® Award-winning "Live in Front of a Studio Audience" specials. The network also boasts some of television's most prestigious awards shows, including "The Oscars®," "The CMA Awards" and the "American Music Awards." ABC programming can also be viewed on Hulu.