"The Bachelor Presents: Listen to Your Heart" Recap: The Cast Performs for the Judges
We didn't know what to expect this week, but something was going to go down for sure: Sheridan is still really into Julia, but Julia is still really into Brandon, and Brandon seems open to it, even though he gave Savannah a rose and she's totally into him. No idea how that was all going to work out, but we're pretty sure it's going to involve some raised voices and tears. Obviously, plenty of Listen to Your Heart spoilers follow, but you can watch the full episode of The Bachelor Presents: Listen to Your Heart season 1, episode 3 right here on ABC.com or in the ABC app—or read on for a breakdown.
The First Big Twist Sends Shockwaves Through the House
As the guys and gals settle in for what they assume will be another week of dating and serenading each other at the house, Chris Harrison strolls in like "Nah," and tells the group that everyone needs to take a good look at their relationships. And if you're not really in it, it's time to get outta this house and go home. (He says it more kindly than that, obvs.)
RELATED: Catch up with The Bachelor Presents: Listen to Your Heart recaps: Listen to Your Heart Week 2 recap | Listen to Your Heart premiere recap
Instantly, the pressure is on, and everyone's feeling it. Julia tells the group she's still open to Brandon and they had a great talk before the last Rose Ceremony, to which Savannah is basically like "Excuse you, what?" and says all of this is news to her. Julia also adds that Brandon told Julia that he knew she'd get a rose (presumably from Sheridan)…the implication being that he could give Savannah a rose and keep his options open.
Neither Julia nor Savannah feels great about that. And to complicate all of this further, it turns out Gabe has been chatting with Savannah and having good conversations—so much so that he tells her that if it's not her, he's heading home:
WATCH: Gabe tells Savannah he's heading home if she's not into him
Respect to Gabe on that; it couldn't have been easy, it definitely wasn't the simple decision, and he did it all with a cool head and charm. Gabe tells Ruby he's made his decision, and because she didn't make a connection with anyone other than Gabe, she packs it up and leaves as well.
Meanwhile, Savannah has a quick chat with Brandon to settle all of this. She likes him, she's here for him, he gave her a rose, so are they doing this or what? Without much fanfare, Brandon is like, uh, yeah, I'm all in. Savannah is surprised but delighted at how easy that was.
RELATED: Meet The Bachelor Presents: Listen to Your Heart cast
All which of course means Julia is out of the picture. Julia hears secondhand that Savannah and Brandon are now on. So now Julia is crying. But this has given her clarity as well: No one's ever treated her as well as Sheridan has thus far. She's all in.
Time to Make Some Dreams (and NIghtmares) Come True
Once the house is back in order, Chris Harrison gathers everyone to yank that stability right out from under them: It's time to start performing in front of music stars, record company execs, and Bachelor couples, all of whom will be judging the couples on their music and their romantic connection and deciding who stays and who goes from here on out. The lucky couple who survives will record original songs, and then go on tour. Basically, all of their musical and romantic dreams will come true.
The bachelors and bachelorettes take it in stride, working on their craft while hahahaha sorry, just kidding—they basically all lose their minds. Everyone's excited for the opportunity, but they're all freaking out because now it's put up or shut up time, which is an incredible opportunity but also terrifying.
Julia in particular is struggling. She's tired. Her mind's not in it. She misses Brandon. She's questioning everything. She can hear Savannah and Brandon practicing. And she sure doesn't love living in the same house as those two. She decides it's time for a chat with Savannah:
WATCH: Julia says Savannah is disingenuous
Meanwhile, Ryan and Natascha got a date card, so they get a break from their performance prep to get out of the house, and into the House…of Blues. (Sorry, I'll see myself out.) They hang with country star Chris Lane (and his wife, Bachelor Nation's Lauren B. from Ben Higgins's season of The Bachelor) and stay for his concert. They're inspired and ready for their performance.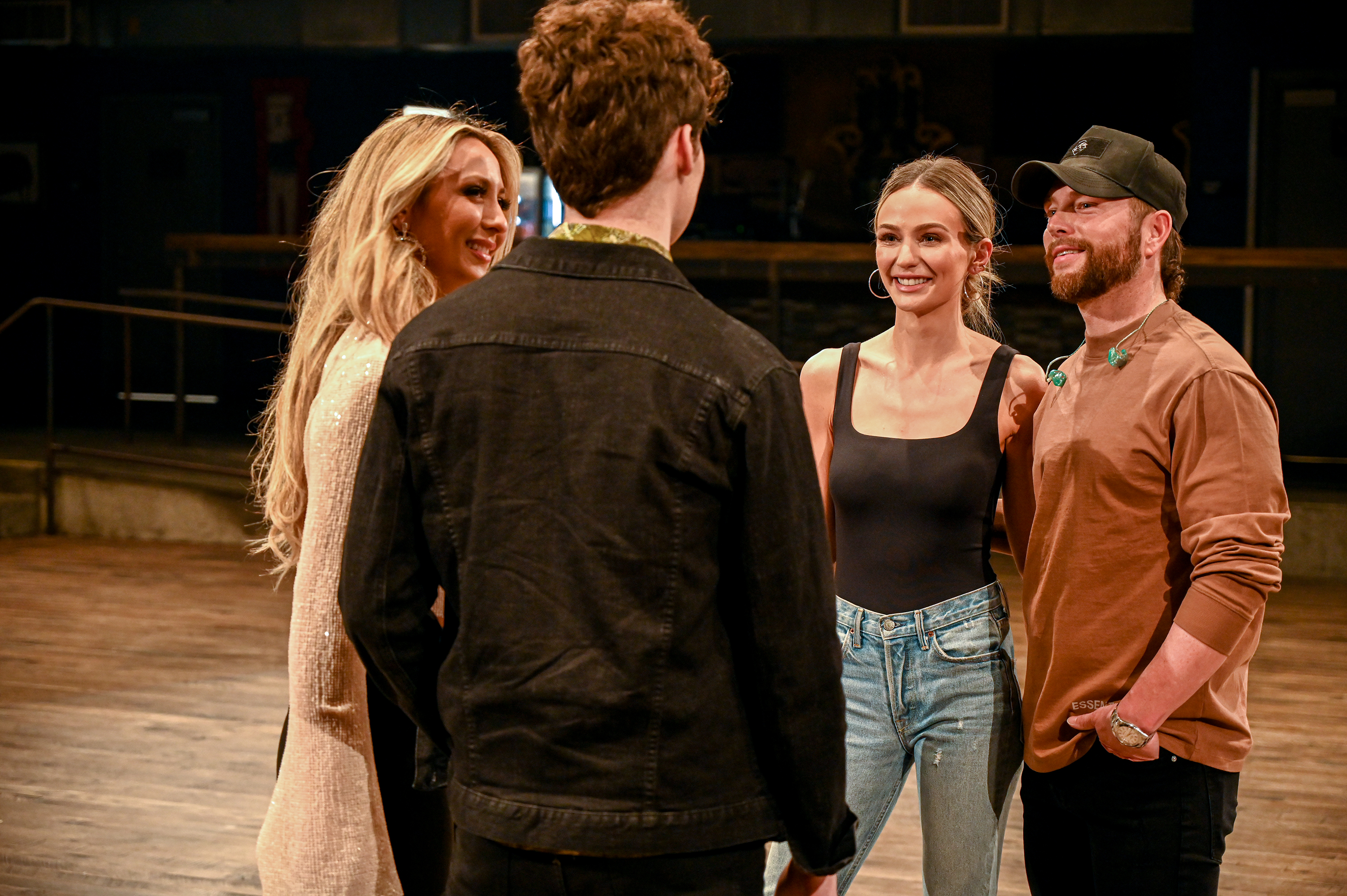 Natascha and Ryan get music and love lessons from Chris Lane and Lauren Bushnell Lane
Everyone is nervous and stressed, though Jamie might be feeling it harder than some of the other folks. She eventually breaks down in tears, worried that she's going to drag Trevor down. With self-loathing and self-doubt at all-time highs in the house, we're ready for the next step...
The First Performances of The Bachelor Presents: Listen to Your Heart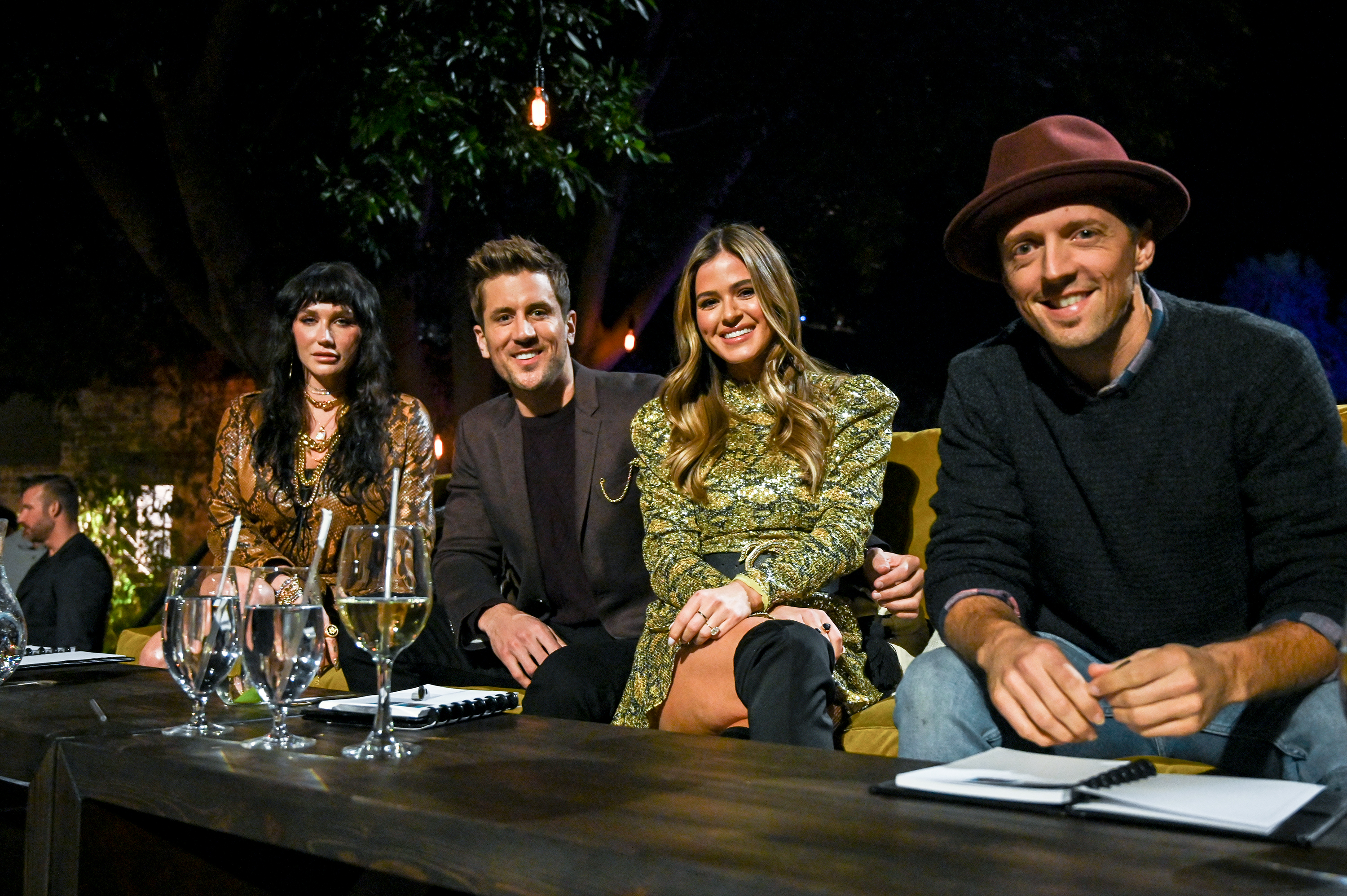 The judges, from left to right: Kesha, Jordan Rodgers, JoJo Fletcher, and Jason Mraz
It's time for the couples to perform in front a a big audience, to be judged by stars Kesha and Jason Mraz, as well as Bachelor Nation couple JoJo Fletcher and Jordan Rodgers. Not only will they be judged on their ability to deliver like the rock stars they want to be, but they'll also be judged on their romantic connection, and how well it translates into their performance.
We're not going to rehash every last bit of the performances here (watch the full episode to see them all!), but here are the broad strokes:
- Matt and Rudi performed "Fallin' All In You" by Shawn Mendes, and everyone thought they did a solid job. Jason Mraz thought Matt held it down so that Rudi could really shine.
- Bri and Chris performed "Beyond" by Leon Bridges, and the judges went nuts for this one—and their connection:
Everyone loves Bri and Chris's singing and romantic connection
- Bekah and Danny performed "Ho Hey" by the Lumineers, and didn't fare quite as well. Rudi said they looked very "brother and sister" up there, and the judges agreed, saying the romance wasn't really there.
- Brandon and Savannah performed "I Want You To Want Me" by Cheap Trick, and again, the judges liked the music, but felt like the chemistry wasn't really there (which was music to Julia's ears).
- Julia and Sheridan performed "As Long as You Love Me" by the Backstreet Boys, and when it was over, Sheridan said they nailed it and that everyone knows their connection as a result—and the judges felt the same.
- Natascha and Ryan performed "Stay" by Rihanna. Everyone agreed that Ryan was talented, and everyone also agreed that Natascha still totally stole the show and could be a superstar in the making.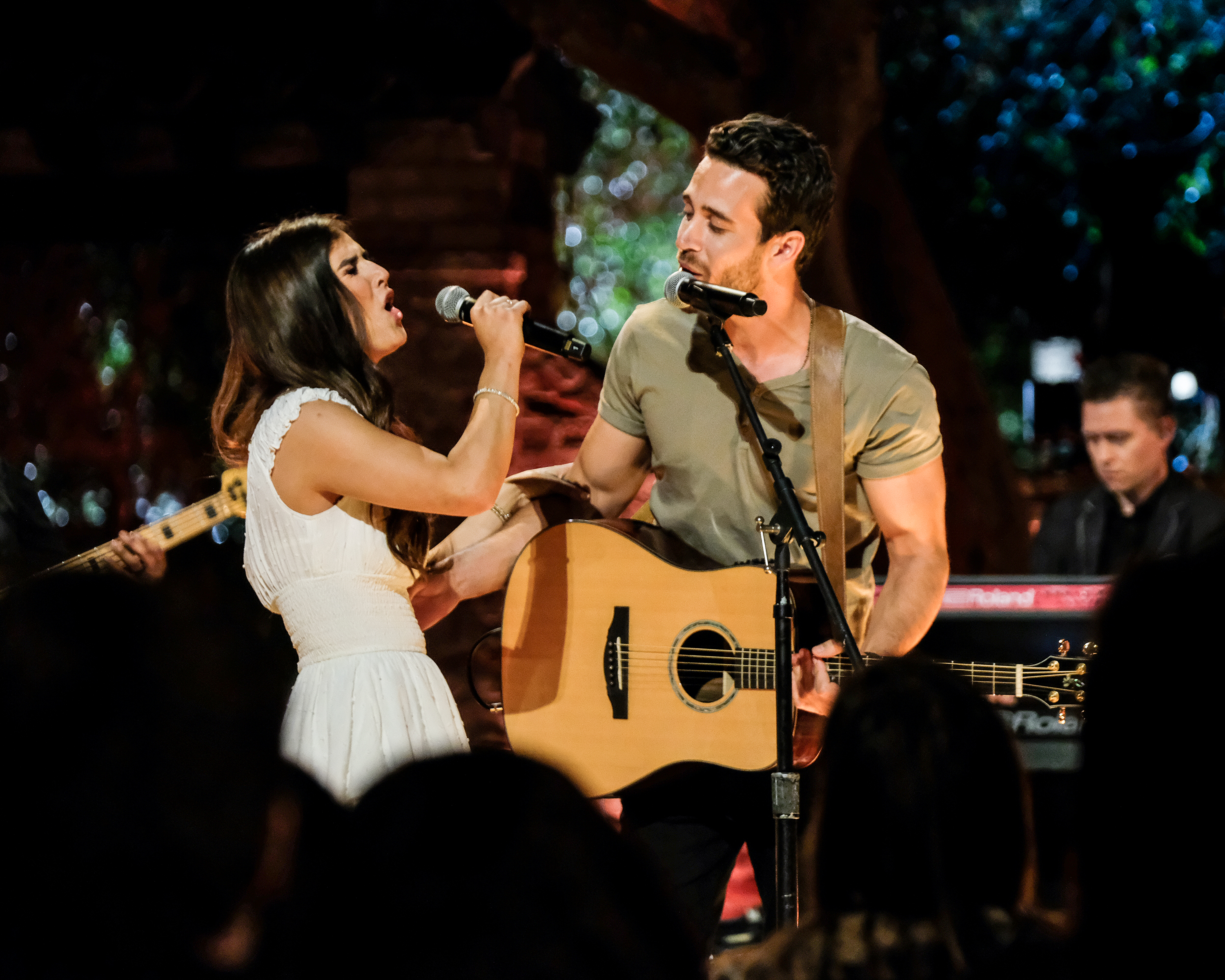 Jamie and Trevor perform live
- Jamie and Trevor performed "I Could Use a Love Song" by Maren Morris, and when Jamie told the judges that she often gets in her own head and has trouble loving herself, they said the pair did great and has every reason to be proud.
The Rose Ceremony
After that, it was time to reveal who would continue chasing their dreams, and which unlucky couple would be headed home. It came down to Bekah & Danny, and Brandon & Savannah:
WATCH: The couple sent home in Week 3 is...
They're headed home, but they're planning on keeping in touch. So even if you didn't get a rose at the Rose Ceremony, you still get a shot at a happy ending.
Here's what to look forward to next week:
WATCH: A sneak peek at Week 4 of The Bachelor Presents: Listen to Your Heart
Watch The Bachelor Presents: Listen to Your Heart MONDAY 8|7c on ABC!