Bachelors vs. Bachelorettes on Wipeout this SUNDAY 8|7c!
Yes, this season of The Bachelorette is over, but your favorite good-looking men and women searching for love will be back on TV this SUNDAY 8|7c on ABC for a special "Bachelors vs Bachelorettes" edition of Wipeout! The clip above is a little snippet from last week's "Blind Date" episode. (Who knew Wipeout was so romantic?)

RELATED: Watch Nick's shocking revelation from the After the Final Rose episode »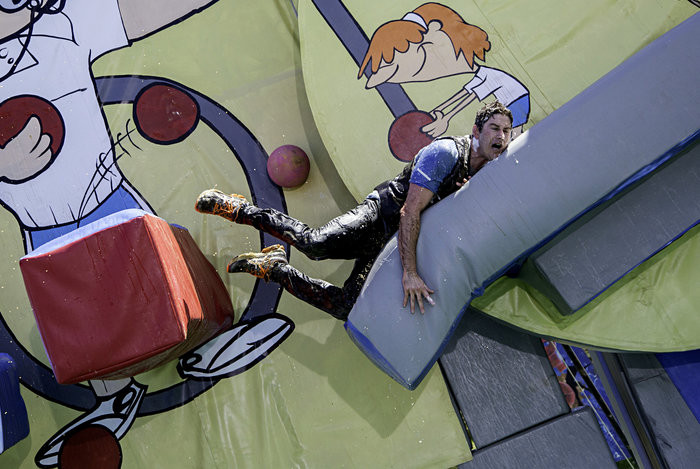 You can watch hotties like Erica Rose, Tenley Molzahn, Michelle Kujawa, Arie Luyendyk (seen above getting intimate with the course), Graham Bunn, Kasey Stewart and Natalie Getz face Wipeout obstacles like "The Beaver and Beaverettes," "The Big Balls" and "Gym Class" along their quest to win a big cash prize. One lucky contestant will earn the money and a ticket to the "Tournament of Champions" battle at the end of the season. And if you can't have everlasting love, we're pretty sure we'd all agree that's the next best thing.
Wipeout is hosted by John Anderson (ESPN's SportsCenter), John Henson (E!'s Talk Soup) and co-hosted by Jill Wagner (MTV's Teen Wolf).
RELATED: Who is the next bachelor? Chris Harrison answers »
The seventh season of ABC's hit game show, Wipeout, will feature the first ever "Tournament of Champions" with the winner from each episode returning to compete against one another in an epic battle for the title of Ultimate Wipeout Champion. Leading up to the tournament, each episode will showcase 24 adventurous players of all shapes and sizes as they compete in a brand new obstacle course designed to showcase the best body flips, biggest splashes and amazing wipeouts that you won't want to miss.
Wipeout was created by executive producers Matt Kunitz (101 Ways to Leave a Game Show, Fear Factor) and Scott Larsen. Kevin Wehrenberg, Trice Barto and J. Rupert Thompson are also executive producers. The series is produced by Endemol USA.