The Bachelorette Results: Kupah Sent Home Before the Rose Ceremony
Even when there's no Rose Ceremony on The Bachelorette, there's still plenty of drama. Kaitlyn Bristowe handed out a few roses on this week's dates, but after sending Kupah home after a tiff during the cocktail party on the night of the Rose Ceremony, he blew up and caused a scene outside Bachelor Mansion. The episode ended without a Rose Ceremony, so we'll have to wait to see the aftermath of his outburst until next week.
Clint had a 1-on-1 date with Kaitlyn that went well and earned him a rose. Ben Z got the Group Date Rose after the boxing date (even though he sent Jared to the hospital with a possible concussion during their championship fight).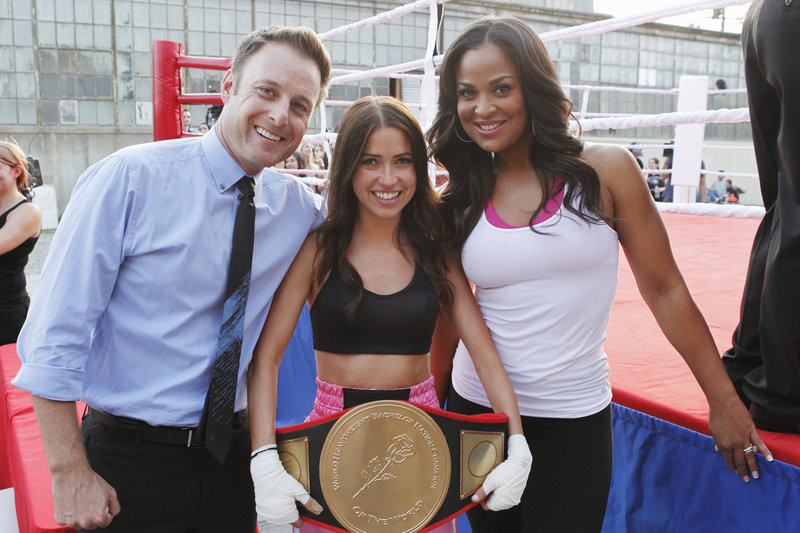 Host Chris Harrison and Bachelorette Kaitlyn Bristowe with boxing champion Laila Ali
JJ snagged the rose after the comedy group date. One thing is for sure: Comedian mentor Amy Schumer would not have given JJ the rose if it were up to her:
Amy Schumer with the Bachelors|The comedian calls JJ a turd.|Comedian Amy Schumer gives the guys a few pointers before they have to take the stage for their stand-up comedy routines. She wants Chris to make fun of himself, and she calls JJ a turd that lacks charisma and humility. From Week 2 of the 2015 season of The Bachelorette.
So we know that Clint, Ben Z, and JJ are safe, and we know that Kupah has been eliminated. (We also know Amy Schumer thinks JJ is "a turd.") But it looks like we'll have to wait until next week to find out which Bachelorette contestants will be sent home after the Rose Ceremony.
There is one more result to announce, however: It looks like Britt Nilsson made a love connection after all!
Britt and Brady Stay Together|This. Is. Adorable.|Brady left the Bachelor Mansion during the first Rose Ceremony to chase after Britt because he felt they had a connection. Brady followed his heart and it paid off -- he and Britt have been spending time together, and here, they make it official: They're together. From Week 2 of the 2015 season of The Bachelorette.
Brady felt like he had to follow his heart, and it sounds like his heart was pretty darn accurate. We're happy to hear those two kids are getting along, because they seem like a pretty good match for each other. Also, how adorable is that clip? We say very.
Watch The Bachelorette, MONDAYS 8|7c on ABC.