Episode 3 Nicole's Showstopper Bake: Pate a Choux Reindeer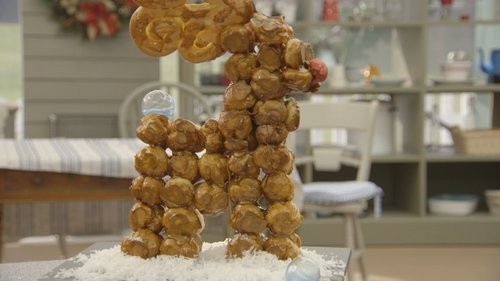 Episode 3 Showstopper Bake: Nicole's Pate a Choux Reindeer
Nicole: Pate a Choux Reindeer
INGREDIENTS:
For the dough:
• 4 cup water
• 4 sticks unsalted butter
• 4 cup all-purpose flour
• 4 cup eggs (20 large eggs)
• 1 tbsp. salt- fine sea salt
• 4 tbsp sugar
For the pastry cream filling:
• 5 large eggs
• 2 egg yolks
• 5 cups of whole milk
• 1 tablespoon vanilla bean paste
• 1 1/4 cups granulated sugar
• 1/4 tsp salt- fine sea salt
• 3oz corn starch (6 tablespoons)
• 8 super ripe bananas
• 6oz heavy cream (whipped)
For the caramel:
• 2 cups granulated sugar
• 1/2 cup water
• 1 tsp lemon juice
For dipping
• Shredded coconut flakes (sweetened)
• White Fondant (16oz)
METHOD:
For the dough:
1. On med heat in a saucepan, bring water and butter to simmer. Add flour all at once and quickly stir with a wooden spoon until incorporated. Keep stirring and cooking the flour to get out moisture (another 2-4 min)
2. Put the paste in a stand mixer with paddle attachment and stir on low to cool dough. Mix about 3-4min. once dough is not super-hot, add in salt, then add one egg at a time. Making sure to remove the stringy part of the egg with tweezers before adding them. Mix after each egg is added.
3. Spoon the slick dough into a piping bag fitted with a large round tip. And set to the side
4. Flip a half sheet over and line with a silicone mat. Run cool water over the mat, then pipe 2 inch circles of dough on the sheet. Brush the dough with an egg wash and press down the tips with the brush.
5. Bake at 425 degrees Fahrenheit (218 degrees Celsius) for 10 min then decrease to 350 (190 degrees Celsius) for 18-23 min. Leave the oven open for a min.
6. Pop dough out and pierce choux with wooden skewers to dry out inside about 5 min.
For the pastry cream filling:
7. In a pot add milk and bananas, bring to a boil, then set to side to let flavor develop. At least 30 min.
8. After 30 min. In another bowl mix eggs, sugar, corn starch, salt and paste until there are no lumps.
9. Strain milk through a fine strainer to catch all bananas. Measure out 4 cups of milk. And bring it back to a simmer.
10. Stir a little milk in to egg mixture to temper. Add a little more. Then add the egg mixture into the milk mixture and whisk. Whisk over med heat until thick. At end add extract and paste.
11. Pour mixture through strainer. Add 2 cups of the bananas chunks and puree with the milk to equal four cups total.
12. Add to stand mixer and mix on low until cool. Put plastic wrap down on top of the cream and put in fridge until cool.
13. Once cool, whip heavy cream using stand mixer until thick and creamy. Add the banana pastry cream to the whipped cream and mix until smooth. Spoon mixture into a piping bag fitted with a pastry filling tube. Fill each choux with cream mixture
For the caramel:
14. In a shallow saucepan, add sugar water and lemon extract stir to combine. Cover and cook over medium heat until sugar turns light amber (15–20 minutes). Remove from heat. Reheat caramel until liquid again if it becomes too thick.
Assembly:
15. Using tongs dip the round side of each choux into caramel place them in the shape of a reindeer.