ABC's Halloween 2016 Full Schedule and Lineup Is Here!
This is your ABC Halloween Headquarters for 2016! Get the full frightfully fun lineup for the Halloween episodes of your favorite shows and specials right here! Halloween is 'spooktacular' as the entire roster of ABC comedies, as well as The Chew, General Hospital and more celebrate everyone's favorite scary holiday. Other highlights include the holiday classic It's the Great Pumpkin, Charlie Brown, which is celebrating its 50th anniversary this year. Get the full Halloween 2016 lineup below and check out some classic clips from Halloween past before and after the scary cool all-new episodes arrive online. All time are EDT. No tricks, just treats with full episodes all through October. Happy Halloween!
SEE WHAT ABC'S COMEDY KIDS LOVE MOST ABOUT HALLOWEEN!
MONDAY, OCT. 17
The Chew – Week of October 17-21 –Every day this week, "The Chew" kicks off the season with frightfully fabulous recipes or devilishly delightful tips for entertaining. In addition, celebrity guests this week include Hilary Duff ("Younger") on Monday, October 17; Victoria Justice ("The Rocky Horror Picture Show") and HGTVs' Chip & Joanna Gaines ("The Magnolia Story") on Wednesday, October 19; and Wanda Sykes on Thursday, October 20. (1:00–2:00 p.m.) (Check local listings)
WEDNESDAY, OCT. 19
It's The Great Pumpkin, Charlie Brown – Celebrating its 50th anniversary, the 1966 half-hour animated special "It's The Great Pumpkin, Charlie Brown" has the Peanuts gang celebrating Halloween, with Linus hoping that he will finally be visited by The Great Pumpkin. Cast members include Peter Robbins ("Charlie Brown") and Christopher Shea ("Linus"). (8:00–8:30 p.m.) Then watch the special again the very next day online for free right here! Maybe this year Charlie Brown will get something other than a rock. Then again, maybe not.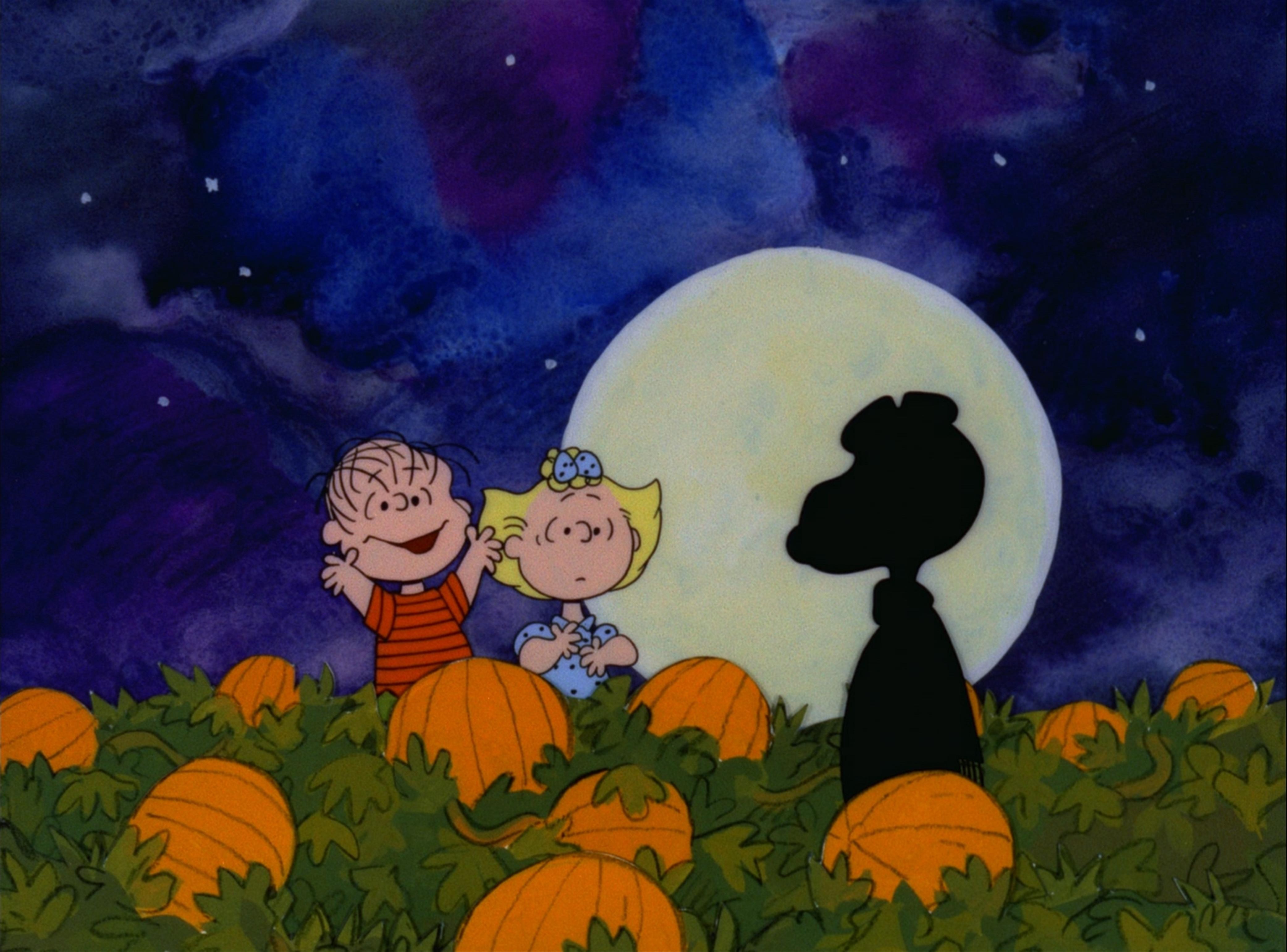 Toy Story OF TERROR! –Disney•Pixar's first special for television, "Toy Story OF TERROR!," is a spooky tale featuring favorite characters from the "Toy Story" films. What starts out as a fun road trip for the "Toy Story" gang takes an unexpected turn for the worse when the trip detours to a roadside motel. The cast includes Tom Hanks as Woody, Tim Allen as Buzz, Joan Cusack as Jessie, Carl Weathers as Combat Carl/Combat Carl Jr., Timothy Dalton as Mr. Pricklepants, Don Rickles as Mr. Potato Head, Wallace Shawn as Rex and Kristen Schaal as Trixie. (8:30–9:00 p.m.)
FRIDAY, OCT. 21
Last Man Standing – "Trick or Treat" –It's Halloween and the Baxter family is excited for their annual party, except for Mike, who's reluctantly tasked with choosing the theme. In hopes of turning everyone against the holiday, Mike decides that maybe if the whole family has to dress up like each other they'll end up making fun of one another. Eve dresses up like Mandy; and Mandy dresses down like Eve; Kristin and Ryan swap roles; and Mike shows up to the party as… Donald Trump!? The impersonating turns into bickering, but in the end, the Baxters come together to support Vanessa, as she learns that she's being laid off. (8:00–8:31 p.m.)
Dr. Ken – "D.K.'s Korean Ghost Story" – On Halloween, Allison is disappointed that the holiday doesn't seem to scare Dave anymore, meaning her little boy is growing up, perhaps too fast. But that might change after D.K. tells a scary Korean gwishin (ghost) story. The Park family, as well as the gang at Welltopia, bring the story to life playing the various gwishins. (8:31-9:00 p.m.)
MONDAY, OCT. 24
The Chew – Week of October 24-28 – Boo! All week long "The Chew" features recipes, cocktails and insider tips on making this year's Halloween your best ever! Highlights include the world premiere of the newest Chew book, "The Chew Approved," on Tuesday, October 25; Chef and author Ina Garten on October 27; and actor Colin Hanks ("Life in Pieces), on Friday, October 28. (1:00-2:00 p.m.) (Check local listings)
TUESDAY, OCT. 25
The Middle – "Halloween VII: The Heckoning" – As Halloween approaches, Frankie is taken aback when she discovers that if the circumstances ever arose where she and Mike got divorced, the kids would all choose to live with Mike. Meanwhile, Sue tries everything in her power to get her room back from Brick, and having to be so nice around girlfriend April (Greer Grammer) all of the time leads Axl to lash out at his family. (8:00-8:30 p.m.)
The ghost of Christopher Columbus comes to The Middle in a blast from the past!
American Housewife – "Westport Zombies" – Katie, jealous of Taylor's friendship with neighbor Viv (Leslie Bibb), reluctantly competes in the Westport Halloween "Zombie Run" after she finds out they'll both be running. Meanwhile, Greg and Anna-Kat get a little too much in character for the zombie part of the run's obstacle course. (8:30-9:00 p.m.)
Fresh Off the Boat – "Louisween" – It's Louis' favorite holiday, and he makes every attempt to scare Jessica into the Halloween spirit, but she is buried in her word processor, drafting her first horror novel. Meanwhile, Emery and Evan debate costume choices, and Eddie and his crew are excited to party with high schoolers at Nicole's house.(9:00–9:30 p.m.)
See if Eddie can save Halloween on Fresh Off the Boat in this classic clip
The Real O'Neals – "The Real Halloween" – When Halloween arrives, or what Kenny refers to as "the gay Super Bowl," he plans to go to Boystown to watch the festive costume parade. In an effort to prevent Kenny from attending, Eileen agrees to let him throw his own Halloween party at home. Eileen's tolerance is ultimately tested when Kenny recruits Stuart and his gay friends to join the big party, and he makes a BIG costume change. Meanwhile, Jimmy and Shannon plan to pull off an epic Halloween prank. ESPN sportscaster Neil Everett guest stars. (9:30–10:00 p.m.)
WEDNESDAY, OCT. 26
The Goldbergs – "Stefan King" – Adam's love of Stephen King inspires him to try his hand at horror writing. After learning the monster in Adam's story is based on Beverly, she forces Adam to stay in on Halloween and rewrite it, hoping he depicts her as a better mother. Meanwhile, Erica is desperate to find a date to the costume dance and forces Barry go with her. (8:00–8:30 p.m.)
Speechless – "H-A-L- HALLOWEEN" – Jimmy is upset that the kids no longer want to participate in the family tradition of dressing up for Halloween. Maya tries to cheer up Jimmy by allowing him to take things off the family "Dead to Me" list. Meanwhile, Ray recruits Dylan to help work the school's haunted mansion, while Kenneth is scared of losing his job when JJ gets drunk at a party. Even though Maya is furious, she is thrilled to see JJ having a "normal" life. (8:30–9:00 p.m.)
Modern Family – "Halloween 4: The Revenge of Rod Skyhook" – Luke's Halloween party isn't the monster bash he dreamed of, and he is at risk of having the worst party of the year. Sensing trouble, the rest of the Dunphys realize that all his party needs is a visit from Rod Skyhook, a little promotion and some adult supervision to get it started. Meanwhile, at the Tucker-Pritchett home, Cam faces off with his Halloween nemesis, while Lily and Mitchell try to save the day and work to keep him from going to the dark side. Finally, when Jay finds out that Manny is going to a party at the home of an old enemy, he enlists him to deliver a trick he will never forget. (9:00–9:30 p.m.)
What if Modern Family's Fizbo Was a Horror Movie?
black-ish – "The Purge" – After Junior embarrasses Dre during a basketball game, Dre decides to remind Junior of his master pranking skills so he'll never challenge him again. Meanwhile, the neighborhood participates in a "mischief night" during Halloween, where petty crimes become legal, and Ruby takes it too far with the kids. (9:31–10:00 p.m.)
Dre and the family channel their inner-Jackson 5 in a past black-ish Halloween
FRIDAY, OCT. 28
It's The Great Pumpkin, Charlie Brown – (Full-length version) The 50th anniversary of "It's The Great Pumpkin, Charlie Brown" features the full-length special, including the bonus cartoon, "You're Not Elected, Charlie Brown," which features the Great Pumpkin. (8:00–9:00 p.m.)
MONDAY, OCT. 31
The Chew – It's an hour of food, frights and fun when "The Chew" celebrates its 6th Halloween in ghoulishly delicious style. Co-hosts Mario Batali, Michael Symon, Carla Hall, Clinton Kelly and Daphne Oz reveal the costumes they selected for each other and welcome country superstar Kellie Pickler also in full masquerade! (1:00-2:00 p.m.) (Check local listings)
General Hospital – On "General Hospital," residents of Port Charles celebrate Halloween at the Metro Court hotel. Franco and Jason clash, while Sonny has a big reaction to one of the Halloween revelers. (2:00-3:00 p.m.)
"Dancing with the Stars" – "Dancing with the Stars" treats viewers to a thrilling 'spooktacular' night filled with scary and chilling performances, live. The remaining couples will perform an individual Halloween-themed routine. (8:00-10:01 p.m.)
Jimmy Kimmel Live – Jimmy, Guillermo, Dicky, Cleto and the Cletones and all of the show's guests will be dressed for the occasion. The 11th Annual Half & Half Halloween Costume Pageant will be part of the evening's festivities, where the show takes half of one costume and half of another, weaving them together to form one amazing hybrid costume. Past creations include Trumpty Dumpty, EmoJesus, The Walking Bed and Wilmer Valder-llama, to name a few. Kimmel will ask parents to join in on the YouTube Challenge 'I Told My Kids I Ate All Their Halloween Candy,' one of the show's most cherished holiday traditions with over 200 million combined views on YouTube. (11:35–12:30 p.m.)