Bachelor in Paradise 2019, Week 4, Part 2 Recap: The Wedding Brings Drama
When we left off last night on Bachelor In Paradise, Dean had grabbed Caelynn for a chat just after the Rose Ceremony had concluded, and she was panicked. Tonight's episode also brought romance with Chris Randone and Krystal Nielson's wedding, but of course, getting that many Bachelor Nation peeps in one room is bound to end in drama, and this evening did exactly that. If you still need to catch up, you can watch Bachelor In Paradise Week 4, Part 1 and/or Bachelor In Paradise Week 4, Part 2 right here on ABC.com or in the ABC app. If you want to catch up fast, you can read last night's recap here, and then read on for the most recent highlights!
Living In a Van Down By the River
As Dean leads Caelynn away from the congregation after the Rose Ceremony, Caelynn immediately starts protesting, fearing the worst—"It's still my birthday," she pleads.
But as Thanos (Bachelor in Paradise, season Infinity) once said...dread it, run from it, destiny arrives all the same:
And that's a wrap on Ol' Mustache, who doesn't believe that Caelynn would enjoy his van-centric lifestyle in the real world. (Not gonna lie though, we're very jealous of Dean's plan to take his van to visit all the National Parks.) The bright side for Caelynn is that she's got a rose this week, so hopefully someone new will show up and catch her eye.
The Wedding Cometh
A special present arrives in Paradise: The whole gang is invited to the wedding of Chris and Krystal! That's fun.
What's not fun, at least according to John Paul Jones, is watching the girl you're in love with (Tayshia) strike up a relationship with a new guy (Derek). And while that's never fun no matter what the circumstances, JPJ is especially wary of Derek in general:
Well, we're sure that's the end of that and none of that will lead to drama later on. Yep, we're all good here, let's go to a wedding!
Seriously though, let's:
What a journey those two have had, eh? They looked so happy there...it's pretty hard not to root for those guys.
The reception was a who's who of Bachelor Nation, with lots of familiar faces from throughout Bachelor history (was that Brooks from Desiree's season in there?), but sprinkled in as well were a few folks from more recent seasons, who just happen to to be single—folks like Connor from Hannah's season of The Bachelorette. Caelynn spent a lot of time before the ceremony bemoaning her single status now that Dean is gone, but once Connor steps into the picture, Dean is but an exhaust cloud on I-90 just outside Badlands National Park. Caelynn manages to secure herself a smooch with the tall, gravelly voiced guy, restoring her faith in the world.
Meanwhile, JPJ is getting a head of steam on this whole Derek thing, telling everyone who'll listen (and a few who kinda don't) that he thinks Derek isn't here for the Right Reasonstm, until JPJ finally stomps over to Derek to let him have it:
No pulled punches there. Before it can get more heated, Chris and Krystal grab everybody's attention and tell everyone the reception is about to start—yay! And they rattle off a few names of current Paradise guests who are invited to join them—wait, what? Yep, it turns out not everyone is going to get to choose between chicken and fish, and if you weren't on the list you're headed back to the palapa. For folks like Dylan and Hannah, that's great—they get to enjoy the rest of the night together. But some couples are getting split up, and won't get the evening to build their connections. For instance, Clay is invited, but Nicole isn't, which is a pretty big deal because Clay's ex Angela is in the wedding.
That means Clay is going to have a chance to reconnect with his ex while Nicole stews alone on the beach.
More Arrivals and Some Big Surprises
The following morning brings good news for Caelynn—Connor is officially joining the group in Paradise. He asks Caelynn and they go off on a date to do some body painting, making out most of the time and ending up deep in their work: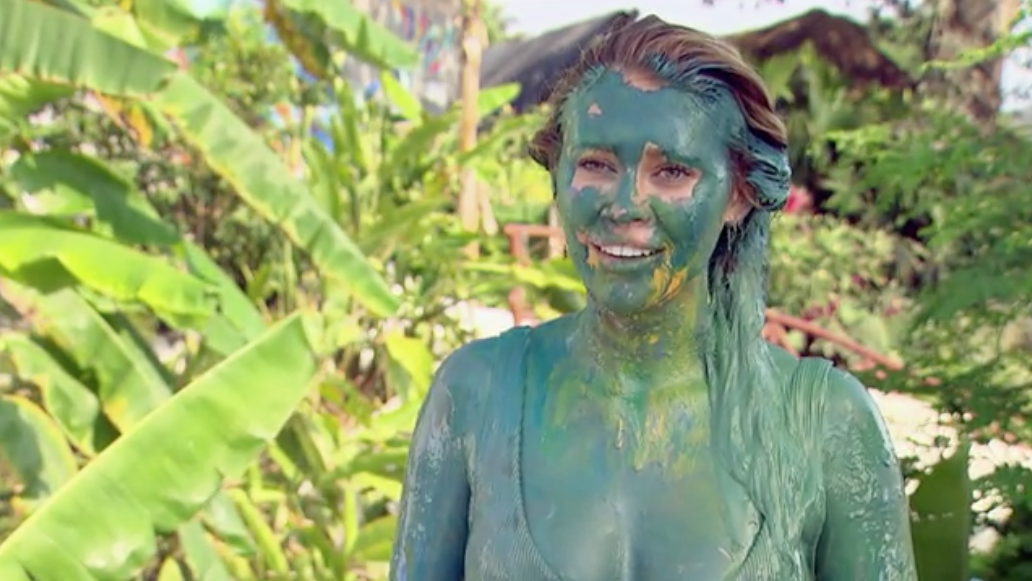 Back at the beach, Nicole is crying. She and Tayshia are having a chat, and they feel like Clay chose Angela last night by staying at the wedding, as well as by not introducing Nicole to everyone as his girlfriend. Nicole sits down to talk with Clay about the whole Angela situation. He says all the right things, but she's still concerned, probably because Clay keeps saying that he cares about Angela a lot. He might mean as a friend…or he might not. Tayshia remains unconvinced, and thinks that if Angela came down the steps right now, Clay would choose her.
Angela Comes Down the Steps Right Now
Seriously.
Is she going to join Paradise for real? The episode ends right there, so we don't know for sure. But don't worry, we've got your first look at next week's episode right here:
The Angela situation is sure to cause drama, but there are more pressing matters: DEAN'S MUSTACHE IS GONE! Sure, it's shocking that he's back, and he says "I made a mistake," which could mean that he really does want to give it a go with Caelynn for real, and now that she's coupled up with Connor that's gonna be a total blowout, but, guys, the mustache. It's gone. Just gone.
Spend the week mourning, then come back fresh MONDAY 8|7c to see what happens next!