Duncan Hursley Guest Stars On GH!
Duncan Hursley, the grandson of General Hospital creators Frank & Doris Hursley, guest starred on GH today! Check out a few of Duncan's scenes & his exclusive interview with ABC.com!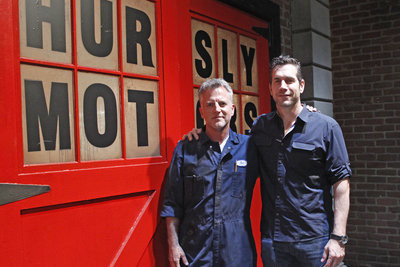 We caught up with Duncan Hursley and had some questions about growing up in a Soap family and his recent guest star appearance on General Hospital.
Being the grandson of "General Hospital" creators Frank & Doris Hursley did you spend time as a child on set?
Every family has a story. And such is the stuff that soaps are made of. And our family story is classic soap opera. I didn't really meet my grandfather until 1984, eleven years after he and Doris had retired from General Hospital and writing. Doris had passed. I was 22 years old. He was 81. That's what led to reuniting him with his son, my father, Frank, Jr, after a lifetime apart. I will be forever pleased that I had seen that happen for the both of them. However, I have been a General Hospital fan since the mid 1970's. It has been reported in my family that I was actually following the story lines on GH as early as kindergarten(1967?) when I would be home early from school in Birmingham, Michigan, hanging out with my grandma while she was watching her "stories." Now, at age 52, I'll admit, GH is as much a guilty pleasure now as it ever has been. That and Tiger baseball.
Any fun stories or memories of General Hospital that you would like to share?
One time when I was around 13 years old, I must have gotten someone to drive me up to Summit Place Mall in Pontiac, Michigan, not far from my home, where I had heard Emily McLaughlin was going to be greeting fans. There was a huge crowd of fans and I managed to work my way through the crowd just as she was leaving. All I could think of was to call out to her that my grandfather was Frank Hursley. She stopped in her tracks, turned around, and said with a big smile, "He created me!"
What has been your favorite GH storyline in the history of the show?
That's impossible to answer. But I will say, the story lines and pace of this past year have been unlike any I have witnessed in my history of watching GH(and Ryan's Hope and All My Children and One Life To Live and Loving and Santa Barbara, oh, and Dark Shadows). You CANNOT afford to miss an episode. That said, I did have a big boy crush on Dr. Lesley Webber! From her hurling Cameron Faulkner down the flight of stairs, to her love affair with Rick Webber. Yep, Denise Alexander is, to this day, my favorite soap star.
Growing up, did you ever want to be a Soap star?
Who wouldn't want to?
Any chance that we will see you again?
I had so much fun. It's such a happy set and everyone was so warmly hospitable. It was so surreal, working with the hugely talented Jason Thompson and Kelly Monaco. It was as if I had walked into my TV set. I would come back in a heartbeat! Maybe a completely different character. Like a "Zelig" of Port Charles. But, I am so gratefully fulfilled to have had this experience.