Shadowhunters Official Music Guide Season 2
Just like Alec and Magnus, Shadowhunters and its soundtrack are perfectly matched. If you're in love with it as much as we are, check out the season 2 music guide below for the details on all the tracks featured so far. Watch all 3 seasons of Shadowhunters on Freeform and Hulu to relive all of these musical moments in full.
Follow the official Shadowhunters Spotify playlist.
Jace fights for his freedom.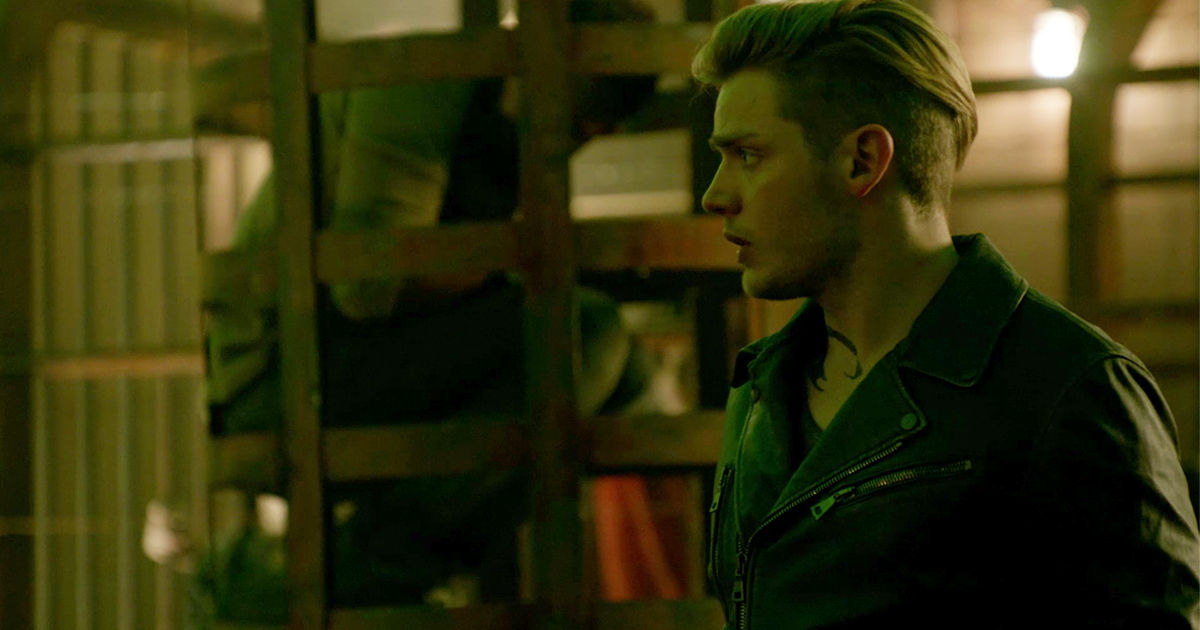 It's father vs. son on Valentine's ship while 'Battling Go-Go Yubari In Downtown L.A.' by edIT plays in the background.
Clary and Jocelyn have a heart-to-heart.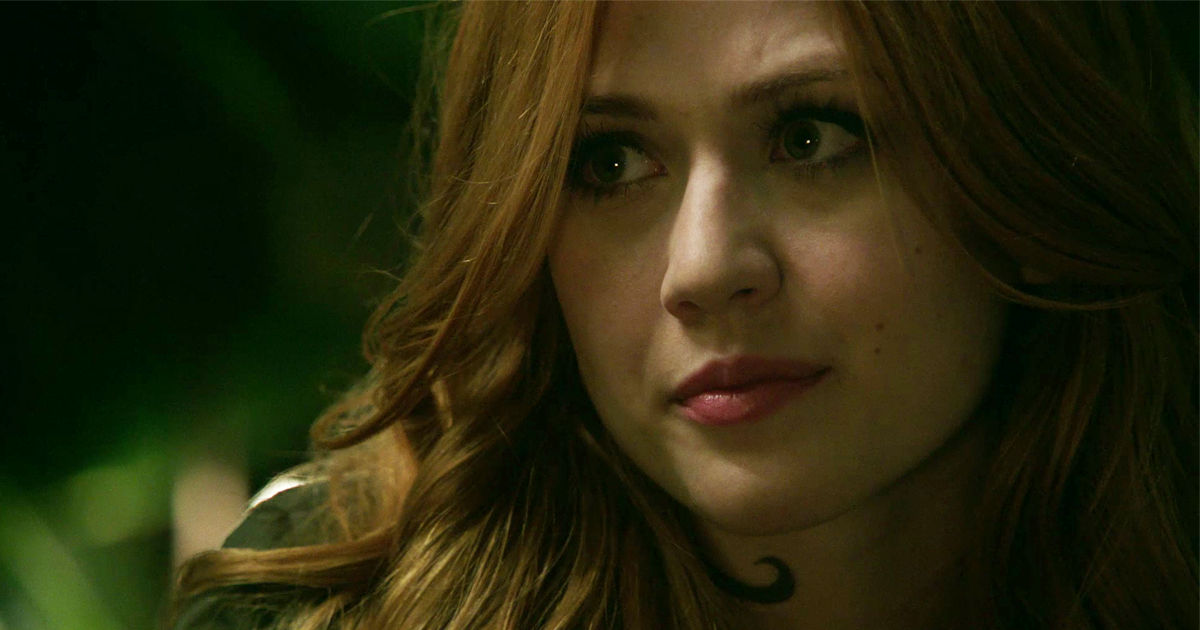 Jocelyn apologizes for the lies she has told over the years. 'Murmurs' by Sierra Deaton makes us feel even more emotional as the mother and daughter discuss Jonathan and his absence from their lives.
Luke offers Simon a place to stay.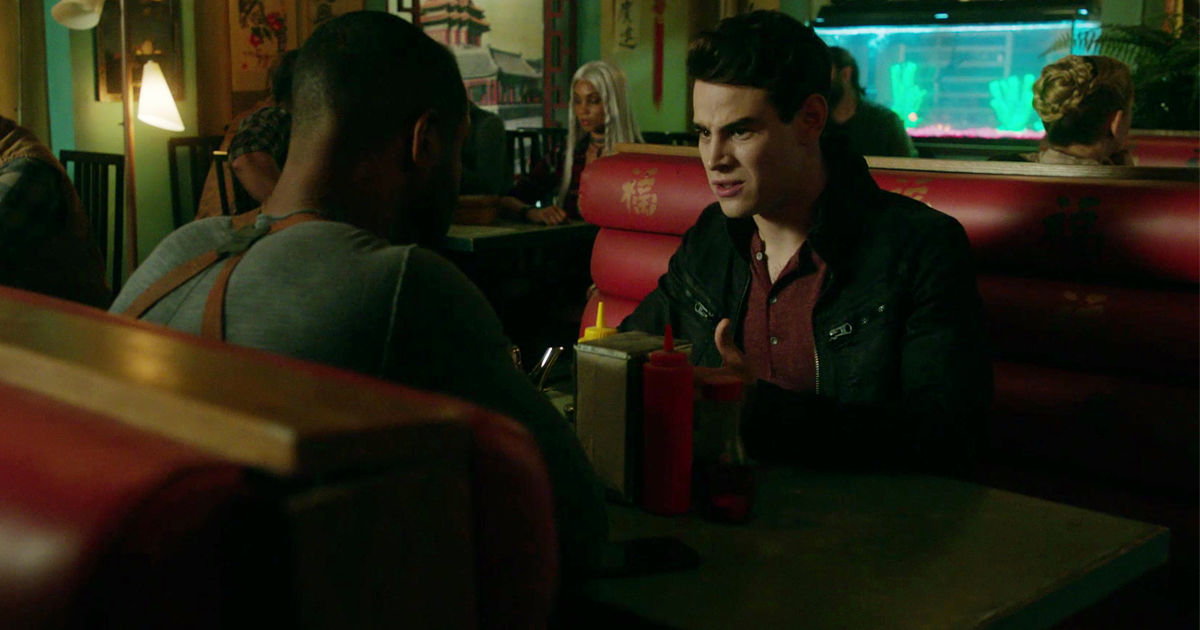 Simon is grateful to find shelter with his buddy Luke, but not everyone at the Jade Wolf is happy with this arrangement. 'Buddha's Light' by APM plays in the restaurant, creating a mystical atmosphere.
Clary and Izzy train together.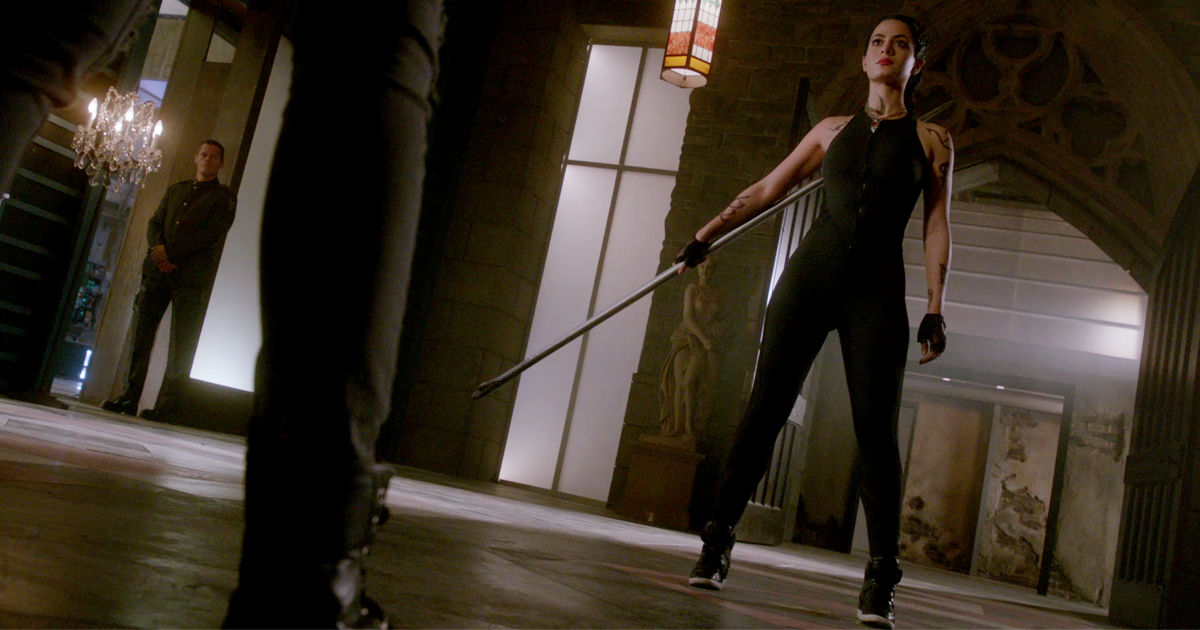 The ladies practice their badass moves while 'Certified Air Raid Material' by edIT blasts in time to their swings and lunges.
Simon and Clary reminisce on their childhood together.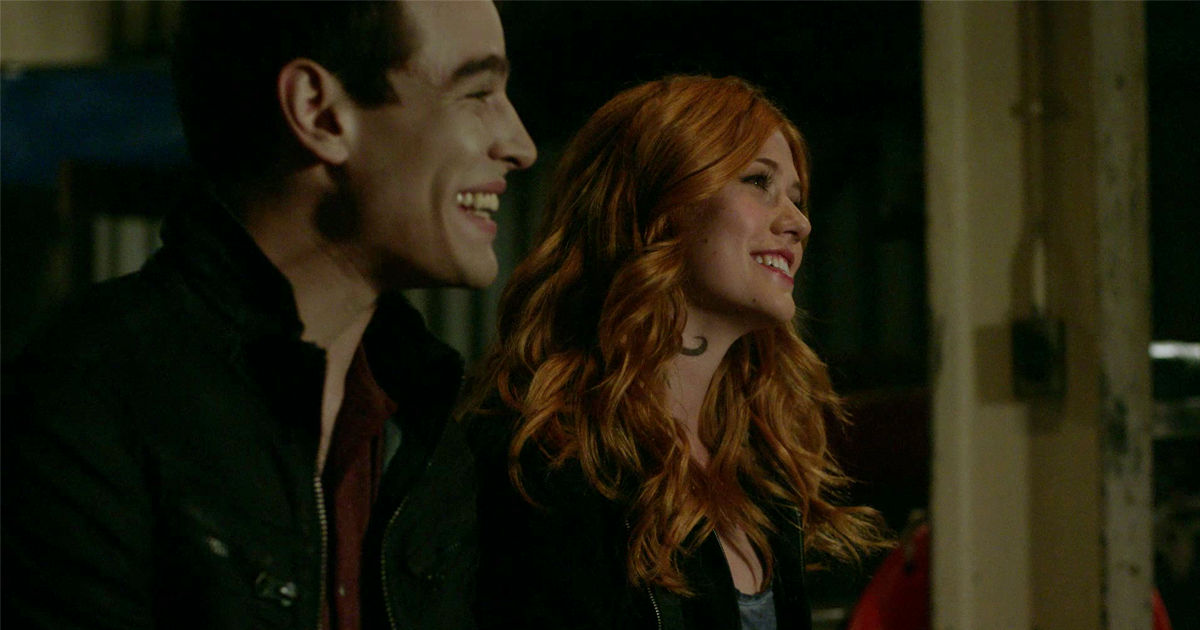 It seems like Simon is working up the nerve to tell Clary how he really feels about her when suddenly the door crashes to the ground. 'Hey Believers (instrumental)' by Peter Bradley Adams plays softly in the background during this heart-to-heart.
Jace defends himself against a Vampire attack.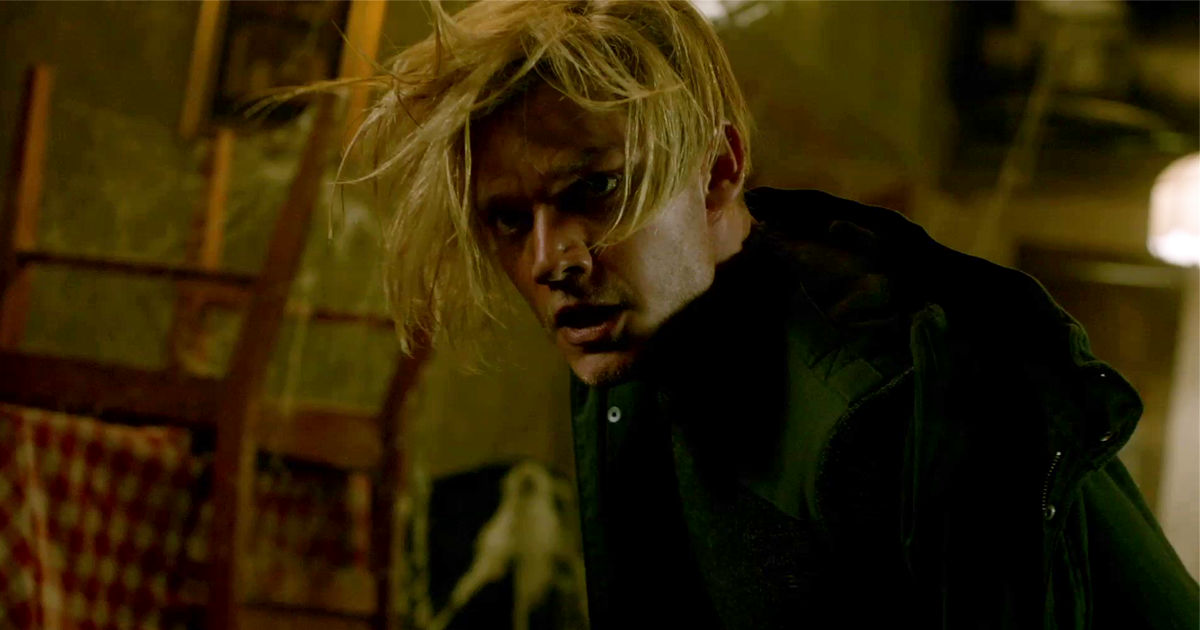 Manipulated by Valentine, Jace walks into a Vampire layer and must fight his way back out. 'Fire Riddim' by edIT creates an intense atmosphere for this scene.
Two martial artists spar in a gym while Valentine watches.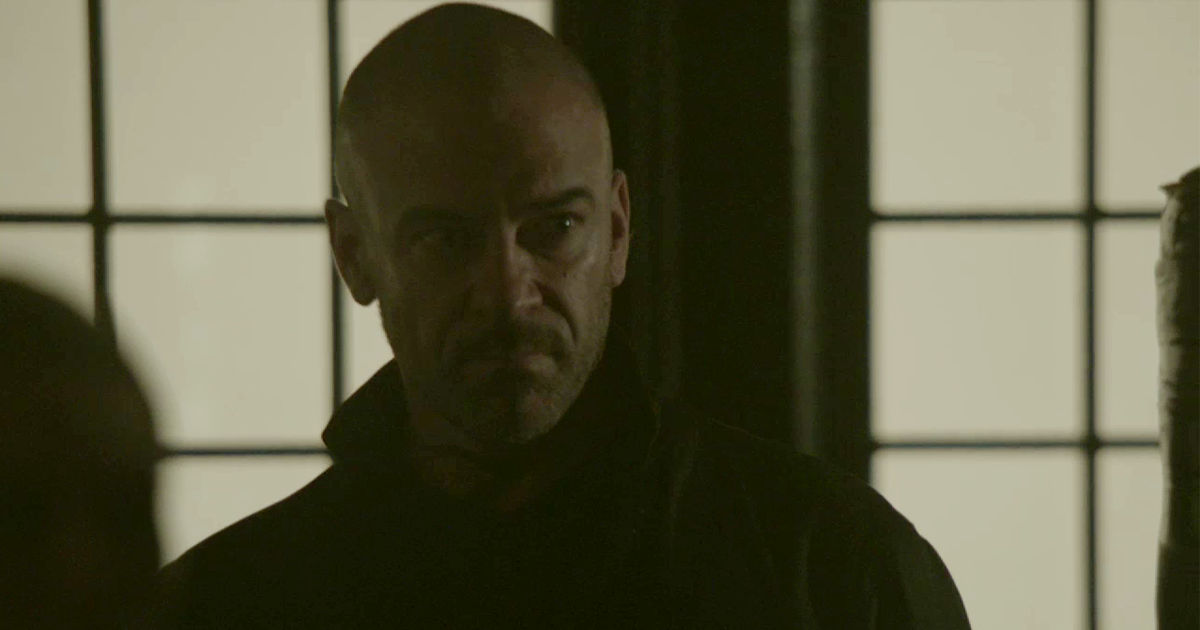 'Poison Chalice' by Scoreganics plays as these athletic men challenge each other on the mat.
Clary starts to doubt her place at the Institute.
After her confrontation with Alec, Clary is feeling very vulnerable. We hear 'Bird' by Billie Marten playing softly in the background as Izzy comforts her friend.
Izzy and Alec go off on a mission.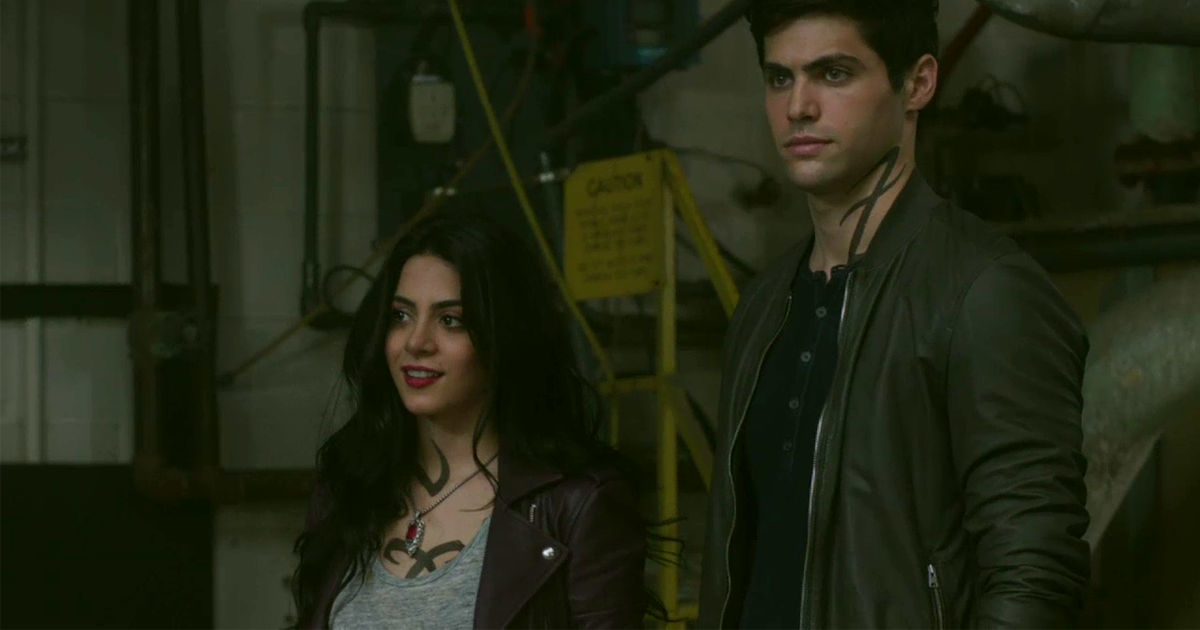 The Lightwood siblings team up to lay a trap for the Circle members that have been recruiting new Shadowhunters from dojos and gyms. Izzy takes on one of the toughest fighters while 'Battle Sirens' by Knife Party & Tom Morello creates an intense atmosphere.
Magnus takes Simon on a trip.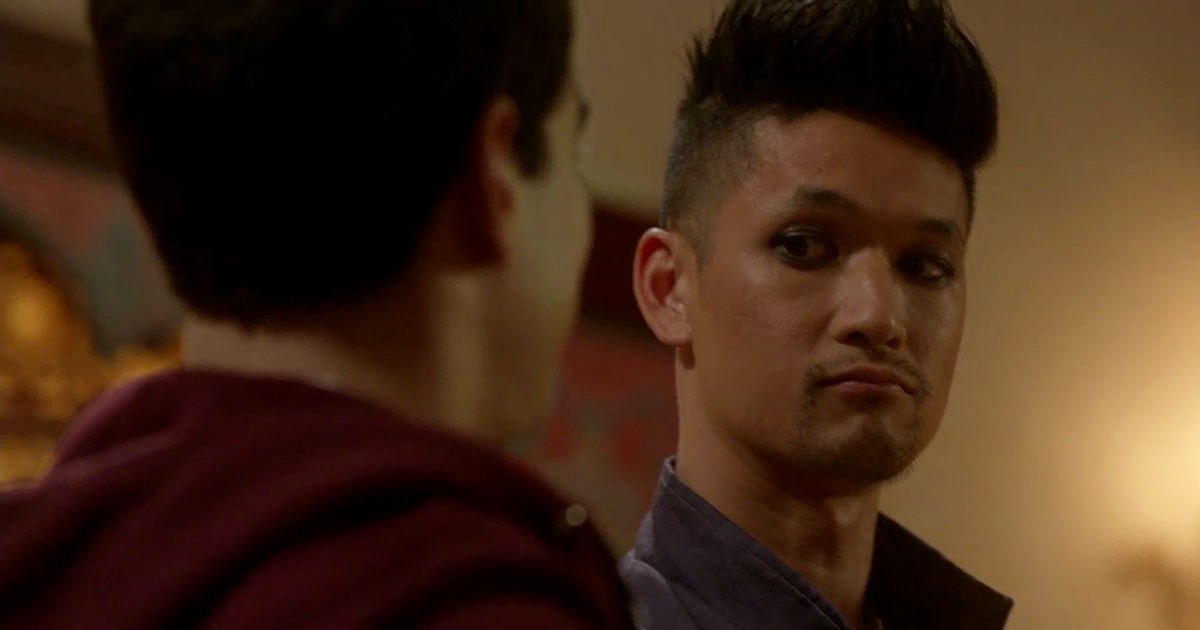 We hear Martin Gibson's 'Sitar Source' as the duo arrive in India on the hunt for Camille. Although they can't find the sultry Vampire herself, they don't leave empty-handed.
Clary escapes the Institute for a few hours.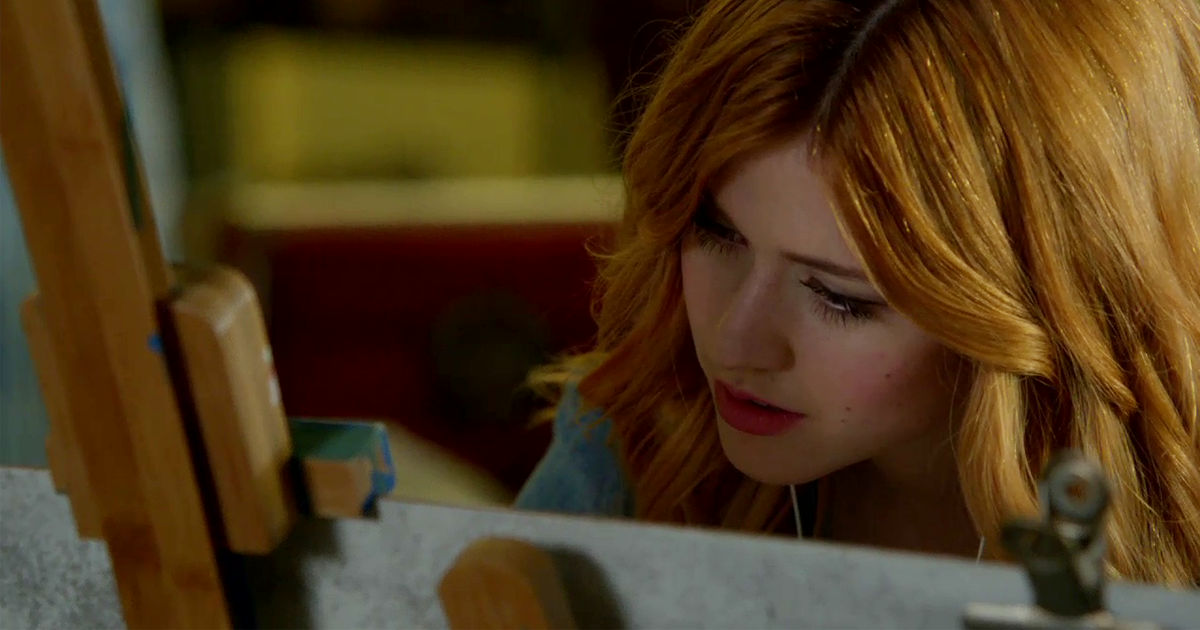 Our girl reconnects with her artistic side while the beautiful 'Save Me' by Majik plays softly in the background.
Jace makes his first visit to the Hunter's Moon.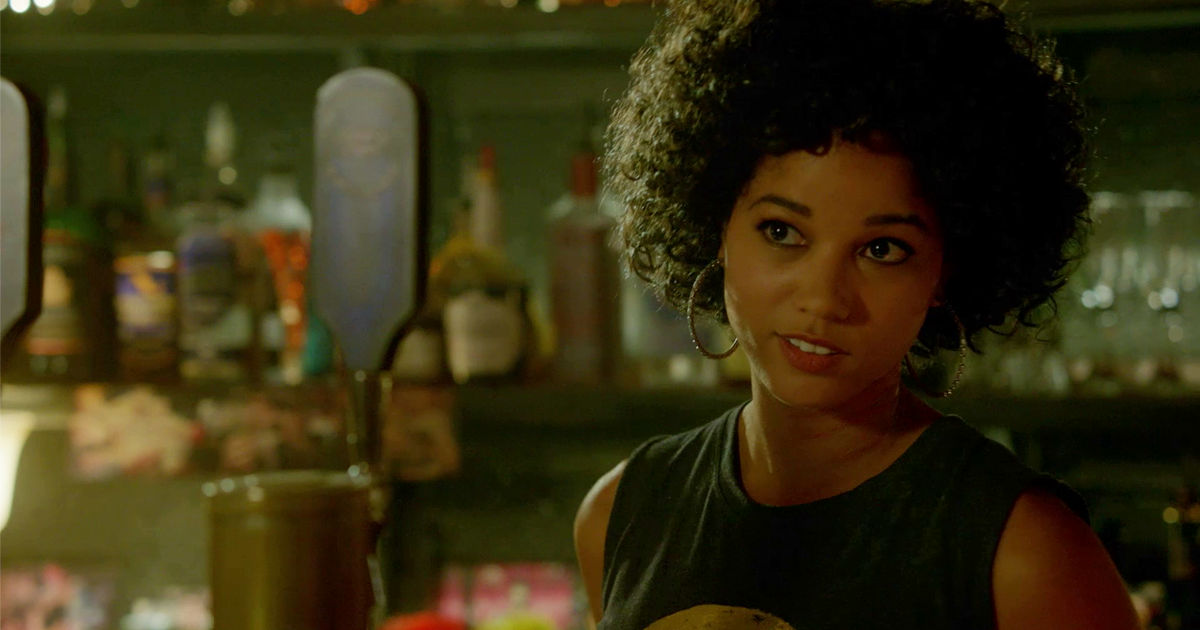 Maia, the bartender, recognizes Jace as a Shadowhunter and offers him a free drink. 'Howl' by Junip plays as Jace gets to know this potential new friend.
Elaine Lewis is missing and Simon is determined to find her.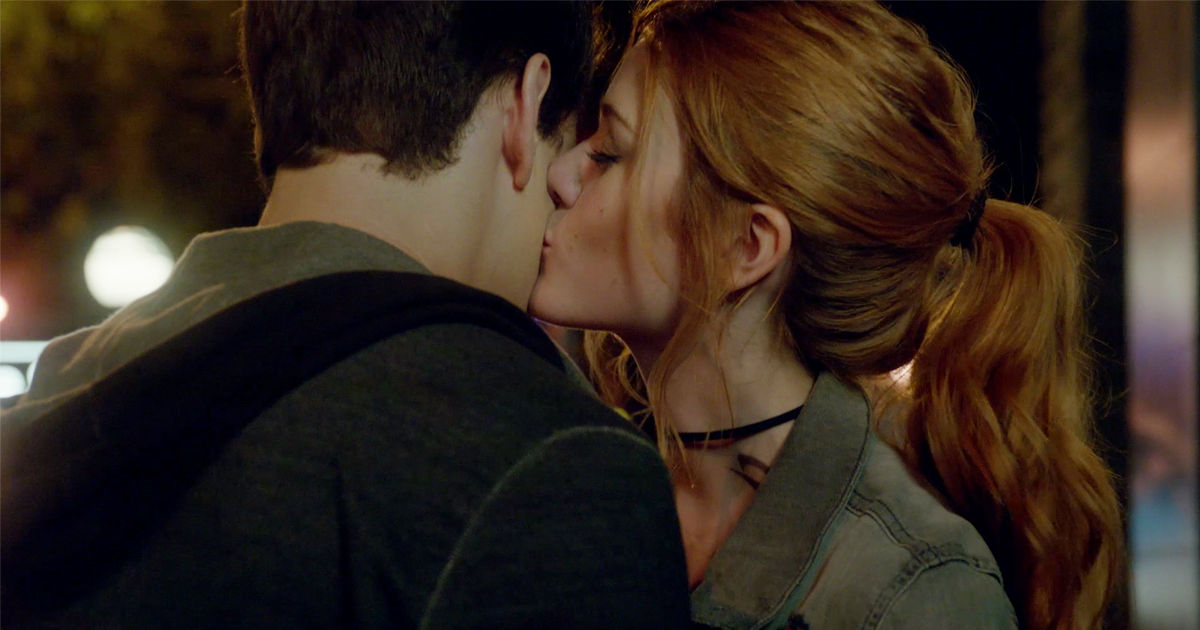 Clary uses her newfound tracking skills to locate Elaine. Simon thanks her and prepares to give his mom the biggest shock of her life as 'I Don't Wanna Leave Ya' by Danica Dora plays in the background.
Clary has killed the Demon and now she has to face her mother's death.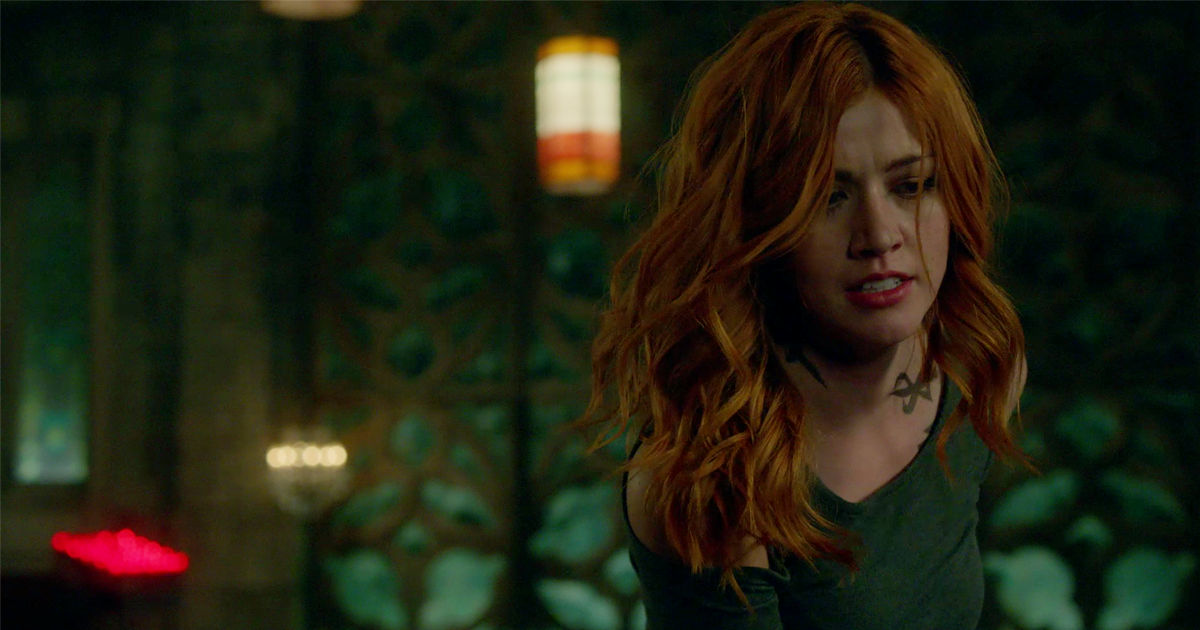 'Between the Wars' by Allman Brown plays as Clary realizes what she has lost. Simon runs in to comfort her while Jace and Alec take care of Izzy.
Alec practices his archery.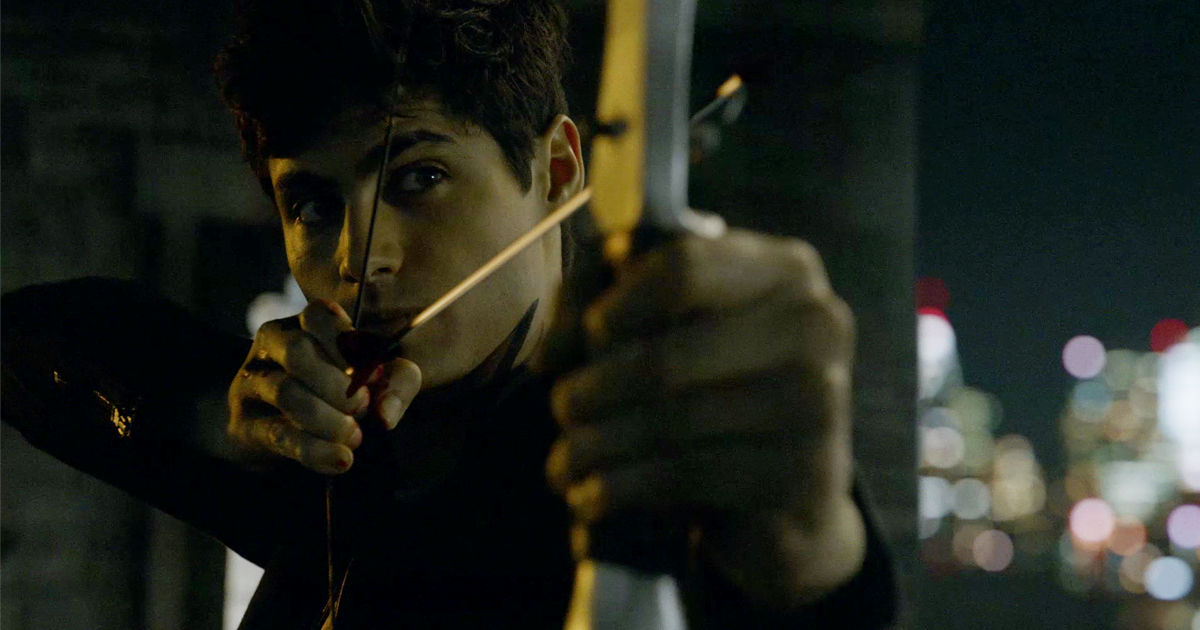 Alec feels immensely guilty after Jocelyn's death and tries to clear his mind. 'Metanoia' by Faux Tales plays as he stands alone on a rooftop, firing arrows through the night sky. Jace interrupts his training and pleads with Alec to forgive himself.
Jace and Izzy train together.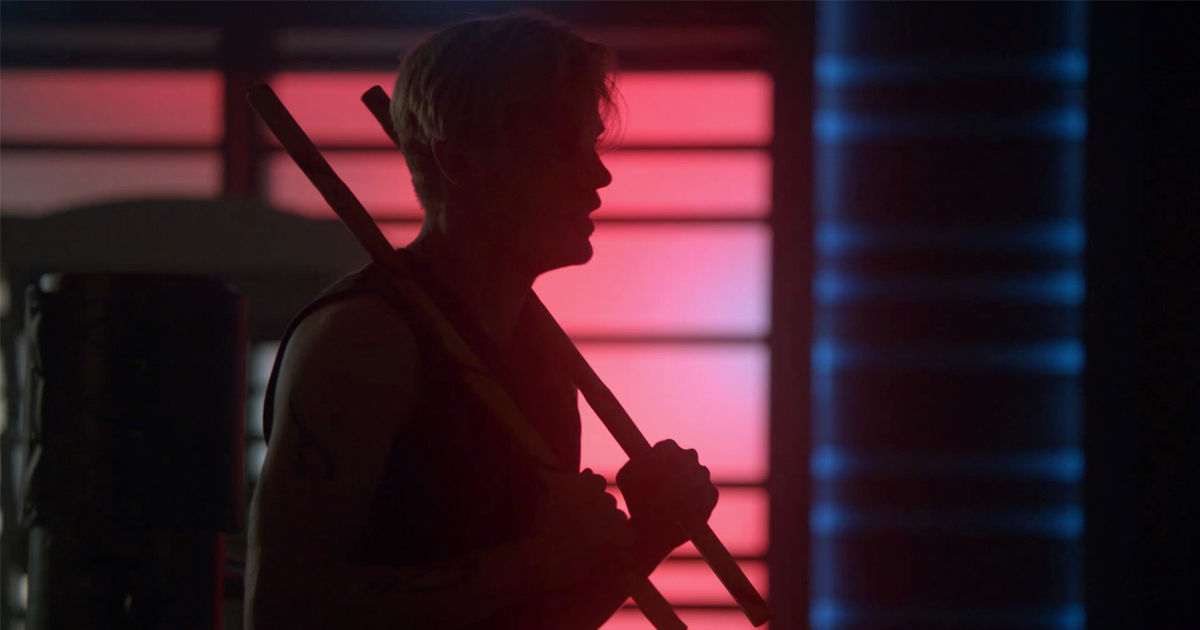 'Straight Shooter' by Skylar Grey plays as Jace and Izzy spar in the Institute. This high-energy track emphasizes their competitive sibling rivalry while they trade blows and talk trash.
The funeral.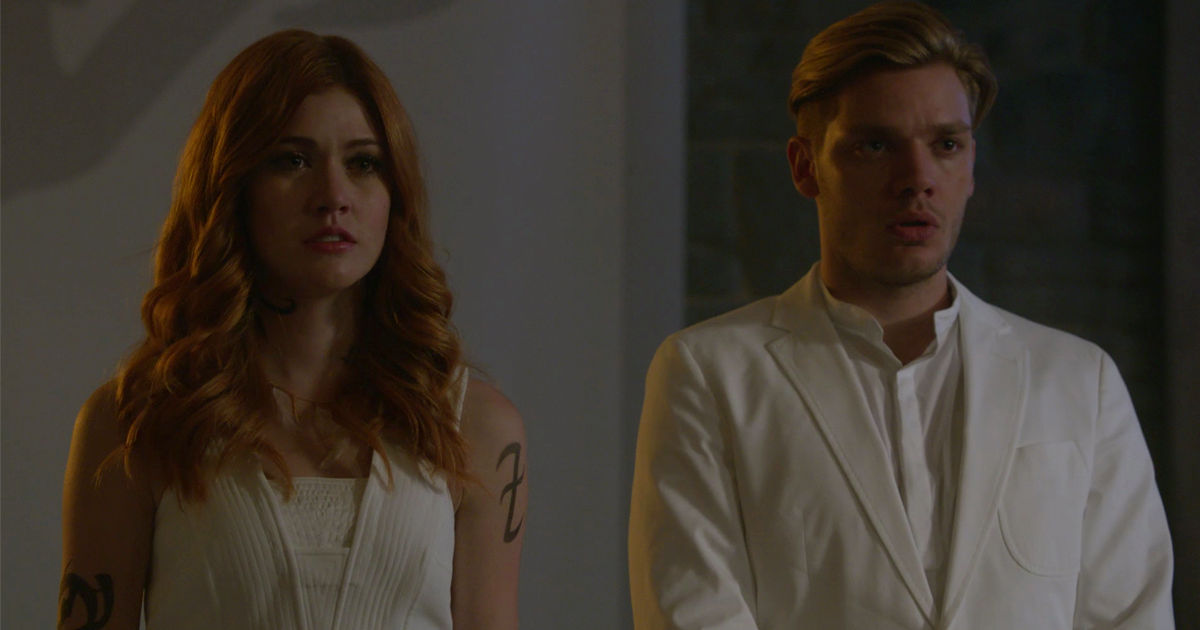 S2E5 ends with a highly emotional scene in which the Shadowhunters perform funeral rites for their fallen friends, including Jocelyn. 'Don't Forget About Me' by Cloves softly plays while Clary struggles to hold back her tears.
Magnus and Alec start their date with a round of drinks.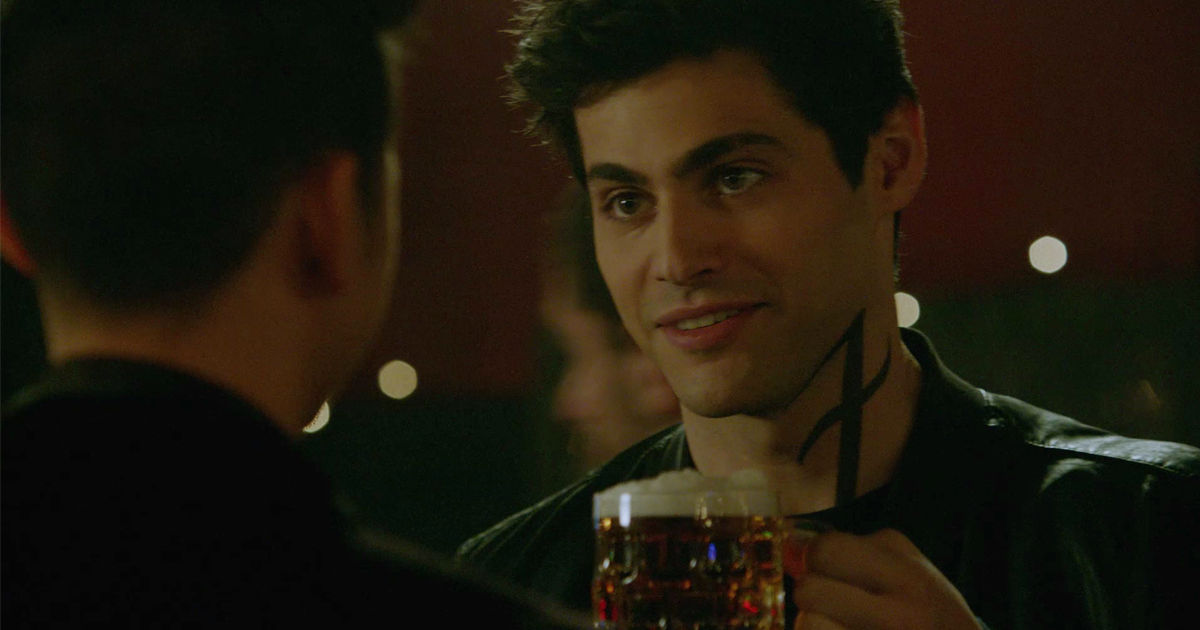 'Late Night Radio' by Outsider plays as Magnus tries to order Alec the perfect beverage.
Alec and Magnus show off their skills.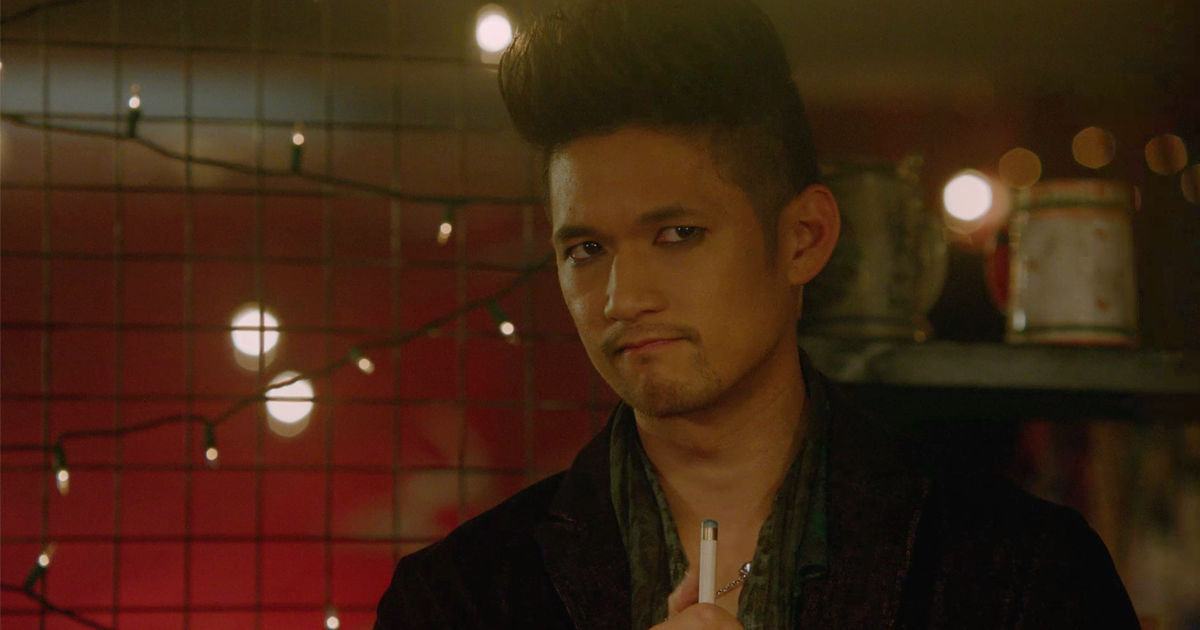 A friendly game of pool brings out the competitive side of both men. 'Echo Girl' by Dutch Party plays in the bar as Magnus proves himself to be quite the hustler.
Magnus learns something surprising about Alec.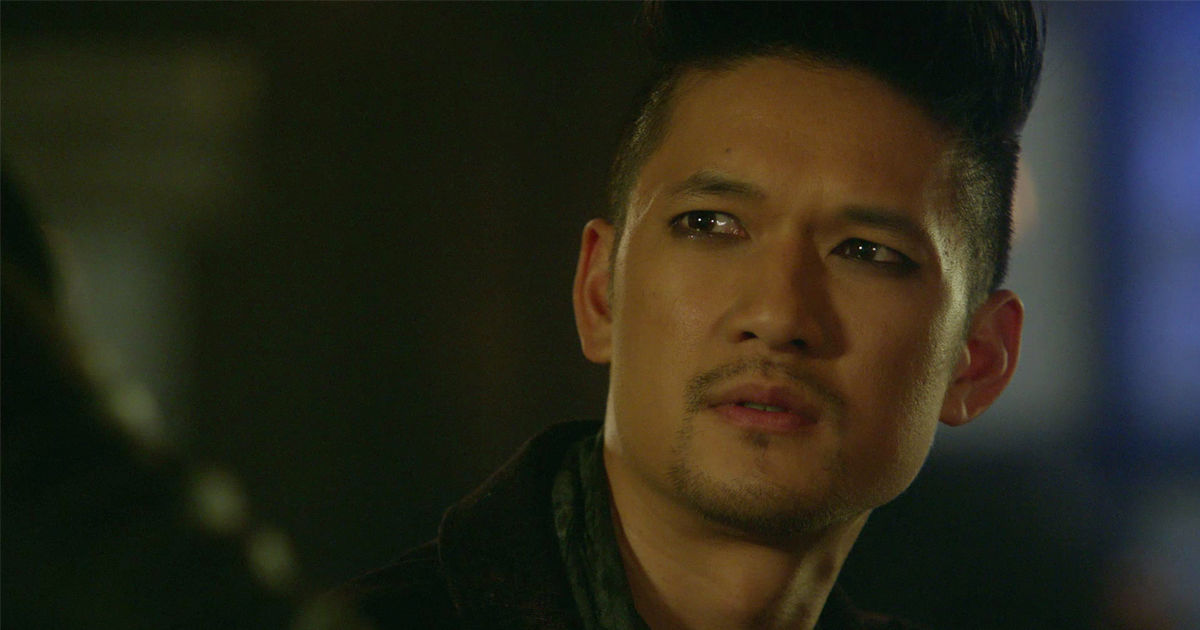 This moment was so intense that an original song was created just for the scene! 'The Lifeboat' by Liam O'Donnell plays while Magnus learns more about Alec's dating history.
Alec asks Magnus an important question.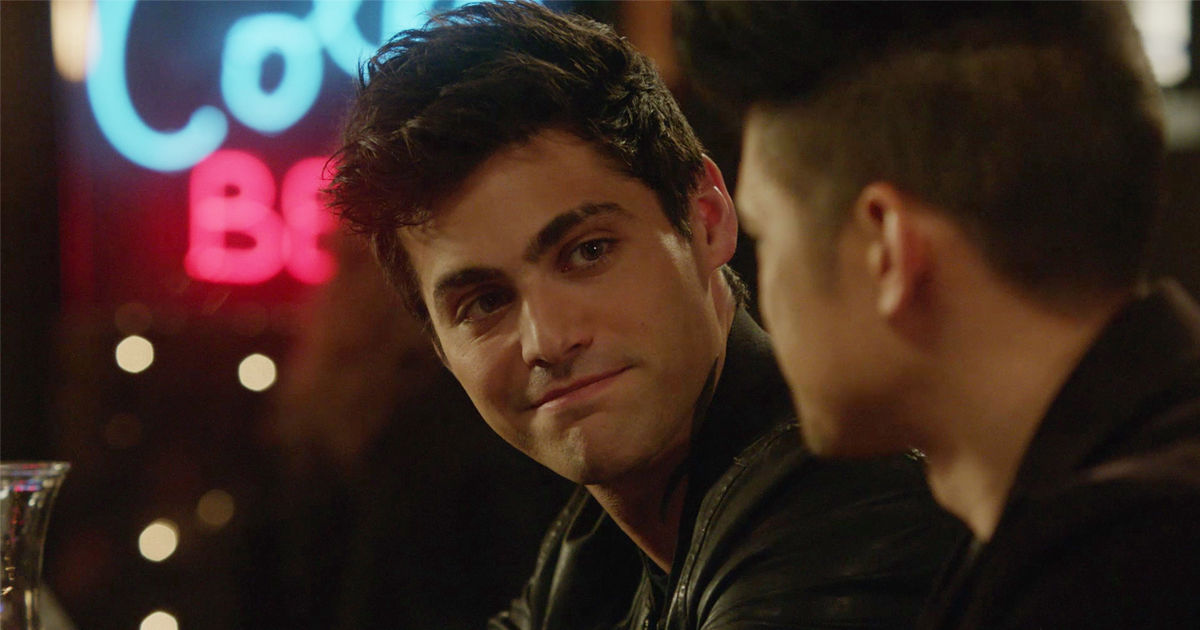 Alec gets more than he bargained for when Magnus decides to open up about his own dating history. 'Standing on My Own' by Max Jury makes this moment even more awkward and hilarious than you could imagine.
Jace is not the best roommate.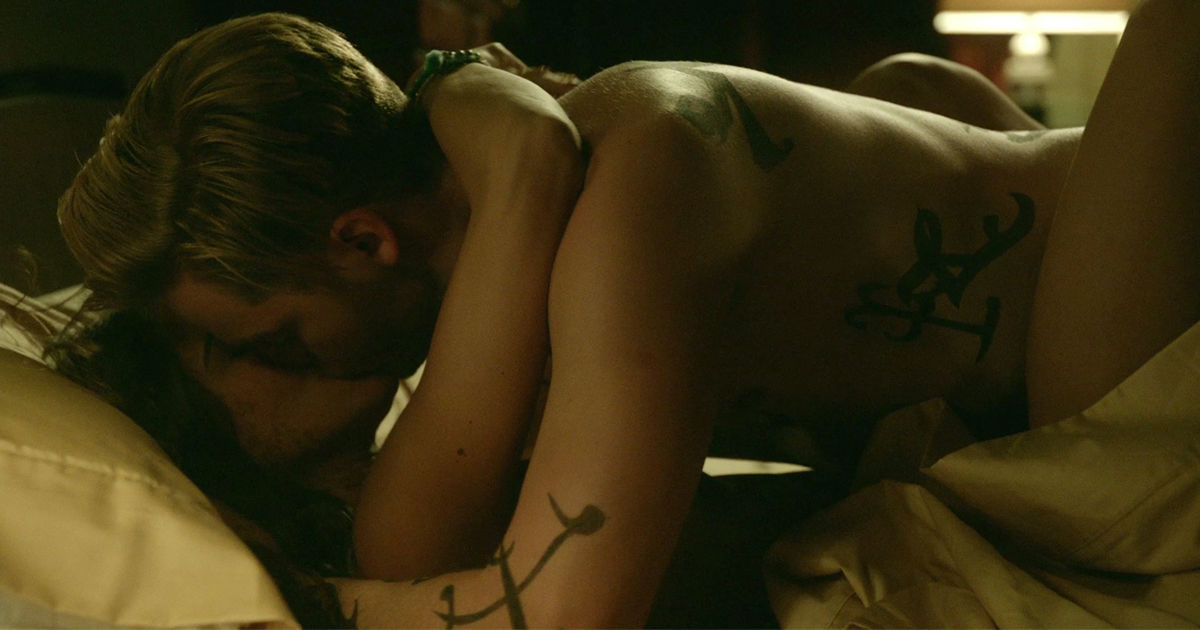 Alec and Magnus try to enjoy a romantic evening together, but keep getting distracted by the sounds coming from Jace's room. 'Got It Bad' by LEISURE sets the scene for this confrontation between Jace and Alec.
Magnus is suspicious of Izzy.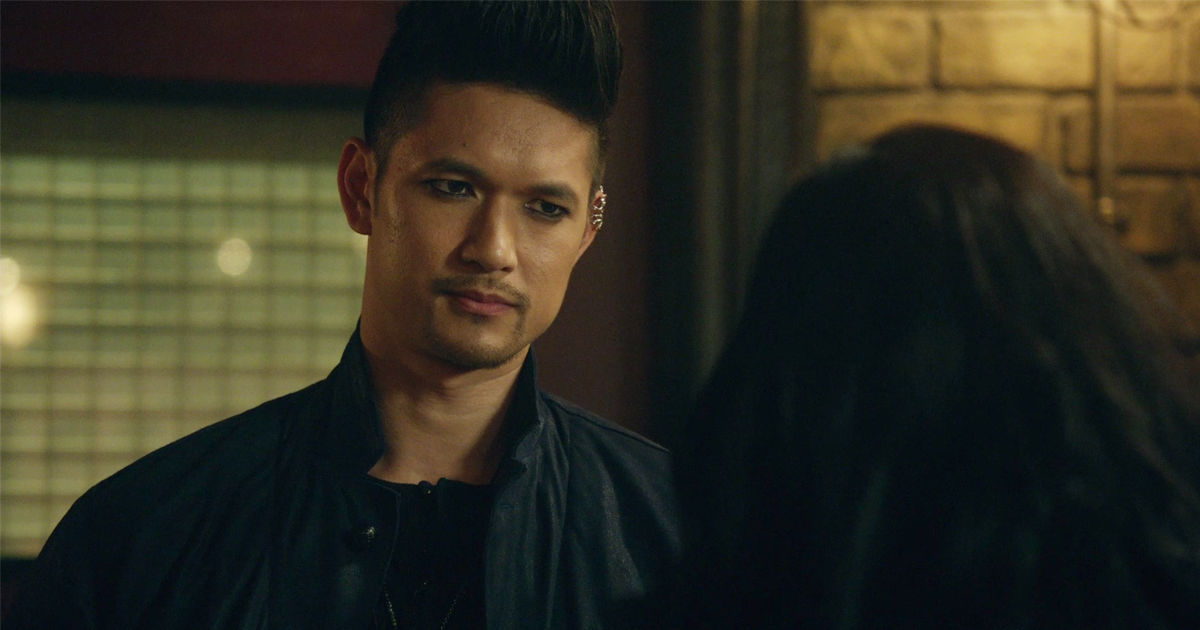 'Rattlesnake' by Wages plays as Izzy comes to the Hunter's Moon to track down a Yin Fen supplier. Magnus foils her plan and starts to wonder if she is hiding something.
Simon bumps into Izzy at the Hunter's Moon.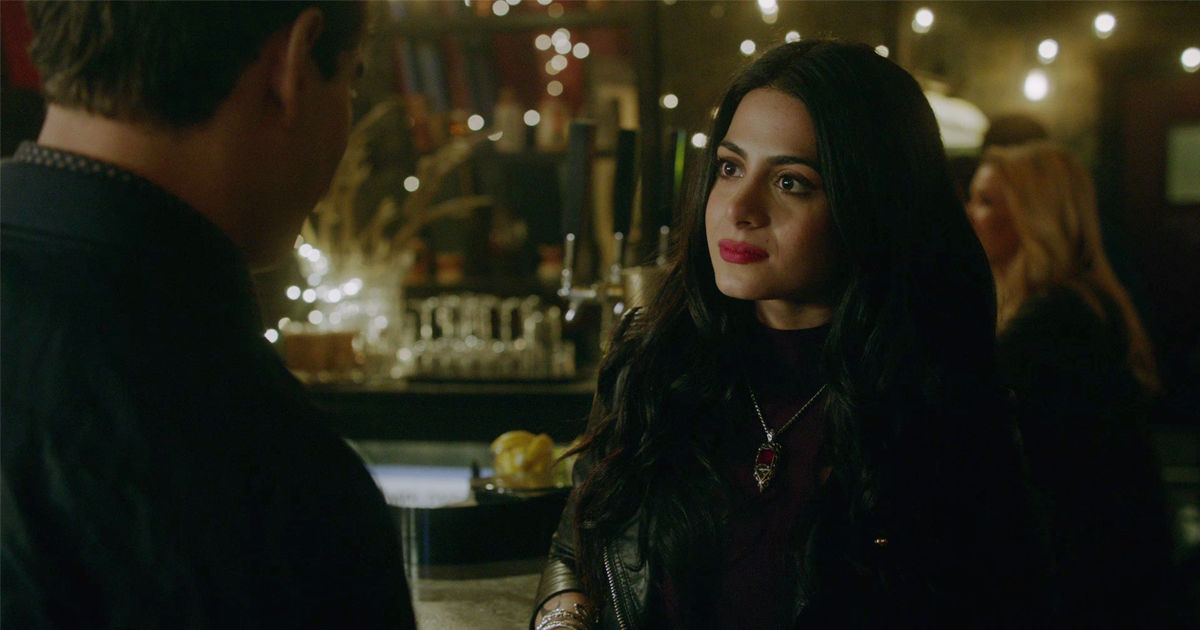 Simon arrives a little bit early for his night with Maia. While he waits for her to finish her shift he spots an old friend. While they catch up 'Strange Stars' by Faces on Film plays in the bar.
Jace interrupts Maia and Simon's conversation.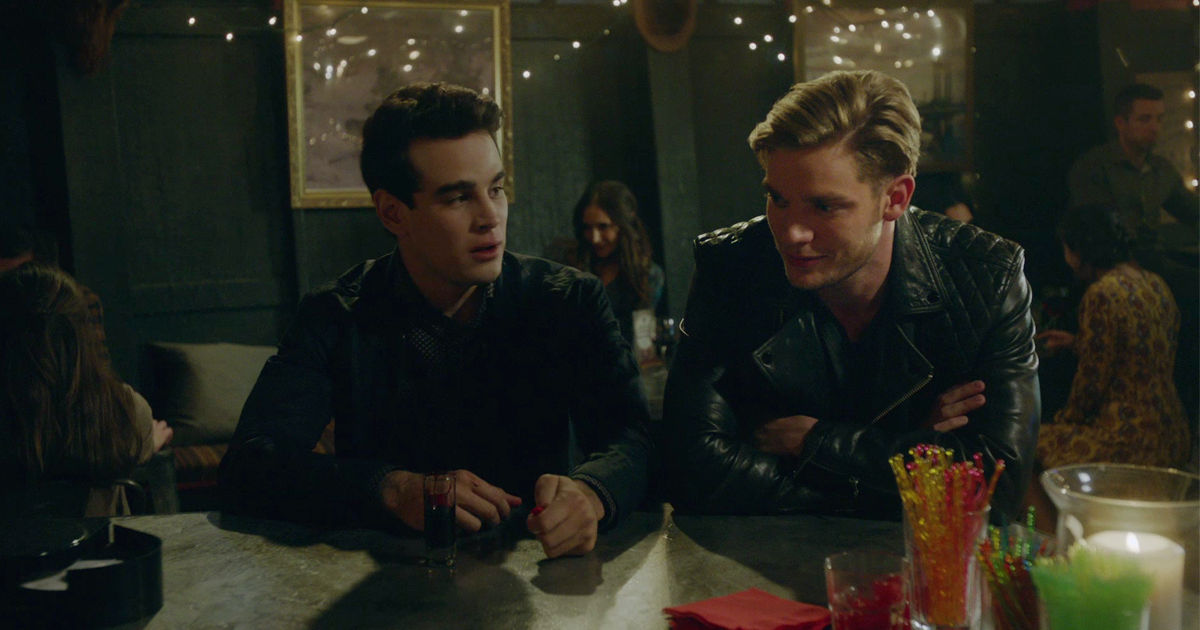 '27 Kids' by GRMLN plays as Maia and Simon chat at the bar. Jace orders some drinks for his friends and has a hostile reunion with Maia.
Simon and Jace talk girls.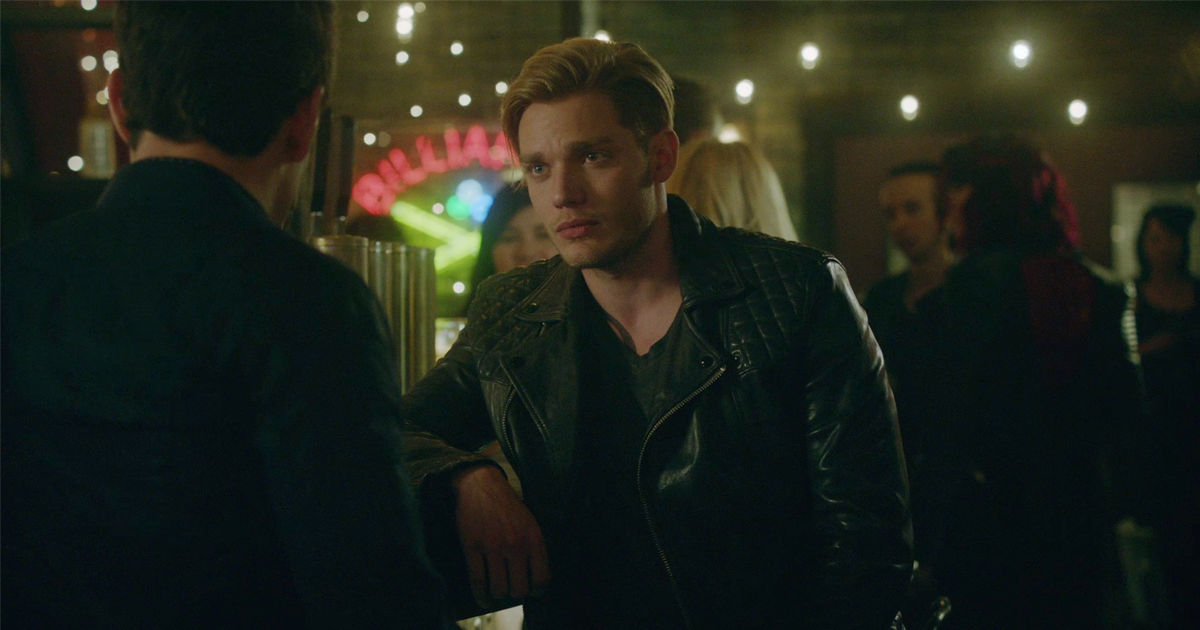 Jace shares some of his flirting techniques with Simon while 'All the Right Moves' by The Blah Blah Blahs plays in the bar.
Simon tries not to be himself.
Maia finishes her shift and joins Simon for a drink. 'Ever' by Tiny Deaths plays as Simon uses his new Jace skills to impress Maia.
Maia forgives Simon.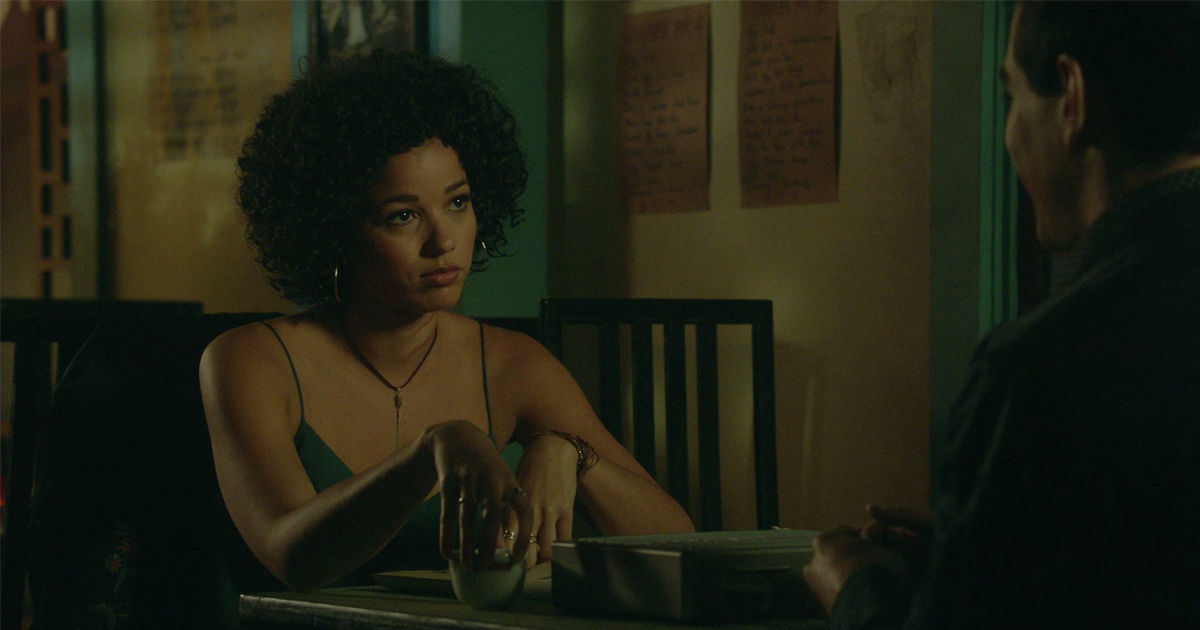 After Jace's tricks failed to impress Maia, Simon realizes he needs to just be himself. 'Faux' by Ed Tullett & Novo Amor plays as Simon begs for forgiveness.
Clary and Simon nervously approach Max's party as a new couple.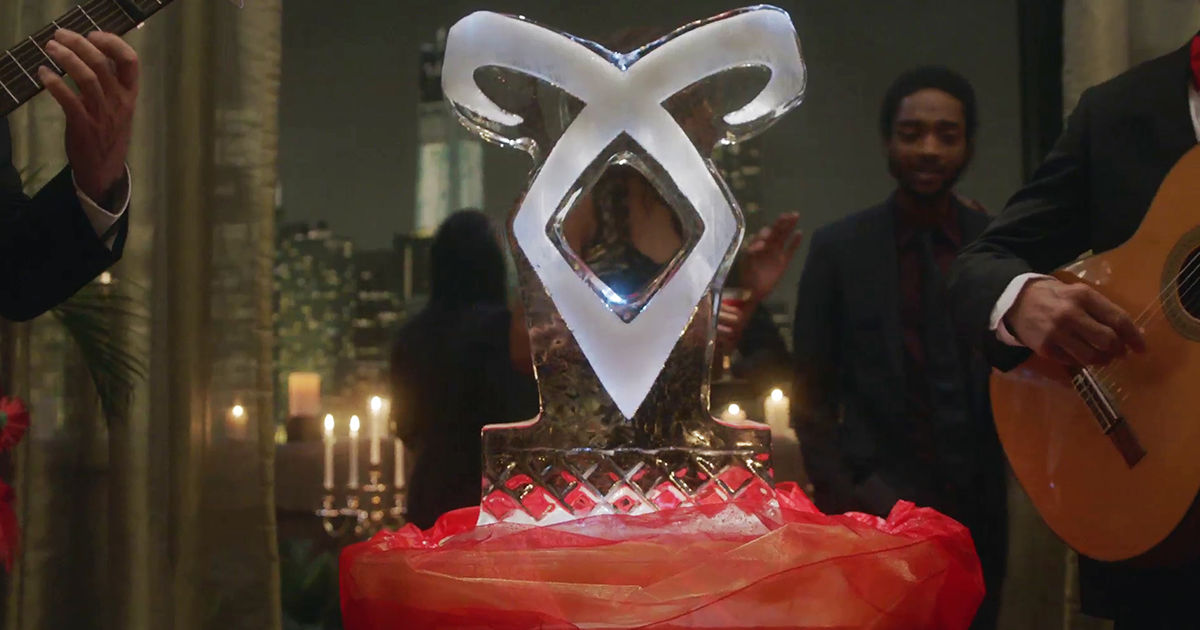 An extravagant Spanish themed party, put together by Magnus himself, would not be complete without 'Joni' by Vahagni.
Max's rune ceremony leaves us all in tears.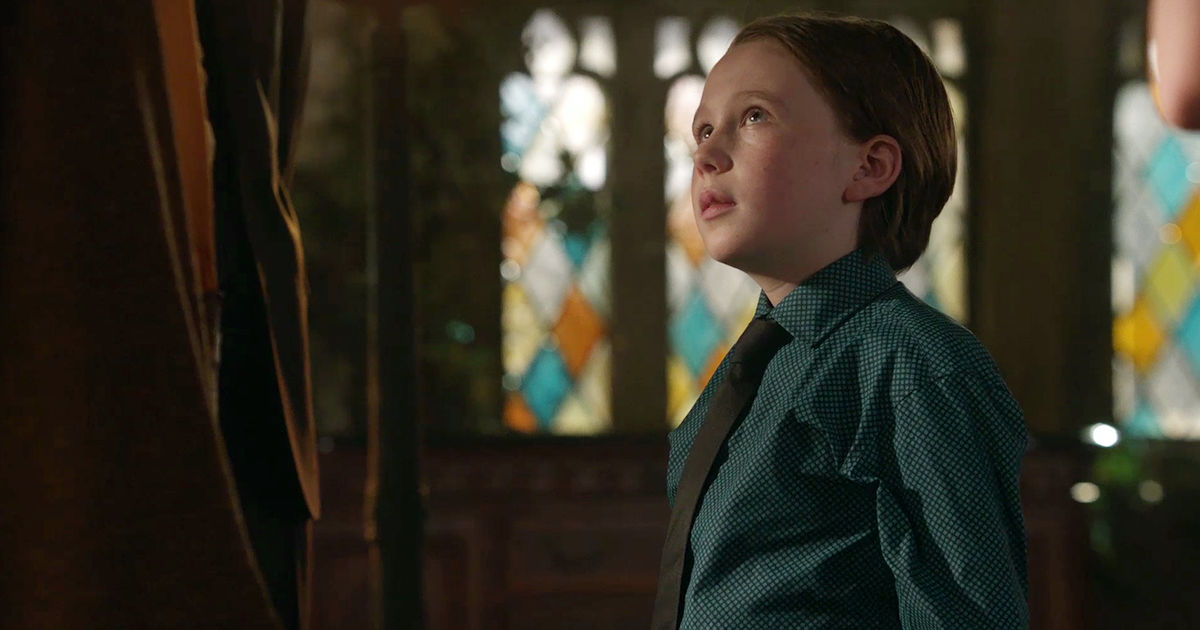 'Blood Rose' by birthday, an original song for the Shadowhunters series, was the perfect choice for Max's next step to becoming a fully fledged Shadowhunter.
Clary and Simon have a slightly uncomfortable makeout session.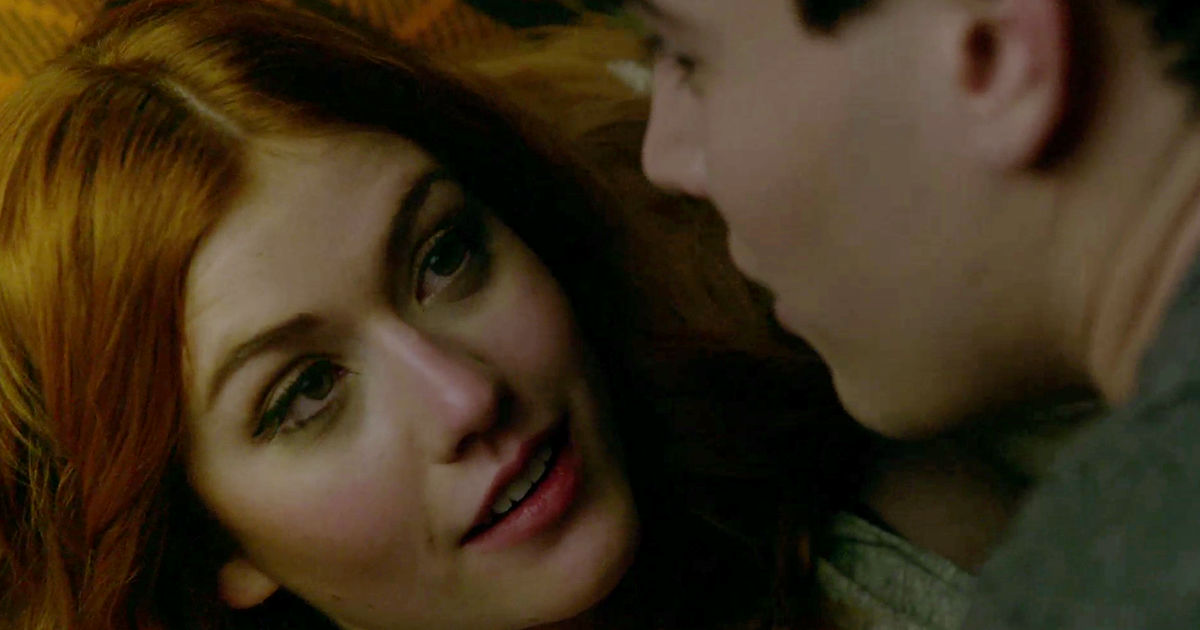 Jace interrupts Climon getting busy in a canoe while 'Forever' by Earth Dropwood plays in the background.
Simon and Clary comfort each other as Jace searches for Madzie.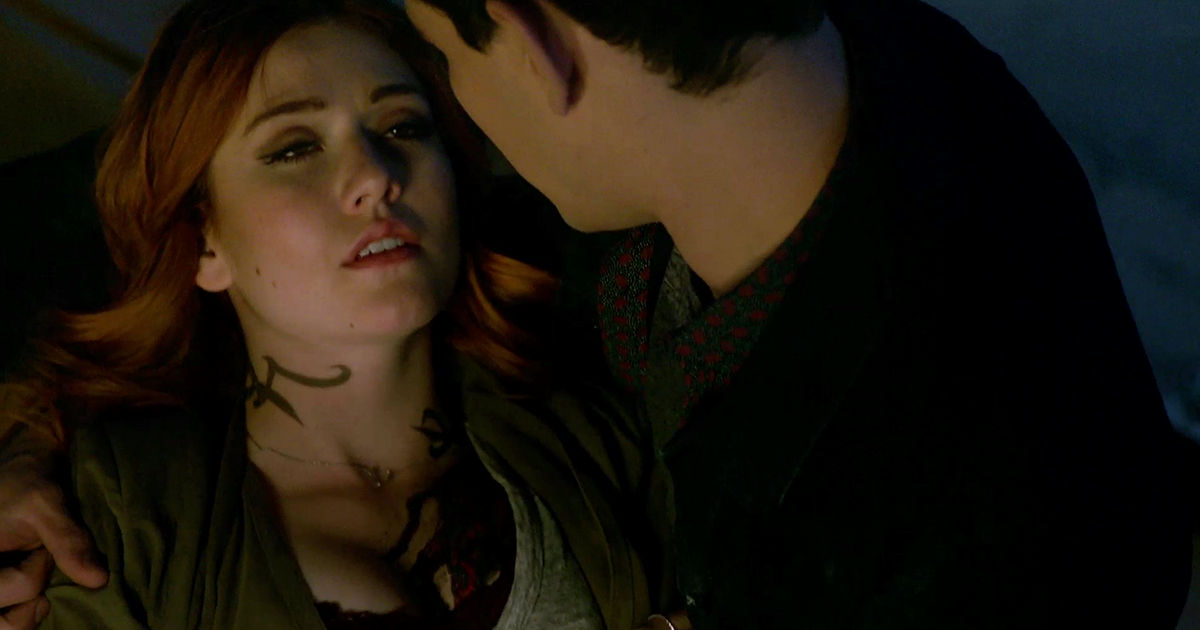 This scene is incredibly beautiful and emotional, and is made even more so with 'In Time' by Talos.
Izzy and Raphael share a touching moment.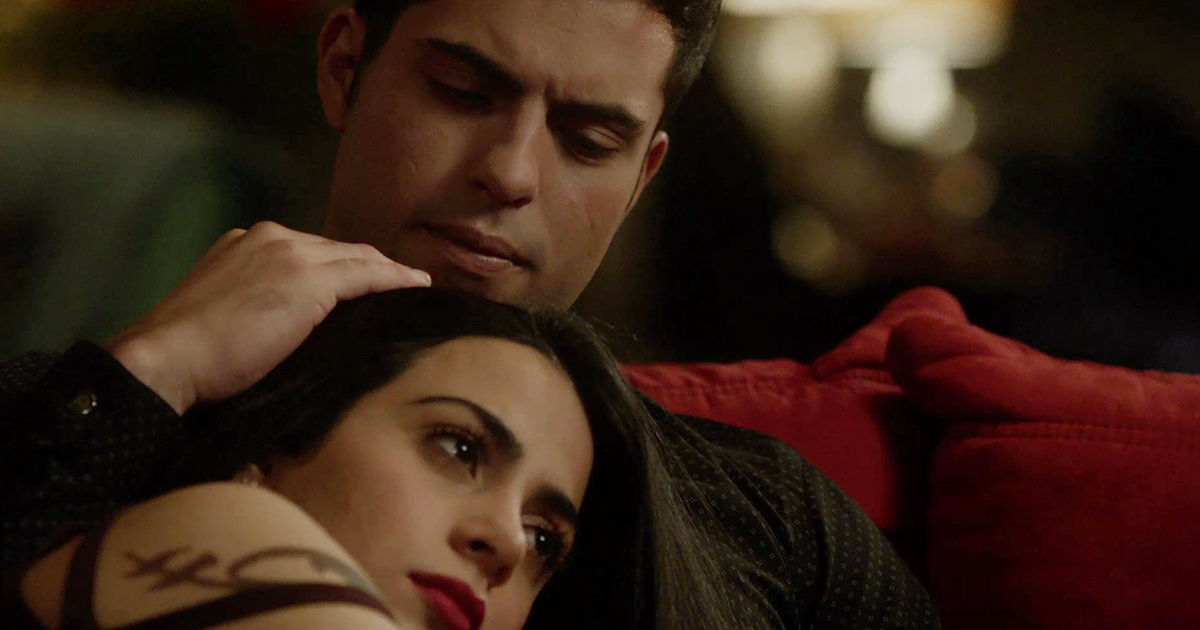 At first Izzy thinks he just wants another taste of her Shadowhunter blood, but he convinces her that he cares for her. Then Raphael finds out about the attack on the Institute and leaves in a hurry. He lies to Izzy about where he's going to protect her from the danger he's about to face. 'Movement' by High Highs plays softly throughout this scene.
Izzy takes on four Circle members.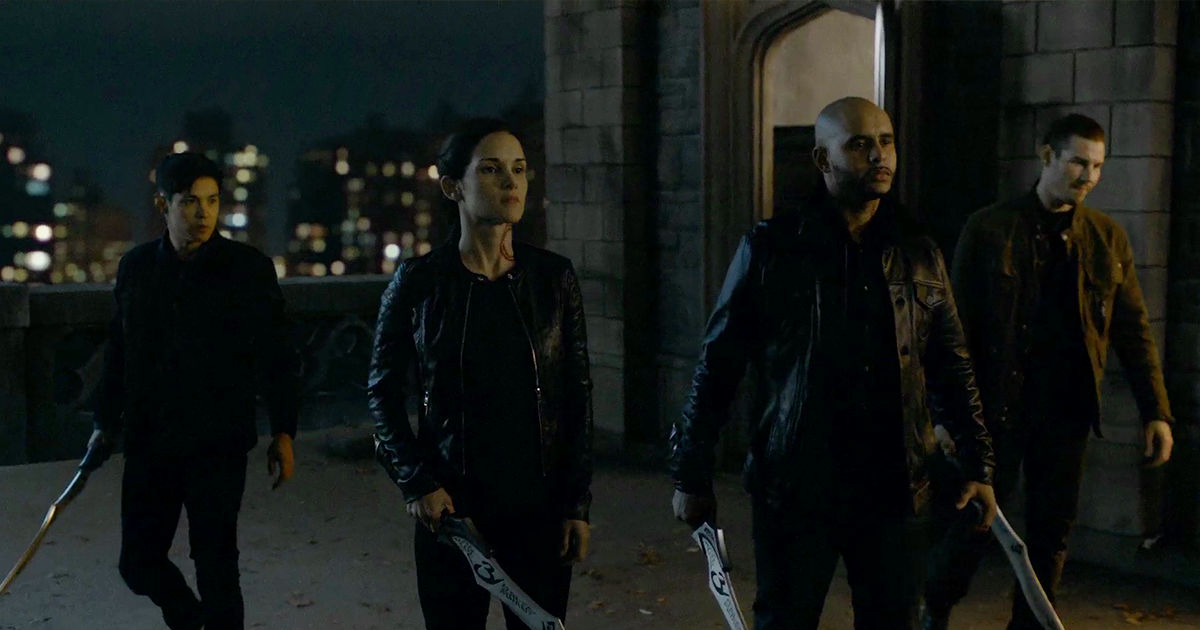 Alec and Aldertree are trapped and outnumbered by Valentine's men when Izzy arrives to save the day. 'Sun Light' by N3XTST3P provides an energetic sound as Izzy takes out the bad guys.
Simon surprises Clary with some happy news.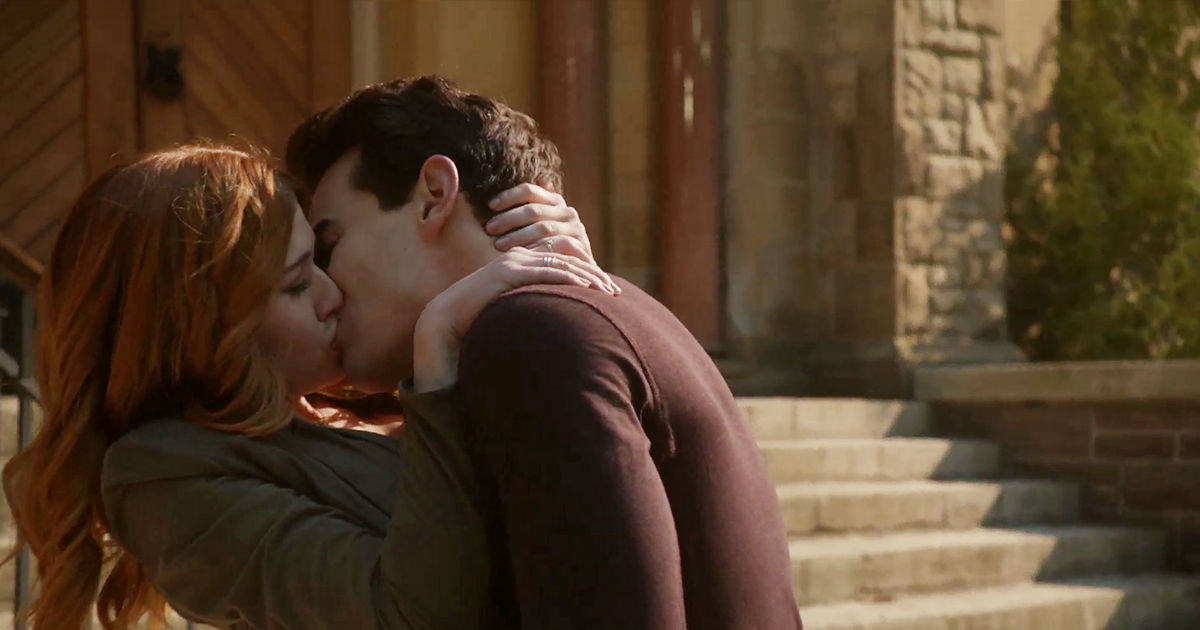 In this bittersweet ending to the Winter Finale, Simon takes Clary outside and shows her that he's not vulnerable to sunlight anymore. It's such a joyful moment as it means they can now have an almost normal relationship. However, Jace sees them embracing and realizes that even though he's not Clary's brother, he still can't have her. 'Rising, Rising (Bassnectar Remix)' by Crywolf is a beautiful accompaniment to a scene which leaves us with mixed emotions.
Jace and Alec train together.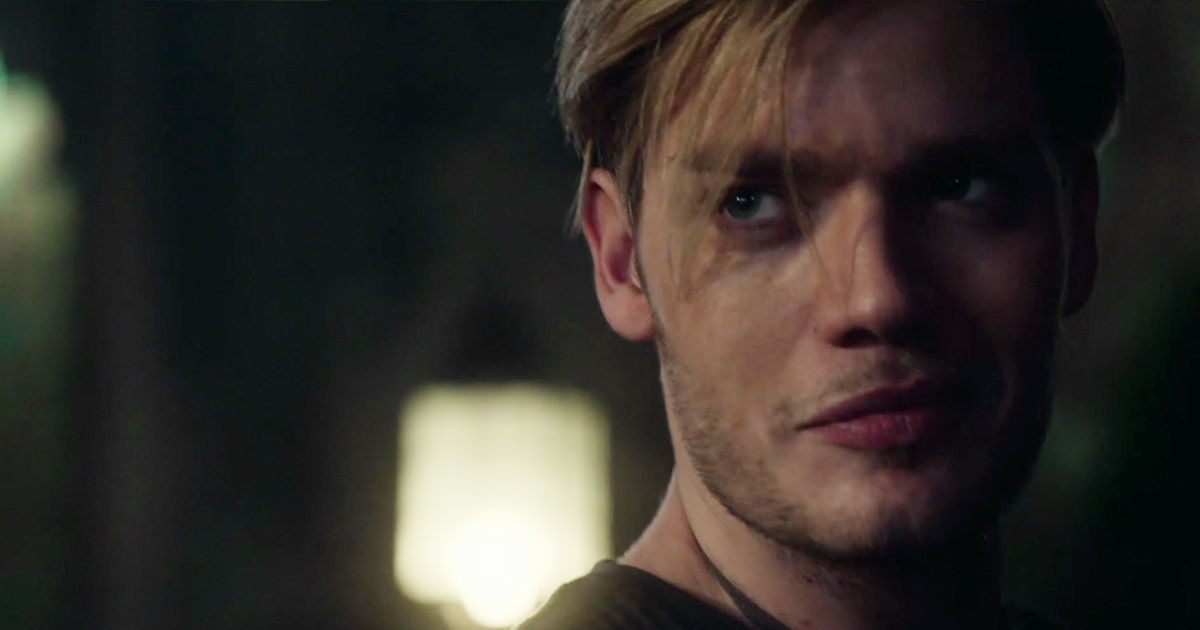 'Area' by MagnusTheMagnus plays as the two Parabatai go head-to-head, and Jace talks about his feelings for Clary.
Simon and Clary sit outside in the sun.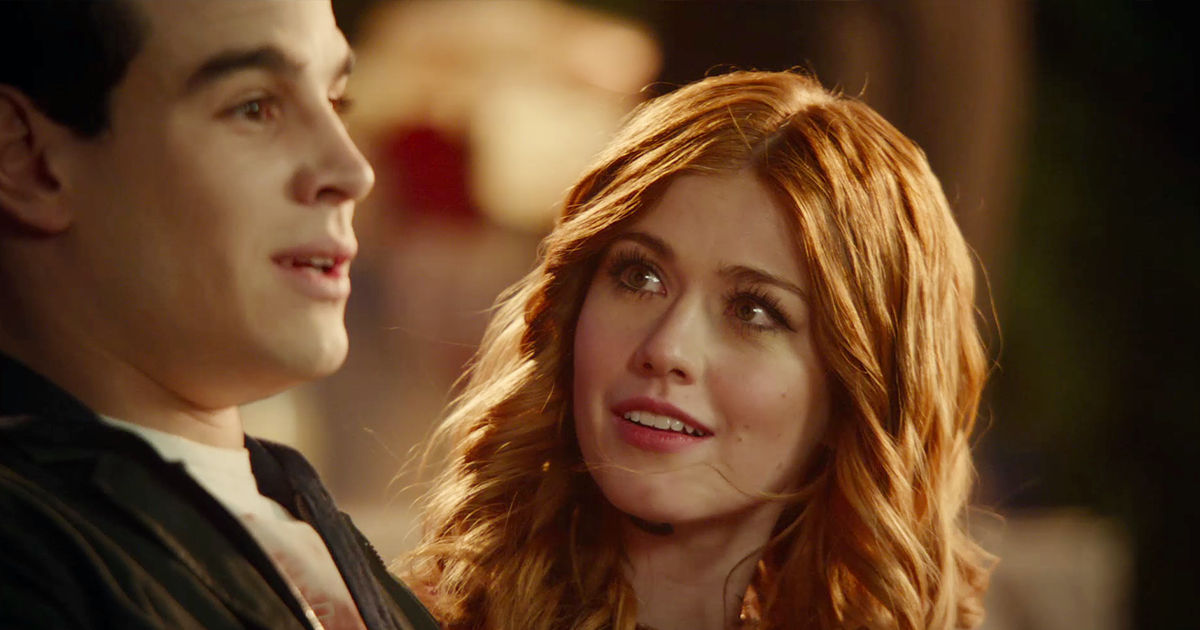 The soothing 'Patterns' by Jonathan Byron Belanger plays while Clary tries to convince Simon not to worry anymore.
Maia finds out about Simon's new ability.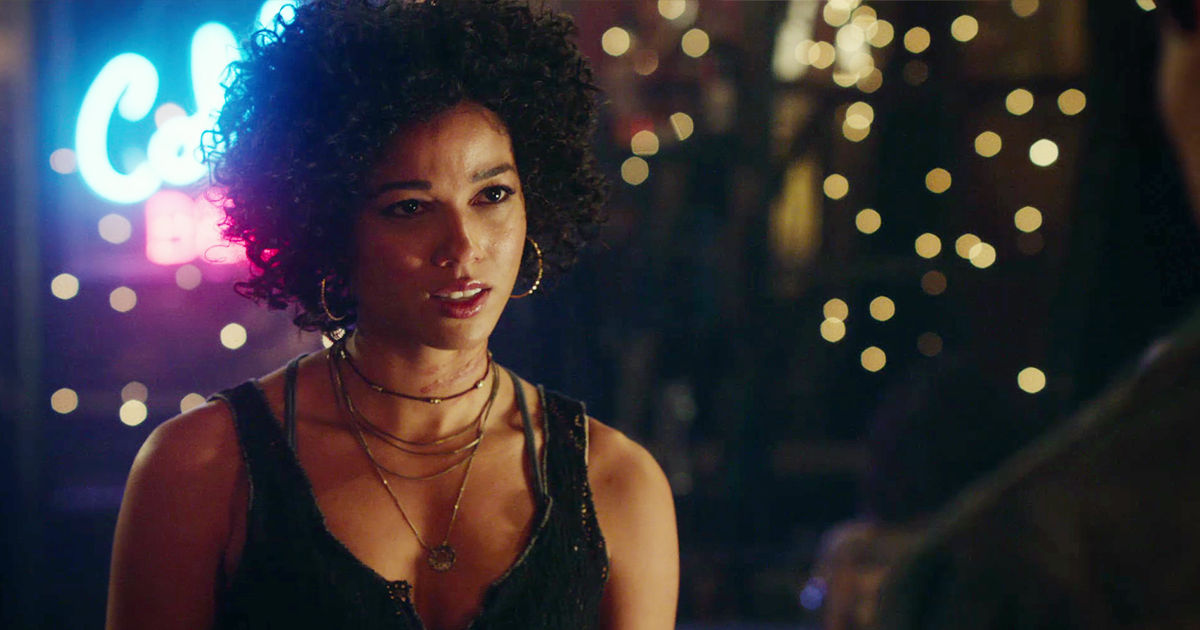 'Here & Now' by Dresses provides the perfect accompaniment for this uplifting scene. Maia is delighted for Simon, but warns him not to draw too much attention to himself.
Clary and Simon share some alone time.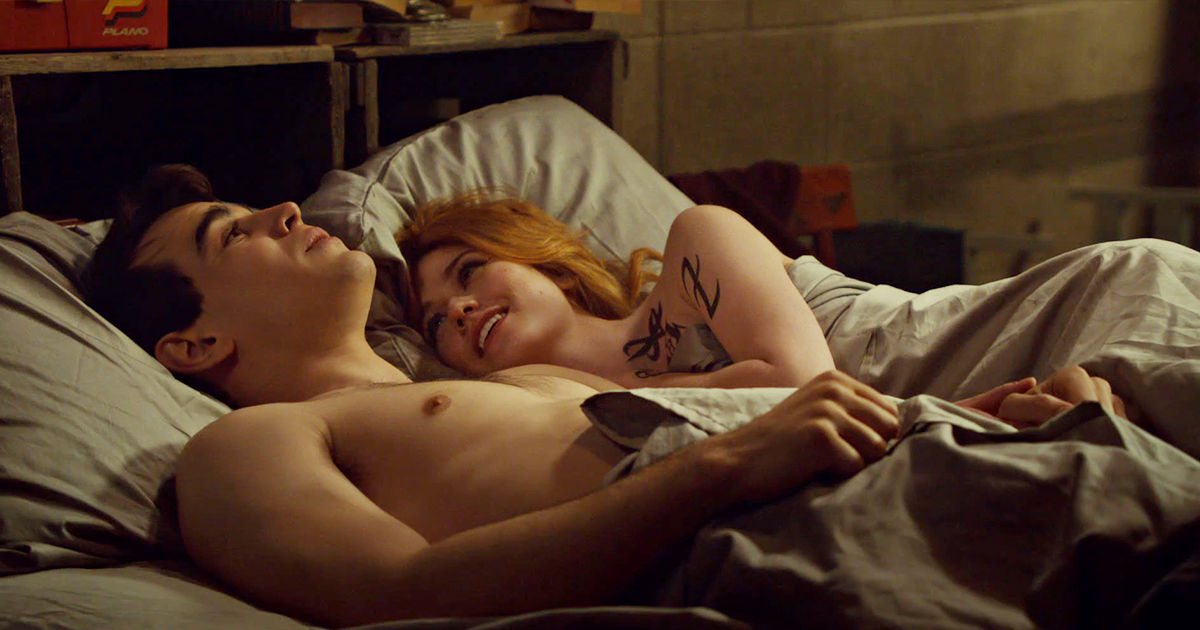 The gentle 'Marathon' by Francis plays during their intimate moment.
Sebastian looks after Izzy.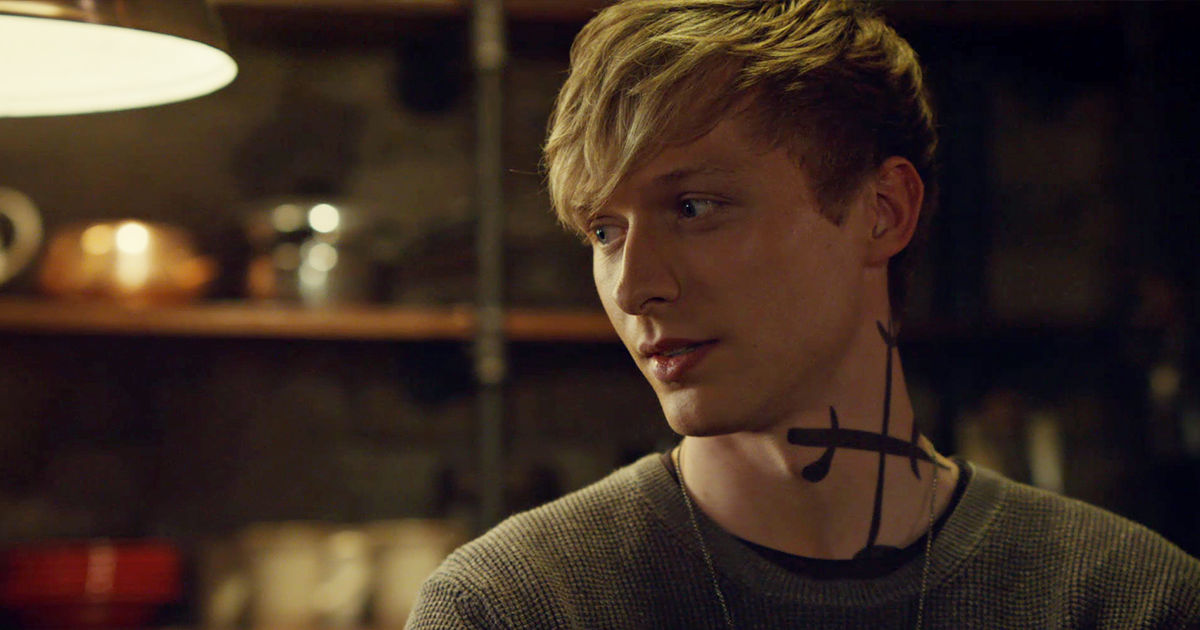 'Another Love' by n. Lannon plays in the background as Izzy thanks Sebastian for taking her in.
Inquisitor Herondale watches Jace and Clary train.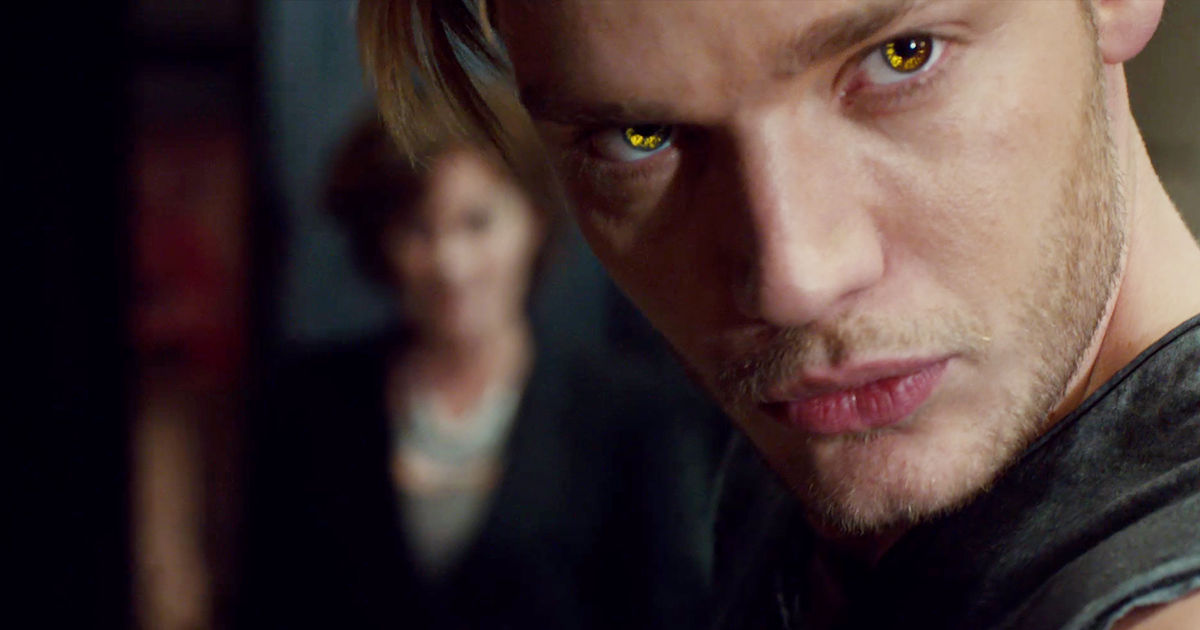 The up-tempo 'Love to Hate It' by Off Bloom is the perfect track for this fight scene.
Sebastian asks Clary out while Simon and Izzy talk in a park.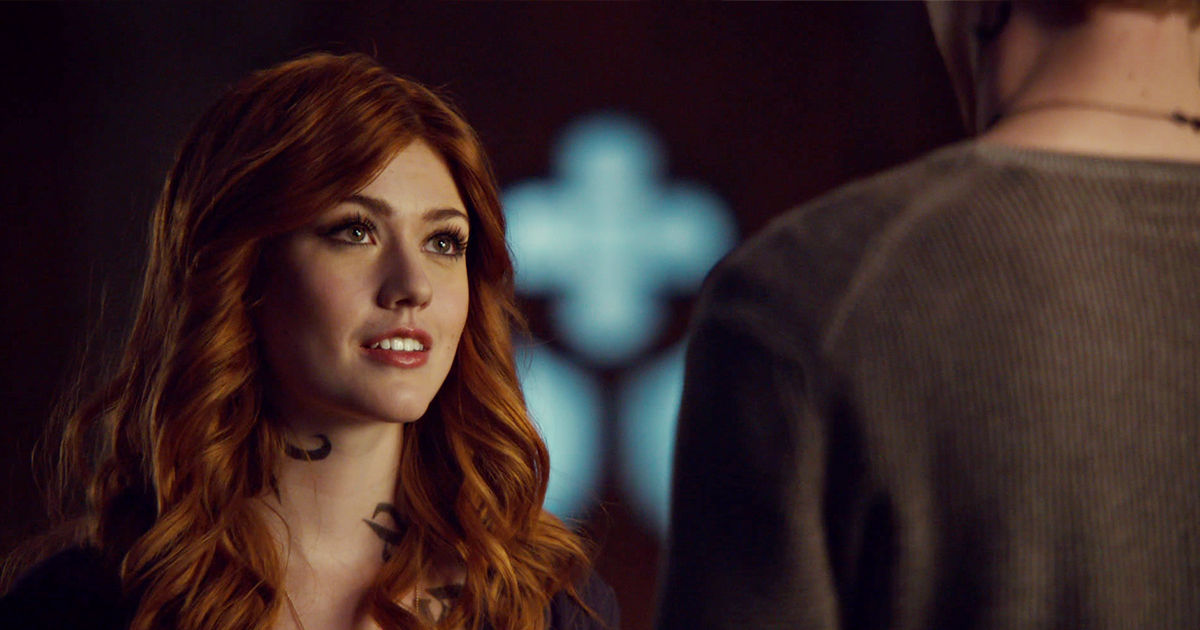 The beautifully uplifting 'Waves' by Dean Lewis continues as Simon and Clary connect once more.
Clary books a show for Simon.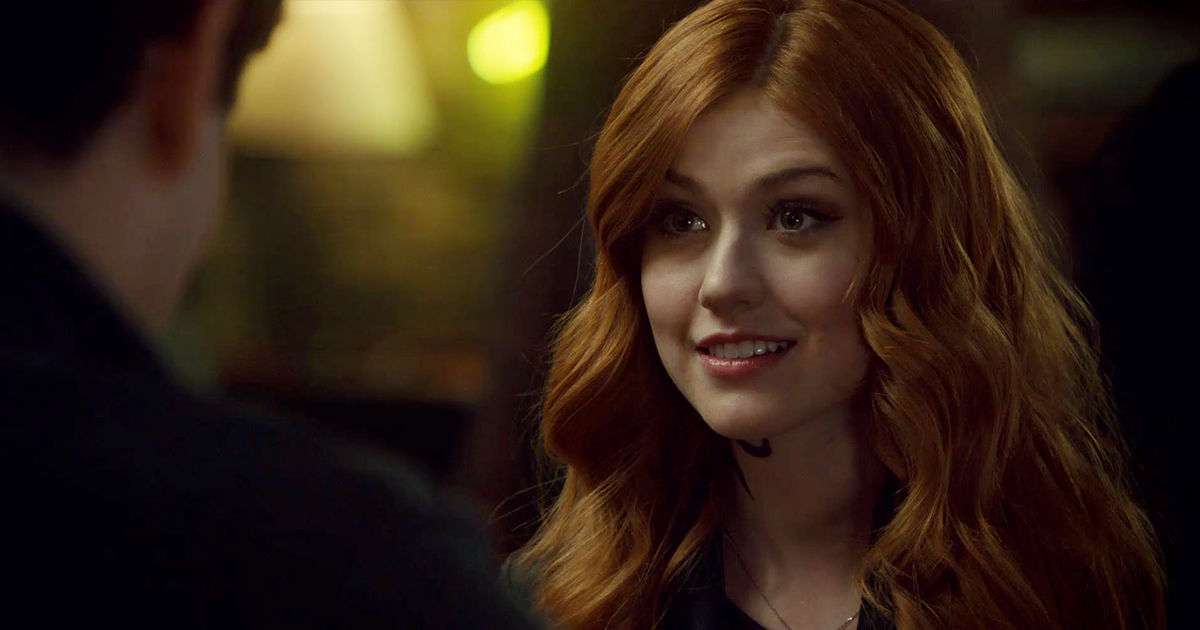 'Rebel Babe' by Kingswood plays on the jukebox at the Hunter's Moon as Clary surprises Simon. Meanwhile, Jace tries to flirt with a Seelie.
Dot arrives at Magnus' apartment.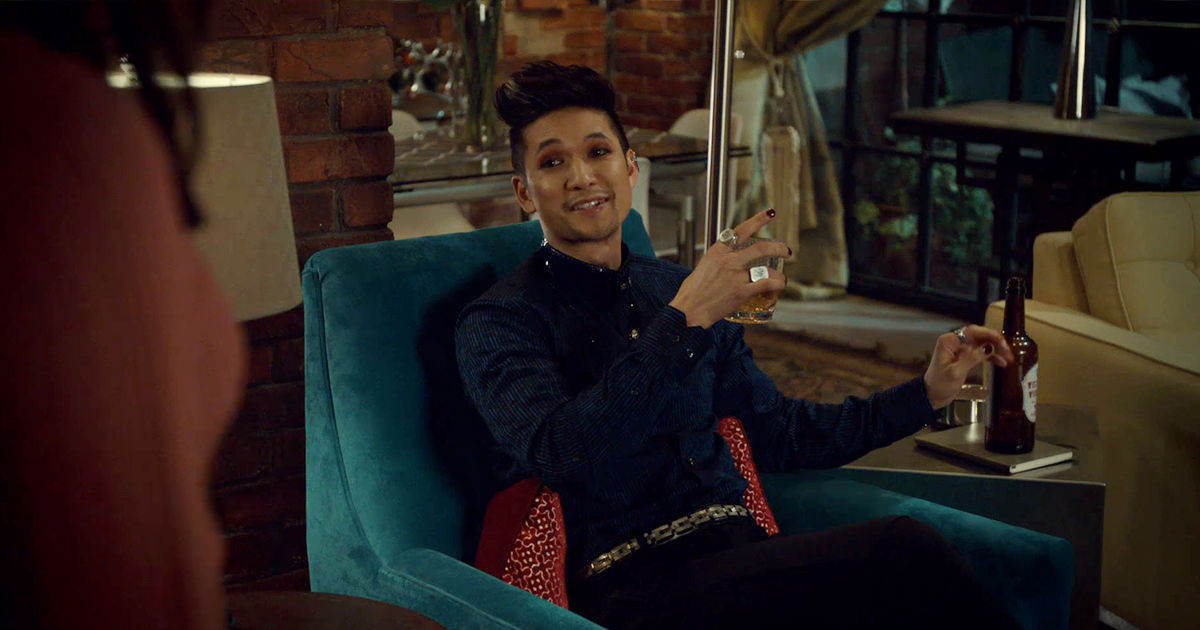 We hear the soulful 'I'll Remember' by Emi Secrest as Dot comes to check up on her old friend.
Jace gets into a fight with Maia.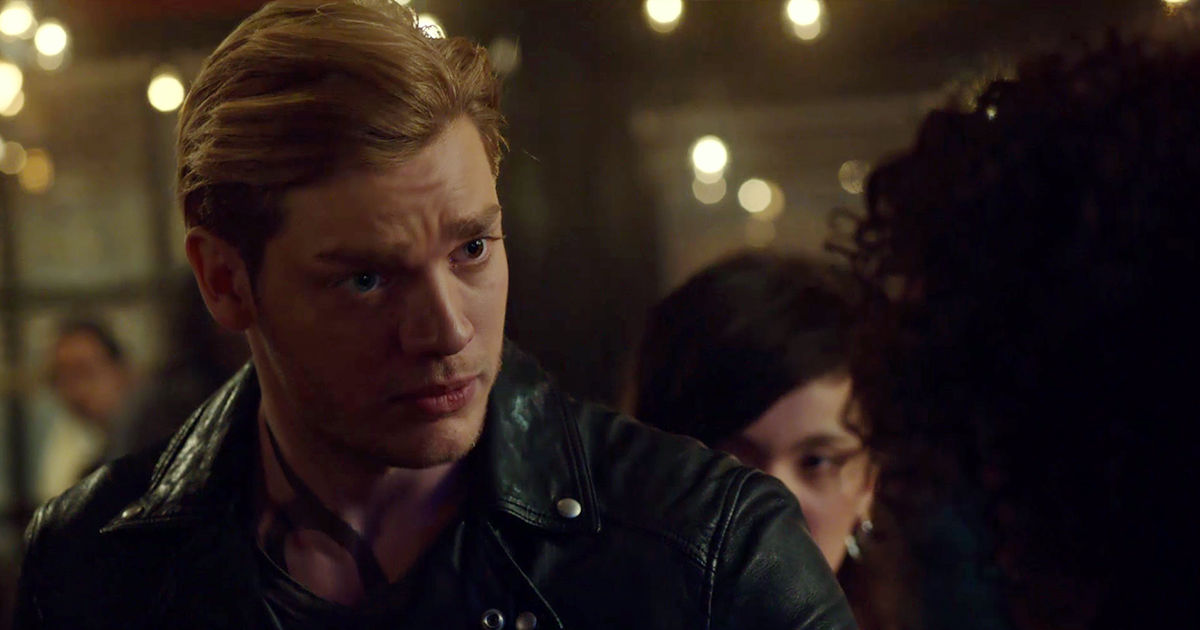 Things get heated when Jace tries to carry out the Clave's new orders. 'Small Problems' by The Bulls plays in the background during this tense scene.
Magnus and Dot reminisce together.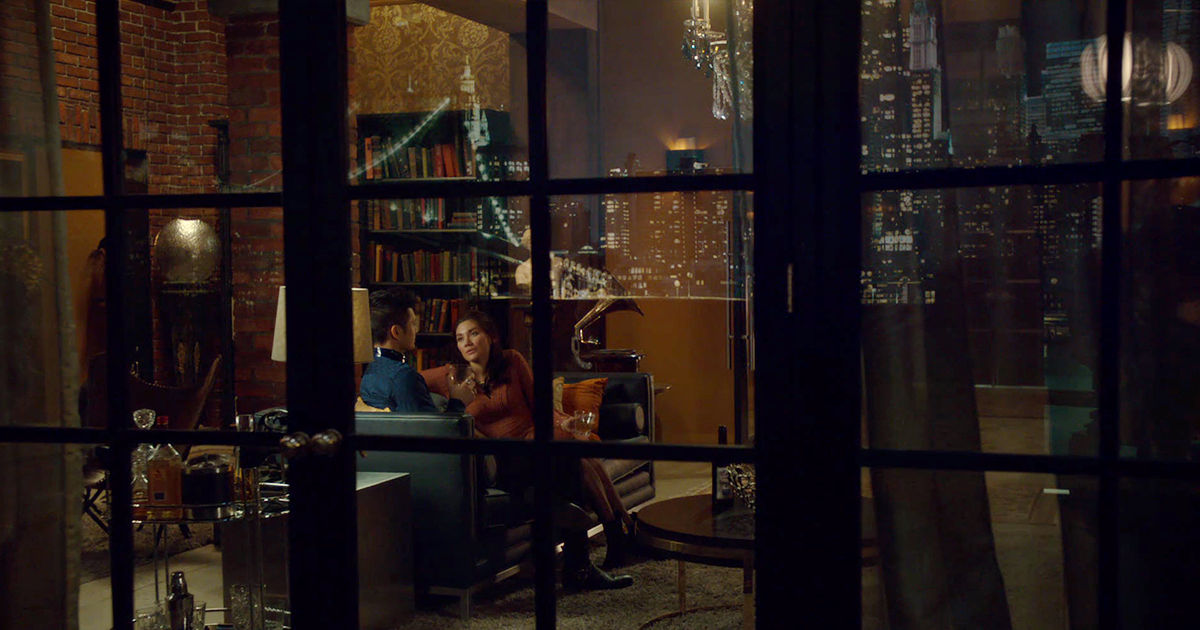 'Sleeptalking (Technocrat Remix)' by Evan Geesman plays softly as the two Warlocks talk about old flames.
A crowd gathers at the Hunter's Moon for Simon's show.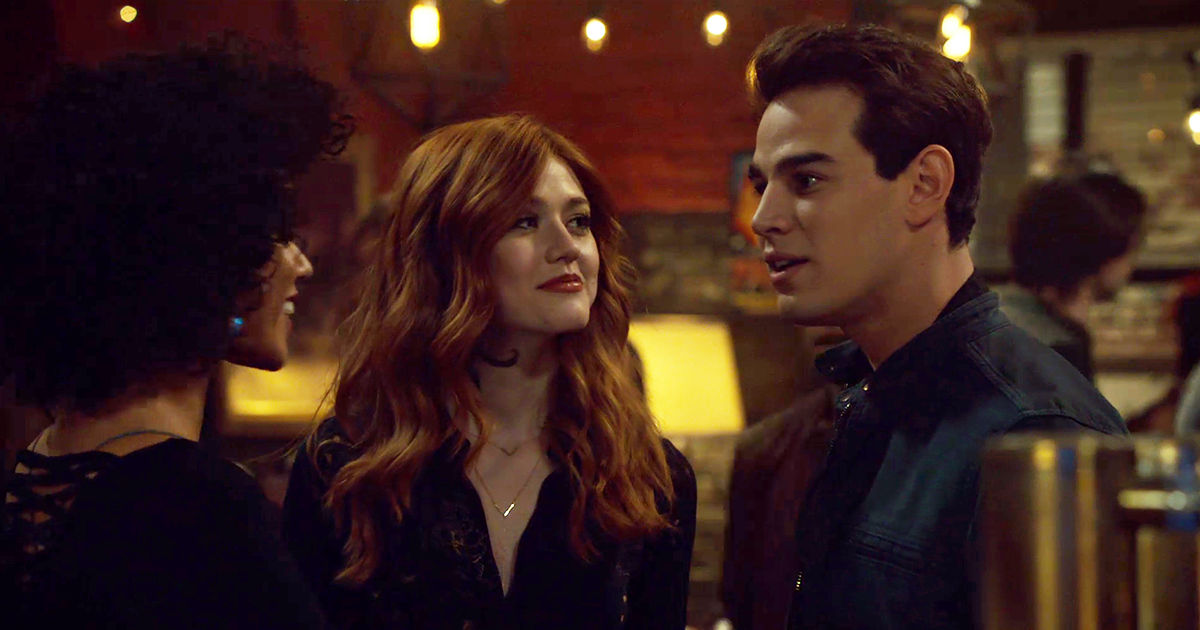 We hear the super catchy 'Live on Love' by Rad Planet playing as Clary tries to boost Simon's confidence.
Simon performs while Jace apologizes to Maia in the alley.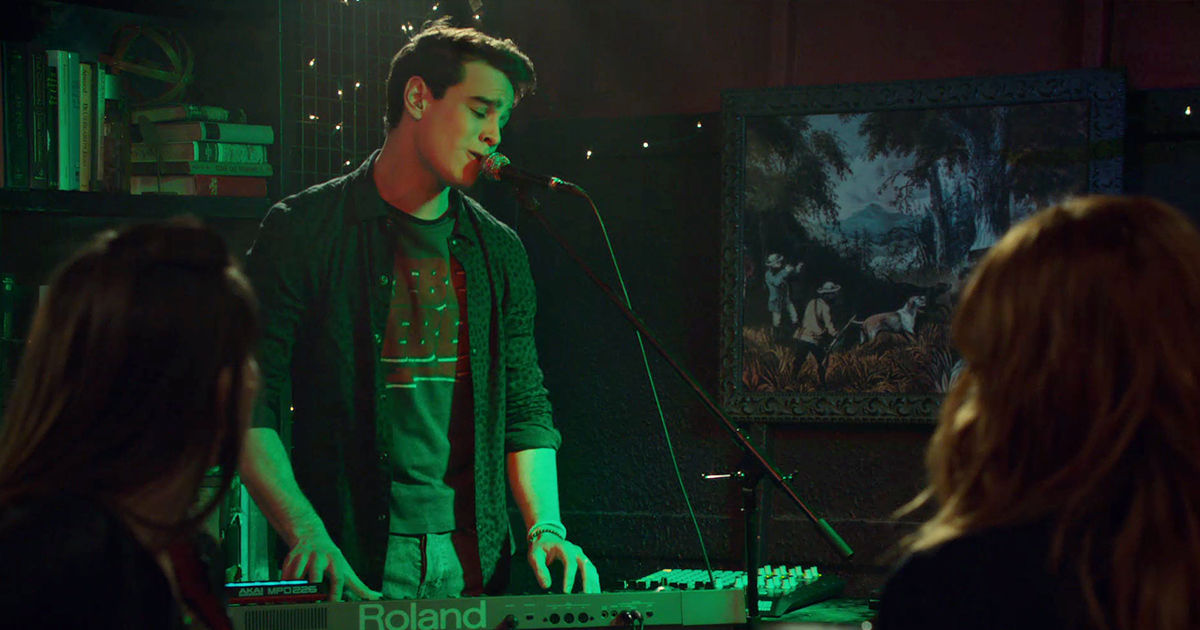 Simon launches his solo career with the beautiful 'Fragile World', an original Shadowhunters song performed by Alberto Rosende.
Sebastian interrupts Izzy's training.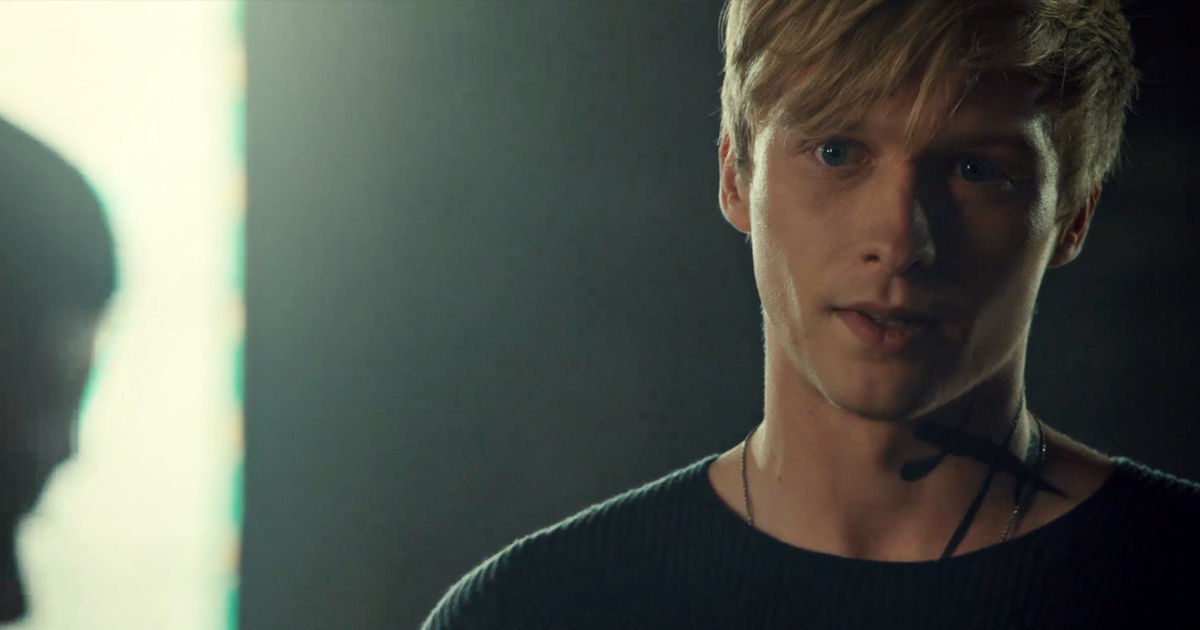 'Under Attack' by Amy Stroup plays while Izzy trains, and Sebastian gives her some advice about confronting her mother.
The Seelie Queen plays a cruel game with Simon, Clary, and Jace.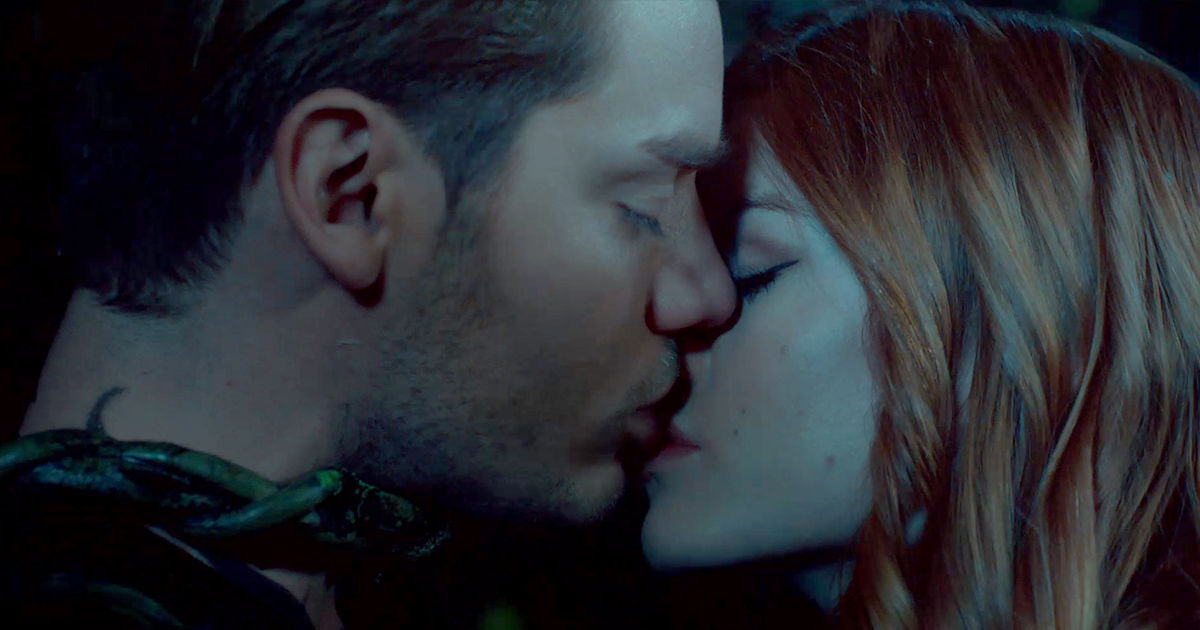 The Seelie Queen forces Clary to face her true feelings. Ruelle's beautiful new song, 'The Other Side', was specially written for this scene.
Izzy tries to get back together with Raphael, and Clary apologizes to Simon.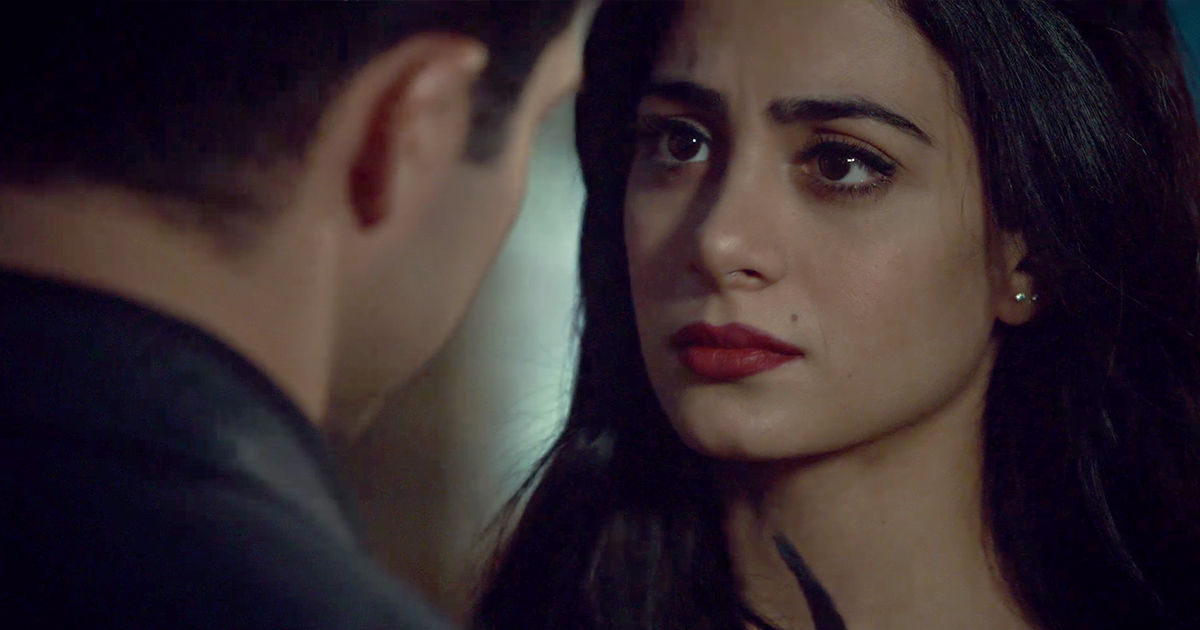 We hear 'Hold Your Breath', another wonderful song by Ruelle, as Izzy and Clary both try to mend relationships.
Quinn meets Simon at Hunter's Moon.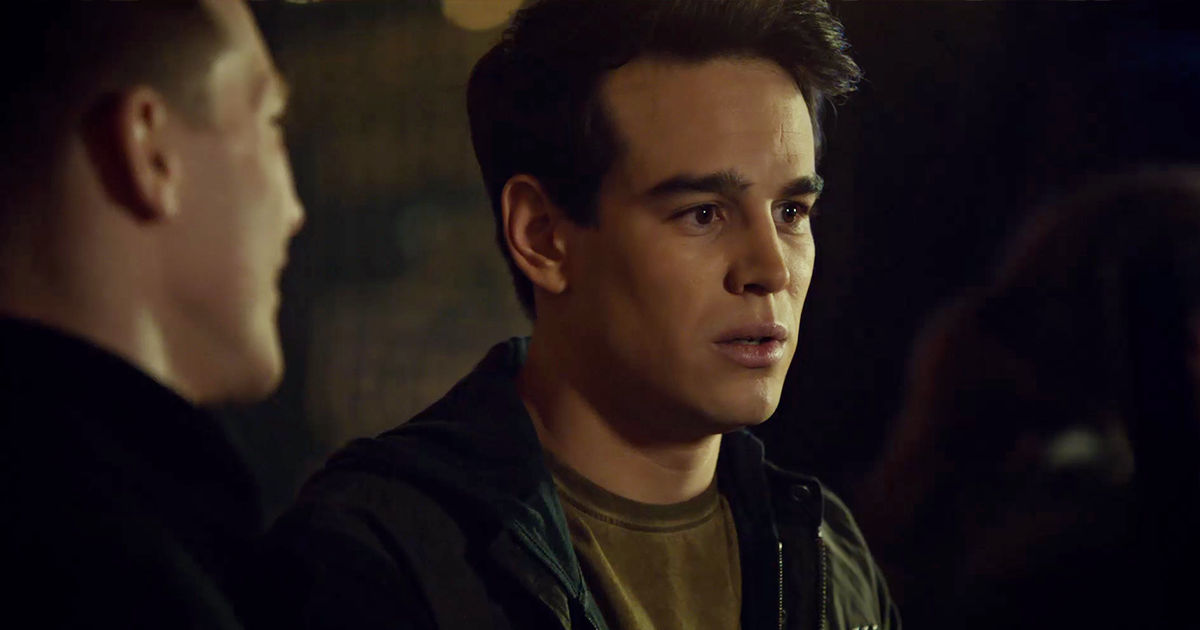 We hear 'Loud(y)' by Lewis Del Mar playing in the bar as Simon tries to get over his heartbreak.
Simon feeds on a Mundane at a bleeder den.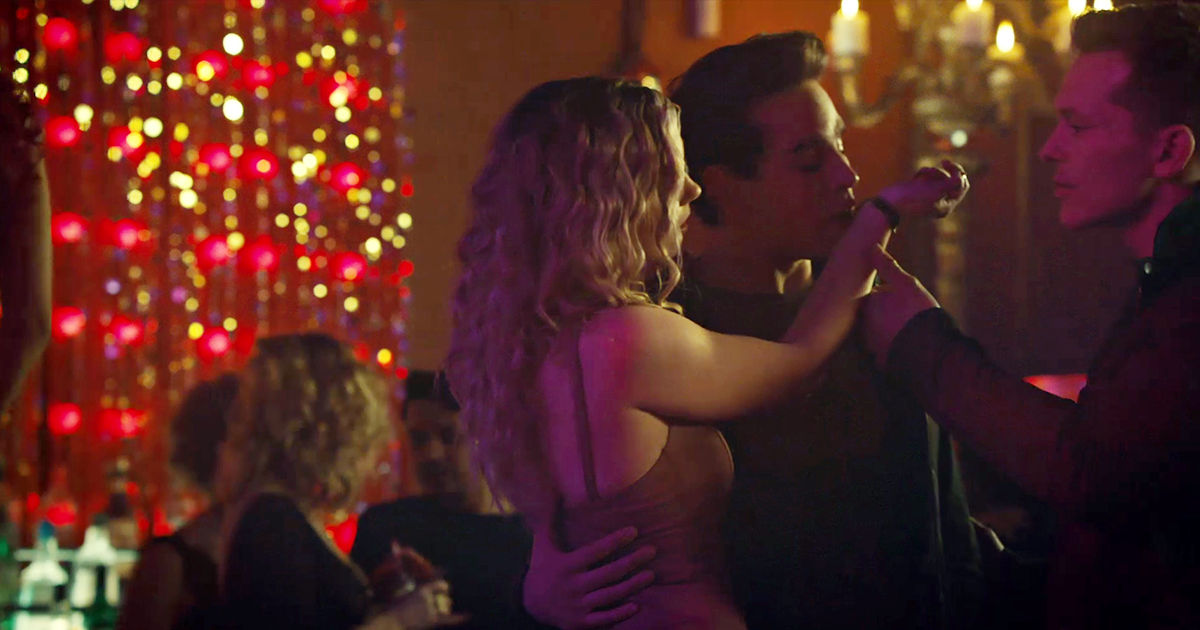 Quinn brings Simon to a club where Mundanes let themselves be bitten by Vampires. The haunting 'Love Surrounds You' by Ramsey is a brilliant song choice for this scene.
Simon returns to the bleeder den when he realizes that Quinn killed Heidi.
'Burn it Down (Vectronic Remix)' by SPC ECO plays in the background while Simon confronts Quinn about Heidi's death.
Maia checks on Simon in the boathouse.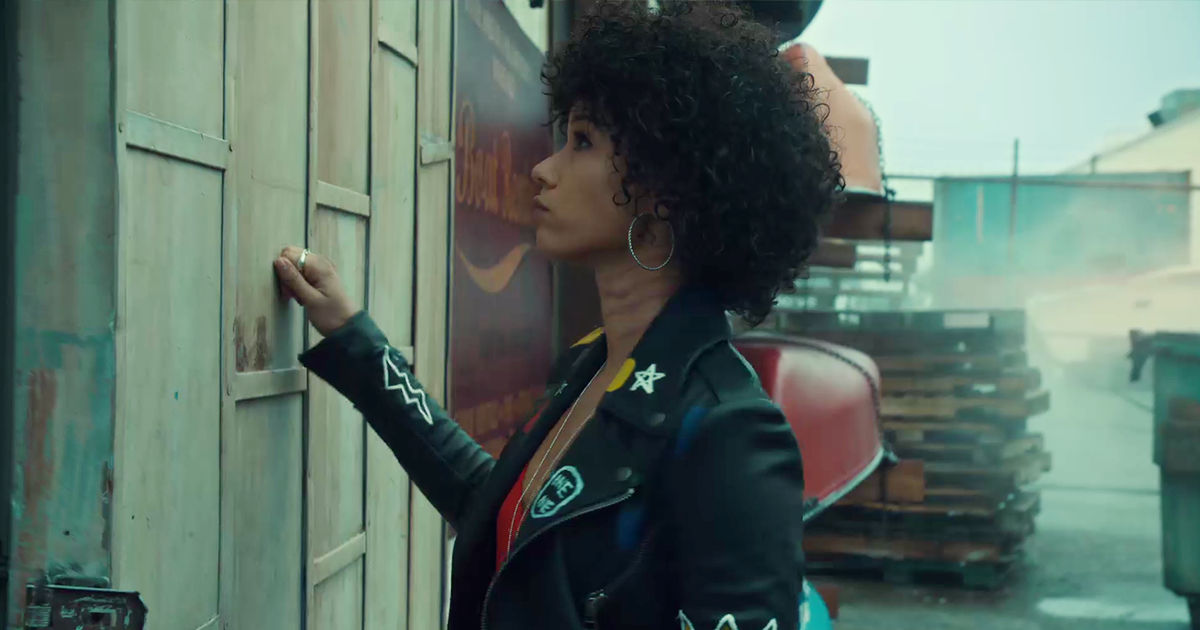 The sad but beautiful 'Four Walls' (The Ballad of Perry Smith) by Bastille was the perfect song choice for this scene, in which Maia tries to lift Simon out his depression.
Jace helps Clary snap out of her hallucinations.
In this moving scene, Jace holds Clary close and activates his healing rune. We hear the uplifting 'Anchor' by Novo Amor play as Clary is brought back to her senses.
Simon thanks Maia for coming to his family's Yom Kippur dinner.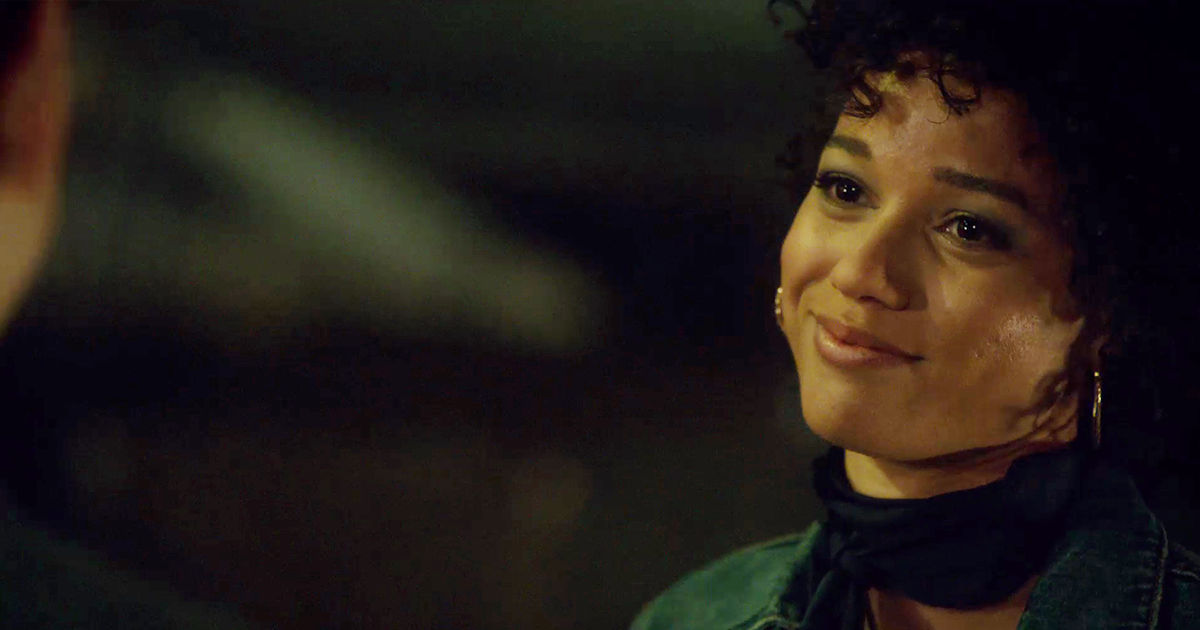 The gentle 'Upstairs Room' by Paul Cook & The Chronicles plays as Simon and Maia reflect on their evening together. We can feel the chemistry between them as Maia gives him a kiss on the cheek goodbye.
Magnus whips up a romantic dinner for Alec.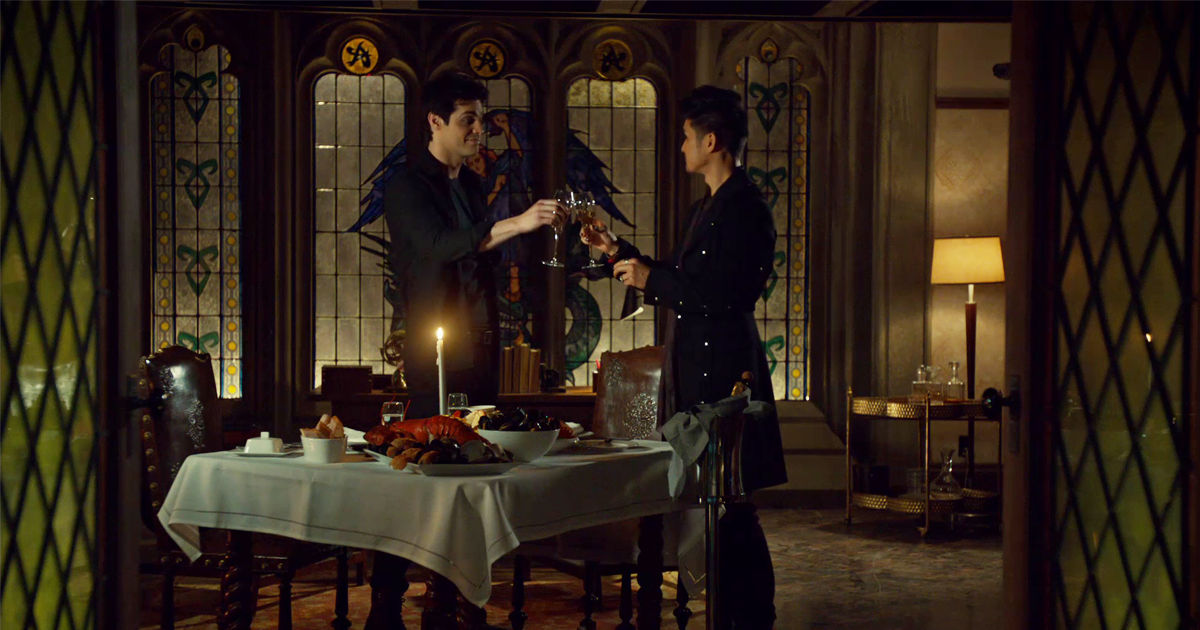 As the two catch up about the Downworld meeting, 'Stronger (feat. Mr Gabriel)' by Proper Gentlemen adds to the intimate vibe.
Simon visits the Hunter's Moon to ask Maia out on a date.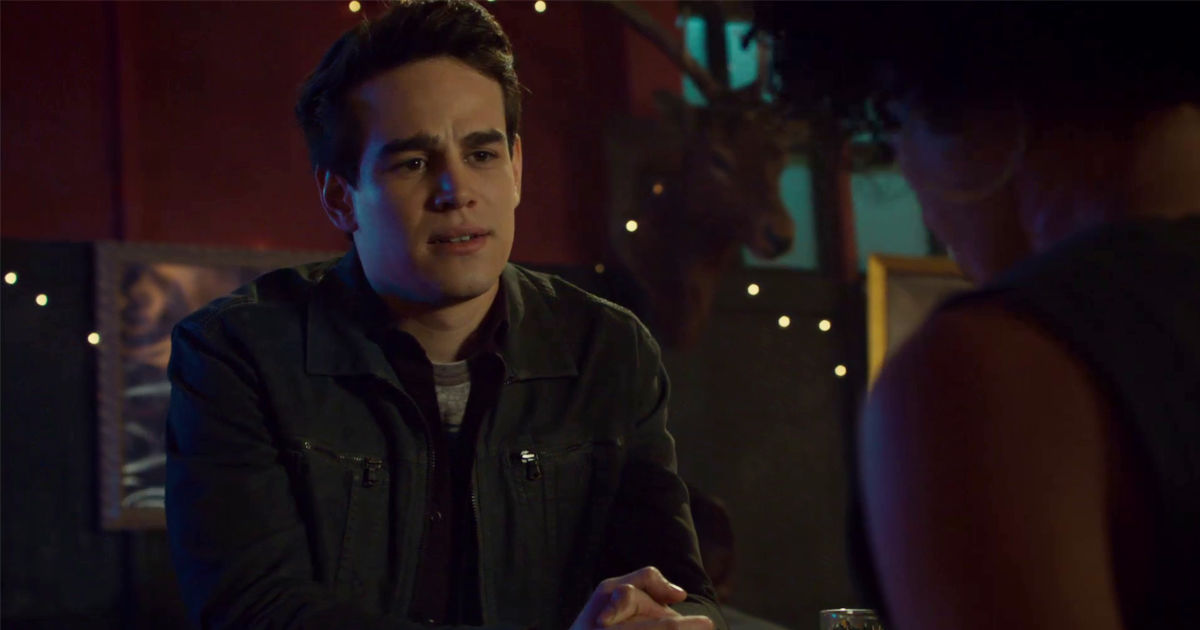 'I'd Really Like To Slow Down' by Brain Tan is a great match for this scene, as Maia tells a disappointed Simon that she just wants to be friends.
Simon spends some time on his music in the boat house.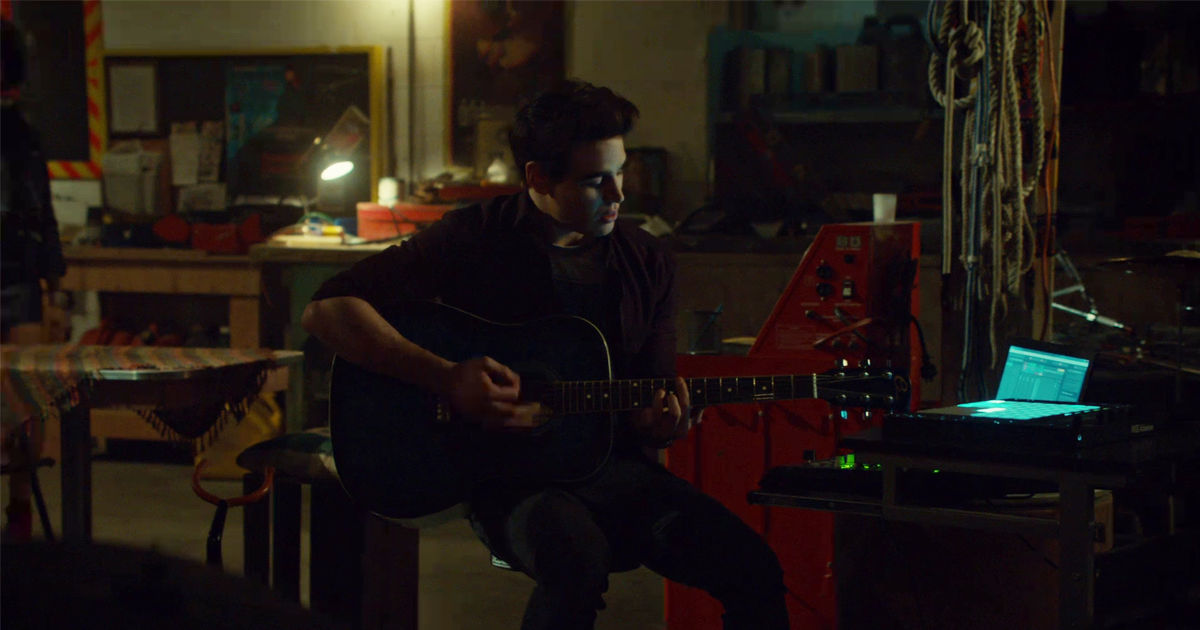 The beautiful acoustic track, performed by Alberto Rosende, is called 'Royal Blue.'
Magnus remembers the first time he and Alec spent the night together.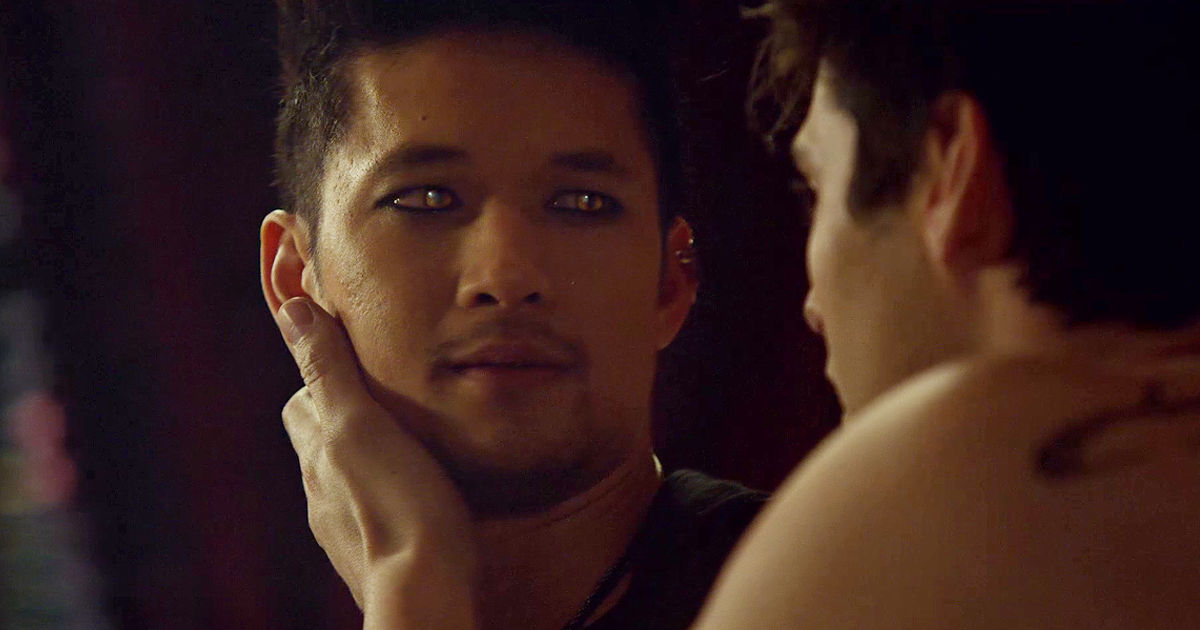 'Wide Eyed' by Billy Lockett plays as Magnus has a flashback to that romantic night with Alec.
Magnus has another flashback to a tender moment with Alec.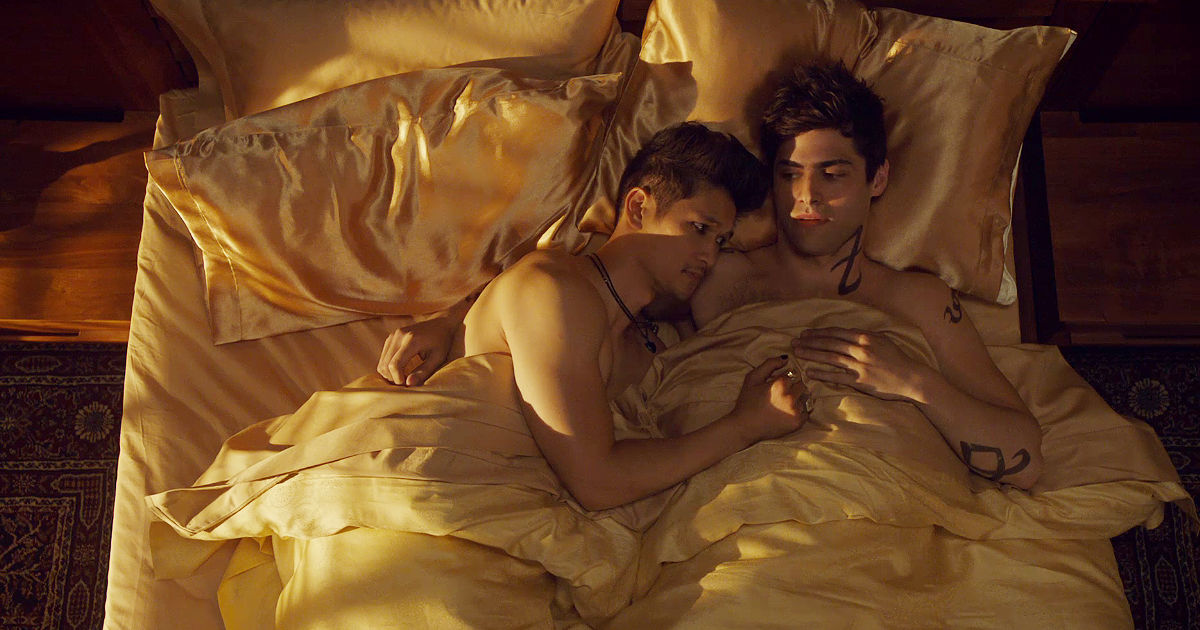 We hear the moving 'Where's My Love' by SYML.
Maia and Simon check on Bat, and Max wakes up.
'Brave' by Riley Pearce creates a sense of hope, as Maia and Simon reassure the new Werewolf that he's not alone. Meanwhile, Magnus and the Lightwood family are relieved to see Max has awakened.
Raphael apologizes to Izzy for everything that happened between them.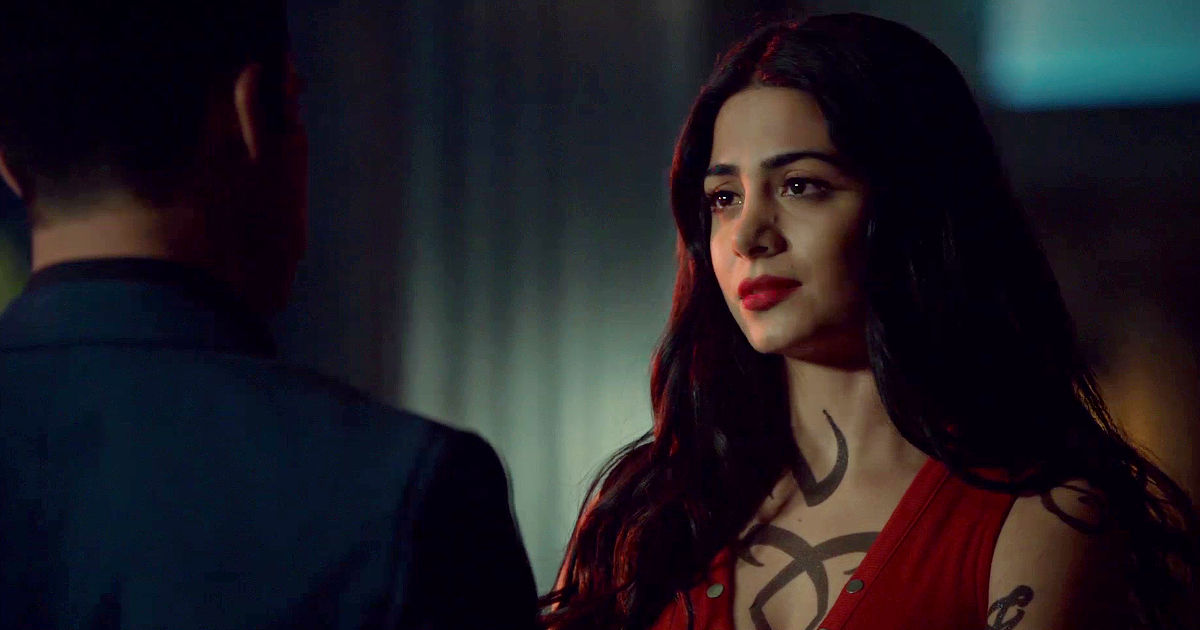 Raphael and Izzy both admit to feeling an emotional connection that goes beyond craving each other's blood. We hear 'Time Frame' by Fractures.
Jace and Clary use their angelic abilities to track Sebastian.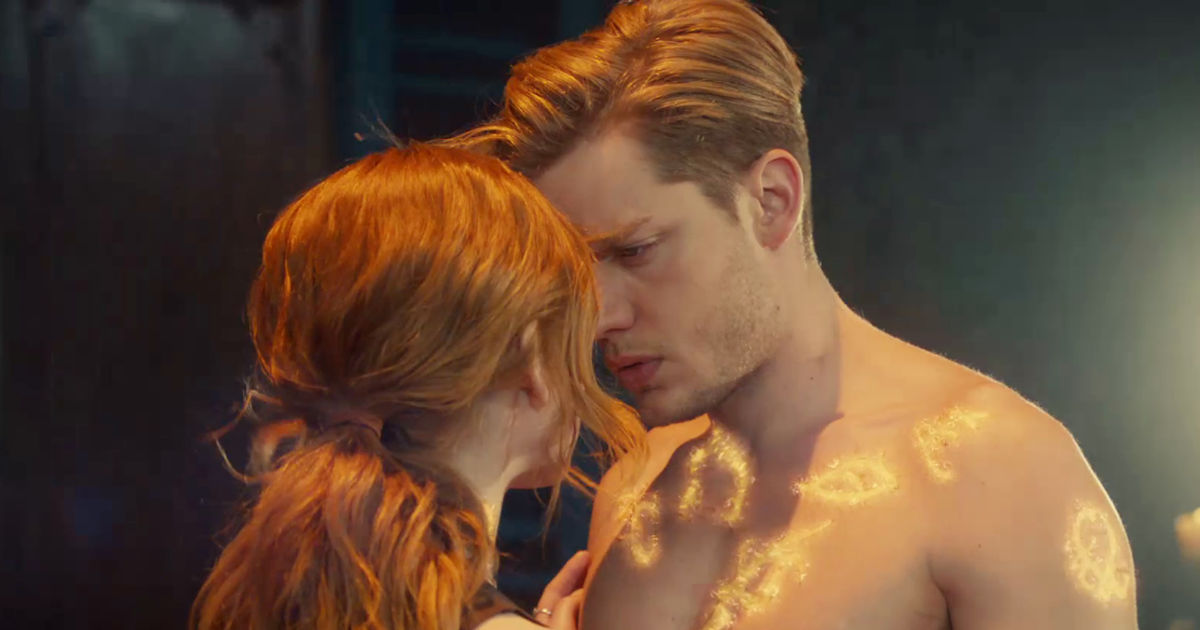 'Unworthy' by Vancouver Sleep Clinic plays during this powerful scene between the two Shadowhunters.
Later, they share a moment after the showdown with Sebastian.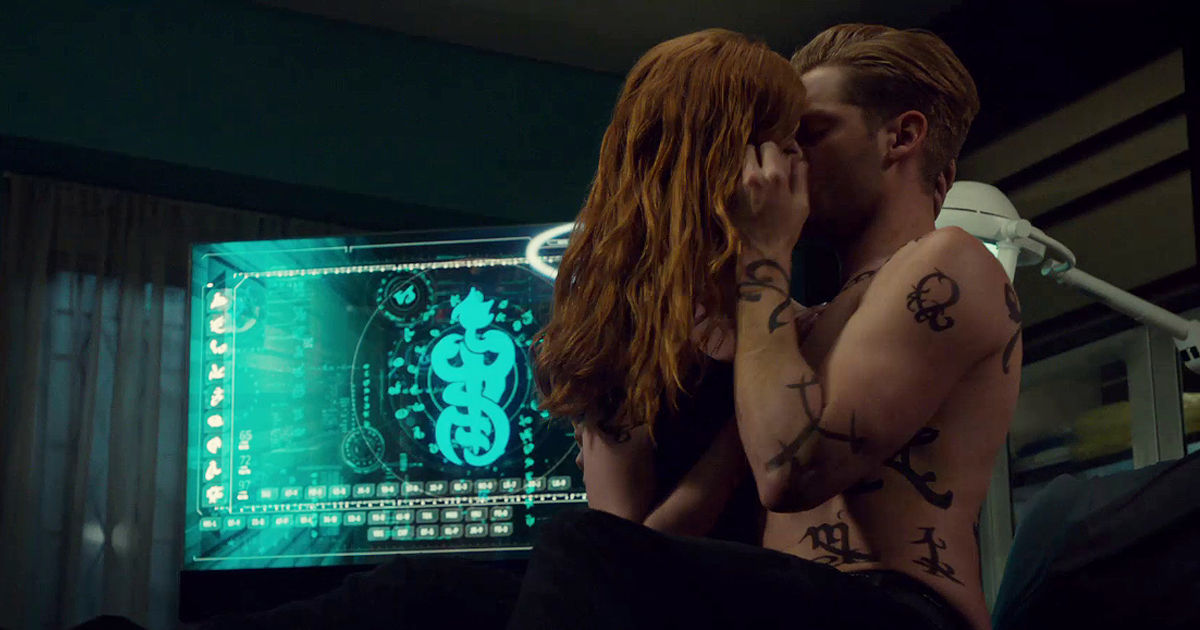 Clary and Jace's true feelings for each other finally surface as they share a kiss. This passionate embrace is accompanied by Ruelle's 'Recover'.
Clary tries to comfort Jace as he slips away.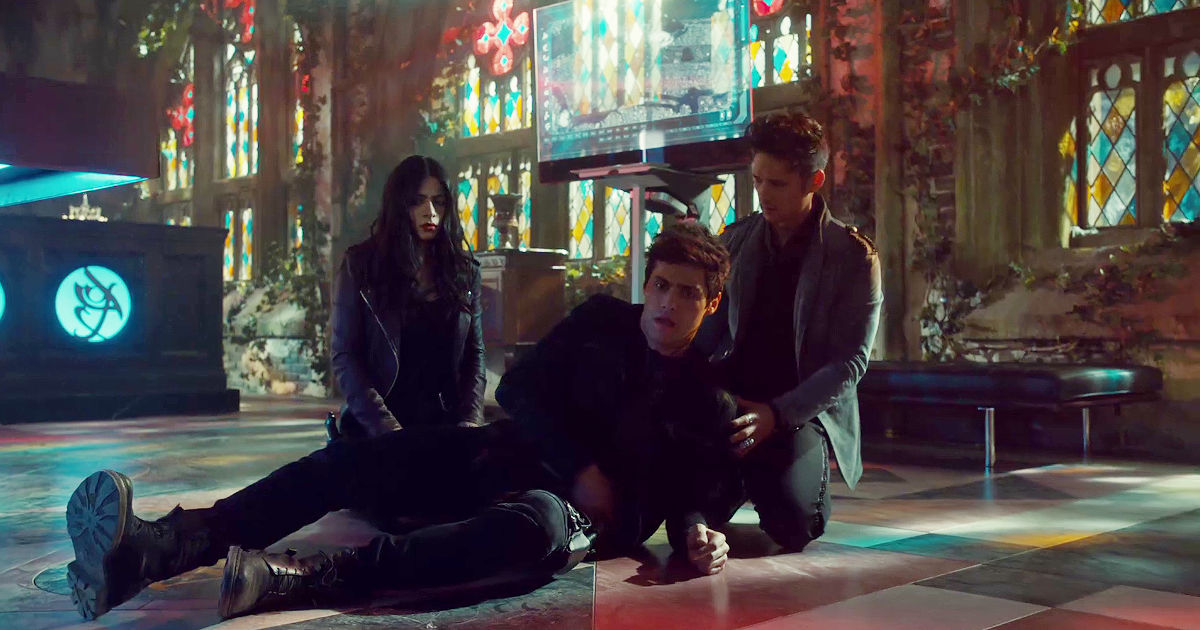 Before he dies, Jace tells Clary that he loves her. At the Institute, Alec is in agony as he feels the pain of losing his Parabatai. We hear 'Hurricane' by Fleurie during these heartbreaking moments.
Downworlders and Shadowhunters celebrate together at the Hunter's Moon.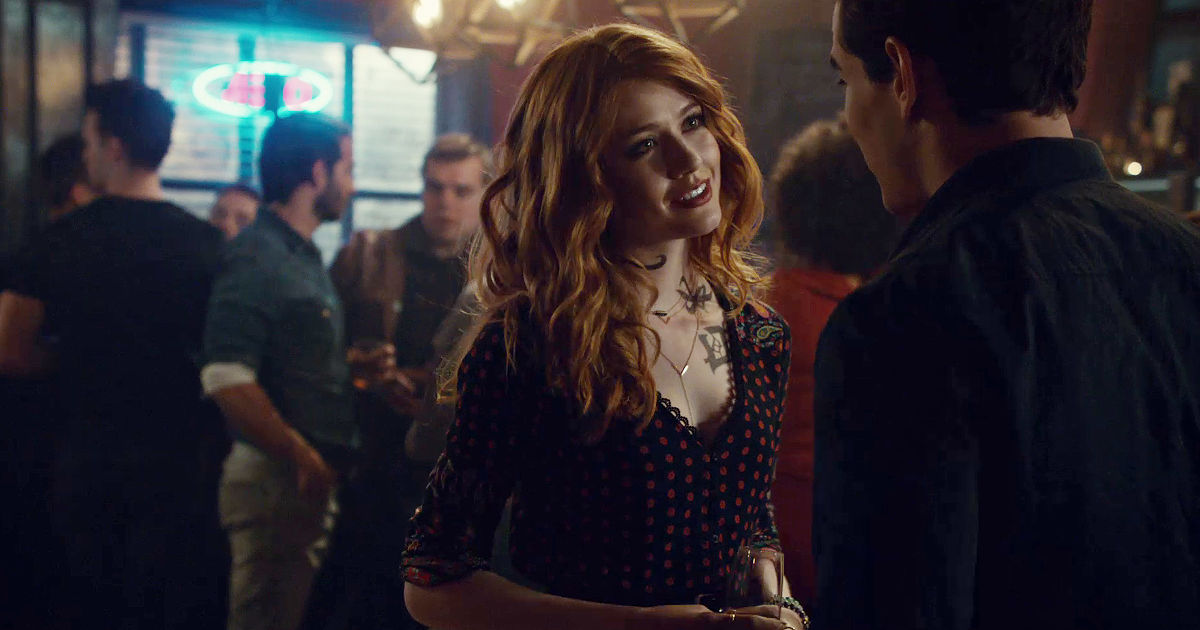 The upbeat 'Feed the Beast' by ARIZONA creates a joyful party atmosphere. We feel a real sense of relief as the Shadow World is finally safe from Valentine.
Alec asks Magnus if they can talk in private.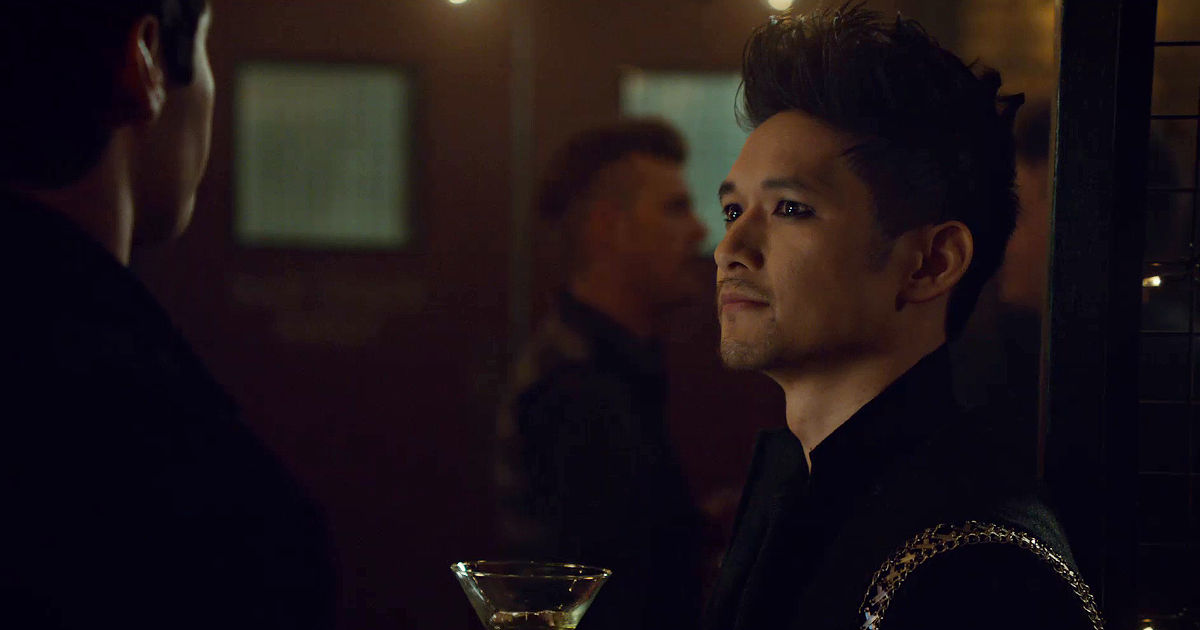 Katherine McNamara's amazing new song 'Ember' is a perfect fit for this scene, as Magnus and Alec nervously greet each other at the party. Alec bravely makes the first move to repair their relationship.
The party continues into the night.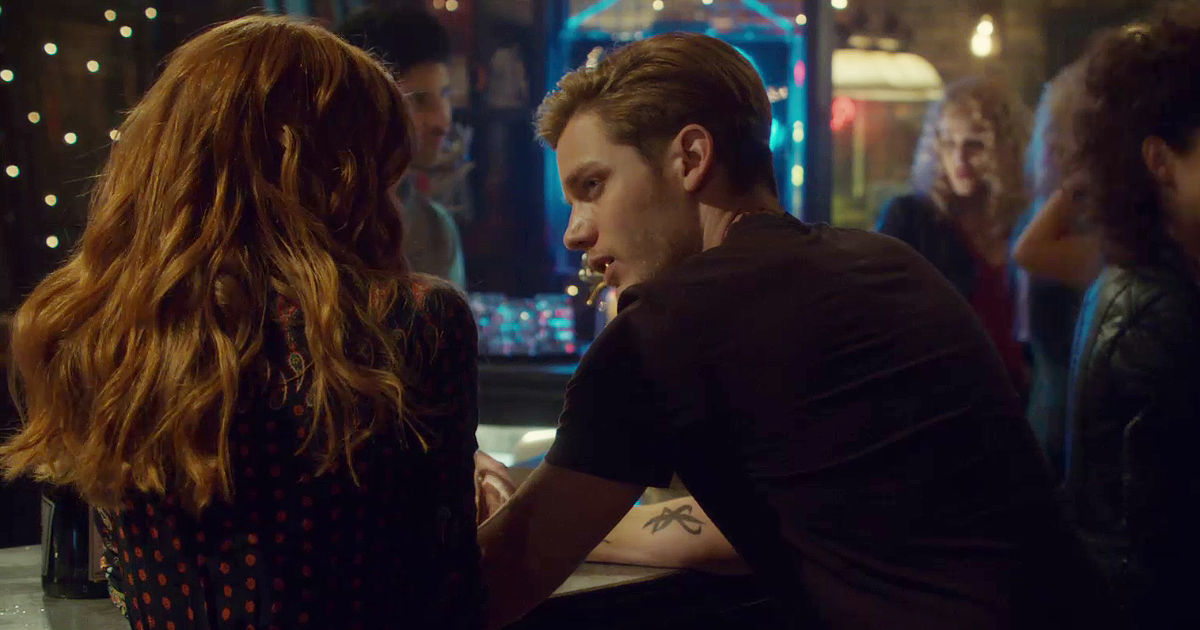 'Magic' by FLOR is another fun, catchy song on the party playlist. Clary and Jace talk, and she promises not to tell anyone what happened at Lake Lyn. Luke is shocked by the arrival of an unexpected guest.
So many great music moments!
And don't forget, you can relive every single one. Watch all three seasons of Shadowhunters on Freeform and Hulu.