The Bachelorette's Britt Nilsson and Brady Are Dating
Britt Nilsson was sent home on The Bachelorette season premiere after the bachelors chose to vote Kaitlyn Bristowe in as the new Bachelorette instead. (Watch the emotional moment above.) Britt was heartbroken -- she felt strongly that her future husband could be in that group of guys.
And she might still be right.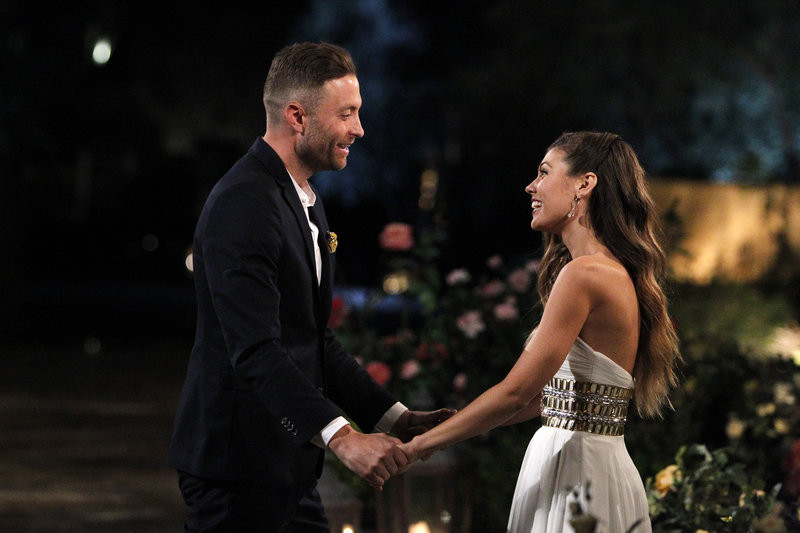 Brady meets Britt on Arrivals Night at the Bachelor Mansion.
Before Brady had even arrived on The Bachelorette, he had said in his introduction that he hoped Britt would be the Bachelorette:
Once Brady met Britt at the Bachelor Mansion, he took a liking to her immediately, and nothing that happened on that night changed his mind.
RELATED: Meet the Bachelorette Contestants for 2015 »
So when Kaitlyn was voted in as the Bachelorette who would continue on the show, Brady made a bold move:
Just like that, Brady left the show. Chris Harrison said that he'd help Brady find Britt and reconnect. On the morning after the premiere, while the remaining contestants discussed Brady's decision, and Britt told her family she was on her way home, Brady made another bold move, knocking on Britt's hotel room door unannounced:
Smart move, going for the hug like that, given Britt's rep as a world-class hugger. But the question is, would Britt feel the same way that Brady does? This week we got the answer: Yes, and boy, is it adorable:
We're happy for both of them, and they really do seem like a good match as two sweethearts who wear their hearts on their sleeves. And neither is afraid to take risks. We wish them the best!
Watch The Bachelorette, Mondays 8|7c on ABC.