Catch Up for the Return of The Good Doctor TONIGHT 10|9c!
The Good Doctor is back with an all-new episode TONIGHT 10|9c on ABC! In season 3, episode 11 "Fractured," following his father's death, Shaun (Freddie Highmore) must deal with the effects his intimacy with Lea (Paige Spara) will have on his relationship with Carly (Jasika Nicole). Meanwhile, the team operates on a patient who is refusing all anesthesia during surgery for fear of a relapse into opioid addiction. As always, it's an incredibly emotional episode with challenging situations both in and out of the hospital for the team. But first, let's take a look back at the winter finale to make sure you're all caught up for tonight's return. By the way, you can watch The Good Doctor's season 3 winter finale, "Friends and Family" right here on on ABC.com or in the ABC app in case you'd rather just rewatch.
Shaun Decides to See His Father
In season 3, episode 9 "Incomplete," Dr. Aaron Glassman (Richard Schiff) tells Shaun that he's heard from Shaun's mother, and Shaun's father is dying of cancer. He doesn't have much time. Shaun says he has nothing to say to his father, with whom he had an abusive relationship, but decides to go at Glassman's urging, saying he's willing to listen if his father has something to say to him. Shaun wants to bring a friend. Glassman initially protests, telling Shaun that he and Carly haven't been dating that long, but that's not who Shaun wants to bring—he wants to bring Lea.
RELATED: Meet The Good Doctor cast
Meeting Shaun's Father
After some hesitation, Shaun sees his father (guest star Michael Trucco). Far from the imposing figure he once was in Shaun's life, Ethan is bedridden, gaunt, hooked up to oxygen. He's looking to make amends and say goodbyes—but will Shaun let him? Watch and see:
WATCH: Shaun speaks to his father on his deathbed
We've seen Shaun's outbursts before, but this one was personal, as if Shaun had been building to this moment ever since he left his childhood home.
A Second Chance for Closure
Lea had previously told Shaun that he wasn't required to forgive his father; Shaun clearly took that to heart. Glassman is struck by this—he too agrees that Shaun didn't have to forgive all his father's sins, but feels that Shaun needs closure with his father. (Glassman, if you recall from season 2, had his own complicated relationship with his late daughter.) After Shaun's mother also pleads with Shaun to make it right, he agrees to see his father again. This time, Shaun forgives his father, but this visit takes a turn as his father decides it's his turn to dole out some punishment:
WATCH: Shaun forgives his father
Shaun is understandably shaken. Back at the hotel, he sits stunned, and soon after Glassman enters to tell Shaun his father has passed away. Shaun dismisses the idea of staying for the funeral, and declines Glassman's company. But soon Shaun's emotions overwhelm him, his tears and nervous energy turning to grabbing his foot, turning to hitting his foot, turning to hitting himself in the head:
WATCH: The aftermath of the death of Shaun's father
It's hard to guess where that may have gone had Lea not walked in, but one thing is certain: Shaun and Lea share a closeness that he doesn't have with anyone else. He and Carly have been working at lying down together for weeks, and it's never been easy. But Lea was able to lie down with Shaun—and the mere act of doing so is what pulled him back from the brink. What does that mean for Carly?
Back in San Jose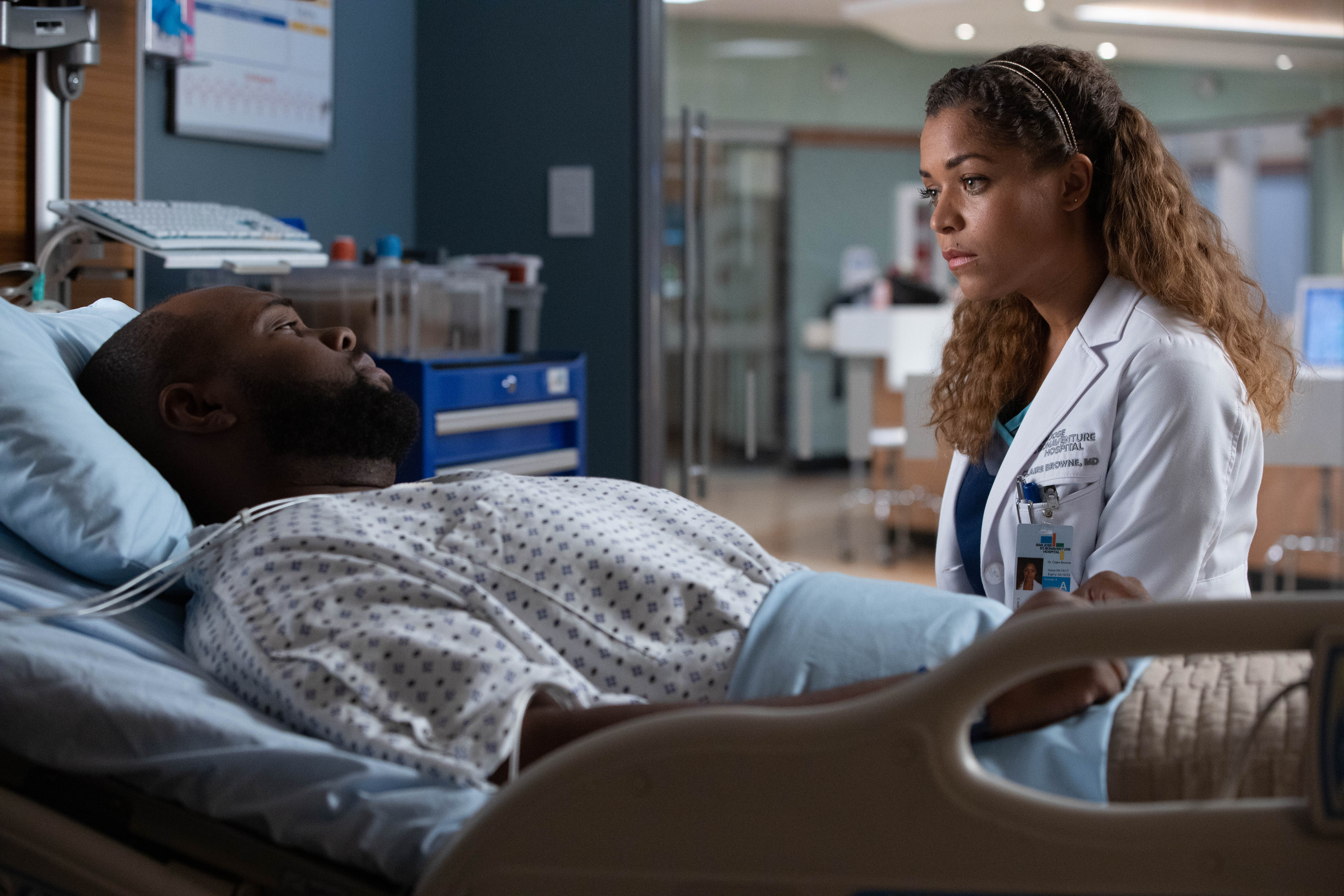 Shaun isn't the only one who's been having a rough go lately. Claire (Antonia Thomas) has been struggling with the passing of her mother, another complicated parental relationship. Thus far Claire has been drowning her pain in drink and dates, but in the previous episode, that combo boiled over when Claire had to treat a patient with whom she'd had a one-night stand—and it turned out he was married, and his wife slapped Claire in front of the entire staff.
Throughout the episode, we saw Claire dodging texts from a persistent caller, presumably another beau. But after having a heart-to-heart with an injured NFL player about the complicated relationships we sometimes have with our parents, Claire gives in and wants to meet with this mystery caller.
RELATED: Watch full episodes of The Good Doctor online
It turns out this mystery caller was a therapist. And Claire has agreed to keep up treatment in order to get back on her feet, emotionally speaking. (Whew.)
What's Next?
Well, to find out what's next, it's as simple as tuning in TONIGHT 10|9c, or watching here on ABC.com or Hulu. But expect complications for Shaun upon returning home, especially where Carly is concerned, as well as more on Claire's long road to work on her emotional wellbeing. Expect razor-sharp writing, and perhaps a few tears. One thing we can guarantee is one heck of a TV show.
Watch The Good Doctor MONDAY 10|9c on ABC!