Watch Bernie Sanders Discuss the Pope, Clinton, Gun Control, and More on "The View"
Vermont Senator Bernie Sanders visited "The View" for the third time this season on Friday April 8th, 2016. He had much to discuss during his interview with the co-hosts including Hillary Clinton (who appeared on "The View" Tuesday April 7th, 2016) and Pope Francis. He started off by addressing the recent attacks on his camp by his opponent Hillary Clinton. Bernie said the Clinton campaign has made the decision to get rough with him in New York. In response to whether or not he is a democratic he feels his 25 years in the Democratic caucus answers that question. Watch highlights from the interview below.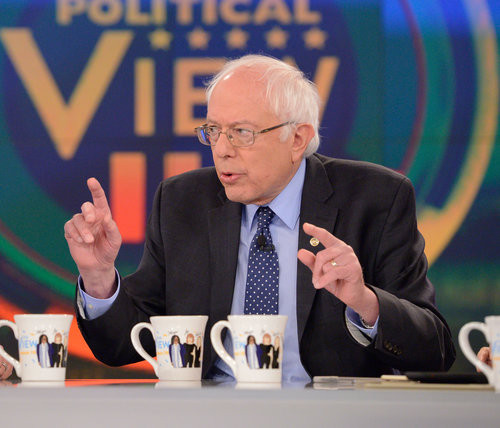 Bernie Says Hillary 'Obviously' Has Presidential Qualifications
Bernie clarifies his recent statement that Hillary is not qualified to be President. He says "obviously she does" have the experience; he was calling into question her past choices on the war in Iraq and The Defense of Marriage Act (DOMA). She regrets a lot of her choices and he does not, he voted the right way even when it was not popular.
Bernie Sanders on Sandy Hook and Gun Position
During his last appearance on "The View" guest co-host Sunny Hostin questioned Bernie Sanders on his gun positon. Sunny challenged Bernie again on his signing of the 2005 Protection of Lawful Commerce in Arms Act and his statement that Sandy Hook victims' families should not be allowed to sue the gun manufacturers. He gives an example of why he does not think gun sellers should be held liable and agrees blanket immunity to gun manufacturers should be looked at again. In response to if it was a mistake to sign the bill, Sanders says it had good and bad provisions.

RELATED: Bernie Sanders Addresses Trump, Gun Control and Flint Water Crisis on 'The View'>>
You Won't Believe Who Bernie Sanders Names as His Celebrity Crush!
Bernie talks about being a Jewish Presidential candidate and being invited to meet with Pope Francis. He also feels if he is the Democratic nominee for President he will beat the Republican candidate by an overwhelming amount. In closing Bernie shocked the co-hosts announcing his celebrity crush is "The View" co-host Joy Behar. The co-hosts also gave Bernie a few New York mementoes; a metro card and pizza. Watch the full interview with Bernie Sanders on the April 8th, 2016 show by clicking here.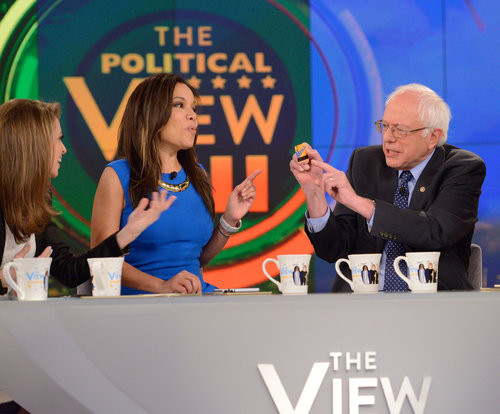 RELATED: Hillary Clinton on "The View">>
WATCH: Interviews with Politicians and Pundits>>