Taylor Swift to Premiere "Out of the Woods" Music Video on New Year's Rockin' Eve
Singer-songwriter Taylor Swift is set to release the world premiere of her new music video, "Out of the Woods," during ABC's telecast of Dick Clark's New Year's Rockin' Eve with Ryan Seacrest 2016. The sixth music video off of 1989, Swift's Grammy-nominated "Album of the Year," will debut to millions of fans worldwide during the New Year's celebration. The full evening will include over 38 performances and 5-and-a-half hours of music. America's biggest celebration of the year will take place on THURSDAY, DECEMBER 31 (8:00 p.m.- 2:13 a.m. EST), on the ABC Television Network.
It's going to be one epic New Year's Rockin' Eve party! Ring in 2016 with Ryan Seacrest and Carrie Underwood on ABC.
One Epic New Year's Rockin' Eve Party|Ring in 2016 with Ryan Seacrest and Carrie Underwood.|Watch as the world unites for one epic party on New Year's Eve! Ring in 2016 with hosts Ryan Seacrest, Jenny McCarthy, and Fergie, and musical performances by Carrie Underwood, One Direction, Nick Jonas, and more, THURSDAY DECEMBER 31 8|7c on ABC.
The show will include special performances and reports on New Year's celebrations from around the globe. Ryan Seacrest will host and lead the traditional countdown to midnight from Times Square in New York City as he has for the last 10 years, with live reporting from actress and comedian Jenny McCarthy. As previously announced, New York headliner Carrie Underwood will be joined by Luke Bryan, Demi Lovato and Wiz Khalifa featuring Charlie Puth, who will perform for over one million fans live in Times Square and millions more on TV.
Fergie will host the Billboard Hollywood Party, with performances by headliner One Direction, 5 Seconds of Summer, Alessia Cara, DNCE, Fall Out Boy, Andy Grammer, Ellie Goulding, Nick Jonas, Elle King, Tove Lo, Macklemore & Ryan Lewis, OMI, Pentatonix, Rachel Platten, Nathan Sykes and WALK THE MOON. Jimmy Buffett will make a special live appearance with "Margaritaville" from his concert at Barclays Center in Brooklyn, New York.
Ryan Seacrest will be counting down to midnight in Times Square -- just as he has been for the last decade!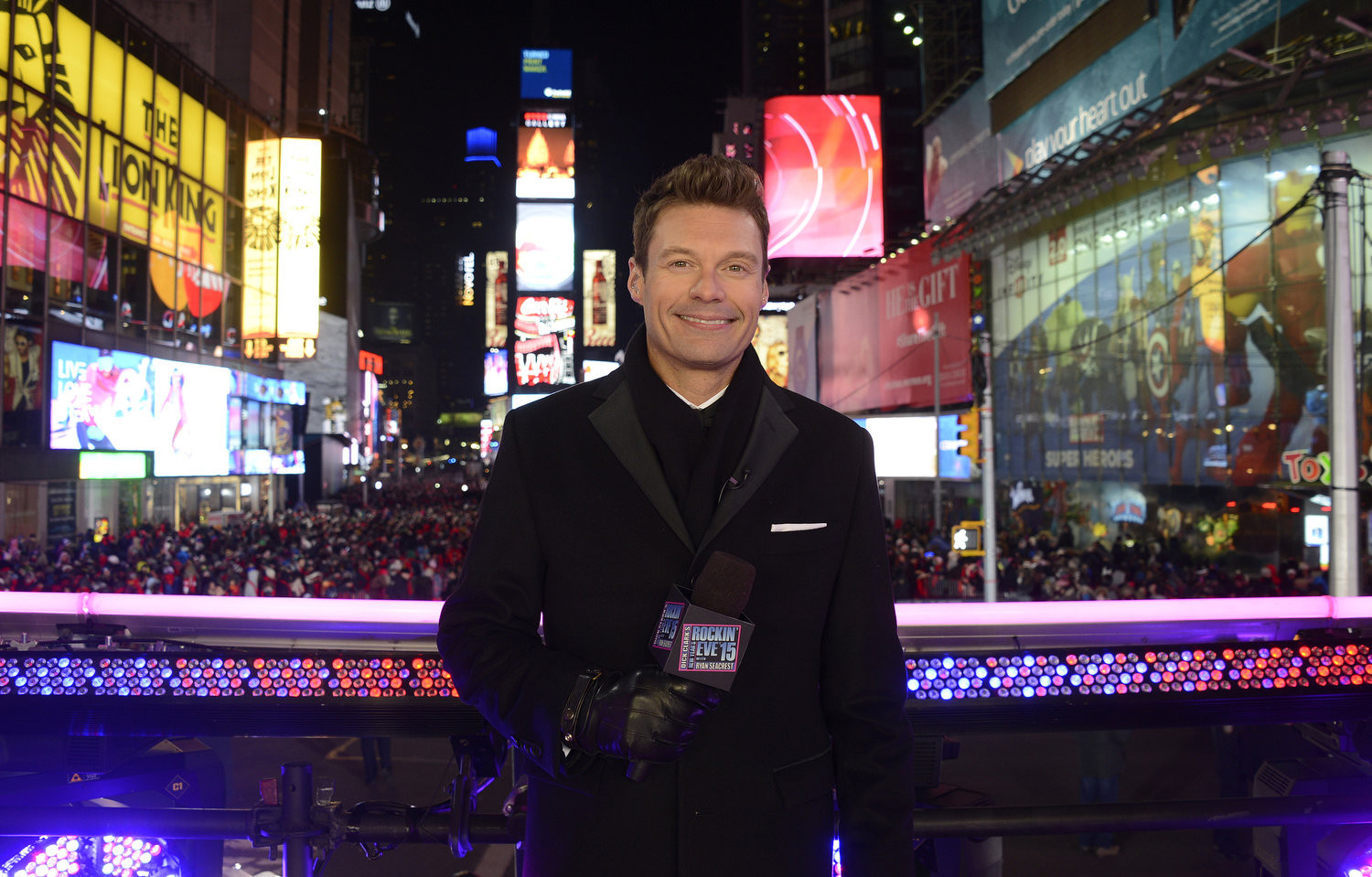 dick clarks new years rockin eve with ryan seacrest|Ryan Seacrest in Times Square||1500|959|0
Taylor Swift is the only artist in history to have three albums selling over one million copies in their first week of release (2010's Speak Now, 2012's RED and 2014's 1989), is the all-time leader on RIAA's digital singles chart, the only artist to have two singles hit No. 1 on Billboard's HOT 100 Chart in 2014. 1989 was the highest-selling album of 2014, selling over nine million albums worldwide to date. Taylor, a seven-time GRAMMY winner, is a singer, songwriter and the youngest winner in history of the music industry's highest honor, the Grammy Award for "Album of the Year" and the inaugural recipient of AMA's Dick Clark Award for Excellence. Taylor has an album on Rolling Stone's prestigious "The 50 Greatest Albums of All Time" (by women) list. She is Billboard's youngest-ever "Woman of the Year" and the only artist to have been awarded this honor twice. Time magazine has named her one the of the "100 Most Influential People" in the world and one of only eight candidates for its most prestigious honor, "2014 Person of the Year." Taylor has career record sales of over 40 million albums and more than 130 million song downloads worldwide, and has had singles top the charts around the globe. 1989 sold almost 1.3 million copies in the U.S. in its first week and the only album to go platinum in 2014, topping Billboard's Top 200 charts and iTunes' sales charts in 97 countries on its release. Taylor's current single, "Wildest Dreams," is the fifth-consecutive chart-topping release from the Grammy nominated "Album of the Year," 1989.
Dick Clark's New Year's Rockin' Eve with Ryan Seacrest 2016 is produced by dick clark productions with Ryan Seacrest, Allen Shapiro and Mike Mahan serving as executive producers and Barry Adelman and Mark Bracco are co-executive producers. Larry Klein is producer.
The complete lineup Thursday night, December 31 on ABC is:
8:00 - 11:00 p.m. – "Dick Clark's Primetime New Year's Rockin' Eve with Ryan Seacrest 2016"

11:30 - 1:09 a.m. – "Dick Clark's New Year's Rockin' Eve with Ryan Seacrest 2016, Part 1"

1:10 - 2:13 a.m. – "Dick Clark's New Year's Rockin' Eve with Ryan Seacrest 2016, Part 2"