Shark Tank Holiday Gift Guide For Her
Whether you're looking to spend a little or a lot for that certain someone, rest assured that these fun beauty and fashion items come with the backing of some very tough Sharks.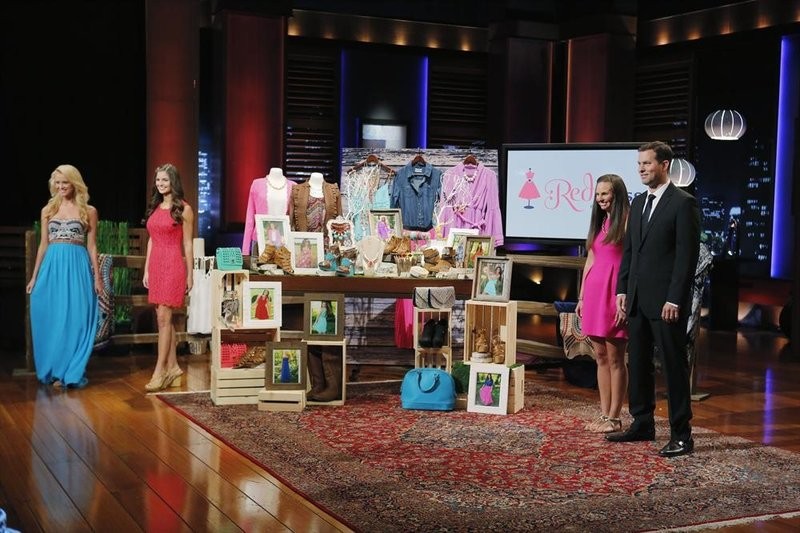 reddress|DIANA HARBOUR, JOSH HARBOUR (THE RED DRESS BOUTIQUE)||1000|666|0
Red Dress Boutique: Celebrate the holidays with outfits like the "Ring In The New Year Dress," "Life Of The Party Dress," "Babe In Toyland Coat" or "Feeling Festive Leggings." Now offering 10% off your first purchase and free shipping on orders over $50. More info: www.reddressboutique.com
Watch Diana and Josh Harbour of Red Dress Boutique negotiate a deal on the Season 6 episode, "Week 4."

Red Dress Boutique Gets Creative|They want Mark; they want Robert. Can they get both Sharks?|After fielding offers from Mark and Robert, Diana and Josh Harbour from Red Dress Boutique aren't sure what to do. So they get creative. From Shark Tank's season 6 episode, "Week 4."
Gameday Couture: Finally, fashionable sports team wear for women, who can attend their favorite college games in style instead of in oversized, run-of-the-mill jerseys. More info: www.gameday-couture.com
Aldo Orta Jewelry: Offers mass market versions of custom jewelry, such as a Fleur De Lis Ring starting at $90. More info: www.aojewelry.com
Success Story: Grace and Lace|The accessory company flourishes with Barabara's help.|Season 5 fashion sock company Grace and Lace visits the offices of Cosmopolitan magazine with Barbara's help. See how they're doing in this clip from Shark Tank's season 6 episode, "Week 6."
Grace and Lace: Order these pretty boot socks, leg warmers, boot cuffs and arm warmers for women or girls: Even babies can wear Itty Bitty Lil Lacey Leg Warmers. More info: www.graceandlace.com
Watch a Success Story Update on Grace and Lace, who flourished, thanks to Barbara Corcoran's investment.
Kisstixx: These yummy mix-and-match lip balms come in flavors like Strawberry & Chocolate, Strawberry Daiquiri & Pina Colada and Peaches & Cream. Makes a great stocking stuffer at just $5.99. Available at Walgreen's, Bed Bath & Beyond, K-Mart and more. More info: www.kisstixx.com
Simple Sugars: Just in time for the holidays, try the Candy Cane body scrub that exfoliates with energizing peppermint essential oil. Makes a perfect stocking stuffer at $11.95. More info: www.simplesugarsscrub.com
Gift Guide | Gift Guide for Kids | Gift Guide for Foodies
Gift Guide for Him | Gift Guide for Techies | Gift Guide for Dogs
Watch Shark Tank FRIDAYS 9|8c on ABC.