Ben Higgins Is the Next Bachelor for Season 20
It's official – Ben Higgins is the next Bachelor! Bachelor Nation was heartbroken when fan-favorite Ben H, the charming software salesman, was sent home by Kaitlyn Bristowe on The Bachelorette. Ben saw a "great life" with Kaitlyn, only to have it disappear before him when he was left without a rose. It wasn't easy for Ben to open himself up to love on The Bachelorette because he's been hurt in past relationships. However, now knowing he is capable of being in love and being loved, he is ready to put the heartbreak behind him as he searches for his one true love when he stars in the milestone 20th season of ABC's hit romance reality series, The Bachelor, returning to ABC in January 2016.
Ben's final moments on The Bachelorette. Kaitlyn sends him home heartbroken.

Ben grew up in the Indiana town of Warsaw in America's heartland. While Ben currently resides in Denver, Colorado, his heart will always be in Indiana with his family. Ben is the only son of loving, married parents David and Amy, a union that has been going strong for thirty-four years. He wants nothing more than to find the kind of love that his parents have. And he's ready. While only 26, Ben is wise beyond his years. An avid traveler and a champion of varied cultures, he has worked at a zoo in Peru, traveled through the jungles of Bolivia, and even hiked the spiritual trails of famed Machu Picchu.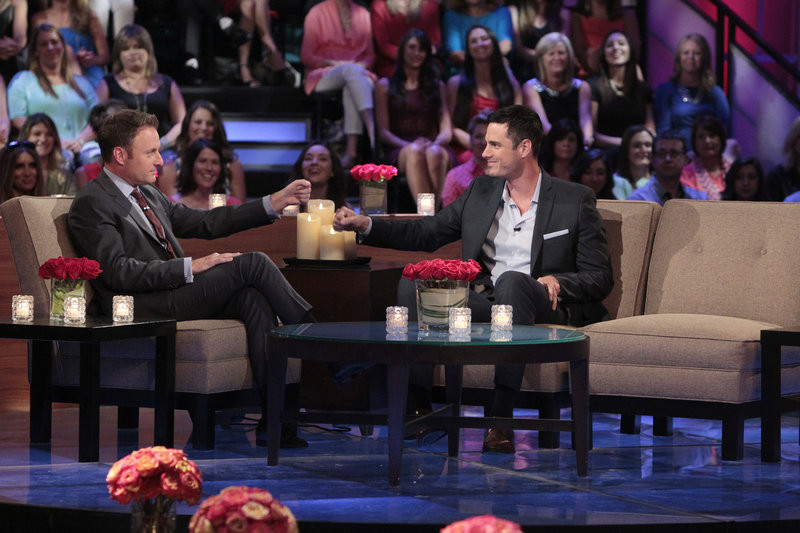 Chris Harrison (pictured above with Ben) announced the big news live on Bachelor in Paradise: After Paradise.
Since appearing on The Bachelorette, Ben's life has changed dramatically. Adoring fans approach him in restaurants and young women wait outside his house for a chance to meet him. While his life has changed, Ben hasn't. He's still the same, big-hearted man looking for someone to share his life with.
RELATED: Chris Soules Chooses Between Becca and Whitney on The Bachelor
This successful, sensitive and handsome 6'4" bachelor loves basketball, hiking, fishing, and stimulating conversation. He almost has it all. Now he just needs the right woman to love, and for her to love him back. And he truly believes he will find his soul mate on The Bachelor.
Season 20 of The Bachelor returns January 2016!