When Does "A Million Little Things" Season 2 Return in 2020?
A Million Little Things is back with an all-new episode TONIGHT 10|9c on ABC! In season 2, episode 10 "The Kiss," it's been three months since Delilah (Stephanie Szostak) and Eddie (David Giuntoli) revealed the truth about their affair, and Sophie (Lizzy Greene) continues to rebel against her mother. Maggie (Allison Miller), Gary (James Roday) and the gang gather for the opening night of Danny's (Chance Hurstfield) play, and Rome (Romany Malco) and Regina (Christina Moses) take steps toward adopting a baby. But first, let's take a look back at the fall finale to make sure you're all caught up for tonight's return. (By the way, you can watch A Million Little Things' season 2 fall finale, "Time Stands Still," right here on on ABC.com or in the ABC app in case you'd rather just rewatch.)
The Gang Is Splintering
As the winter finale kicks off, Rome and Regina get the DNA test results back from Jon's sweatshirt: It's a match for PJ (guest star Chandler Riggs), meaning that Jon is PJ's father. With Delilah's affair with Eddie still swirling around the group, what will that mean for the Dixon family?
Speaking of, Katherine (Grace Park) and Eddie are still pushing Delilah to tell Sophie and Danny that her new baby Charlie is Eddie's, not Jon's. Katherine and Eddie feel honesty is the best way for Eddie to be able to be there for his new daughter, but Delilah fears it'll rip her family apart.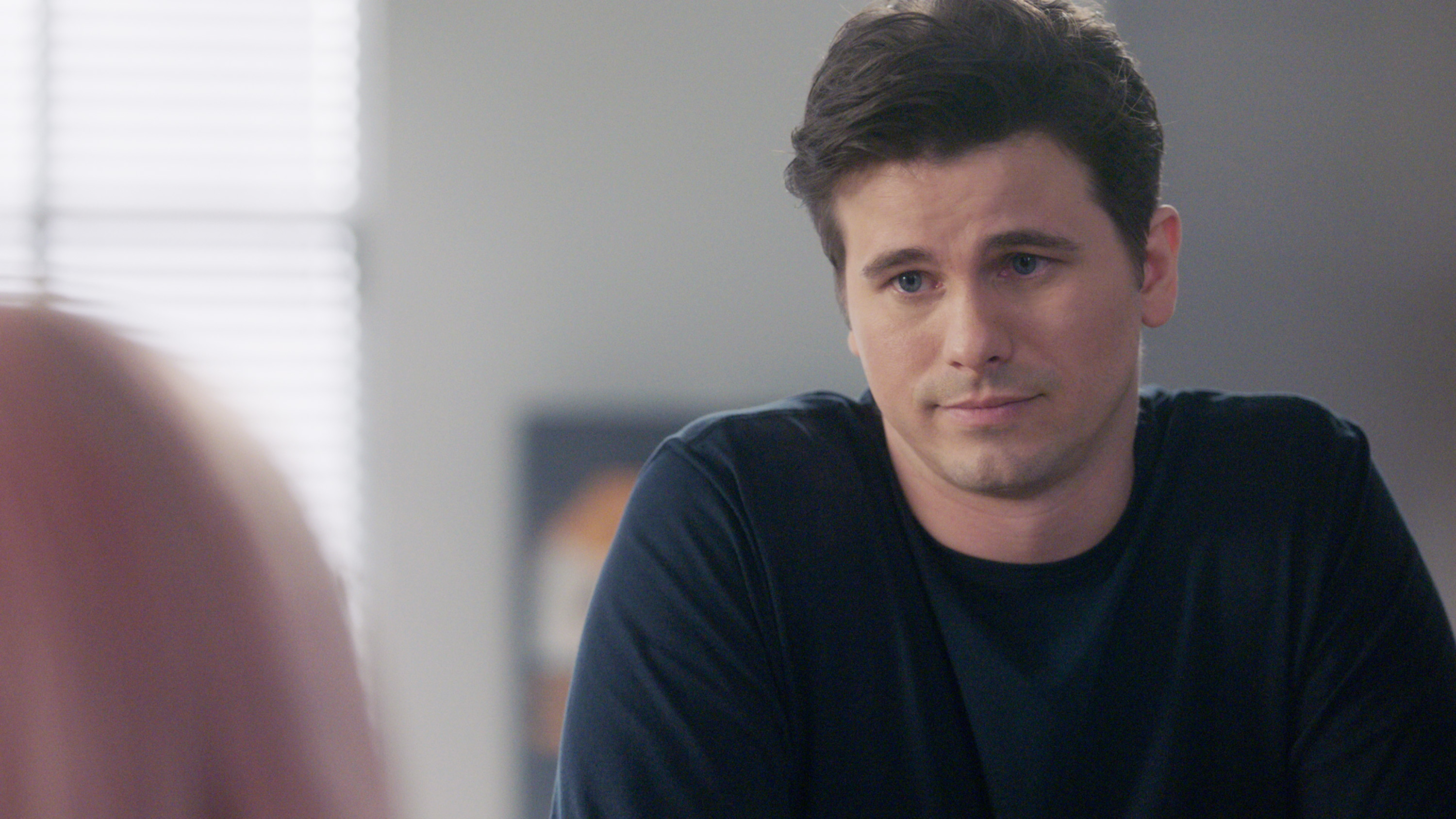 Guest star Jason Ritter as Eric
Meanwhile, Gary and Maggie have had some rough times lately—partly because Eric (guest star Jason Ritter), the man who received Maggie's brother's heart after he died, seems to be a little too interested. But when Maggie finds an engagement ring in Gary's drawer, it's possible that their fortunes are changing.
The DNA Test Wasn't the Whole Story
When PJ confronts his mother, Barbara Morgan (guest star Drea de Matteo), and her husband, Mitch (guest star Rhys Coiro), about the test, he finds the flaw in his testing plan: He learns that the sweater wasn't Jon's—it was Jon and Barbara's mutual friend Dave's sweater. Dave, who passed away on 9/11, is PJ's father. PJ is crushed. He'd started to feel like the Dixons—and by extension, the whole gang—were his family. He had never felt comfortable with Mitch and Barbara, and now he was starting to feel like he had a place, a home. And now, that's all gone. Soon, he spirals:
WATCH: PJ's dramatic reaction to learning the true identity of his father
Maybe things can be different now. Delilah begins to ponder a big decision...
Gary and Maggie on the Rocks
After finding the ring, Maggie asks Gary about it. He says he bought the ring before her cancer surgery, and considered proposing then. But she lived, and he decided they could move slower. Maggie is relieved. Gary feels like she might be too relieved, and starts to question whether he's more invested in the relationship than she is:
WATCH: Gary and Maggie make a staggering decision for their future
Still hurts to watch that.
Delilah Tells the Kids That Eddie Is Charlie's Father, and Everything Is Falling Apart
Emboldened by watching Barbara and Mitch tell PJ the truth, and by seeing that healing can come from honesty, Delilah tells Danny and Sophie that their close friend Eddie, not their father Jon, is the father of their new sibling. They don't take it nearly as well.
RELATED: Meet the A Million Little Things cast
Reeling from her breakup with Gary, Maggie finds out that she didn't get into the Oxford program. Eric stops by to help her move, and we overhear Eric telling a friend on the phone about a secret he's keeping from Maggie—but we don't know what it is yet. Meanwhile, Gary is back to his old philandering ways.
And as Katherine and Eddie sit with their son Theo (Tristan Byon) to tell him the truth about Charlie, they're interrupted:
WATCH: The fall finale's explosive ending
The one bright spot in all of that is Regina telling Rome that he would make an incredible father, and she wants to have children with him, putting them on the same page where she once was not.
So where does everyone go from here? We'll pick up three months after those dramatic events TONIGHT 10|9c for the midseason premiere of A Million Little Things on ABC!
You can watch full episodes and clips of A Million Little Things anytime on ABC.com, the ABC app, and Hulu.