American Idol 2022 Episode 17 Recap: The Top 7!
Following last week's Great "Idol" Reunion, the Top 7 of "American Idol" have returned to the stage once again to compete for America's votes. This week, each finalist was tasked with performing two songs in front of Judges Katy Perry, Lionel Richie, and Luke Bryan, and they were guest mentored by seven-time Grammy winning artist and producer will.i.am. During the show, host Ryan Seacrest revealed that two finalists had unfortunately tested positive for Covid-19. This meant that Noah would be performing live from his hotel room while Fritz, who tested positive just before filming, would be competing using his rehearsal videos from Saturday.
Ryan Seacrest also announced that, in keeping with the theme of the first round of songs (viral videos), "American Idol" have released their first TikTok duet challenge. Viewers at home can search "#AmericanIdol" on the social media platform and perform a duet of "A Moment Like This" with their favorite hopeful from the Top 10. A selection of duets will even be featured during the grand finale in a few weeks' time! But what did the Top 7 sing this week? Read on to find out!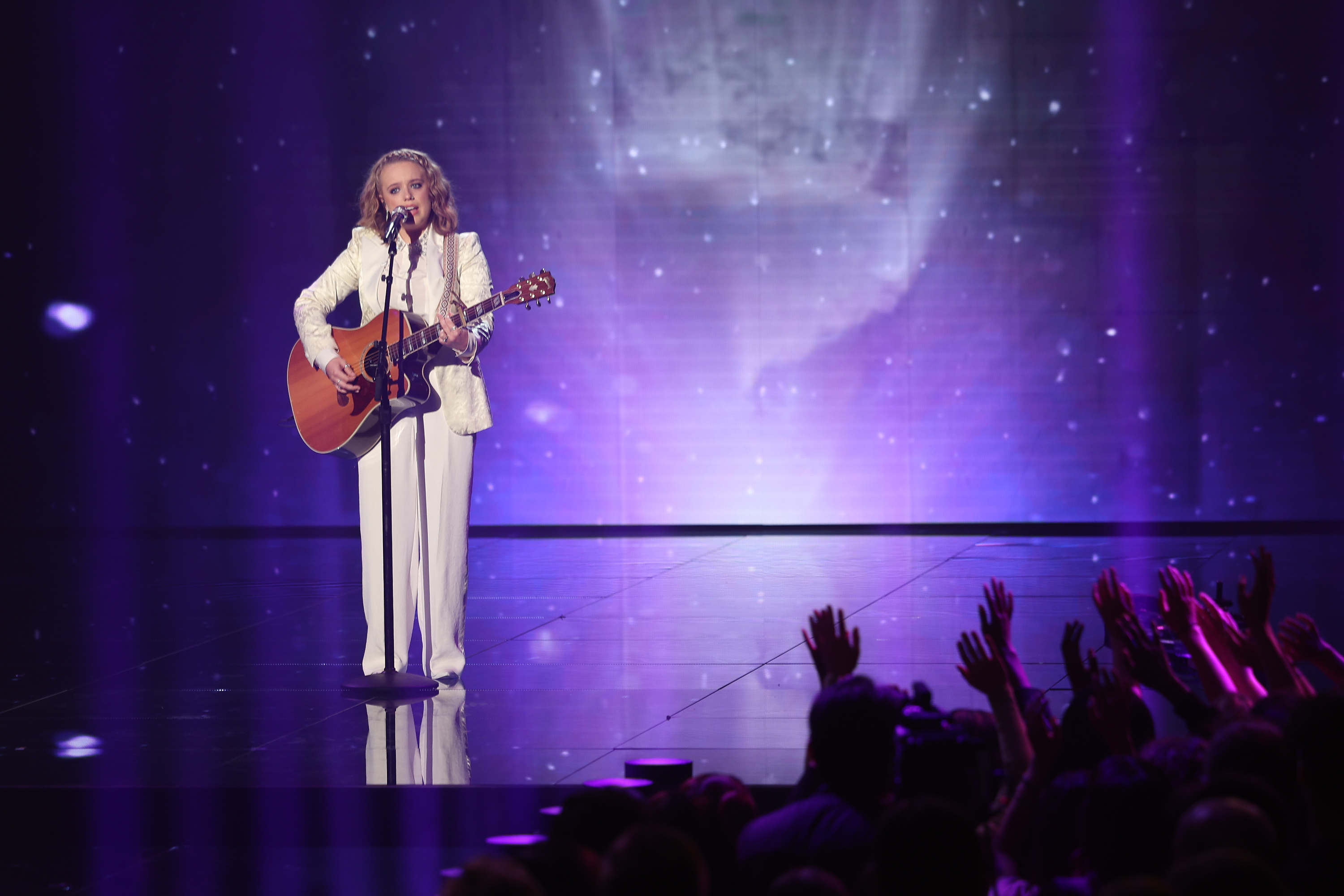 Leah Marlene dedicated the song "Sanctuary" to her mom
In the first round, the finalists sang either their favorite song that they've posted online or a viral song from TikTok. As a result, we were treated to a variety of styles:
• Leah kicked off the the show with "Electric Love" by Børns
• Jay took on the Whitney Houston hit "I Have Nothing"
• Fritz performed "All My Friends," an original song from his first EP
• Christian chose to sing "Lonely" by Justin Bieber
• HunterGirl sang "you broke me first" by Tate McRae
• Noah delivered a stripped back rendition of "Painted Blue" by Sundy Best
• Nicolina rounded out the first set of performances with Heart's classic "Alone"
For the second round, the Top 7 delivered dedications to their moms as part of a Mother's Day celebration with a selection of emotional songs:
• Jay took on Boyz II Men's "A Song For Mama"
• Fritz performed another of his original songs, "The Ocean"
• Leah sang "Sanctuary" from the cast of Nashville feat. Charles Esten, Lennon & Maisy
• HunterGirl opted for "Like My Mother Does" by Season 10 runner-up Lauren Alaina
• Noah covered the Fleetwood Mac classic "Landslide"
• Nicolina chose to sing her nonna's favorite song, "Light in The Hallway" by Pentatonix
• Christian wrapped up the night with "Dear God" by Smokie Norful
After the performances, the results of the public vote were announced with Jay and Christian chosen to leave the competition. However, this isn't the last we will see of Christian - it was revealed earlier in the show that he will be performing alongside Michael Bublé on the finale show!
Next week the Top 5 will be sent to Las Vegas to be mentored by former "Idol" winner Carrie Underwood ahead of competing for a spot in the grand finale. So tune in SUNDAY at 8/7c on ABC to find out who makes it to through!
Follow "American Idol" (#americanidol) on Instagram, Twitter and Facebook.