"The Bachelor Presents: Listen to Your Heart" Week 4 Recap: What Happened to Sheridan, and Who Goes Home?
Whenever things seem settled in the Bachelor Mansion, the residents ought to be nervous, because you just know Chris Harrison is gonna walk through those doors and shake everything up. And right on cue, Chris did exactly that when he announced that there would be dates—but with people you're not currently coupled up with. Jealousies were exposed, relationships were tested, and high drama ensued! Obviously, plenty of Listen to Your Heart spoilers follow, but you can watch the full episode of The Bachelor Presents: Listen to Your Heart season 1, episode 4 right here on ABC.com or in the ABC app—or read on for a breakdown.
Time for Some New Partners
Everyone waking up in the house is happy: The survived the first round of performances, and maybe got a little confidence boost, or are feeling a little closer to their partner. Things are good. Brandon and Savannah are relieved to still be there, but most of all, they both tell each other that they're happy they're together. After a rocky week, they probably both needed to hear that. Ditto Julia and Sheridan—they seem calm and ready for this now. Sheridan sees real potential and is starting to see a future for the two of them.
RELATED: Catch up with The Bachelor Presents: Listen to Your Heart recaps: Listen to Your Heart Week 3 recap | Listen to Your Heart Week 2 recap | Listen to Your Heart premiere recap
Then Chris Harrison appears and everyone is concerned. Chris says the first performance proved that chemistry is everything, so these couples really need to know this is real. Therefore, there will be dates today—DATES WITH PEOPLE OUTSIDE OF THE COUPLES. That's right, here are the one-on-one dates for this week:
- Ryan
&
Jamie
- Rudi
&
Chris
- Julia & Brandon
No one looks thrilled about this. Well, Brandon kinda does, but that vanishes when he looks at Savannah, who is definitely not happy, because she knows Brandon and Julia had some feelings for each other. Sheridan isn't pleased for the same reason, and Julia looks like she's seen the Ghost of Bachelor Past (who btw looks like Jason Mesnick trying to decide between Melissa and Molly). I guess what I'm saying is, this is delicious and exactly why we showed up.
RELATED: Meet The Bachelor Presents: Listen to Your Heart cast
The Switch-Up Dates Cause Drama
While the other pairings use their dates to deepen their platonic friendships (knowing they're falling for other people), Julia says she and Brandon would be doing a disservice to themselves if they didn't give this a real shot. Sheridan is back at the house getting eaten up by anxiety, and it's starting to sound like he's got reason to worry. By the end of Julia and Brandon's date, they've written a song about each other, and then they sing it on stage at The Roxy in downtown Los Angeles—and then they kiss. Julia says she's falling for Brandon and she wants to end up with him. When they're back, she tells Sheridan:
Julia tells Sheridan she can't be with him
Elsewhere, Brandon is having his conversation with Savannah. Brandon almost sounds like he's hedging his bets, seeing if he could maybe still have it work with Savannah, but ultimately, it's not going well over there either:
Savannah says she doesn't feel chosen by Brandon
But then Brandon chases after Savannah and says he wants to work it out with her! But by this point, Savannah doesn't trust him, and says that she's done with him. She leaves.
The next day, while sitting in front of Julia, Natascha asks Brandon if he would have chosen Savannah if she had stayed. Julia covers her ears to avoid the answer, and Brandon nods yes. Julia didn't see that—but this would come back to haunt her nonetheless.
The Second Performances
It's time for more singing! This week the celebrity judges are Bachelor married royalty, Rachel Lindsay and Bryan Abasolo, bestselling recording artist Andy Grammer and GRAMMY® Award winner Toni Braxton—ready to weigh in on the couples' musical talent and the chemistry expressed in their performances.
But first, we must watch Natascha detonate a time bomb! Remember like three sentences ago when Brandon says he would have chosen Savannah if he had the chance? Well Natascha does too, and she decides to tell Julia just before they all take the stage:
Natascha tells Julia that Brandon said he would have chosen Savannah
Julia gets an emotional kick to the face, and now she's gotta perform. Oof.
If you want to see the performances, watch the full episode to see them all! Here are the broad strokes of the judging:
Rudi & Matt performed "Tennessee Whiskey" by Chris Stapleton. The other couples love their chemistry and performance. Rachel says that the way they interacted after the song was over showed exactly how much they were into each other.
******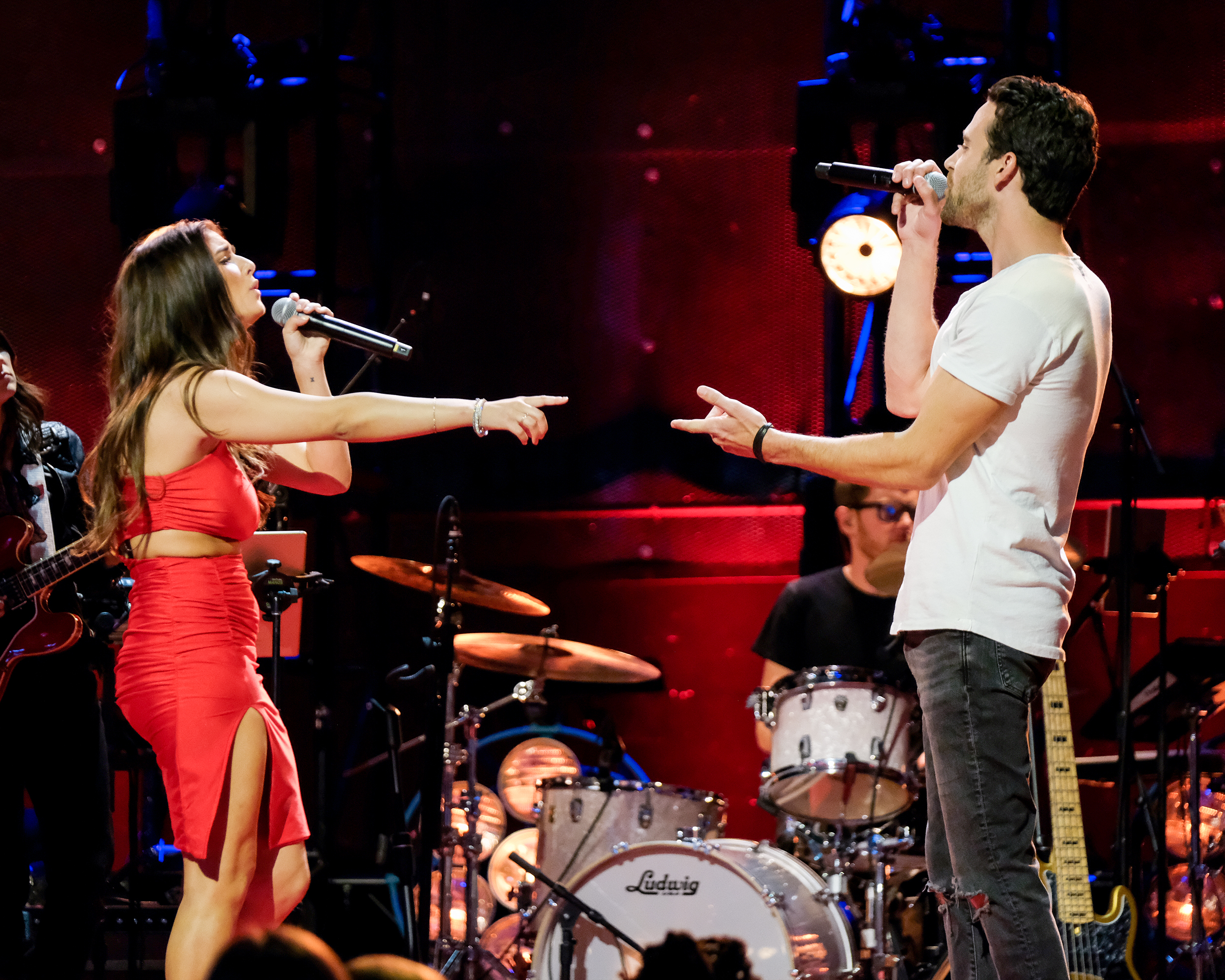 Jamie & Trevor performed "Like I'm Gonna Lose You" by Meghan Trainor and John Legend. The couples and judges felt like they were a little off somehow, and Jamie fell apart after the judging, feeling like she ruined it for herself as well as the guy with whom she's falling in love.
******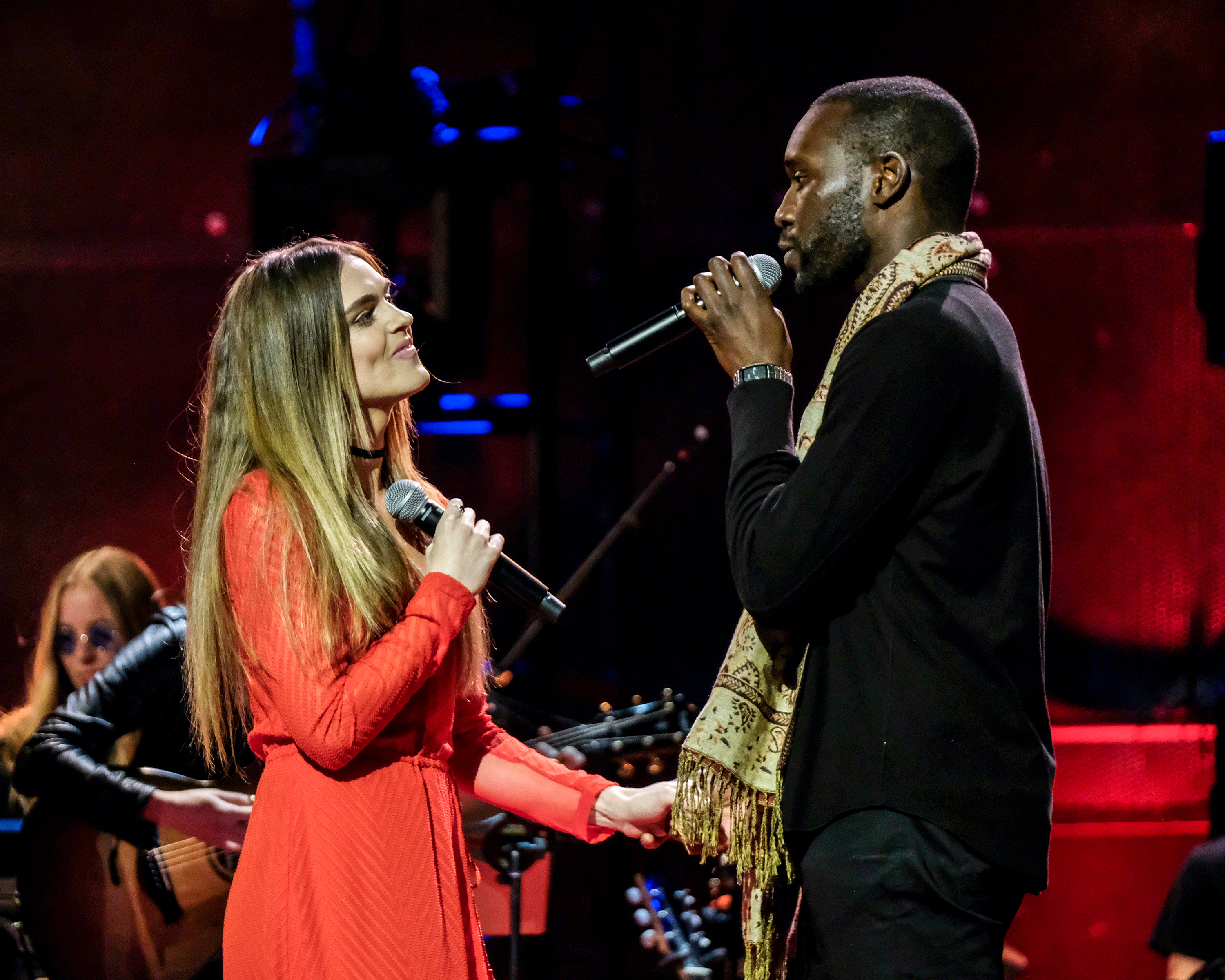 - Bri & Chris performed "Lover" by Taylor Swift. Toni Braxton summed it up best: "That's what I'm talking about!" Everyone loved their chemistry, and these two cuties said "I love you" to each other while up there too!
******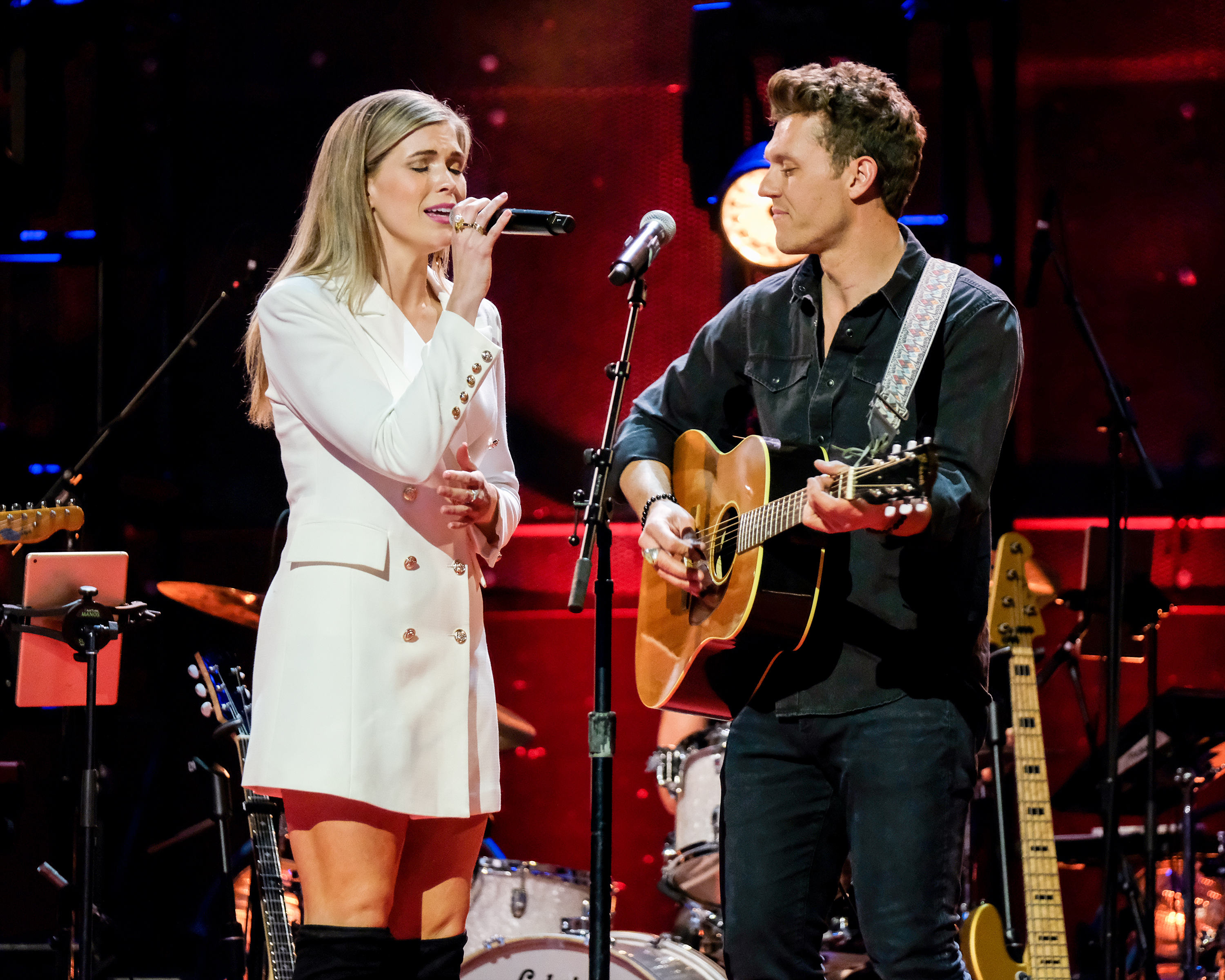 Julia & Brandon performed "We Belong" by Pat Benatar. The judges said they could feel a disconnect between the two, with Rachel even comparing it to karaoke. Probably not what this new couple wanted to hear.
******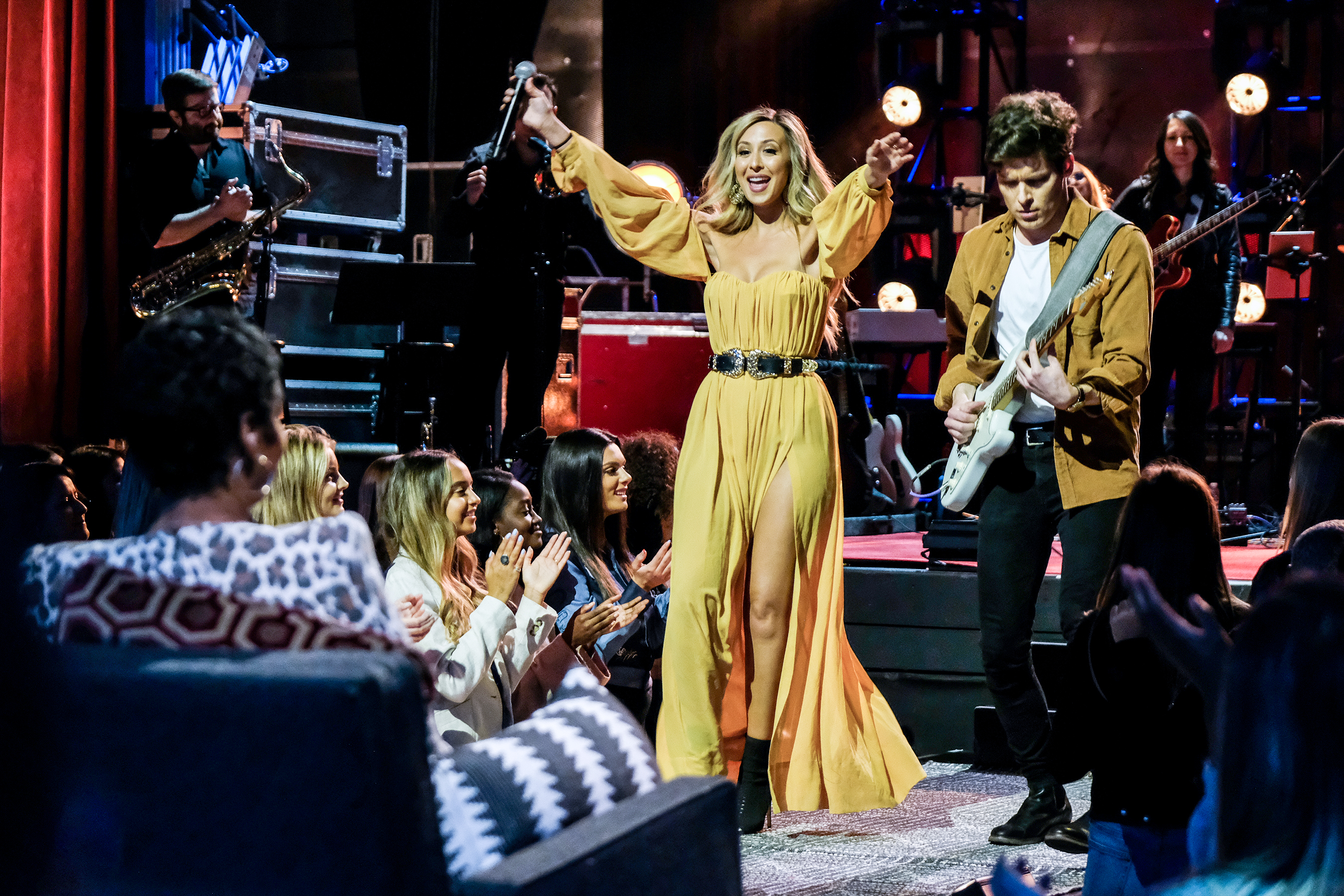 Natascha & Ryan performed "You Are the Best Thing" by Ray LaMontagne. While Julia fumed, the judges went nuts for this performance and this couple's chemistry.
******
When it was over, Julia unloaded on Natascha:
Julia calls out Natascha for throwing her off her game with pre-show drama
The Rose Ceremony
Between the singing and the drama and wondering if you're going to achieve your lifelong dreams or not, this show is pretty stressful for the cast. But alas, someone must still go home. Here are the couples who got roses:
Bri & Chris
Matt & Rudi
Natscha & Ryan
Jamie & Trevor
Which means that the brand new couple, Julia & Brandon, are headed home. She said Brandon treated it like a solo performance, and she was upset he didn't check in with her. And then she says it: "I wish I could go back and choose Sheridan." She says she's done with Brandon.
Only four couples left now! Here's what to look forward to in Week 5:
WATCH: A sneak peek at Week 5 of The Bachelor Presents: Listen to Your Heart
Watch The Bachelor Presents: Listen to Your Heart MONDAY 8|7c on ABC!