Grey's Anatomy Sneak Peek: Maggie Is Grilled About Her Drunken Hookup
After Maggie's existential meltdown on Episode 3, "I Choose You," triggered by receiving an invite to her ex's wedding, she ran into one of the interns at the bar and they started making out. Read the full Episode 3 recap now! In this sneak peek from the upcoming October 15, 2015 episode of Grey's Anatomy, Season 12, Episode 4, "Old Time Rock and Roll," Maggie wakes up and immediately regrets her night of sex ("We had so much sex!") with intern Andrew DeLuca (Giacomo Gianniotti). She wants him to sneak out of the house without being seen by Meredith, Amelia, or Meredith's two kids, but no such luck. DeLuca runs into Amelia right outside Maggie's bedroom door. Watch the sneak peek now!
SNEAK PEEK: Maggie's Awkward One-Night Stand
And it's nothing compared to what awaits Maggie during the carpool to work. She finds out that having roommates/sisters like Meredith and Amelia means getting grilled about her drunken mistake the next morning. "You have a filthy mouth!" Meredith informs Maggie. Watch the video:
SNEAK PEEK: Maggie's Mortifying Morning After
Also coming up on "Old Time Rock and Roll," Stephanie reveals a painful experience from her past. Owen suggests the interns learn a vital lesson on how to break bad news to patients' families, and Arizona's 90-year-old patient reassures her that she's destined to find love again. Meanwhile, Alex has to remind Meredith, Amelia, and Maggie about the dinner party they're hosting for everyone that night.
Owen decides it's time for the interns to learn how to break bad news to patients' families on the Season 12 episode, "Old Time Rock and Roll."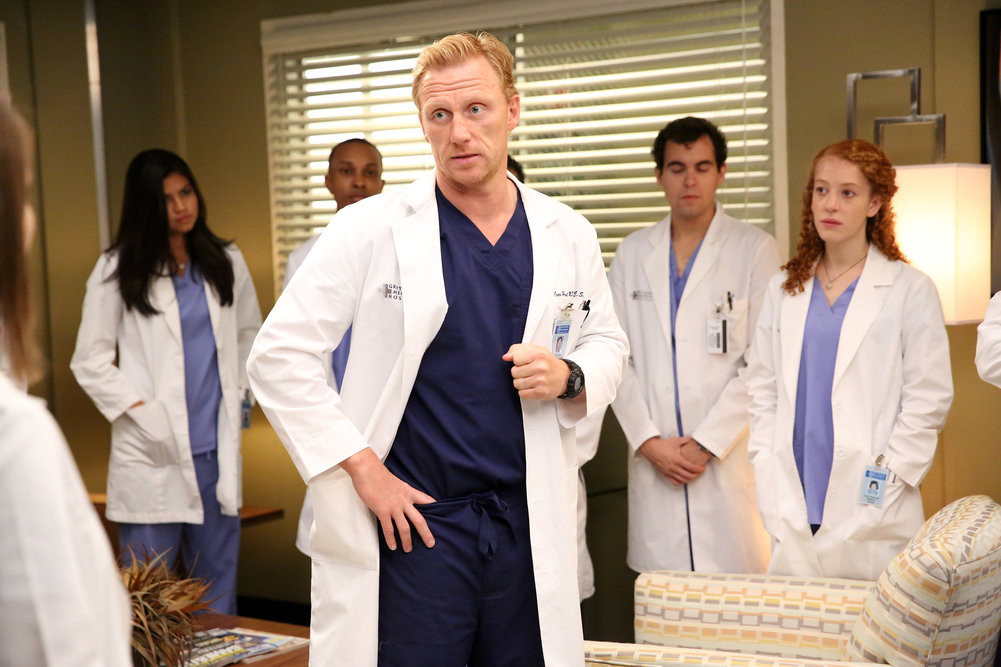 Tune in to see the Season 12 episode "Old Time Rock and Roll" THURSDAY OCTOBER 15 8|7c during TGIT on ABC and watch the Grey's Anatomy Season 12 Premiere, "Sledgehammer" and Episode 2, "Walking Tall" now without signing in!
GREY'S ANATOMY CHARACTER 101s