Modern Family Recap: Gloria Goes to Jury Duty, Claire Takes Daughters to Work
Welcome to the Modern Family Recap of Season 7 Episode 5 "The Verdict" (Original Air Date October 22nd 2015). In the episode Claire is excited to give Haley and Alex a great experience for "Bring Your Daughter to Work Day" but the staff is not making it easy, and Phil takes Luke and Manny's class out for community service day, which becomes a teachable moment in more ways than one. Elsewhere, Gloria is thrilled to be on jury duty leaving Jay to help out at Joe's pre-school and he is not happy about it at all. Cam and Mitch disagree over which of their friends to invite to their party.

Watch the full episode: The Verdict


Gloria Gets Summoned for Jury Duty
Gloria recently received her American citizenship in "Patriot Games" Season 6, Episode 22. One of the first things shes' been dying to do is serve as a juror on a trial. Check out her excitement after she finds out she's been summoned.
Gloria Gets Excused from Jury Selection
Gloria (Sofia Vergara) can't wait to be on her first jury. During the jury selection process, Gloria answers her first question objectively but then comments on the mannerisms of the defendant. She doesn't stop there. She makes a person sitting in the courtroom flee after she accuses him of wrong doing.
Claire Takes Alex and Haley to Work
Claire has her first opportunity to take Alex and Haley to "Take Your Daughter to Work Day." The special day occurs on the same day Jay has to cover for Gloria at Joe's Preschool that requires parent volunteers. Left with the entire busienss at her disposal, Claire is determined to impress her daughters at work. One of the employees, Herm, is set to retire. Every question employees used to go to Jay for are now being answered by Claire. Herm's retirement party turns for the worse when Claire takes over the planning. Claire is determined to give the best speech for Herm. See what happens at the party.
Gloria Freezes Up|Gloria runs out of words after she is star struck.|Gloria (Sofia Vergara) gets Manny (Rico Rodriguez) to admit that he failed to talk to the coffee girl. Gloria gets tongue-tied when she tries to talk to her favorite actress. From Season 7, Episode 4, "She Crazy" of Modern Family ABC WEDNESDAYS 9|8c.

Gloria's Invitation Verdict
Although Gloria wasn't able to serve in her first jury, she is given the opportunity to rule on an whether or not Mitchell should be allowed to invite Raymond to their party. Gloria questions Mitchell and Cameron to find out more information about Raymond. She accuses Mitchell of wanting to be with Raymond. While her accusation is untrue, Mitchell reveals that he thinks Cam is the Raymond in their relationship. Gloria's final verdict is to invite Raymond to the party.


Jay's Day at Preschool
Jay's first day at Joe's preschool did not go as well as he planned. One of Joe's classmates called Jay "old" to which Jay responded in calling the young boy "big ears." Jay swears to never return to the school until Joe comes over and tells Jay and Gloria that he had a lot of fun with Jay today.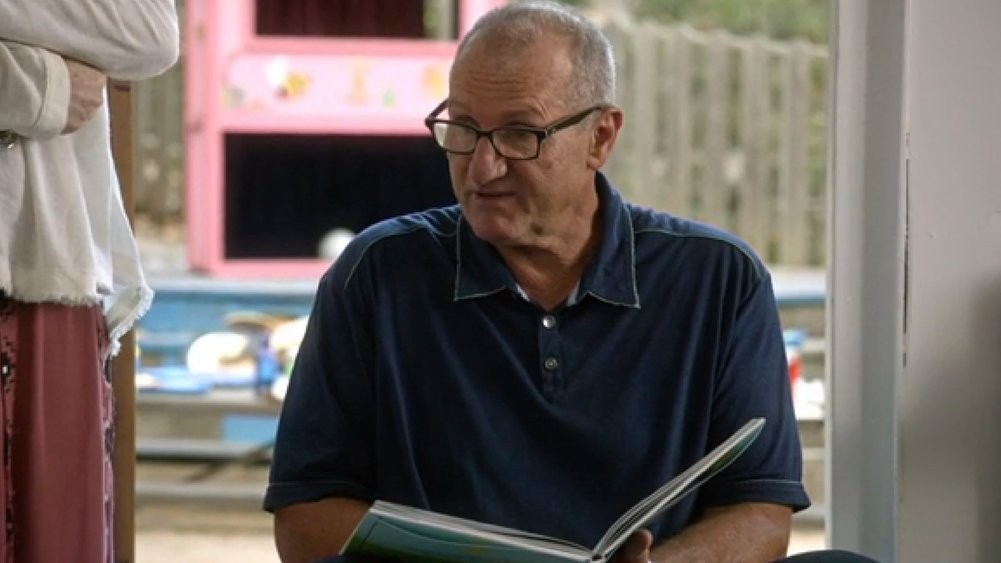 Get Ready for Halloween! Check out the costumes past Halloween costumes from Modern Family.

Past Recaps:
Episode 4 Recap of "She Crazy"
Episode 3 Recap of "The Closet Case"
Episode 2 Recap of "The Day Alex Left for College"
Episode 1 Recap of "Summer Lovin'"


Watch all-new episodes of Modern Family ABC WEDNESDAYS 9|8c.