Grey's Anatomy Recap: Wilmer Valderrama Guest Stars
In the Grey's Anatomy Season 12 episode "I Wear the Face," Meredith goes on an ambulance ride with Owen and Nathan to pick up a heart for a transplant patient. Musician and multiple sclerosis patient Kyle Diaz (guest star Wilmer Valderrama) is admitted to Grey Sloan Memorial with a tremor in his hand, and the residents, including Stephanie and Jo, apply for the Preminger Grant. Meanwhile, Catherine Avery continues to insert herself into Jackson and April's business, against Richard's wishes. Keep reading the Grey's Anatomy recap for highlights from Season 12, Episode 17, "I Wear the Face."
RELATED VIDEO: The Best of Meredith Grey »
That Grey Sloan Patient
Guest star Wilmer Valderrama plays Kyle Diaz, a musician who has multiple sclerosis. Amelia, Edwards, and Blake are there to discuss treatment options, but Diaz seems interested in only one thing: Stephanie!
Watch: A Sexy Patient (Wilmer Valderrama) Flirts with Edwards
Riggs Did What?!
Meredith, Owen and Nathan are stuck together in an ambulance, rushing to pick up a donor heart. While Meredith counsels Owen about his break-up with Amelia, Riggs learns for the first time that Amelia is an alcoholic. The surprise is evident on his face as he reveals that he once bought Amelia a drink, and she never mentioned her problem. But Owen has no room in his heart to give Nathan the benefit of the doubt, and he's enraged. Finally Meredith has to step in and tell them to put their fight on hold until after the job is done.
Watch: Riggs Is in Hot Water with Owen... Again
Edwards Crosses a Line
Edwards burns a bridge she might not be able to mend when she accuses Amelia of sinking her candidacy for the Preminger Grant in order to use the award as a way to get rid of Penny Blake. Amelia is speechless in the face of the resident's hostility, and Stephanie doesn't stop her rant, claiming she is the more deserving doctor, and that she had to step in when Amelia couldn't even handle doing her job. That's when Amelia finally cuts her off.
Watch: Stephanie Lashes Out at Amelia
Nathan Riggs Might Be a Shameless Liar
Meredith suggests it's time for Owen to let go of his hatred toward Nathan, because it's not Nathan's fault he couldn't stop Megan from getting on the fated helicopter with her patient. Owen informs Meredith that Nathan's story is a lie, and Megan told him what really happened: she was on that chopper because Nathan was cheating on her, and she was leaving him. "When I said we hate him, I meant it!" Owen says angrily, and storms off.
Watch: Did Riggs Lie to Meredith?
Edwards Bonds with Kyle (Wilmer Valderrama)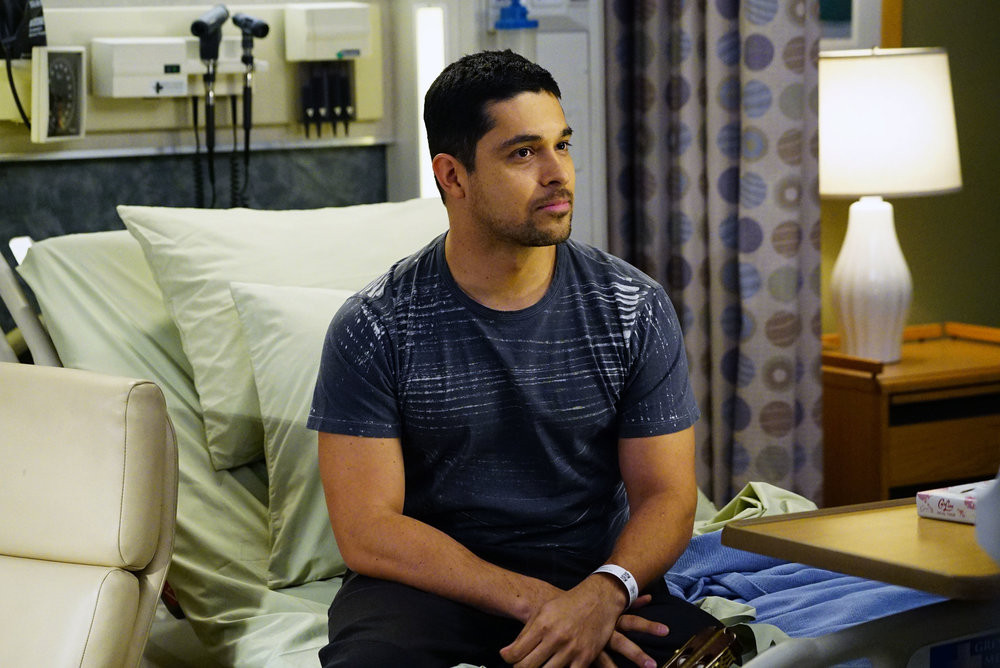 Stephanie is emotional after being betrayed by Blake, her friend, and saying some unforgivable things to Amelia. So when her MS patient, flirtatious musician Kyle, turns on the charm, she's less resistant than before. He tells her they're alike, and points out Blake isn't a friend, she's the competition. Instead of being irritated, Edwards is starting to like him.
Watch: Is Edwards Falling for Kyle?
Sister Act 2.0
Since Amelia moved back in, Maggie has been terrified that there's an epic fight brewing between Amelia and Meredith. But when she finally confronts them, Meredith points out that they're adults, and adults are going to fight sometimes. "A lot, I'm annoying!" Amelia adds. Meredith agrees with that! Maggie can finally relax.
Watch: Meredith and Amelia are Sisters Again
Did April Just Start a War?
Thinking Jackson is going to sue her for custody of their baby after she overhears Catherine Avery's plan, April decides to come out swinging. But as Jackson is being served with her restraining order, April arrives home to find Jackson sent her a new crib, along with a sweet note. These two are never on the same page!
Watch: April's Crucial Mistake
Share you reactions to the events of this episode, and tune in THURSDAY, APRIL 14 8|7c to see the Grey's Anatomy two-hour event on ABC and don't miss the Season 12 Finale episode, airing THURSDAY, MAY 19 8|7c!
Season 12, Episode 16: "When It Hurts So Bad"
Season 12, Episode 15: "I Am Not Waiting Anymore"
Season 12, Episode 14: "Odd Man Out"
Season 12, Episode 13: "All Eyez On Me"
Season 12, Episode 12: "My Next Life"
Season 12, Episode 11: "Unbreak My Heart"
Season 12, Episode 10: "All I Want Is You"
Season 12, Episode 9: "The Sound of Silence"
Season 12, Episode 8, the Winter Finale: "Things We Lost in the Fire"
Season 12, Episode 7: "Something Against You"
Season 12, Episode 6: "The Me Nobody Knows"
Season 12, Episode 5: "Guess Who's Coming to Dinner"

Season 12, Episode 4: "Old Time Rock and Roll"
Season 12, Episode 3: "I Choose You"
Season 12, Episode 2: "Walking Tall"